McFarland Red Beer
| Birra Moretti (Heineken)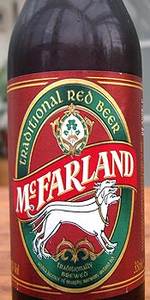 BEER INFO
Brewed by:
Birra Moretti (Heineken)
Italy
|
website
Style:
Irish Red Ale
Alcohol by volume (ABV):
5.60%
Availability:
Year-round
Notes / Commercial Description:
No notes at this time.
Added by eduardolinhalis on 09-03-2010
Reviews: 4 | Ratings: 13
3.46
/5
rDev
+5.2%
look: 2.75 | smell: 3.5 | taste: 3.5 | feel: 3.5 | overall: 3.5
Copper. Transparent. Head dies down to literally nothing after a few seconds. It's been a while since I've seen a beer with absolutely no foam sitting at the top. I suppose it could be the glass.
Smell: Really not bad. A little caramel malt, and a little nuttiness. No yeasty esters though. Maybe a hint of alcohol.
Taste: Again, not bad at all. Not fantastic and won't knock your socks off, but I was pleasantly surprised. A touch of caramel malt, a touch of bitter roasted malts and a dryness in the back from the hops. Inviting. Very very clean though, tastes as though it was lagered.
Smooth with a dry bite in the end that keeps it easygoing.
So much better than I expected it to be(my expectations were low.) Not a bad alternative to the ubiquitous adjunct lagers that line the shelves of Italian grocery stores.
★
820 characters
More User Reviews:

3.45
/5
rDev
+4.9%
look: 3.25 | smell: 3.25 | taste: 3.5 | feel: 3.75 | overall: 3.5


3.72
/5
rDev
+13.1%
look: 4 | smell: 4.5 | taste: 3.5 | feel: 3 | overall: 3.5
I just drink it in Greece. It is made in Milano,Heineken Italy.
A-ruby amber red,with a finger white foam lasting for a minute. It looks more then good.
S-I was amazed by smell ! Caramel malt mostly,smell almost as some trapists.
T/m-warm finish,medium bitterness and carbonation. Not so tasty as you could expect because of so good smell.
O-Good and above average red beer.
★
374 characters

3.2
/5
rDev
-2.7%
look: 3.5 | smell: 3.5 | taste: 3 | feel: 3 | overall: 3.25
33cl brown glass bottle with appealing label art and branded red pry-off pressure cap acquired as part of a 3-pack at a Carrefour supermarket in Kardamena, Kos, Greece, and served into a pilsner glass in my hotel room.
For the record, this is the first time I've ever seen a 3-pack of beer in my life...
Reviewed live. Expectations are average. 5.6% ABV. BB: 11/2014.
Because it's Greek, it has a sticker on the cap with Greek info. I believe this is bottled in Giovanni, and it's brewed somewhere in Italy based on what little I can read of the Greek alphabet.
"Under License from Murphy [sic] Brewery Ireland."
No bubble show forms as it's poured.
HEAD: Pours a 2.5 finger wide head of white colour. Nice thickness and creaminess. Fluffy and nicely frothy. Has a nice smooth even consistency and an appealing complexion. Head retention is good - about 5-6 minutes. Some uneven lacing does form on the sides of the glass as the head recedes, but it's largely unimpressive.
BODY: It's a deep vibrant copper with some faint amber hues, but it isn't quite the red colour I'd expect in a good Irish Red. Translucent and transparent. Clean; no yeast particulate or hop sediment is visible.
Appears well-carbonated. It's not unique or special, but it does come close to the right appearance for the style, which is more than I'd expect from an Irish Red brewed by a Heineken-owned brewery. I'm looking forward to trying it.
AROMA: Nails the toasted malt aromatics key in an Irish Red. I just hope they nail it in the flavour profile too. Amber malts, faint caramel, some bread crust, and cream. Any hop notes are faint and complement the toasted malt; I think it's just a slight fruitiness, but I'm having trouble identifying the fruit with me broken nose.
Overall, it's a pleasant aroma of above average strength and really fits the style's conventions. I'm pleasantly surprised, and am looking forward to the first sip.
No yeasty character or alcohol is detectable.
TASTE: Toasted malt is present, but lacks depth and doesn't feel like the heart of the beer; instead the balance shifts to some slightly sweet amber malts and the bread crust character, which is unbecoming. The fruity hop notes join with the malty sweetness to deliver an unrefined flavour profile suggestive more of an American Amber, to ill effect. I do like it in a general sense, but it suffers from a scattered balance and a misplaced focus.
Average depth, duration, and intensity of flavour. It's got enough complexity - at least for a Heineken-brewed Irish Red - but there isn't much subtlety or intricacy here. It's not well-layered and has poor amplitude of flavour.
TEXTURE: Aptly dry up front, but it trades that in for an unbecoming wetness at about the midpoint. It's smooth throughout, and is certainly filling (in keeping with the bread crust emphasis). It's bit overcarbonated and is too full-bodied and thick for the style, hitting the drinker with a hefty weighty presence on the palate without providing complementary flavours to justify it. Could be softer, could be creamier.
Overall, this texture suits the taste fairly well, but there are no signs the former was custom-tailored to the latter. Could use improvement.
OVERALL: While it definitely beat my expectations for an Irish Red available in Greece brewed by a Heineken-owned Italian brewery (boy is that a mouthful!), it's not going to impress the discerning drinker and definitely offers little in comparison to the best beers in the style, including common Irish-brewed offerings like Smithwick's and even Murphy's Red (which isn't even available in Ireland). Still, call it my love for this underappreciated style, but I do think it's above average both overall and in terms of the style. I always like to see more Irish Reds in the world. One of the better beers available on the island of Kos. I'd try it on-draught if I found it in Italy or something. Highly drinkable.
C+
★
3,938 characters

2.99
/5
rDev
-9.1%
look: 2.75 | smell: 3 | taste: 3 | feel: 3 | overall: 3

3.24
/5
rDev
-1.5%
look: 3.5 | smell: 3.25 | taste: 3.25 | feel: 3 | overall: 3.25

3.03
/5
rDev
-7.9%
look: 3.5 | smell: 3 | taste: 3 | feel: 3 | overall: 3
330ml bottle served in a pint jug.
A: Pours a clear copper color forming a medium bubbled tan head. Very low retention and practically no lacings left
S: Roasted and caramel malts. Sweet and biscuity. Some flowery Heineken hops
T: Roasted and caramel malts, brown sugar, toffee, bready yeasts, and Heineken citrus style hops. Slightly sweet upfront. Light bitter and dry metallic end
M: Light body and good carbonation. Roasted malts hoppy bitter aftertaste
O: Average drinkability. Not bad
★
495 characters

McFarland Red Beer from Birra Moretti (Heineken)
-
out of
100
based on
4
ratings.