Loose Caboose Lager
| Depot Street Brewing
BA SCORE
82
good
14
Reviews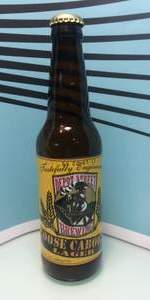 BEER INFO
Brewed by:
Depot Street Brewing
Tennessee
,
United States
|
website
Style:
Dortmunder / Export Lager
Alcohol by volume (ABV):
5.80%
Availability:
Year-round
Notes / Commercial Description:
A Dortmunder style German Lager with a malty taste and balanced hop content. Appreciated by beer connoisseurs and lovers of domestic styles alike.
Added by veech on 10-18-2006
Reviews: 14 | Ratings: 49

3.66
/5
rDev
+2.5%
look: 3.5 | smell: 3.75 | taste: 3.5 | feel: 4 | overall: 3.75
A: Moderately hazy, translucent blonde straw color. Crisp white, voluminous, short-lived foam fed with many streams of medium sized bubble fountains.
S: Apricot, sour, caramel, golden raisins.
T: Moderately sweet, grapes, wheat bread.
M: Slick, sparkling. Medium body
O: Scales are balanced to over sweet on this one. Refreshing, and not overly complex and certainly not heavy. Good drink with a meal.
★
403 characters
3.36
/5
rDev
-5.9%
look: 3.25 | smell: 3.5 | taste: 3.5 | feel: 2.75 | overall: 3.25
Small hop that settles to rim bubbles. No head. Gold color and nearly clear.
Slightly sour with a bit of hop.
Comes across like a cream ale, a bit sour, a bit hoppy with decent malt. Highly carbonated with a neutral body.
★
225 characters

3.14
/5
rDev
-12%
look: 3.5 | smell: 3.25 | taste: 3.25 | feel: 2.5 | overall: 3
On tap at the Chop House in Kingsport, TN. Served in a shaker pint glass.
Appearance: Very cloudy yellow-towards brown color. Thin white head with some occasional dots of lacing.
Smell: Odd....a bit on the sweet side with a hint of German noble hops but they are faint.
Taste: If this is dortmunder lager then I've been misled on what a dortmunder lager is. There is a definite lager taste, but it is very sweet for a lager. Grainy with a sweet and spiced finish. There are some citrus, noble hops, and I swear hints of cinnamon and some vanilla notes at the end. It's like I was served a blended lager with some sweet spiced ale. I'm wondering if someone at this place hasn't cleaned their lines or swapped out a keg and didn't purge the line. This has some aspects of a lager, but it is definitely not a dortmunder.
Mouthfeel: A bit watery.
Overall / Drinkability: Not knowing what this style was exactly when it was served in the restaurant I looked it up during the meal (thank you BA App!). When I saw it was a dortmunder after having drank about 1/3 of the glass I thought something must be wrong or someone thought if you combine a hefe, a lager, and some spices that this would be a dortmunder. I'm going to assume the brewer knew what they were doing and the odd flavors I got was due to poor service at the restaurant. But whatever the case, this is not a beer I want again and I found it a bit of a disappointment.
★
1,432 characters
4.25
/5
rDev
+19%
look: 5 | smell: 5 | taste: 4 | feel: 3.5 | overall: 4
This is a cool beer from a cool brewery. I go to school in Johnson City and it's so nice to sit down with a friend and this beer in a little JC bar. It's a good casual beer.
Appearance, clear gold color. It's a clean and crisp looking and tasting beer.
Smell is a bit sweet and wheaty. Not too complex, but good enough to not get bored with it!
I love the taste. It's an easy sippin' beer that you can get a pitcher of and just work on for a long time. You won't get bored of the taste. It's kind of a summer beer I think because it's light, tasty, and it doesn't bite.
This beer is just like a good ole boy. It's a NICE lager. The U.S. needs more good lagers for sure.
-Griff
★
681 characters
3.75
/5
rDev
+5%
look: 3.5 | smell: 3.5 | taste: 4 | feel: 4 | overall: 3.5
Aroma: Low slightly spicy, mostly herbal noble hop aroma. Some grainy Pils malt with some sulfur. Very clean.
Appearance: Clear with golden color the white head collapses into a thin persistent cap of fine bubbles.
Flavor: Mild noble hops up front, Pils malt in the middle, the finish is slightly sweet, but clean and does not linger.
Mouthfeel: Medium body with medium carbonation
Overall Impression: Tastes like a mild Pils with more body and a noticeable sweetness from the Pils malt. Both noble hops and Pils malt flavor with neither dominating the palate.
Comments: This beer has more flavor and body than most golden lagers. It is very drinkable and balanced while remaining interesting. Talk your average Joe friends into trying this beer to expand their beer drinking experience.
★
787 characters
3.32
/5
rDev
-7%
look: 3 | smell: 3.5 | taste: 3.5 | feel: 3 | overall: 3
Bottle poured into a pint glass
A: Pours a light yellow with very little head. It's surprisingly hazy and not clear like most traditional lagers.
S: The smell is surprisingly pleasant; some adjunct bitterness, but some citrus hoppiness as well. Gives a lot of hope to what would otherwise seem an unspectacular affair.
T/M: It tastes, also, surprisingly pleasant; similar adjunct qualities of malty bitterness, but a hint of orange citrus and grapefruit zest. It's subtle, but it's noticeable.
This isn't quite the traditional style lager I expected. This one isn't going to win any contests in my opinion, but its name rhymes with itself and is possibly a double entendre if you're a pervert.
★
712 characters
4.5
/5
rDev
+26.1%
look: 4.5 | smell: 4.5 | taste: 4.5 | feel: 4.5 | overall: 4.5
Discovered this brew at a local market in Maryville, TN. It has a dark golden color, somewhat cloudy. It has a smooth citrusy flavor and good hops.
I also had a friend from Scotland visiting who tried it and loved it. He said it reminded him of his favorite beer back in Scotland (but I didn't catch the name of that one..)
I recommend giving it a try!
★
355 characters
3.3
/5
rDev
-7.6%
look: 3.5 | smell: 3.5 | taste: 3 | feel: 3.5 | overall: 3.5
Bottle from a sampler pack located in Maryville, Tennessee, pours a hazy amber body with a small offwhite head. Modest retention and sparse lacing.
Aroma is spicy and grassy hops and a vague fruitiness.
Mouthfeel has a light medium body and crisp carbonation. Thins out a bit during the session.
Taste has some grainy sweet malt with a hint of corn, balanced by a spicy and grassy hop bitterness. Well balanced, overall.
Goes down easy, but not something I would seek out.
★
476 characters

3.59
/5
rDev
+0.6%
look: 3 | smell: 4 | taste: 3.5 | feel: 3.5 | overall: 3.5
Dark gold color with no head. Interesting spicy aroma, taste was rich flavorful malt with a little burst of bitterness in the aftertaste. Mouthfeel was sufficient for style. Crisp and refreshing but kinda one dimensional. Good for thirst quenching but not much else. I first thought this was Coors Extra Gold but this grows on you.
★
331 characters
3.85
/5
rDev
+7.8%
look: 3.5 | smell: 3.5 | taste: 4 | feel: 4 | overall: 4
Thanks to dkachur for bringing these back from his 'Epic Beer Adventure'
A: Amber with a bit of a golden highlight and a touch of chill haze. Head forms quite nicely, and tops out at about 3/4 of a finger. It recedes fairly quickly, but doesn't dissolve into nothing, leaving behind a small trim.
S: Malt grains and grassiness stand out with just a tiny touch of caramel sweetness.
T + M: This was a bit of a pleasant surprise. Not a HUGE flavour, leaning more towards being light and refreshing, but it's certainly flavourful. Biscuity malts dominate with a very modest hop profile for balance. Carbonation is a little sharp, adding to the crispness. Finishes semi-dry with just a little residual slickness left behind.
D: This was a solid beer offering, and I look forward to trying the other I have from the brewery. Worth checking out.
★
846 characters

3.01
/5
rDev
-15.7%
look: 3.5 | smell: 2.5 | taste: 3 | feel: 3 | overall: 3.5
The aroma is way off for the style but not altogether horrible as it's slightly citrusy. There is definitely malt and it's the corn type but there is also an ale like smell to it as well as metal and a touch of sour funk. The appearance is dead on it's golden with a little hazy and a big head. The flavor is like the aroma with a soapy, astringent finish. The palate is typical for the style. Overall it's an off beer but somehow it's got enough to it to make it sort of interesting.
★
484 characters
4.76
/5
rDev
+33.3%
look: 5 | smell: 4 | taste: 5 | feel: 5 | overall: 5
I bought this brew from the source as a growler.
It was very impressive.
The hue is a dark golden and moderatly murky.
Short crown leading to a thin lace and glass cling.
It has a breadlike aroma.
The body is a medium plus, and the carbonation is limited.
The taste is exceptional, first, the short presence of tangy grape. It is very well balanced with a slight advantage to the hops. The grape presence disapates as the growler empties.
This product is scheduled to be bottled this spring.
Outstanding!
★
504 characters
2.9
/5
rDev
-18.8%
look: 3 | smell: 3 | taste: 3 | feel: 4 | overall: 2
Pours a pale golden yellow color small white head due to bartender pour not much lace happening either.
Aroma is light hops spicy grass on a light malt base some light Euro skunkiness, reminds me of so many macros that I think I smell corn even though there isn't any.
Taste is the same as aroma light malts that have spicy grassy hops as about the only flavor going. Lingering bitterness is grassy in nature.
Again reminds me on so many Euro lagers.
Mouthfeel is not bad light crisp nice carbonation lightly tingles the throat.
Drinkability on the other hand for me is bad, not my favorite style by any means so I might not be a great judge here. But I would rank this with so many micros in my book by the fact I would just order water with my meal before ordering this beer again.
★
796 characters
4
/5
rDev
+12%
look: 4 | smell: 4 | taste: 4 | feel: 4 | overall: 4
This is the second of the DSB offerings I've sampled and it was pretty solid stuff. A: Deep golden with nice carbonation and durable head. S: Nice mix of malts and hops with neither winning out T: Very much like the nose but give the slight edge to the hops. Mild, smooth and tasty. M: light but right for a lager D: Very much a beer that should be repeated. Crisp and refreshing just what you want from a lager. Nice job Depot Street.
★
435 characters
Loose Caboose Lager from Depot Street Brewing
82
out of
100
based on
14
ratings.