Treasure Chest ESB
| Schmohz Brewing Company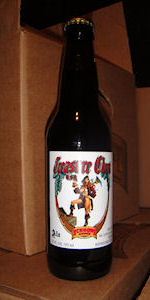 BEER INFO
Brewed by:
Schmohz Brewing Company
Michigan
,
United States
|
website
Style:
Extra Special / Strong Bitter (ESB)
Alcohol by volume (ABV):
5.30%
Availability:
Year-round
Notes / Commercial Description:
No notes at this time.
Added by GRPunk on 01-17-2009
Reviews: 8 | Ratings: 33

2.03
/5
rDev
-36.6%
look: 4 | smell: 3.5 | taste: 1 | feel: 2.5 | overall: 1.5
Presentation: Poured from a 12 oz brown bottle into a shaker pint glass. Label is a sticker and shops a buxom pirate lady with one foot propped on a treasure chest. No freshness dating.
Appearance: Pours with just over 2 finger of light tan head. This settles lowly to a thin yet complete cap of foam. The beer itself is a bright mahogany and shows moderate activity. Some sediment remains in the bottle.
Smell: Caramel malt with bready undertones and hints of butterscotch.
Taste: Oh god, this is horrendous. Tangy tartness and sourness with a lingering bite. Tartness is strong enough that it is reminiscent of a lemonade. Terrible.
Mouthfeel: Average carbonation level. Body is thin.
Drinkability: Things were going well up until I took a sip. Drain pour.
★
765 characters

3.06
/5
rDev
-4.4%
look: 3.5 | smell: 2.5 | taste: 3 | feel: 3.5 | overall: 3.5
Pours a dark red with an off white head that has okay retention and some lacing to it. The smell is a hint of caramel, some earthy hops and sweet malts. The taste is floral hops followed by some caramel with some apple and kiwi juice in it. Than follows with some sweet malts and a sweet syrupy taste that ends with some more floral hops and kiwi. The mouthfeel feels like a watery yet sticky feel that is pretty easy to drink. This is only the fourth Schmohz beer I have tasted and so far it is the best one.
★
509 characters
3.15
/5
rDev
-1.6%
look: 3.5 | smell: 3.5 | taste: 3 | feel: 3 | overall: 3
$7.99 for a mixed 6 pack. 5.3% ABV per the bottle. No brewing info on the web page. Pours out to a slightly cloudy dark red/brown forming a small off yellow head with OK retention and minimal lacing. Mildly carbonated. The aroma is of crystal malt husk, a smidge of amber malts, maybe some roasted barley, some faint earthy hops, distant tobacco, and a hint of kiwi fruit. The mouthfeel is oddly tart with a medium body. The taste begins with some some mild tobacco and earth up front, then there is a slightly sour kiwi fruit note, then amber grain, some grain husk and milld to moderate earthy bitterness, and then some tobacco in the aftertaste. Somewhat odd splenda like taste in the finish.
I worry about the kiwi fruit taste in this beer. Whenever I've detected this flavor, the beer inevitably goes acrid, sour and bitter, consistent with poor bottling and/or infection. I expect this to be the case. It'll be interesting to see if my theory pans out with others reviews.
★
979 characters

3.15
/5
rDev
-1.6%
look: 3.5 | smell: 3.5 | taste: 3 | feel: 3 | overall: 3
Poured from a 12oz. bottle into an English "pot" pint glass.
Dark amber/brown in color, with a short head of tan foam.
Aroma-Spicy malt
Taste-Toasted spicy malt, some faint fruitiness,and a faint floral hop note comes spiraling in at the end. Not much in the character or balance department. Best bet would be as a food beer.
★
325 characters
3.38
/5
rDev
+5.6%
look: 3.5 | smell: 3 | taste: 3.5 | feel: 3.5 | overall: 3.5
Trying the Schmohz Treasure Chest Ale. The beer pours a clear amber with very littel white head that does not seem to be lacing all that well. The smell is mostly sweet caramel malt. The taste includes mostly malt with not alot of hops....but enough to balance. The mouther is a light to medium body with good carbonation. Overall this is a good session beer that is worthy of trying.
★
384 characters

3.57
/5
rDev
+11.6%
look: 3 | smell: 3.5 | taste: 3.5 | feel: 3.5 | overall: 4
On-tap poured into a pint glass.
A- It poured a deep red/brown. Head retention was pretty poor. It started out with a minimal head and just went south from there.
S- The aroma was very malty and sweet coming out with a caramel scent.
T- More sweet, caramel notes as suggested by the aroma accompanied by some roasty/burnt flavors.
M- Pretty good and crisp with medium carbonation, nothing off-putting.
D- It wasn't outstanding, so I might not seek it out, but I could definitely put back more than one in an evening.
★
531 characters
3.58
/5
rDev
+11.9%
look: 4 | smell: 3.5 | taste: 3.5 | feel: 3 | overall: 4
A bright amber color pour with a thin short lasting soapy off white head, medium carbonation ,some jagged lacing left. Aroma is toasty with a light malty note , a little bit of yeasty fruit esters and maybe hints of caramel. Flavor is more malty than expected , a little biscut some spicy hop notes , lightly bitter , not as full or flavorful as I would like, thin mouthfeel but all in all this was a good sixer , quite sessionable . . . not too bad , give it a try .
★
467 characters

3.95
/5
rDev
+23.4%
look: 4 | smell: 4 | taste: 4 | feel: 3.5 | overall: 4
The ale was a dark, reddish color and slightly hazed with a thin tan head that quickly dissipated. The aroma was very inviting: spicy, sweet malt and some faint butterscotch.
Overall, this was a well balanced ale with a refreshingly sweet flavor with enough hops bitters to keep it interesting, refreshing and very drinkable. There are hints of caramel in the aftertaste. It does a more than decent job of representing the style.
The body was medium with a slightly thick mouthfeel. The carbonation was appropriately restrained for the style.
It is often difficult to find a domestic ale that is a good representative of the style, this one does a decent job.
★
661 characters
Treasure Chest ESB from Schmohz Brewing Company
-
out of
100
based on
8
ratings.