Belmont Station
PLACE STATS
Reviews:

122

Ratings:

Avg:

4.49

pDev:

5.12%

Taps:

24

Bottles/Cans:

1,310

Cask:

Y

Beer-to-Go:

N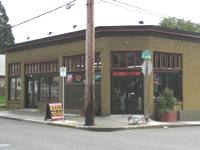 PLACE INFO
Type:
Bar, Eatery, Store
4500 SE Stark St
Portland
,
Oregon
, 97215-1649
United States
(503) 232-8538 |
map
www.belmont-station.com
Notes:
Store:
Monday - Saturday: 10:00am - 10:00pm
Sunday: 12:00pm - 10:00pm
Biercafé:
Monday - Friday: 2:00pm - 11:00pm
Saturday - Sunday: 12:00pm - 11:00pm
Added by BeerAdvocate
Reviews: 122 | Ratings: 218
4.5
/5
rDev
+0.2%
Decided to make a trek to this place the other day, its about an hour and a half drive from where I am. After getting lost twice and calling them and asking for directions, I finally arrived. They have a nice list going on their website for what all they have although I do wish it was kept a little more up to date, a couple of the ones that had caught my eye were out of stock. I really liked their system of write down what you want on a pad of paper and when your ready they fetch it all for ya. They had a really nice selection of imported beers, and micro's that arent available closer to home. The guy working there was quite helpful with some suggestions on what to try. Overall I found them to be a great store, not necessarily worth making a long trip for, but if your in the area, it really is worth the stop for the selection.
★
838 characters
4
/5
rDev
-10.9%
Belmont Station presented a damned fine if somewhat West-Coast-centric selection. The set-up was rather intelligent for a small space - one beer of each type in stock out on the shelf with a price tag, with the bulk in the back (in refridgeration) where the helpful and knowledgable clerk would fetch what you wanted. Decent prices too. My only complaint would be that it's a bit weak on the Belgian side of things, but the bottles of 2001 Rogue RIS will silence me pretty quickly...
Note: ultra-convenient location for beer tourism - right next to the Horse Brass...
★
570 characters
4.8
/5
rDev
+6.9%
Stopped by this bottle shop after attending the Holiday Ale Festival this past weekend. It has one of the best selections of regional, national and import beers that I have ever seen. Picked up way to much for the trip home, including a number of Barleywines and other winter warmers.The staff was extremely helpful and quickly put our selection together. I was very pleased to see all the beers are kept refridgerated and protected from light. If anyone is ever in Portland, they must add this to their list of places to go.
Jason
NVBeer
★
541 characters
4.5
/5
rDev
+0.2%
Ahhh, I got to pick up all the fun stuff I can't get on the East Coast. Moose Drool, Terminal Gravity IPA (yes, now by the sixpack,) Black Butte Porter, even a Governator, just for fun (I'll only drink it if he becomes President.) Impressive selection of other stuff too, lots of Belgians, British, domestics. Pricing was fair, a bit on the high side I thought for Portland but then again I guess I'm spoiled with distributor prices back home. Service was great, the setup (you pick off the shelf, they make a list and then bring it out) definitely works to their advantage, as you can rack up a trunkfull without realizing it. Lots of gifts, glassware, bar towels and snacks as well, overall a really cool place. Plus it doesn't hurt to be next to my favorite pub in Portland.
Note: Too bad I didn't have room in my suitcase for that 1.5 of Leviathan. Damn.
★
861 characters
4.35
/5
rDev
-3.1%
A beautiful bottle shop attached to the Horse Brass pub.
Most everything is offered by the single, so expect to pay more if you're looking to pick up by the six or 12. But why would you: oodles of PacNW and left-coast brews, most notably Bear Republic, Moylan's, Bridgeport, Full Sail, Rogue, Lagunitas, and tons o' English brew. It makes sense; the decor is decidedly anglo.
There are plenty of gems to be found as well, it was the first time i'd ever seen any Victory beers, and there was a good selection of DFH as well. The prices are relatively decent, but there are always alot of good specials to be had.
The guy working the counter was from my homestate and had a great demeanor and knowledge of his products. A winner.
Oh yeah, and the English swag was great too - tons of foodstuffs i've never seen this side of London.
★
842 characters

5
/5
rDev
+11.4%
I always make a stop at Belmont Station and Horse Brass when I am in Portland, and never have been disappointed. Yes, John's Market has more beers, but the storage of beers in the back cooler insures freshness. Also the staff is extremely knowledgeable and friendly.
I recently noticed that some of the beer is of the collectable/archiveable variety. Fish brewing Leviathan and Poseidan (in 1.5L) were from 2002 (not made in 2003). Some of the belgians are also older (read better and more balanced).
To quote the Beastie Boys, this is one place you need to "Ch-check it out."
★
578 characters
3.9
/5
rDev
-13.1%
A cool hole in the wall kind of place on Belmont, next to a good pub. Nice selection of beer! Not nearly good as John's Marketplace in Multnomah Village, but still pretty good. They focus on the more popular beers (popular with domestic/imported beer lovers- not swill drinkers) instead of having everything. Fun selection of British candy. Certainly worth checking out.
★
370 characters

4.65
/5
rDev
+3.6%
Really a nice place in an excellent location. Plus, my wife didn't get bored while I was looking because there was plenty of other things to look at, including candy.
The beer lined wall was quite impressive. Many I hadn't seen anywhere else. Also, a nice collection of glassware and other paraphernalia. The atmosphere is quite pleasant, and somewhat authentic. Some generic brit-pop was on the system to top it off. Only bought 1 bottle, but also some caramel, short bread, and postcards.
★
493 characters
4.55
/5
rDev
+1.3%
What a brilliant idea - put a beer store right next door to a fantastic bar! Do these guys know what they're doing or what!!
I love going to this store because there's nothing in here to offend a beer drinker with refined tastes - ie., no Bud, Coors, or any Macro for that matter. The store is not terribly large, but it's entirely dedicated to mirco beers, an outstanding selection of English and other imported beers, and all sorts of beer paraphernalia.
I didn't rate the selection a five because first, it's Oregon, and nowhere in this state can you find a good selection of anything from the East, and second, there are a few other stores with a few more choices. However, the strength of this store are the folks who work there and know loads about the stuff they sell. The small and somewhat cozy size means that you always get very personal service, and it's always a treat to talk with folks who want to chat about beer.
Overall, a great store.
★
962 characters
5
/5
rDev
+11.4%
A beer lover's dream - wonderful selection of beer, one of the best. After moving from Portland, OR to Portland, ME, I was in need of a NW beer infusion. The people at Belmont Station worked with me and I recieved four cases of NW Christmas beer in early December - I'm still holding some for next (this) year.
★
312 characters
4
/5
rDev
-10.9%
Not a bad place to get some great beer on the East side of town here in Portland. Although, I do wish they had a way of having the customers write down their request. Perhaps a simple note pad could to the trick, especially if you're planning on purchasing several different styles of beer.
Update 10-05-2002: Well, I still wished they had a piece of paper lying around so they don't forget what you requested. They missed my Bigfoot Barleywine today. They also double dinged me for the beer deposite.
★
505 characters
4.4
/5
rDev
-2%
I have mail ordered beer from here once. The beer did not get delivered to my door. Rather, I had to drive to a shipping company and pick it up. I ordered 3 Alaskan brands and 1 Rogue. The beer was fresh and very good. The delivery was fast. Shipping was costly. One thing I don't like about this delivery store is that you can't buy singles. You have to buy cases.
★
373 characters
Belmont Station in Portland, OR
99
out of
100
based on
122
ratings.