Haver & Gort
| Brouwerij De Molen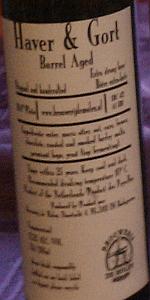 BEER INFO
Brewed by:
Brouwerij De Molen
Netherlands
|
website
Style:
Russian Imperial Stout
Alcohol by volume (ABV):
12.30%
Availability:
Limited (brewed once)
Notes / Commercial Description:
No notes at this time.
Added by Jeffo on 04-05-2012
This beer is retired; no longer brewed.
Reviews: 7 | Ratings: 22

4.08
/5
rDev
+1.5%
look: 4.25 | smell: 4.25 | taste: 4 | feel: 3.5 | overall: 4.25
Thanks to Jeffo for this one. Served in a snifter at Tom's place.
A - Generous dark mocha foam settles to wisps, a thick collar, and minimal lacing. Very dark brown body.
S - A smoked European stout, with fairly low barrel influence - there's only mild bourbon and oak here. Lots of dark chocolate, dark yeasty bread, roasted malts, and even a mild salt and umami note.
T - Taste is fairly similar, with light anise and char rounding out the aforementioned flavors. A smoked, roasty, European RIS with mild dark chocolate sweetness to it. Again, there's only light oak and bourbon presence. Finishes a tad acrid, but nothing out of line with the flavor profile.
M - Zesty carbonation, dry and roasty with light oak presence here. A bit thin for the listed 12.3%, although I didn't find this excessively boozy either.
D - A very nice Russian Imperial Stout with fairly tasteful barrel-aging. If you're into more attenuated takes on this style, this is a pretty well-crafted beer that only suffers from a few minor flaws. I'd certainly drink this one again if offered, and it's definitely quite a bit different from the brown malt heavy Hel & Verdoemenis.
★
1,159 characters

3.76
/5
rDev
-6.5%
look: 4.25 | smell: 3.75 | taste: 3.75 | feel: 3.5 | overall: 3.75
2/28/12 bottle poured into a matching de molen snifter. The brew appears black in color with a brown cap a finger strong that holds well.
Aroma is roasty earth and leather with slight oaky tannic character that seems pretty raw with its oakiness instead of the anticipated bourbon barrel character. Very mild spiciness almost like cedar meets incense with a hint of smoke in the back.
Taste is dry and roasty/bitter. Earth, char and leather with mild meaty smokiness. Solvent alcohol leaves a lingering burn to this one that is decent and enjoyable.
Medium to lighter in body with moderate carbonation. A pleasantly boozy sipper with nice complexity.
★
653 characters

3.89
/5
rDev
-3.2%
look: 3.75 | smell: 4 | taste: 4 | feel: 3.5 | overall: 3.75
330 mL bottle poured into a snifter. Bottled 2/28/2012. Says Barrel Aged.
Appearance - Pours with a nice mocha head. Thick collar. A few islands of foam.
Smell - Sweet chocolate. Booze. Some smoked malts. Nondescript whiskey character.
Taste - More whiskey here, but never the centerpiece. More smoked malts. Bitter chocolate.
Mouthfeel - Overcarbonated. Medium body with a bit of booze.
Overall - Nice smoked stout if under-barreled.
★
439 characters

4.38
/5
rDev
+9%
look: 3 | smell: 5 | taste: 4.5 | feel: 3 | overall: 4.5
Another barrel aged imperial stout by De Molen. Reminds me why I love this brewery so much.
From a bottle into a snifter.
Note: Aged in Speyside Whisky barrels.
APPEARANCE: A dark brown pour yields a two finger, medium looking, mocha brown head with good retention. Black body with medium carbonation evident. Head slowly fades to a nice thick foam cap. A splotchy wisp and ring remain until the end and leave light dots of lacing down the glass. Average look on this one for a De Molen stout.
SMELL: Awesome, and bold as well. Roasted malts, dark chocolate and definite oats on the nose as well. Smoked malts and some mild but very well integrated bourbon, oak and vanilla notes as well. Smells absolutely wonderful.
TASTE: Roasted malts, some smoked malts and some nice bourbon notes up front. Oats and nice dark chocolate through the middle into the swallow, finishing with some alcohol and bourbon vanilla flavors as well. Bold and lingering smoked and roasted chocolaty finish with oats, vanilla and bourbon lingering on the palate. Very complex after the swallow, though a touch boozy perhaps. A hint of smoke lingers as well.
PALATE: Medium body with medium-high levels of carbonation. Not creamy or smooth enough really, but goes down fine and finishes slightly sticky on the palate. Some heat lingers. Not great, but average for the ABV.
OVERALL: Smells absolutely wonderful and tastes great, thought the supporting acts are no better than average really. Nevertheless, this is a brew well worth checking out on multiple occasions. Another one that convinces me of how lucky I am to have them in my back yard. If you get the chance at this one, don't pass it up. Recommended.
★
1,699 characters

4
/5
rDev
-0.5%
look: 4.5 | smell: 4.5 | taste: 4 | feel: 3.5 | overall: 3.5
330ml bottle 12,3% ABV.
Served chilled in an over sized wine glass.
Bottled: 28/02/2012
EBC: 427
EBU: 45
Appearance: Wow, this is easily the darkest of the De Molen imperial stouts that I have had thus far! The body is pitch black in the glass, with a hint of deep red visible along the edges when held to the light. A rough pour yields a massive mocha brown head. The retention and lacing are pretty good for the ABV.
Smell: Mmmm, this smells pretty good. The initial nose is dominated by sweet dark chocolate, cocoa, sweet dark fruits (black cherries, plums and raisins) and some oaky whisky. As the beer warms, black liquorice, roasted malt, some oats, a touch of smoke and dark caramel all become apparent.
Taste: Maybe it is because of the mouthfeel, but the flavour seems quite a lot weaker than the nose. Notes include: Dark chocolate, cocoa, roasted malt, a little char, sweet dark fruits, oak and a touch of whisky. The alcohol is present, but is not bothersome. The finish is mildly bitter and fairly dry.
Mouthfeel: I must agree with Jeffo, the mouthfeel is a big let down! The body is medium and the carbonation is of a high level and no where near creamy enough!
Overall: Haver & Gort is a tasty beer, but is let down by the mouthfeel! Hopefully the next batch will be better.
★
1,300 characters

4.53
/5
rDev
+12.7%
look: 5 | smell: 4.5 | taste: 4.5 | feel: 4.5 | overall: 4.5
Purchased a few bottles of De Molen's beers while visiting the brewery itself.
Appearance: Poured a very dark brown motor oil color and consistency into the brewery's own snifter/tulip glass. Dark brown, copper, bronze head that lasted for a while. Looks like a good strong stout should.
Smell: Sweet nose, prominent oak with smoke, smokey whiskey, roasted malt, quite a bit of alcohol as well. Stronger oak notes as it warms. Very pleasant, warming, inviting. Burnt Caramel.
Taste: This beer tastes great. A big hit of roasted and smoked malts. A good oak flavor coming through in the finish, not over powering. The oak isn't the star but complements the overall flavor profile. Burnt caramel. Raisin and some fruit. A bit of spice in the finish. Also definite heat from the alcohol in the finish as well.
Mouthfeel: Very thick, motor oil mouthfeel with good carbonation to lighten it a bit. Gets thicker as it warms.
Overall: I found this to be one of the tastiest stouts that I've had. At 12.3% this is definitely one that you'll want to nurse over the evening but that isn't a bad thing. The flavor becomes more complex as it warms. It has a lot of strong roasted and smoke flavor with a good amount of oak, but not overpowering. This is definitely worth a try if you can find it. I would think a comparable beer would be Dogfish Head Palo Santo, though this one is better.
★
1,386 characters

4.05
/5
rDev
+0.7%
look: 4.75 | smell: 4 | taste: 4 | feel: 4 | overall: 4
Bought at Alvinne brewery shop last year, served in tulip glass regrettably just out of the fridge (but took my time with the tasting). Like a Spinal Tap album cover, you could get "none more black." On the pour it looked like iced espresso, with a layer of cappuccino crema appearing on top. Smells of licorice, toffee, coffee, some red fruit, but not a monstrous amount of aroma. More licorice on the tongue, a whisky-like impression at first, with some candy flavors, herbs, cardoman, fennel, and a bit if hop backbone. Chewy and thick feeling, with an impression of coating going beyond the tongue and all the way down to the throat.
★
637 characters
Haver & Gort from Brouwerij De Molen
-
out of
100
based on
7
ratings.