Dismiss Notice
Dismiss Notice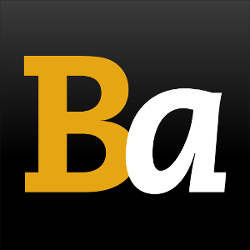 Join Our Email List →
And we'll send you the latest updates and offers from BeerAdvocate, because knowing is half the battle.
Dismiss Notice
Bard's Gold
- Bard's Tale Beer Company
| | |
| --- | --- |
| Educational use only; do not reuse. | |
Reviews: 65 | Hads: 114

3.15
/5
rDev
+26%
look: 3 | smell: 3 | taste: 3 | feel: 3.5 | overall: 3.5
This Gluten-Free beer, like many is made from Sorghum. Here's a bit more information from the brewery:
"Ingredients: Sorghum, yeast, hops and water--contains no wheat, barley, rye or oats and is naturally gluten-free
Sorghum is a genus of numerous species of grasses, some of which are raised for grain that can be used in the production of beer. Sorghum has been used in making beer for centuries in other parts of the world and is naturally gluten-free.
Taste: Rich and refreshing. Body: Medium. Bitterness: Low (20.5 IBUs). Aroma: Floral Color: Amber (SRM 11). Calories: 155 calories per 12-oz serving Carbohydrates: 14.2 carbohydrates per 12-oz serving. Hops: Imported Hallertauer Hersbrucker, Imported Tettenang. Malt: Proprietary malted sorghum. Yeast: German Lager Yeast (Strain #3470). Serving Temperature: 39º- 45ºF"
The webiste also descibes this beer as an American Lager, which I find somewhat problematic because of its unorthodox base ingredient.
Otherwise the beer fares about as well as most other sorghum beers with a heavy emphasis on a caramelly, buttery flavor. Lighter in body than the 'medium' character suggests. I got no real hop aroma or flavor, but only a bitterness that struggles to the 20 IBU's described. The beer remains quite carbonated despite failing to form much of a head or to retain it-- par for the course because of the relatively low protein and starch content. A minerally quality comes though in the water profile that make th flavors a bit abrasive. This beer does seem to be attenuated better than most and leaves a crip, dry finish rather than the tacky residue as with most. Most typical beer drinkers won't follow this one very far but it was quite drinkable for the style.
★
1,729 characters

3.15
/5
rDev
+26%
look: 4 | smell: 4 | taste: 2.5 | feel: 3.5 | overall: 3
Poured from a 12 ounce bottle into a pilsner glass.
A: Dull copper, slightly hazy, lots of bubbles, long-lasting head. Lots of lacing.
S: Smells like molasses and hops (or maybe another herb). Honestly, I like it a lot. There is a strange underscent of something slightly unpleasant, but the smell of molasses and beer overpowers it and distracts me.
T: Uh. Hmm...Sweet sorghum malt washes over the tongue carrying the molasses flavour, but then comes a watery grain taste, slightly bitter and not very nice. This is ameliorated the more I drink, but at best it tastes like beer. However, I consider this an accomplishment for a beer eschewing barley, wheat, rye, and oats. Aftertaste is slightly bitter before fading back into sweetness. It's not great, but it's not terrible. And apparently it's gluten-free?
M: It's pretty good. Thin and sweet; I enjoy the molasses quite a bit. No complaints here.
D: I enjoyed trying this one, but I probably wouldn't get it again. The sorghum is interesting and even fun, but is no replacement for grain.
★
1,048 characters

3.2
/5
rDev
+28%
look: 3 | smell: 3 | taste: 3.5 | feel: 3 | overall: 3
I got this as a sample from a distributor.
Pours a clear amber-gold colour with plenty of carbonation but not much head. The aroma is, well, it's not unpleasant, it definitely smells like beer. Quite a lot of grain, not much hops. The taste follows on from that, but with an odd, sort of metallic undertone. It has a pleasantly bitter finish. A little bit over-carbonated for my liking and not a lot of weight in the body.
If, heaven forbid, I had to drink gluten-free beer I wouldn't turn my nose up at it, but I sure would miss everything else.
★
549 characters
3.2
/5
rDev
+28%
look: 3 | smell: 3 | taste: 3 | feel: 3 | overall: 4
This beer was better than most light sorghum beers that i have had in the past. It almost reminded me of sparkling sake except that it had a very slight/mild hop flavor at the end. It was light, crisp, and easy to drink. I would recommend this to anyone that wanted a gluten free beer that was easy to drink. I also plan to compare it to a sparkling sake. Good sorghum beer.
★
374 characters

3.25
/5
rDev
+30%
look: 3 | smell: 3 | taste: 3.5 | feel: 3.5 | overall: 3
Poured from a 12oz bottle into a US tumbler pint glass.
A: The beer is a deep gold color with a short white head that fades very quickly and leaves a thin lace on the glass.
S: The aroma is of light caramelized malts, spice, grain and a touch of hops.
T: The taste is sweet and bready up front with flavors of caramel, spices and a little fruit. The malt character is hearty but not too heavy. The hops presence is mild but brings a little bit of balance. The after-taste is slightly sweet.
M: Smooth and crisp, light-to-medium body, medium carbonation, finish is clean.
D: A little tasty, goes down ok, not too filling, mild kick, I wasn't expecting too much from this beer and although it wasn't too bad, there also wasn't anything about this beer that made it good enough for me to want to drink consistently.
★
817 characters

3.38
/5
rDev
+35.2%
look: 3.5 | smell: 3 | taste: 3.5 | feel: 3.5 | overall: 3.5
A friend brought a sixer of this to the beach, not realizing it was a sorghum brew. Not wanting to buy it myself, I was happy to sample his. However, I'm surprised at the beer - it's, well, good.
Poured in to a somewhat dirty/scratched glass, but the beer is a lovely amber/copper color, and the surface of the glass ensured an active, bubbly pour. The tiny bubbles graced the top of the bear with a snow white foam, looking almost like steamed milk.
The aroma is appropriately malty, though smelling more of silage than barley. There's no apparent hop aroma.
The taste is reminiscent of an adjunct lager, and I had trouble not thinking of a slightly warm can of Ranier drank on the front porch in late May. The beer has a clean profile and leaves a slightly tart taste on the palate, but still very much a beer.
I'm impressed. I'll have to get some for my celiac grandpa.
★
876 characters

3.41
/5
rDev
+36.4%
look: 4 | smell: 3 | taste: 3.5 | feel: 3.5 | overall: 3.5
Hmmm. Interesting. I'm not sure why this is listed here as a Fruit / Vegetable beer because it's not. It's simply beer made with sorghum instead of barley. And that's nothing new, Guinness used to be made in Africa with sorghum. Anyway, that's the thing here, it "CONTAINS NO WHEAT, BARLEY, RYE OR OATS" so it works for people with celiac's disease and other allergies. That said, I have to question how there can be "NO" barley involved as it's contract brewed. Perhaps the sorghum is all bagged. Or, maybe F.X. Matt made some other special arrangements to avoid any mixing of malt residue. Or perhaps in a several hundred barrel batch it's too minimal to matter.
Anyway, as far as gluten-free or "Celiac" beers go, it's not bad. I've had worse. It's got a good balance with backing bitterness and some floral and spicy hops; and a slightly elevated carbonation level that helps as well. And that's important because sorghum tends to kind of stick in the mouth. It's sweetish with a kind of candyish edge, and it lingers - you can even smell that in the nose as well. The spicy hops and zesty carbonation then help to cut through that and cleanse the palate.
However, what we're talking about here is, in fact, a sorghum beer, so none of that can be faulted. It is what it is. And in this particular case, it's got a caramelish edge to it, which is nice. I don't know if something was done to the grain before hand, or if that was just picked up in the kettle, but it gives it a little bit more character; and I think it works well with the grain.
If I was unable to drink regular beer, I'd certainly enjoy this one more often!
★
1,633 characters
3.5
/5
rDev
+40%
This is a three for people who can drink anything they want, a four for people who can't handle barley or wheat.
Barley is fantastic for making beer because it converts more starch into malt sugar than anything else. It's not delicate - you can do what you like, make a real hopped-out IPA and still get strong malt taste. Other grains and seeds aren't like that and they taste like themselves first, often not very assertively. I live a continent away from Bard's and it does taste like it might be better nearer the source.
This is a decent sorghum beer - probably pretty average if you went to Africa and sampled around but good in North America. I would enjoy sorghum malt even if I didn't need to avoid barley; this tastes malty and lactic with some hops and fruit, but not floral. It's become my go-to GF beer: findable and affordable, goes with spicy food, and made from grain, hops, yeast and water. When I crave beerness I can find it with this. I like that it's a little lower in alcohol (4.7%) because alcohol is bitter and I'd rather have a balanced taste and no hangover. It will not appeal to you if you like untempered IPA but might if you like lambics (I love real lambic and will brave gluten for it).
That said I'm not surprised that this is rated highly by people who like Coors Light - it is thin and light, but tastes crafty rather than mainstream. Definitely worth a try if you're looking for GF and don't want the candy-syrup beers (those are the real concoctions). For me beer is a living thing and I mostly want it to taste that way.
★
1,561 characters
3.52
/5
rDev
+40.8%
look: 3 | smell: 3.5 | taste: 3.5 | feel: 4 | overall: 3.5
Highly effervescent pale yellow pour. Slight bit of head with no retention. No lacing. First to hit my nose is some serious barnyard funk, followed by some butter, and just a hint of fruit.
Tastes of sour grapes, lemon, dried cracker, soda water, and chalk. It reminds me a little bit Alka-seltzer. This is a unique brew. Its not my preferred style. But, I enjoy a new experience (burp...). Heavy carbonation, that feels rightly balanced with this type of brew.
Very crisp and refreshing overall.
★
498 characters

3.55
/5
rDev
+42%
look: 3.5 | smell: 3.5 | taste: 3.5 | feel: 3 | overall: 4
Haven't noticed this sorghum beer around Illinois yet, found it on a recent trip through Wisconsin at Le Cork in Mt. Horeb.
Into a stange glass right from the fridge, it has some puffy foam at first that billows above the rim. It's texture is firm but breaks apart in chunks after the first sip. It's a goldenrod yellow with steady trails of CO2. The smell has a touch of apple and minerals, reminding me of a Berliner Weisse somehow. Flavor is a little buttery with a note of apple that fades quickly into a dry finish. The sorghum has a bit of dustiness to it. There was a low level of bitterness, the label does list hops as an ingredient. Crisp with an initial bite, then it rapidly fades away.
More flavor than a macro for sure, maybe more of an acquired taste though. Certainly a godsend for those with Celiac's.
★
821 characters
3.65
/5
rDev
+46%
look: 4 | smell: 4 | taste: 3.5 | feel: 3.5 | overall: 3.5
A) Honey colored. Transparent. Active carbonation. Pours with a thin head that settles out to the edge of the glass in a creamy lacing.
S) Bold molasses and brown sugar aroma with just a bit of anise.
T) Mild anise flavor with a slight brown sugar undertone.
M) Creamy. A light to medium body.
D) A decent brew. A good combination of ingredients.
★
346 characters
3.77
/5
rDev
+50.8%
look: 3 | smell: 3.5 | taste: 4 | feel: 3.5 | overall: 4
A: Pours a clear light amber with little head. A slight foam remains at the edges, but leaves no lacing as the beer is drunk.
S: Earthy, but in a different way from earthy hops - the smell of sorghum, maybe? Caramel is also definitely present, along with a bit of fruitiness - maybe white grapes or green apples? The earthiness has a slight herbal quality to it, although it makes me think more of vegetables than herbs. I'm not entirely sure what I think of it, but it's certainly different, and not in a particularly bad way. As it warms, the fruitiness gets more pronounced, as does the caramel, but the earthiness continues to hold its own.
T: Fruity caramel sweetness, that strange earthiness again, and a balancing mild sourness. Not particularly bitter while drinking it, but leaves a mild bitter aftertaste, that's more vegetable-like (not in a bad way) than hoppy, although hops are (faintly) present as well. It's hard to say what I think of it, as my impression changes from swig to swig, and I have little to compare it to.
M: Fairly light, though not to the point of wateriness, and made a little heavier by the modest carbonation. Neither a sipper nor a chugger, but something to drink by the mouthfull.
O: Probably not a beer I'll want to drink regularly, but certainly worth having again. I haven't had any other sorghum-based beers to compare it to, but it's certainly different from any other beers that I have had.
★
1,437 characters
3.87
/5
rDev
+54.8%
look: 3 | smell: 3.5 | taste: 4 | feel: 4.5 | overall: 4
While this beer won't really stand up against some of the wheat/barley/rye containing beers, this is an excellent choice for celiacs and others who can't have gluten.
The pour on this beer is pretty...wait for it...poor. The head falls apart pretty quickly, but is more substantial than other GF beers I've tried.
The smell is a little sugary. Ok, it's a lot sugary. I would imagine this would be the smell you might encounter upon opening a fresh bag of brown sugar.
The predominant taste is also of molasses or brown sugar, which I don't completely disagree with, as one of my favorite brews before finding out I was a celiac was Ayinger's Celebrator Doppelbock; also a very sweet beer with heavy roasted sugar overtones.
Mouthfeel is very bubbly and light. Almost more like a Sprite than a beer.
Even though this beer may not be enjoyed by the typical beer snob (ah, memories of my pretentious pre-celiac self), I think the average gluten intolerant folks out there will find this to be a refreshing and very drinkable alternative to the other sorghum beers they've tried.
★
1,080 characters
3.9
/5
rDev
+56%
look: 4 | smell: 4 | taste: 4 | feel: 3 | overall: 4
Got this in the bargain bin at the grocery store. It's a solidly good beer, and has unique flavor, but I wouldn't call it "great."
Can't get a good look at it in the bottle. Don't know what it looks like.
Bananas in the nose but not in the taste, apples and a little hops. Reminds me of wet concrete.
Taste is... pretty good overall. I get medium sweetness with strong toffy and less prominent but still strong coffee flavors and crab apples. It tastes almost like Roman nougat if they dipped it in coffee instead of chocolate. Very bitter aftertaste. Not much hops.
Feels light, but not as light as a lager and lightly carbonated. When I swish it around in my mouth it doesn't emulsify the way other beers do, it just kind of increases in volume.
I would drink this again, but not unless it was on sale. There's better stuff for cheaper.
★
845 characters
5
/5
rDev
+100%
look: 5 | smell: 5 | taste: 5 | feel: 5 | overall: 5
Bards beer is really good gluten free beer it taste like the beer I use to drink before I went on my gluten free diet
I use to drink coors light
I give it a 10 out of 10 that's how good it is
It smells like coors light not apples or green apples
It tast like coors light to
★
275 characters
Bard's Gold from Bard's Tale Beer Company
63
out of
100
based on
65
ratings.