Dismiss Notice
Dismiss Notice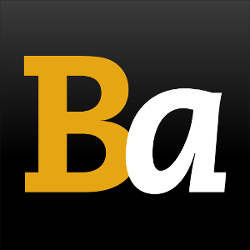 Join Our Email List →
And we'll send you the latest updates and offers from BeerAdvocate, because knowing is half the battle.
Dismiss Notice
Black Anchor Porter
- The Frog & Onion Pub

No picture.
Have one? Upload it now.

Brewed by:
The Frog & Onion Pub
Bermuda

Style | ABV
English Porter | 6.20% ABV

Availability: Year-round

Notes & Commercial Description:
Beer added by: Dogbrick on 10-11-2007

A classic London Porter, this rich dark ale has its roots in the early brewing history of England. This full bodied, medium hopped beer is a great partner for the heavy game pies and meats.
Reviews: 11 | Hads: 26
3
/5
rDev
-17.4%
look: 3 | smell: 3 | taste: 3 | feel: 3 | overall: 3
Had this on 6/8/11, but just found my notes now; didn't want to try to guess and enter without them.
Pours blackish-brown with some off-white head. Sticky lacing.
Smells of caramel and coffee. Can smell some hops, but not much.
Tastes pretty good. Sweet, almost a milk-stout type finish, but bitter going down.
Mouthfeel isn't bad. Has some body.
This is maybe the most average porter I've ever had. Nothing about it stands out, either positively or negatively.
★
466 characters
3.33
/5
rDev
-8.3%
look: 3.5 | smell: 3 | taste: 3.5 | feel: 3 | overall: 3.5
16 oz swing top growler, brought back by some friends who were recently in Bermuda.
Poured in to a pint glass.
A: This beer pours a thin, dark, opaque brown. A 1/2 inch of light brown head. Head recedes immediately leaving a bit of wispy lacing.
S: Nose is sweet caramel, and light cocoa - pretty muted.
T: Taste is sweet caramel at the forefront before a nice chocolate presence comes through with a good deal of grassiness. Finish is a bit of bitter chocolate and char notes.
M: Lighter side of medium body, moderate carbonation, somewhat thin but a touch oily.
O: Goes down easy, somewhat tasty, not filling, mild kick, ok representation of style. Not a beer I would normally seek out, but if down in Bermuda, I would absolutely hit this up again.
★
756 characters
3.45
/5
rDev
-5%
look: 3.5 | smell: 3.5 | taste: 3.5 | feel: 3 | overall: 3.5
Served on tap at The Dockyard in Bermuda, my final beer of the afternoon.
Poured dark black with good cover of foam. Sticky. Coffee nose, chocolate too. Smooth and creamy. Dark malt taste. Espresso. Very low carbonation.
Overall - good porter, some bittering, drinkable.
★
272 characters

3.62
/5
rDev
-0.3%
look: 3.75 | smell: 3.5 | taste: 3.75 | feel: 3.5 | overall: 3.5
Draught @ Frog and Onion: This one pours a fairly dark brown color. You can't see through it, yet it is still clear. There was a finger of tan head that left some lacing. The aroma is good, but a touch light. Mainly coffee and roasted malts. The taste is also good. It has a slightly lighter body, but still a lot of taste. Coffee and roasted malts dominate, with some bitterness. Nice.
★
388 characters
3.65
/5
rDev
+0.6%
look: 3.5 | smell: 3.5 | taste: 3.5 | feel: 4 | overall: 4
The bartender said this beer is 4.5% ABV.
Served in a pint glass, black with amber hints. The head is very shortlived, receding to a tiny ring almost immediately. No lace to speak of. The taste is roasty and chocolatey with an estery, ripe field berry character. Cocoa powder, bready malts, caramel and some soy sauce make up the flavor. Hops are subdued and not very fresh tasting. Roasty builds as the beer warms and dominates the medium lasting finish. The mouthfeel is medium and not overly carbonated.
This is a decent porter, though perhaps a little anemic. The best this brewery has to offer.
★
601 characters

3.68
/5
rDev
+1.4%
look: 4 | smell: 3.5 | taste: 3.5 | feel: 3 | overall: 4.5
Appearance: 1/4 head that fades quick, black
Smell: burnt malt and small bit of chocolate
Taste: chocolate and light burnt malt
Mouthfeel: light and watery for the style, very smooth
Drinkability: Very sessionable especially in warmer climates...Very light for the style...One of North Rock's better offerings.
★
314 characters
3.7
/5
rDev
+1.9%
look: 4 | smell: 4 | taste: 3.5 | feel: 3 | overall: 4
6 oz. pour, sampled at The Frog & Onion (The Dockyards/Bermuda).
All North Rock beers are now being brewed by Dockyard Brewing Co., on premises of F&O. NRBC then sells them at their South Road pub under the same names.
Description (from menu): "A classic London Porter, this rich dark ale has its roots in the early brewing history of England. This full bodied, medium hopped beer is a great partner for the heavy game pies and meats.". ABV not listed.
A: Mahogany brown, a tad thin, but with a terrific creamy ivory head. Nice semi-sheeting lace coats a good portion of the glass.
S: Slightly smoky, slightly peaty malt with an underlying bitter cocoa.
T: Modest chocolate/cocoa nibs upfront, a subtle coffee roast. Good hop balance, finishes with a dancing chalky dryness and flitting sweetness.
M: Another thinner bodied offering from this brewer, disappointing since the marketing card speaks of a beer that's "rich", "dark", and "full bodied". Creamy mouthfeel but lacks that robust depth.
D: This was one of a couple highlights I tasted from this brewer. Likable aroma and flavor, easy to drink (another <6% ABV brew I'm guessing). My wife enjoyed a whole imperial pint of this one, too (and I'd have liked to have ordered another for myself...or at least have 'shared' some of hers). Definitely worth a try.
★
1,325 characters

3.88
/5
rDev
+6.9%
look: 4 | smell: 3.5 | taste: 4 | feel: 4 | overall: 4
Cheers to my parents for returning from a cruise with a mini swing-top growler (16oz, basically a Grolsch bottle) of this (and the amber)
Appearance: Dark brown, borderline black - unlike the growler of the amber ale, this pours with an impressive head - tan, above average in size, leaves some quality streaks of lacing
Smell: Dark malts and chocolate - slightly toasty, slightly burnt - chocolate malts, dark chocolate, and some cocoa - a nice level of sweetness - oddly vegetal as it warms up
Taste: Follows the smell, with a nice malt profile - dry chocolate malt, dark chocolate, cocoa - toffee, and some light sweetness - slightly burnt, with some coffee-like roastiness - a slight burnt bitterness
Mouthfeel: Medium body, very smooth, nicely carbonated
Overall: A solid American Porter
This is well-rounded and well-done. It's flavorful and very drinkable. Honestly, it reminds me a lot of Sierra Nevada Porter (and this is a good thing). I would seek this out if you happen to find yourself in Bermuda.
★
1,016 characters

3.88
/5
rDev
+6.9%
look: 4 | smell: 3.5 | taste: 4 | feel: 4 | overall: 4
Sample at the Frog & Onion in Bermuda: This beer more or less redeemed the entire North Rock lineup. The brew is matte black with a thin and dense beige head. Patchy lacing. Aroma of coffee, malt and hops. Medium body with a nice blend of chocolate, coffee and hops flavors over a solid malt base. The finish is somewhat bitter coffee and sweet chocolate. Pretty nice overall.
★
376 characters

4
/5
rDev
+10.2%
In my opinion, this should be the Frog & Onion's signature selection.
This dark porter pours thick and looks rich and has the punch to follow suit. It has a big malty character and good coffee notes, reminiscent of a fresh Guinness but with a much better underlying flavor. With a fairly strong ABV and a tasty finish this beer has virtually nothing going against it. A nice, strong porter.
★
392 characters

4.5
/5
rDev
+24%
look: 4.5 | smell: 4.5 | taste: 4.5 | feel: 4.5 | overall: 4.5
Look: Pours a lovely black with hints of red, with a good creamy brown head leaves good lacing
Smell: Chocolatey roasted malts with caramel
Taste: Roasted malts, chocolate, caramel, bread. Some good but not overwhelming sweetness, with a little bitterness
Feel: Medium body with low to medium carbonation
Overall: This is a very good porter, very enjoyable, especially drinking a few on a hot day. Highly recommend this when in Bermuda.
★
441 characters
Black Anchor Porter from The Frog & Onion Pub
83
out of
100
based on
11
ratings.