Dismiss Notice
Get FREE shipping on all US orders of $25 or more from the BeerAdvocate Store.
No promo code required. Offer valid through 4/30.
Ready to gear up? Start shopping →
Grande Cuvée Porter Baltique - Fûts De Bourbon Et Brandy
| Les Trois Mousquetaires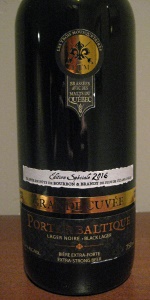 BEER INFO
Brewed by:
Les Trois Mousquetaires
Quebec
,
Canada
|
website
Style:
Baltic Porter
Alcohol by volume (ABV):
10.50%
Availability:
Fall
Notes / Commercial Description:
No notes at this time.
Added by FrostBlast on 10-04-2013
Reviews: 11 | Ratings: 35
4.85
/5
rDev
+11.5%
look: 5 | smell: 5 | taste: 4.75 | feel: 5 | overall: 4.75
2015 edition.
Looks absolutely delicious, pitch black with a nice creamy head with big bubbles, you can even see some carbonation in the black color. Intense dark chocolate smell from the beginning, fallowed by aromas of dark fruits and alcohol, some bourbon and whiskey smell is noticeable. I mostly taste the dark fruits with a nice bourbon taste and a sweet chocolate flavor too. As it goes down you get a small alcohol burn, and feel a little smoke too. You can feel a lot of carbonation in the mouth also.
Really an outstandingly barrel-aged porter. I really like the original Porter Baltique but the barrel-aged one is amazing.
★
636 characters

4.69
/5
rDev
+7.8%
look: 3.75 | smell: 4.75 | taste: 4.75 | feel: 4.75 | overall: 4.75
On tap at The Beer Belly in Albany, NY.
This one pours a dark inky black, with a very small head, and basically no lacing.
Smells like dark fruits- raisins and plums, with brandy, taro root, sweet chocolate syrup, and oak.
This is super decadent and really tasty. There's definitely more brandy than bourbon here, with lots of dark fruit, plums, raisins, and maybe a little of dried cherry, with some herbal taro root flavor, oak, sweet chocolate, and just a hint of roast. The herbal flavors and the roast flavors keep it from being too sweet.
This is medium bodied, it could be a bit chewier, but it's certainly substantial. There's a lower level of carbonation.
This is absolutely wonderful. A double barrel aged beer that flies under the radar. Awesome.
★
762 characters

4.59
/5
rDev
+5.5%
look: 4.25 | smell: 4.5 | taste: 4.75 | feel: 4.5 | overall: 4.5
Poured from a 750ml bottle into a stemmed tulip glass and shared with friends during a holiday bottle share.
A: A deep dark brown color that gives rise to a 1-2 fingers of mocha head with decent retention and some nice lacing.
S: The nose is really complex, not just a massive bourbon blast, but rather a nice boozy fragrance allowing some roasted malts, coffee and dark chocolate to come through and some vanilla and a bit of wood.
T: Again, just really nice balance of rich flavors. Big dark chocolate flavor, lots of sweet boozy brandy but not overpowering; brown sugar, molasses, vanilla. A bit of hot alcohol. Absolutely delicious!
M: Low carbonation and a big body; smooth and round.
O: What impressed me most about this beer is the balanced complexity; it is both big and bold while still exhibiting restraint. This bottle was served with the 2010 version and was unanimously agreed to be the superior version. Very well done LTM!
★
942 characters
4.41
/5
rDev
+1.4%
look: 4 | smell: 4.25 | taste: 4.5 | feel: 4.5 | overall: 4.5
Just released but no bottling date.
A: Very dark brown pour but not quite black. Mid-sized frothy brown head. Decent retention and no lacing at all.
S: Very sweet aroma. Lots of dark fruits like raisins and cherries. Grapes too I'd say. Caramel and chocolate. Even got some vanilla with a hint of char.
T: Huh, a lot going on here. Up front there is a nice caramel-and-vanilla sweetened fruitiness. Lots of grapes, raisins, cherries and figs I'd say. Sweetness runs out a bit and leaves bitter cocoa and hints of char. Dry oakiness, vanilla and more fruits in the aftertaste.
M: Fairly heavy but super smooth and easy drinking. Very lightly chalky and dry in the finish.
O: Serious baltic porter. Very fruity, very smooth and with almost no alcohol burn. Drinkability is fantastic as a result. Great barrel flavors and a great base beer makes for a great combination.
★
873 characters
4.35
/5
rDev 0%
look: 4.25 | smell: 4.25 | taste: 4.5 | feel: 4.25 | overall: 4.25
Bottle: Poured a dark brown color ale with a rather generous light brown foamy head with good retention and some light lacing. Aroma of warming brandy/bourbon notes with light vanilla with some residual sugar notes is very enticing. Taste is a great mix between some syrupy brandy and bourbon notes with notes of vanilla that are also discernible and some well-balanced residual sugar notes. Body is quite full with great carbonation and light warming alcohol notes are slightly noticeable. I thought this was a great improvement over last year barrel-aged treatment and well-balanced for such an extreme beer.
★
610 characters
4.34
/5
rDev
-0.2%
look: 4.5 | smell: 4.25 | taste: 4.25 | feel: 4.5 | overall: 4.5
My rating is based on the 2015 edition of this beer, Poured from a 750 ml bottle into a tulip,
Appearance - this beer pours a very dark brown almost black with 2 fingers of mocha head, carbontation seems lively.
Aroma - On the nose I get borubon and brandy, oak a light alchohol smell, vanilla, chocolate coffee, plum grapes.
Taste -hints of whiksey and brandy,oak that lasts, roasted malts, milk chocolate, coffee, dark fruit, vanilla, nut. wow this is complex.
Feel - Full bodied and chewy lively carbonation and a strong boozyness as it goes down.
Overall - This is one delicious sipper, At 16$ for a 750 ml you wont want to down it fast anyways your gonna want to savor it, and its worth doing, the flavors come together so well and you'll really enjoy this one if you like porters and stouts. If you have a bottle enjoy!
★
833 characters
4.32
/5
rDev
-0.7%
look: 3.75 | smell: 4.25 | taste: 4.5 | feel: 4.25 | overall: 4.25
Many thanks to Papat444 for this bottle.
The beer is jet black with a small tan head. Head fades quickly, leaves just a touch of lace.
Nose is very rich, with bourbon, brandy and chocolate all jumping out strongly. Vanilla and oak. Some roasted scents. The bourbon and brandy scent mix well together.
Taste is very good indeed. Like the nose, the bourbon and brandy are both quite present. They mix well together, the bourbon imparting some sweetness and the brandy a more aggressive heat that cuts the sweetness a bit. Chocolate and some roast malt flavours are right behind, as well as vanilla from the bourbon. The barrels are strong but they do not obscure the beer, which is great in itself. I don't pick up on the tart cherry flavours that I usually get in the base beer- perhaps the barrels drown it out.
Full bodied, low carbonation level. A bit syrupy, but generally very smooth.
Overall, a terrific beer. Nice twist on a great beer.
★
948 characters

4.31
/5
rDev
-0.9%
look: 4 | smell: 4.25 | taste: 4.25 | feel: 4.5 | overall: 4.5
750ml, caged and corked bottle, 2015 edition, one which subtly makes gravy about the use of Quebec-grown ingredients here and there on the back info label.
This beer pours a solid black abyss, with very hard to make out basal red cola edges, and three fat-ass fingers of puffy, finely foamy, and creamy brown head, which leaves a few instances of eroding limestone formation lace around the glass as it slowly and surely abates.
It smells of gritty and grainy caramel malt, musty dark chocolate, acrid Bourbon barrel wood (vanilla and boozy rye, mostly), some ethereal red wine fruitiness, a twinge of dry roasted coffee, spoiled milk, a touch of estery yeast, and plain earthy, leafy, and woodsy noble hops. The taste is big bittersweet chocolate up front, a sharp brandy-sourced soused dark fruitiness (plums and red cherries), more grainy caramel/toffee malt, sugary black licorice, stale cafe-au-lait, a more laid-back Bourbon barrel astringency - boozy vanilla, generally - and some still put-upon leafy, weedy, and floral hops that didn't get the message from their experience in the nose.
The carbonation is quite active in its stoically supportive, and more often frivolous frothiness, the body a solid medium-heavy weight, and actually pretty smooth, with a burgeoning fruity creaminess as things warm up a bit. It finishes sweet, yes siree, Robert, but modulated just enough by the lingering woody characters, and a charmingly threatening alcohol edginess.
Overall, this is once again a stellar big beer rendition from this Québécois craft brewery - they nail the Baltic Porter, um, 'lager' experience (ha!), and then amp it up a notch or ten after the fact, all without comprising drinkability. What foul yet beguiling magic be this? Oh, right, something that I need to get back into, after a lengthy heretical spell away from.
★
1,848 characters

4.29
/5
rDev
-1.4%
look: 4 | smell: 4.25 | taste: 4.25 | feel: 4.25 | overall: 4.5
750mL bottle
I never mention bitterness in my reviews, my bitterness taste buds are ridiculously under-
sensitive.
APPEARANCE : Dark brown with a mocha head that doesn't rise very much and backs down pretty quickly - just as should be expected. Not nearly as opaque as I had expected it to be though.
SMELL : First nose is heavy roasted malts with coffee and chocolate notes and a certain boozy warmth. Some fruity and nutty notes are also present. Second nose opens up the hop profile with a vegetal side emerging. Deep chocolate notes. Third nose follows along, but with more booze.
TASTE : There's smoke that wasn't there on the nose and ooh man, what a rich palette. Multilayered, complex, precise. You can taste both types of barrel, bourbon and brandy. The booze gives an amazingly pleasing warmth that stays with you long after you've downed your sip. Hops are very present, but blend themselves superbly with the coffee side of the roasted malts.
MOUTHFEEL : Coats the mouth. Pleasantly low carbonation leaves all the room to the aromas and the amplitude of the beer itself.
OVERALL : Among the very best stouts I've had the pleasure of tasting, and definitely the best stout I've had that come from my homeland.
★
1,226 characters
4.24
/5
rDev
-2.5%
look: 4 | smell: 3.75 | taste: 4.5 | feel: 4 | overall: 4.5
Pitch black and very smooth. Little head present on pour which quickly dissipates. Very similar to their Porter Baltique, which almost tastes like a milk stout crossed with a baltic porter to me. Slight scent and taste from the bourbon barrels. Not overpowering like some bourbon aged beers, but I feel like I expected more bourbon to it. The 10.5% abv definitely warms the inside on the way down. Perfect for cold winter evenings at this time of year.
★
452 characters

3.75
/5
rDev
-13.8%
look: 4 | smell: 4 | taste: 3.5 | feel: 4 | overall: 3.75
750 mL bottle. Black body. Smell is strong barrel. Lots of brandy. Smells sweet. Coconut. Milk chocolate. Taste also has a lot of coconut. Brandy behind it. Chocolate and some roasted malt. I don't get much bourbon, though. Oaky finish. Much better than the regular version. At least my bottle.
★
305 characters
Grande Cuvée Porter Baltique - Fûts De Bourbon Et Brandy from Les Trois Mousquetaires
91
out of
100
based on
11
ratings.