Death Or Glory
| Tring Brewery Company Ltd.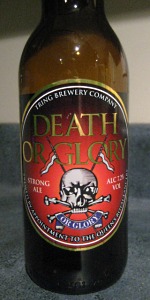 BEER INFO
Brewed by:
Tring Brewery Company Ltd.
United Kingdom (England)
|
website
Style:
English Strong Ale
Alcohol by volume (ABV):
7.20%
Availability:
Year-round
Notes / Commercial Description:
No notes at this time.
Added by IronDjinn on 06-22-2011
Reviews: 7 | Ratings: 14

3.4
/5
rDev
-11.9%
look: 3.25 | smell: 3.75 | taste: 3.5 | feel: 2 | overall: 3.5
I recently bottomed this beer out at my store cause nobody was buying it. I figured I may as well give it a shot since (hopefully) we won't be carrying it after a few weeks.
It pours a very dark brown with no head at all. Even with a pour right down the middle, I still only got like half a centimetre of head that faded within a second. The colour of the beer is all right, but some light head would have been pleasant.
The aroma is very sweet and malty with a powerful caramel smell. It reminds me of many other British beers I've sampled. The taste is very strong with that same sweetness going on. Very boozy too - I am starting to feel wasted after one sip.
The feel is dissapointing. It is so damn flat. I get that many of these British ales are naturally brewed to be lightly carbonated, but still, Carbonation is one of the best things about beer, so when there is none to be found, I'm left a little upset. This may be a problem with the beer sitting on the shelf for too long, but it is still before the suggested date on the bottle, so what the fuck? Maybe this beer has just been sitting for too long, but with a beer this expensive ($6.50) for such a tiny bottle, it is almost inevitable.
★
1,205 characters
More User Reviews:

4
/5
rDev
+3.6%
look: 4 | smell: 4 | taste: 4 | feel: 4 | overall: 4
330ml bottle, best before Feb 2012. Cool rah-rah, Britannia, machismo-laced label.
This beer pour a perfectly clear dark amber hue, with one skinny finger of tight foamy off-white head, which leaves very little in the way of lace as it quickly recedes. It smells of strong toffee notes, a bit of caramel nougat, and a nice warming booziness. The taste is sweet caramel/toffee/treacle oriented malt, a little nutty breadiness, and a lovely seen but not heard kind of alcohol warmth. The carbonation is very innocuous, i.e. nearing flatness, the body a hefty medium weight, kind of sugary, but that's a-ok for qualifying as smooth. It finishes sweet, Christmas cakes and cookies, and prezzies by the hearth and all that.
An enjoyable strong ale, on the malt up yer arse side, but still. Nice concept, well rendered execution, and appreciation from those of us out of cask range.
★
878 characters
3.95
/5
rDev
+2.3%
look: 4 | smell: 4 | taste: 4 | feel: 3.5 | overall: 4
Thanks to Jim at Sherbrooke for the sample. From a 330 ml brown bottle. Pours out a clear nut brown, with a short, loose spongy beige head.
Rich notes of toffee, dark fruit, and toasty malt on the nose.
Fairly complex as it rolls across the tongue and palate. Toasty malt and sweet rum/raisin up front, some earthiness and toffee in the middle, with a sweet butterscotch diacytl that totally works on the finish. Little bit of spicy herbal hops and alcohol lingering in the background until they become more noticeable in the aftertaste.
Medium-light mouthfeel, rather thin and slick texture, with a low level of carbonation.
Very enjoyable Strong English Ale, lots of flavour and a fair amount of complexity to unravel. The mouthfeel makes it seem milder than it actually is, yet I suppose it helps mimic what the casked version would be like.
★
848 characters



4.5
/5
rDev
+16.6%
look: 4.5 | smell: 4.5 | taste: 4.5 | feel: 4.5 | overall: 4.5

3.85
/5
rDev
-0.3%
look: 4 | smell: 4 | taste: 3.75 | feel: 4 | overall: 3.75
On gravity at the Belfast Beer Festival, 2013.
Ruby brown with tan froth.
Whisky barrel, caramel and nectar nose.
Big chewy toffee pop with molasses, then some resin and mild citrus.
Appley finish and sticky toffee linger.
Medium, chewy, round.
Not enough hops for a barleywine (as it labels itself.) Lots of sweetness makes a great winter sipper, but not Outstanding (heh.) "F'ing magnificent - chocolate, caramel, smoke!" sez Alan.
★
437 characters
3.94
/5
rDev
+2.1%
look: 3 | smell: 4 | taste: 4 | feel: 4 | overall: 4
330ml bottle poured into tulip 9/7/11
A clear amber with brown highlights with lots of bubbles but only a thin film for a head after a hard pour, not much for lace
S lots of toffee with a sweet malty nuttiness that's pretty decent a hint of booze
T a little spicy with some dark bread on top of what I smell, quite malty with a good depth of flavor
M medium bodied with enough bubbles to give it a creamy feel, and leaves a fair bit behind
O I could see myself trying this again but it's a little pricy here at 7$ if I remember correctly
grabbed it because it looked cool on the shelf and took a bit of a gamble on it but things turned out pretty good
★
659 characters
3.97
/5
rDev
+2.8%
look: 3.5 | smell: 4 | taste: 4 | feel: 4 | overall: 4
I like this. A good history to it, and a nice beer. Dark, ruby brown with a thin head the clings to the glass like crazy. Light chocolate and caramel. Big roasted malts, light fruity hops. Faint vinous notes.
Lightly bitter caramel and roasted malt taste. Chocolate, cherries and wine lurk in the background. Light floral taste on the back of the tongue.
Very smooth, lightly oil body. Mild carbonation hint. A nice strong ale, and almost sessionable.
★
453 characters

3.7
/5
rDev
-4.1%
look: 3.75 | smell: 3.75 | taste: 3.75 | feel: 3.25 | overall: 3.75
Poured from the bottle into an English pub glass, many thanks to a buddy for bringing this over. A dark reddish brown ale with almost no head, just a little tan foam abutting up against the sides of the glass. Smells like rich caramel and dark fruits, raisins, rum, apple sauce. No hops on the nose. Tastes like toffee, dark fruit preserves, with a hint of earthy bitter hops. Insanely smooth and creamy mouthfeel, with next to no carbonation: Flat even by English ale standards. Finish is long and sweet with just a touch of earthy bitterness. The alcohol is amazingly well-concealed but does leave a lingering warmth. The rich toffee flavor and unassertive hopping in this one is more characteristic of scotch ales. Enjoyable on this level but I prefer other English strongs that pack more of a bready, spicy punch. This one does satisfy a sweet tooth.
★
854 characters
Death Or Glory from Tring Brewery Company Ltd.
-
out of
100
based on
7
ratings.