Dismiss Notice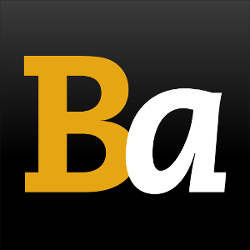 Site Performance Updates: We're aware of the nightly site outage, and working on resolving the issue.
Big Black Mariah
| Piece Brewery & Pizzeria BEER INFO
Brewed by:
Piece Brewery & Pizzeria
Illinois
,
United States
|
website
Style:
American Porter
Alcohol by volume (ABV):
7.50%
Availability:
Winter
Notes / Commercial Description:
No notes at this time.
Added by GbVDave on 01-04-2007
Reviews: 15 | Ratings: 37

4.21
/5
rDev
+4.5%
look: 4 | smell: 4.25 | taste: 4.25 | feel: 4 | overall: 4.25
A: fully opaque black in color. Served with a minimal tan colored head. Little retention. No lacing.
S: Very nice aroma. Dark malts, dark fruit, chocolate and vanilla. A hint of smoke compliments nicely.
T: dark malts, baker's chocolate, plum. Neither sweet nor dry. A touch of cocoa. Char and again just a bit of smoke.
M: full bodied. Mild bitterness. Slightly chalky. Lower carbonation.
O: an unexpectedly good porter. Just enough smoke to make this interesting, but not enough to be overpowering or dominant.
★
519 characters

4.21
/5
rDev
+4.5%
look: 4 | smell: 4.25 | taste: 4.25 | feel: 4 | overall: 4.25
Pours pitch black with cocoa head, nice lace and some retention. Smell features mellow smoke intertwined with roast and cacao. Taste is deep, dry and roasty with emphasis on smoke and chocolate. No hop character to speak of. Smoke is well integrated and works well with the base. Mouthfeel is sturdy and is well carbonated. Overall a well balanced smoked brew with no evidence of the listed abv.
★
395 characters
4.25
/5
rDev
+5.5%
look: 4 | smell: 4 | taste: 4.5 | feel: 4.5 | overall: 4
A - extremely dark brown to the the point of simply being black...where one color ends, the other begins
S - hint of vanilla, coco, wisps of smoke, malts
T - follows the nose like a good beer should. The palate enjoys it more as it warms up and opens up.
M - beer + mouth = :) just a generally good drink here.
If in the area, a for sure porter to snag.
★
357 characters
3.5
/5
rDev
-13.2%
look: 3.5 | smell: 3.5 | taste: 3.5 | feel: 3.5 | overall: 3.5
Piece Brewery Big Black Mariah - Porter served on tap.
Appearance: Small head with good lacing. Dark reddish-brown in color.
Smell and Taste: Lots of smokey malts and cocoa. Thick, but also slightly smooth with some hops flavor. This one proved to be a fairly decent porter.
★
277 characters
3.83
/5
rDev
-5%
look: 4.5 | smell: 4 | taste: 4 | feel: 4 | overall: 3
I had this on tap into a tasting glass at Piece. The beer is a very dark black, hardly any brown highlights. Light tan ok retention. The aroma is super sweet a hint of vanilla and chocolate with a big smokey finish. They say only light smoke but not the case at all. The taste is all about the smoke its everywhere and dominating and only shows anything else on the finish where you get a little sweetness. Light black licorice as well. This is ok, nothing special but if you want a little smoke while your out not a terrible choice. However, they have schlenkerla there so I'd go with that.
★
591 characters
4.32
/5
rDev
+7.2%
look: 4 | smell: 4.5 | taste: 4.5 | feel: 4 | overall: 4
A: Solid black color with a dense reddish tan head that quickly receded to a thin film around the edges.
S: A smoky blend of chocolate, coffee, and dark malts.
T: Consistent with the smell, this one tastes of coffee, chocolate, rich dark malts, with a pleasant campfire-like smokiness tying them together.
M: Medium-bodied and fairly creamy and smooth.
D: Quite robust yet still drinkable enough to have more than one.
★
422 characters

4.1
/5
rDev
+1.7%
look: 4 | smell: 4 | taste: 4 | feel: 4 | overall: 4.5
I had this one on tap at the Piece pub on 2/21/2009.
A= This ale poured a dark black/brown color with a 1/4" off white head that slowly dropped to a thin skim. Only a couple spots of lace down the glass.
A= I found aromas of sweet dark malt, chocolate, treacle, and a hint of smoke. Pleasant but a bit muted overall.
T= Much like the smell, the flavor profile was a pleasant mix of chocolatey rich malts, treacle sweetness, and a faint smokiness. Finish was mildly sweet.
MF= Heavy side of medium bodied with a slick mouthfeel and moderately crisp feel.
D= A damn drinkable porter here. It went well with Piece pizza that's for sure!
★
640 characters
4.08
/5
rDev
+1.2%
look: 4 | smell: 3.5 | taste: 4.5 | feel: 4 | overall: 4
Had on tap today at Piece. Served into a pint glass.
Appeared black except for the slightest orange-red highlights on the bottom of the glass. There was a thin tan head that stuck around for a while but towards the end it had some trouble staying. Not much lacing at all as a consequence.
Aroma had some chocolate, and a nice smokiness reminiscent of a campfire. That smoked meatiness was slightly there but nowhere near as strong as a rauchbier.
Taste had a nice blend of roasty chocolate flavors that blended very well with the smokiness. A bit of coffee-like bitterness came out in the finish. It reminded me a lot of the Alaskan Smoked Porter, but not quite as smoky.
Mouthfeel was medium bodied, pretty creamy, but nothing outstanding.
I enjoyed this smoked porter very much. This is a style I wish there were more examples of.
★
838 characters
4.04
/5
rDev
+0.2%
look: 4.5 | smell: 3 | taste: 4.5 | feel: 4.5 | overall: 4
Appearance: Disgracefully, this like every goddamn beer I got that night was sent to me with no head, a disappointment, I suspect these beers are actually capable of a decent head. Still it looked beautiful and opaque black.
Smell: Weak, on account of the missing head?
Taste: The taste was delicious, smoky(a wee bit of smoked malts it says) chocolately, rich malty sweetness, very well balanced.
Drinkability: So rich you could only have a few of these a night, but it would be worth it.
★
492 characters

4.1
/5
rDev
+1.7%
look: 4 | smell: 4 | taste: 4 | feel: 4 | overall: 4.5
Another fantastic beer on tap at Piece. Pour is black with a filmy tan head. Smell is rich dark malt, smoky coffee, and dry chocolate. Taste is rich, roasty, smoky and robust flavorwise. Prickly carbonation with a medium body and this one comes highly recommended.
★
264 characters
4.1
/5
rDev
+1.7%
look: 4 | smell: 4 | taste: 4 | feel: 5 | overall: 4
Received in a growler from SQNfan - thanks again.
A: Deep dark brown, w/ the slightest amber hue around the rim. Big thick tan head, which lasted 2-3 minutes.
S: Rich smells. Smoke, chocolate, Malts and coffee.
T: Definitely roasted. The taste follows suit from the smell(s). Chocolate. Coffee. Malts. Smoke. A lot of Malts.
M: Rich and creamy. Very chewy and thick. Little carbonation. This is what I'm looking for in every beer.
D: This is went down EASY.
★
463 characters
3.29
/5
rDev
-18.4%
look: 4 | smell: 2.5 | taste: 3.5 | feel: 3.5 | overall: 3.5
Opaque black with dark brown translucent edges when held to the light. Thick smoky tan head - very active.
Smells roasty but otherwise somewhat non-descript.
Roasty malt with chocolate and coffee. Mild hop finish.
Full-bodied with good carbonation.
A tasty beer and a style I like, but I am not as impressed with this one as I am with many of Piece's other brews.
Growler filled at brewery on 1/20/08, tasted on 2/3/08.
★
425 characters
4.26
/5
rDev
+5.7%
look: 4.5 | smell: 3.5 | taste: 4.5 | feel: 4.5 | overall: 4.5
On-tap at The Piece, this selection pours a near black brown with some thin ruby highlights. The nice frothy and slightly creamy head holds very well and leaves good lace.
The aroma is slightly mild with some roasted malt and cocoa. The somewhat lacking nose is more than made up for in flavor.
Great dark roasted malt hits you immediately. Milk chocolate sweetness and some coffee. There is a slight smokiness and a bit of mild leafy hops in the finish. Some caramel and cocoa as well. Very big, bold flavor yet it remains well balanced. A very pleasant surprise.
Thick and creamy mouthfeel with moderate carbonation. Creamy and slightly dry finish. One of the best porters I've tried in a while. Also I strongly suggest you use the porter to wash down one of their pizzas. I hadn't heard much about this place and I was a bit skeptical, but the beer and food changed my mind completely.
★
900 characters

4.07
/5
rDev
+1%
look: 3.5 | smell: 4 | taste: 4 | feel: 4 | overall: 4.5
A generous pour, served in a nonic pint glass.
A thin cap of tan foam adorns the top of the porter, close to the brim of the pint. Aroma of roasted malt, barley, pretty nondescript, yet fresh.
Medium fullness in body, the roastiness is central to the taste. Mild bitterness, that subsides and turns to a touch of sweetness as it warms. A hint of butterscotch is there, not a full-fledged diacetyl presence, but it adds a degree of smoothness. Earthy hop in the back, lingering in the finish.
Easily quaffable or by the sip. A few pints would be effortless.
★
568 characters

4.2
/5
rDev
+4.2%
look: 4 | smell: 4 | taste: 4.5 | feel: 4 | overall: 4
Served in a pint glass at Piece on 1/3/07
A: Pours a dark, dark black. Brown, one finger head that leaves a little lace.
S: Aromas of roasted malt and smokey goodness.
T: Roasted malt and burnt toffee. Slight tart citrus in the middle. Roasted, toasted finish with some bittering hops. Great balance between roasted, smoked, and hoppy flavors.
M: Rather smooth and creamy for a porter. Hops add some prickly-ness to the finish.
D: A superbly drinkable smoked porter. Drinks better than some oatmeal stouts. Well worth a visit to Piece for this.
★
560 characters
Big Black Mariah from Piece Brewery & Pizzeria
88
out of
100
based on
15
ratings.