Komodo Dragon Fly Black IPA
| Upland Brewing Company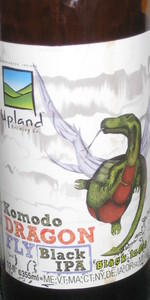 BEER INFO
Brewed by:
Upland Brewing Company
Indiana
,
United States
|
website
Style:
American Black Ale
Alcohol by volume (ABV):
6.50%
Availability:
Rotating
Notes / Commercial Description:
No notes at this time.
Added by akorsak on 02-14-2010
Reviews: 64 | Ratings: 189

4
/5
rDev
+5.5%
look: 4 | smell: 4 | taste: 4 | feel: 4 | overall: 4
Acquired from tburkhart, courtesy of the Under 100 IV BIF so a big "Thank You" goes out to him. Poured from a 12oz bottle into a US tumbler pint glass.
A: The beer is a deep dark brown color, with a large brown head that fades very slowly and leaves a thick but spotty lace on the glass.
S: The aroma contains roasted malts, coffee, chocolate and a decent amount of hops.
T: The taste starts out with a hearty roasted malt character and flavors of black coffee and dark chocolate. Then a complementary hops bitterness comes in but it's a bit mild for the style. There's a little bit of citrus and spice flavor in the background. The after-taste is slightly sweet.
M: Crisp and smooth, medium body, medium carbonation, finish is slightly sticky.
D: Tasty, goes down easily, not too filling, decent kick, good representation of style, while there are better beers in the style this one is worth drinking for a while.
★
919 characters

4.3
/5
rDev
+13.5%
look: 4 | smell: 4 | taste: 4.5 | feel: 4 | overall: 4.5
Sampled at the Indie tap room. It's neat to see that black IPAs finally have their own category. Even if there's a huge amount of variation within that category, it's neat that we can now begin to standardize them.
So--how do most black IPAs operate? There are those that taste like amped up browns, then there's the ones that are like regular IPAs only with a little bit of dark roasted bitterness or smokiness. And then there's one that are off the chain, they taste like there's something else going on in the malt, aside from barley.
This one falls into the first category. It's very stouty. Smells like an English dry stout that's been brewed with medium-alpha American hops. Tastes like a porter up front--dark barley, unkempt and lively, that's mostly bitter but also a little sour. This gives way to a rush of standard, west coast American hops and the malt appears to almost round itself out, become more biscuity and less bitter, by virtue of it being placed in contrast to the hops.
It's a nice, variegated flavor--not particularly adventurous for the style but still very interesting and very well-brewed.
★
1,123 characters

4.15
/5
rDev
+9.5%
look: 4.5 | smell: 4.5 | taste: 4 | feel: 4 | overall: 4
12 oz bottle poured into a Sierra Nevada imperial pint. Bottled on J '10 notched on the label. No other info.
A - This black IPA pours very dark brown, almost black, but totally clear in the stream. In the glass however, one would easily mistake this for a robust stout! Completely black, so much so no light shines through, with a dense, rich, mocha head. The small finger stature is made up for by the fantastic retention and thick coating of velvety lace.
S - This is by far one of the finest black IPAs I've ever had the pleasure of smelling. The nose has a fantastic marriage of deeply roasted chocolate malts with mocha and light coffee and hops. Green, herbal hops exude floral and grassy notes without being too "green". The aroma has a fantastic balance!
T - While the nose seems to reach further into the roasted malt/ porter aroma than the IPA, the flavor brings it back. Immediately my tongue is brought to hearty pine and citrus-flavored hops with a longevity to the flavor despite the inevitable change. The roastiness comes in with a vengeance but never overshadows the hops. Totally toasted, almost burnt bread with cocoa and mocha flavor come in on the finish. It doesn't quite land the impression the nose gives but it sure is good!
M - Awesome balance between roasted malty bitterness and hoppy, citrus/ pine resin bitterness finishes with a really dry texture. Komodo is medium-bodied with a light finish from carbonation.
D - Komodo blends the best parts of an IPA with a deep porter seamlessly to deliver a great drinking experience. Delicious, well-balanced, beautiful, and fantastic smelling. What else can you ask for? It's one great beer!
★
1,669 characters

3.7
/5
rDev
-2.4%
look: 3.5 | smell: 3.5 | taste: 4 | feel: 3.5 | overall: 3.5
Poured from a 12oz bottle into my Stone RIS glass. Poured a dark brown color with a half inch mocha colored head. The head faded and clung to the sides of the glass, but left some nice lacing as I drank it.
I'm getting an almost equal amount of the roasted, coffee and chocolate malts and the citrusy hops. They almost seem to cancel each other out though and leave a pretty mild nose overall.
The taste has a lot more of roasted coffee and burnt flavors then anything else. The finish especially showcases the burnt coffee bitterness. I get a little of the hops and citrus coming through but not nearly as much as I would expect in an IPA.
The mouthfeel was pretty fitting with it being medium bodied and moderate carbonation. Drinkability isn't bad, it had some nice stout flavors to it. My main criticism is the marketing this as an IPA. I didn't find it very hoppy at all and instead found it had some pretty big roasty and burnt flavors. I'd say that Night Stalker may be closer to an IPA than this beer. I liked it though.
★
1,031 characters
3.54
/5
rDev
-6.6%
look: 4 | smell: 2.5 | taste: 4 | feel: 4 | overall: 3.5
Surprisingly black, murky, with a light tan head. Deceivingly porter-esque. Smells like burnt hops, somewhere between big juicy pine and citrus mixed with dark toasted bread, and a hint of corn. Taste presents a lot of character like a porter, with dry toasty almost smoky malt juiced up with a huge dose of hops. A little bite in the hops of zest and pine cone, with a snowy flavor washing out with some dark grains that leave the hoppy bitterness suspended over something more bready. I've had some black IPAs, and this one is rather unique and somewhat odd, but I'm finding it increasingly attractive. There's something in there that mixes summer IPA refreshment with the smells and sensations of autumn and winter. Great balance and strength. Not my every day drinker, but one that I could easily find a taste for.
★
818 characters
3.49
/5
rDev
-7.9%
look: 4.5 | smell: 3 | taste: 3.5 | feel: 4 | overall: 3.5
Pours black with some nice tan head that sticks around for a while and leaves a bit of spotty lacing. Looks really nice for a black IPA, much better than most--it looks basically like a stout. Smell is a somewhat reserved mix of roasted malts, with just a hint of citrusy hops. Flavor is largely stout-y though. This was bottled in January, but it just got to the store, so I was expecting it to retain some hoppy freshness. Not so. This is more of an Irish Dry Stout than anything. Nice chocolate, coffee, and roasted notes, a bit o leafy bitterness, but not much else. Just a slightly hoppier stout, if you ask me. MF is creamy and full, and drinkability is pretty good. I think this one suffers from it not being what it says it is. Definitely a good and enjoyable beer, just not what I was craving when I went for a black IPA.
★
830 characters
3.75
/5
rDev
-1.1%
look: 4 | smell: 4 | taste: 3.5 | feel: 3.5 | overall: 4
Poured from a 12oz bottle. Review from notes.
A- Pours a black color. Almost looks more like a stout than anything else. One finger tan head comes and goes leaving light soapy lacing streaks on the glass.
S- The roasted malts come through more so than anything else. There are light earthy hops in this too that battle it out for the rest of the aroma in the beer. A little more roasted than I like in a black IPA but still smells good.
T- The flavors in this jump back and forth between IPA and stout. The burnt roasted malts come through first just to be knocked out by a light earthy hop. The chocolate malt notes bump the hops down the rest of the beer until the end. Citrus hops in the finish of the beer. Very interesting for a flavor complex.
M- Medium light mouthfeel. Carbonation was a tad high for me. Roasted malts left on the palate with some ligh hopping thrown in the aftertaste with the malts. Light drying from the alcohol.
D- This was a interesting beer. It couldn't decide what it wanted to be and to be honest I was ok with that. Looking forward to cracking another bottle open to see if this was a off bottle or if that was their intent.
★
1,165 characters

3.44
/5
rDev
-9.2%
look: 4.5 | smell: 3 | taste: 3.5 | feel: 3.5 | overall: 3.5
A: The pour is a dark brown, almost black, color with a very fluffy tan colored head and some nice sheets of lacing.
S: The primary aroma is roasted malt with some coffee notes and a noticeably acidity.
T: Like the nose, the roasted malt is the primary component along with coffee, an acidic note, and a bitter finish.
M: The body is medium with a lively and tingly carbonation.
D: Not sure if the high carbonation and acidity were due to infection, but this one just seemed a bit "off". For a black IPA, this wasn't all that hoppy.
★
536 characters
4
/5
rDev
+5.5%
look: 4 | smell: 4 | taste: 4 | feel: 4 | overall: 4
Upland bottles can be hit or miss. Hopefully this is a hit.
Appearance is a deep black, opaque with an initially creamy light brown head that ends up looking soapy.
Pronounced hop aroma and quite piney at that.
The flavor really combines some of the great qualities of an IPA, with its spicy hop and latent bitterness. There is a good dose of a smoky,burnt malt which I have grown accustomed to in a black IPA.
Feel is crisp and balanced. Good.
I think this is refreshing and hearty like a black IPA should be.
★
515 characters

3.98
/5
rDev
+5%
look: 5 | smell: 4.5 | taste: 4 | feel: 4 | overall: 3
A- Pours black with a pinkys worth of tan head. Looks like a stout.
S- Chocolate, roasted malts and some hops.
T - Coffee, and hops with some alcohol in the end. More stout flavors than IPA flavors, I think it should be in a different category than American IPA. Interesting beer.
M - Not too watery for an IPA, maybe a bit thin for a stout, but it is an IPA?
D - I could probably only drink a couple of these on a sitting, but it's something I would buy again.
★
465 characters

2.58
/5
rDev
-31.9%
look: 3 | smell: 2.5 | taste: 3 | feel: 2 | overall: 2
(a) Did I buy a stout or an IPA? Was very thrown off by this beer. Definetly not what I thought I was buying. Poors a thick stout-like black with 1 inch of dark foam, thick lacing. Some carbonation and settling occuring. (3.5/5)
(s)Intense, but not the hoppy IPA I was looking for. Chocolate, lavendar? Hint of coffee or espreso. (2.5/5)
(t)I understand this brew has its place...but for these taste buds. Im really having issues appreciating the dry hopped hops over this stout like character. (3/5)
(m) the bitterness of the hops near the end is the only thing i really appreciated about this beer. Thick and heavy on the pallete. Who knows. Maybe its just because the sun is out today but this is a beer to be enjoyed on a stout run in December. Very dull in some points. (2/5)
(d) If your a stout fan, bottoms up. If you get this in an IPA session, throw it at the end because I'm contemplating heading to the drain with this one...and I havent wasted a beer unless its skunked. (2/5)
I love you Upland, but I gotta leave this one out of my lineup
★
1,056 characters
4.03
/5
rDev
+6.3%
look: 4.5 | smell: 4 | taste: 4 | feel: 4 | overall: 4
Poured into a tulip from a growler purchased at the Upland tasting room in Broadripple .
A- Interesting! If I didn't pour it from the growler myself, I would swear that this beer was a stout. A very dark brown/black body with a tan head. It does leave small amounts of sediment on the side of the glass when swirled around.
S- The sent is very roasty and coffee like with subtle hints of earthy hops. I sure am glad that the hop smell does come through the roasted malt scent. After all, I'm about to drink an IPA.
T- At first taste, my taste buds were very confused. The malty burnt chocolate hits your first. Then the hops jump in and make you remember you are drinking an IPA. Although the citrus hop flavor does come through in the end, the burnt chocolate flavor is dominant.
MF- This strange concoction is a little lighter in the mouth than it appears in the glass. The hops do give enough bitterness that leaves your mouth a little dry wanting more.
D- I am a little confused by this beer. It is easier to drink than a stout, but not as refreshing as a standard IPA. The alcohol is hidden by all of the burnt earthy flavors. I will continue drinking this beer, but don't know how many I would want in a row.
I do enjoy the creativity, but it is lacking a little something. I wish there would have been more of a hop flavor to this beer. I am a huge fan of Upland and wish they would have been around when I was a student down in Bloomington. I think I was just expecting something different with this one. Overall a great beer, just not what I was expecting. I know I will drink this beer again in the future, but is not something that I will go out of my way just to have.
★
1,686 characters
3.68
/5
rDev
-2.9%
look: 4 | smell: 3.5 | taste: 3.5 | feel: 4 | overall: 4
Bottle thanks to heliosphann.
Pours black with a dense dark tan head. This is the darkest Black IPA/Cascadian Dark Ale I have seen thus far.
Scent of rich sugars, roasted malts, a hint of coffee, some sweet bitter hops and a touch of alcohol on the end. Good, but the strength of the roast is too overpowering.
Taste of dry roasted malts, a hint of caramel, tobacco, burnt sugar, and bitter, citrusy hops. Here again the roasted flavor takes charge and is not fully balanced with the hops.
Mouthfeel is light bodied, oily and viscous with a medium bite of carbonation.
★
572 characters

3.97
/5
rDev
+4.7%
look: 3.5 | smell: 4 | taste: 4 | feel: 4 | overall: 4
Thanks to Heliosphann for this 12 oz bottle. I'm surprised that I'm the first to review it.
A: The Black IPA looks more like an American stout, pitch black even when held to light. A thick, craggy head with a tan color is slow to recede. As it does, it leaves thick glacier-like patches behind. That's a foamy ale.
S: The nose, also like a stout, has a heavily roasted presence. The surprise though is the citrusy freshness (it's easy to forget this is an IPA when you look at it) of the hops. They are leafy and vibrant, in ample quantities.
T: The Black IPA is an exotic concoction, much like a Belgian IPA. It has the fresh zest of hops with the roasted stout malts, tricking the tastebuds with each sip. This beer fits nicely into that definition, offering alternating takes on hops and malts. The malts are roasted, burnt and chocolatey. The hops, rising up like a phoenix through the malts, are citrusy with a strong consistency. The intersections of the malts and hops are most flavorful, with both fighting for attention. The roasted malts are the dominant aspect of the finish, leaving a scorched presence.
M: The mouthfeel runs all over the place, starting out with a dark, heavily roasted presence before turning resiny with thick hops.
D: A hoppy stout or a roasted IPA, either way you look at it, it goes down smoothly. Thanks, Scott, for this one. I'm fast becoming a fan of Upland.
★
1,411 characters
Komodo Dragon Fly Black IPA from Upland Brewing Company
85
out of
100
based on
64
ratings.