Lager
| Howe Sound Inn & Brewing Company
BA SCORE
84
good
14
Reviews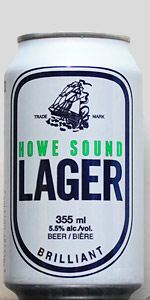 BEER INFO
Brewed by:
Howe Sound Inn & Brewing Company
British Columbia
,
Canada
|
website
Style:
Dortmunder / Export Lager
Alcohol by volume (ABV):
5.50%
Availability:
Year-round
Notes / Commercial Description:
Our lager is a version of the Dortmunder style. It is a pale golden lager, that is balanced between sweet malt and dry hop flavours. The lager has a clean, dry finish with some mild fruitiness delivered by the US version of German Hallertau hops and traditional Polish Lublin.
18 IBU
Added by Derek on 05-24-2011
Reviews: 14 | Ratings: 35
3.96
/5
rDev
+5.6%
look: 3.75 | smell: 4 | taste: 4 | feel: 3.75 | overall: 4
Beer poured into my glass from a six-pack of cans (and, just as an aside, the Howe Sound Lager cans are maybe my favourite cans--just aesthetically speaking--in the country); a semi-aggressive pour netted an absurd amount of fluffy, loose head that recedes slowly to a finger but persists and leaves a lot of lacing. Colour is a slightly foggy copper/orange.
Smell is primarily bready, pale malt (maybe a touch of caramel malt as well?), accentuated by some nice light grassy floral presence. Fresh grain. Slight copper or metallic note, a gentle (not unpleasant) sour twang. Taste is fresh, crisp malt, with a decent amount of hop flavour--minus some of the hop bitterness. Grassy, bready, slightly yeasty. Dry. Faint citrus, slight tree sap, wood-chips. Medium-high carbonation, but good body.
The canned presentation wants you to believe this is a highly sessionable lager, but it's really not: it's quite dry, a bit heavy, and very flavourful. Easy to burn out on. And yet it's also probably one of the best Canadian craft lagers I can remember trying in quite awhile. So there's that.
★
1,092 characters

4.02
/5
rDev
+7.2%
look: 4 | smell: 3.75 | taste: 4 | feel: 4.25 | overall: 4.25
Howe Sound Lager has a boisterous golden tone that is deep and gives the beer a very full-bodied look. In contrast to most commercial lagers this one appears to be robust and quite evidently undiluted. Owing to such hearty maltiness highlights and head flourish while clarity struggles.
Malted grain is every bit as concentrated on the nose, where mildly sweet and gently toasted barley notes absolutely thrive. The aroma may be straightforward but nothing so commanding should be called simple; whereas I often quickly bore of smelling lagers, this one could keep my attention for hours!
For lager lovers, such a clean malty profile is where the heart is. Each sip tastes nourishing, comforting, and wholesome. Its bready, cereal-like flavour and its soft, lightly honeyed lingering is absolutely delectable. Bottom line: beer doesn't get more approachable than this.
Few, if any, of the world's beverages provide the satiation and satisfaction of a Dortmund- or Munich-style lager. And yet so few micros (in Canada, anyhow) attempt them. While this is often for practical or financial reasons, it must be said that few craft brewers are all that adept at making lagers...
But Howe Sound's brewmaster has a skill set that clearly extends to lagers as well. I wouldn't hesitate to call this the best craft lager in Canada. Mind you, I've been so impressed by the quality and variety of their offerings I already considered Howe Sound one of the country's premier microbreweries.
★
1,493 characters

3.86
/5
rDev
+2.9%
look: 4 | smell: 3.5 | taste: 4 | feel: 3.75 | overall: 4
355 mL can from a six-pack picked up at the LCBO; no packaging information. Served at refrigerator temperature.
Pours a foggy golden-amber hue, topped with one finger of white-coloured froth. It seeps away rapidly over the next minute or so, with only a thin collar and some scant lace remaining behind. The aroma is simple, but appropriate for this style - biscuity malts, grainy sweetness, some honey and green apples, along with grassy, somewhat floral hop undertones.
Nothing but clean-tasting German lager goodness in this one. Pale, grainy malt sweetness and lightly toasted biscuits are the dominant flavours, with some vaguely fruity notes in the background. The hops finish things off, providing a mildly floral, somewhat earthy note that contributes to a slightly bittersweet finish. Light-medium in body, with assertive carbonation that still comes off a little lighter than most imported lagers. Very drinkable, and beautifully balanced.
Final Grade: 3.86, a solid B+. This is not really one of my favourite German lager styles, but Howe Sound's Lager is still definitely one of the best Dortmunders I've had the opportunity to try. The malts provide a clean, biscuity sweetness that is perfectly countered by the grassy, floral European hop bill. This is not a complex beer, but it manages to provide everything I expect from this style in spades. German lager fans will definitely want to give this one a shot, but anyone looking for something straightforward to glug back in a social environment should consider this a perfectly valid selection.
★
1,563 characters

3.75
/5
rDev 0%
look: 3.75 | smell: 3.75 | taste: 3.75 | feel: 3.75 | overall: 3.75
A: Deep golden, medium/good clarity (surprising), nice lasting head.
S: Toasty biscuity malt, smooth rounded earthy hops, a little floral, clean and restrained. Not particularly crisp. Rounded, easy-drinking.
T: Again dominated by toasty malts and deep earthy mild hops.
M: Surprisingly chewy, I could use a bit more bitterness but this is definitely an enjoyable lager.
★
374 characters

4.49
/5
rDev
+19.7%
look: 4.75 | smell: 4.5 | taste: 4.5 | feel: 4.25 | overall: 4.5
A. Murky golden Lager. Head is a long lasting quarter inch caramel small bubble foam.
S. Pretty much just really yummy saltine crackers. A bit of raisin too.
T. A super biscuity lager with a slight fruity after taste. Really smooth
M. Super refreshing on the front end, but after a few it's a bit astringent.
O. I really love this beer. Super versatile, as it pairs with most foods really well. I call the lager that has character. It is malty and smooth yet flavourful. It's in my top three beers.
★
502 characters

2.23
/5
rDev
-40.5%
look: 3.5 | smell: 3 | taste: 1.5 | feel: 3 | overall: 2
Appearance- Pours an amber colour with two fingers of foamy white head.
Smell- Grains, bready malts, slight musty hops, and sweet notes.
Taste- All I get is sweet and sour - no hops, no malts. I sure hope this is an off can, because otherwise... yeesh.
Mouthfeel - Light to medium bodied with moderate carbonation.
Overall - Wow, this was a disappointment. This must be an off can. Cloyingly sweet and sour flavours. Howe Sound is known for a much higher standard of beer and this does not fit into their lineup. Unfortunately, this is a drain pour. Will maybe try a different can and re-review.
★
600 characters

3.8
/5
rDev
+1.3%
look: 3.5 | smell: 3.5 | taste: 4 | feel: 3.5 | overall: 4
355ml can, thanks to the rep for the look-ahead freebie. Sort of weird seeing a Howe Sound offering outside of those 1L bottles, eh?
This beer pours a hazy, medium golden amber hue, with two fat fingers of tight foamy ecru head, which leaves some sudsy blips of island profile lace around the glass as it steadily subsides.
It smells of softly sweet biscuity malt, a wee bit of honeyed toffee, and lilting grassy and earthy hops. The taste is more prominently crisp, biscuity, and grainy malt, some mild dry citrus notes, a stony mineral character, and some sturdy grassy and leafy hoppiness.
The carbonation is a bit prickly, but generally agreeable and thoroughly supportive, the body on the light side of middleweight, and fairly smooth in its bearing. It finishes more or less dry, the biscuity quality of the grain and the lingering hops seeing to that.
Overall, a rather full-flavoured craft lager, with a decent aromatic structure. Leave it to this brewer to make a complex, quite drinkable, and simply packaged version of this relatively esoteric style, but here it is.
★
1,082 characters
3.26
/5
rDev
-13.1%
look: 3.5 | smell: 2.5 | taste: 3.5 | feel: 3.5 | overall: 3.5
Thanks to my boss who brought a can back from his whistler vacation...I had a chance to part take! The beer pours a slightly hazy golden color with a fluffy white head. Aroma is faint, from what is present, there is a bready tone. Good flavor of malt and nuts with some light bitterness. Nice mouthfeel, medium bodied and well carbonated. Drinkability is quite good, and I could have several if given a chance!
★
410 characters
4
/5
rDev
+6.7%
look: 4 | smell: 4 | taste: 4 | feel: 4 | overall: 4
355ml can poured into pint glass 28/1/12
A slight haze in a dark copper body, two finger head hangs around for a few sips leaving a couple partial rings of lace
S a little earthy and grassy hops with some faint honey and some biscuit
T as it smells really, a little malty flavours come through
M thick for the colour, creamy from bubbles and a nice earthy after-taste
O I rather liked this one, nice flavours for a lighter brew
for style I thought it was pretty good, I'm not saying this is going to make your day like a giant stout or DIPA but its a satisfying I could drink again
★
590 characters
3.88
/5
rDev
+3.5%
look: 4 | smell: 3.5 | taste: 4 | feel: 4 | overall: 4
Poured from an old school looking can, with a schooner on it... badass.
Pours a light honey color, with a fluffy head that mostly disappears, leaving a minimum of lacing. Smells sweet, with some bread, mineral, and hops. The flavor is all noble hops, with some bitterness balanced out by sweet malts and a nutty finish. Has a light mouthfeel, with moderate carbonation. This is a very easy-drinking and refreshing lager, probably my favorite from BC. I could definitely knock back a few of these on a hot afternoon. It beats ass over any of the macros, any day of the week.
★
573 characters
3.7
/5
rDev
-1.3%
look: 4 | smell: 4 | taste: 3.5 | feel: 4 | overall: 3.5
I picked this up on a trip to BC. I was really excited to see another craft beer in a can! Howe sound does some great things, hopefully this is no exception.
The beer pours a nice hazy amber colour that almost reminds me of apricot. The head was substantial to start, but has settled down to a foamy centimeter on top with lots of carbonation rising up.
The aroma is slightly fruity with some citrus notes complimented by piney hops. There is a light grainy background smell as well.
The taste is grainy to start, but the hops come through quite suddenly and then dominate as they give way to some of the citrus flavour I mentioned earlier. It isn't a very intense beer, but it kind of lacks the refreshing lager taste I was expecting. There isn't a lot of carbonation on the tongue despite the appearance. It's very smooth
Overall, this is a good beer and certanly worth trying. For me, it isn't really worth seeking out again, but it was definitely worth a try.
★
967 characters
3.85
/5
rDev
+2.7%
look: 3.5 | smell: 3.5 | taste: 4 | feel: 4 | overall: 4
Pours a slightly hazy golden color with a fluffy white head. Aroma is sweet and bready with some nuttiness. Good flavor of malt and nuts with some light bitterness. Nice mouthfeel, medium bodied and well carbonated. Drinkability is quite good, this is probably the best BC produced lager I've tried so far!
★
306 characters
3.25
/5
rDev
-13.3%
look: 3.5 | smell: 3.5 | taste: 3 | feel: 3 | overall: 3.5
Enjoyed on tap at the brewpub. Nothing to look at, neutral colour. Neutral aroma. The taste is a little lagerish with a fizzy carbonation. Like a macro with organic like ingrediants. They do make better beer. Moer drinkable than the canned version. Newer, summer product.
★
271 characters
4
/5
rDev
+6.7%
look: 4 | smell: 4 | taste: 4 | feel: 4 | overall: 4
"A refreshing Dortmunder style lager brewed with Lublin and Hallertau hops. 13º Plato 18 IBUs."
A: Yellow bronze with a white head, light retention & lace.
S: Earthy mineral, grass, steelie & floral.
T: The bitterness is upfront and surprisingly assertive for 18 IBU. It must be the plethora of (low alpha-acid) nobel hops. Earthy mineral, steelie grass, light breadiness and a pleasant hint of sulfur from the lager yeast.
M: Well-attenuated moderate body is smooth (a nice protein feel from quality malt), with a crisp finish.
D: A really good drinker.
I love their 1L bottles, but I also love a good craft in a can. Hopefully the do some more lagers!
★
672 characters
Lager from Howe Sound Inn & Brewing Company
84
out of
100
based on
14
ratings.