Dismiss Notice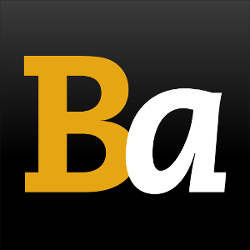 Site Performance Updates: We're aware of the nightly site outage, and working on resolving the issue.
March Of The Penguins
| Williams Brothers Brewing Company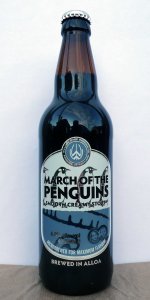 BEER INFO
Brewed by:
Williams Brothers Brewing Company
United Kingdom (Scotland)
|
website
Style:
English Stout
Alcohol by volume (ABV):
4.90%
Availability:
Rotating
Notes / Commercial Description:
No notes at this time.
Added by AgentMunky on 04-27-2011
Reviews: 13 | Ratings: 60

3.72
/5
rDev
-7.5%
look: 3.75 | smell: 3.5 | taste: 3.75 | feel: 4 | overall: 3.75
Deep black color with a thick thin caramel head with medium retention.
Predominant aroma with notes of roasted coffee beans, licorice, cream and mild orange zest.
Flavor with notes of coffee, more earthy than nutty, just a bit of caramel, mild lactic acid and citrus fruit peel on the background. Dry after taste with a mild hop bitterness.
Light towards medium body with appropriate carbonation.
Laidback and satisfying Oatmeal Stout, flavorful but not too roasted with coffee predominating and other background flavors giving a mild twist.
★
541 characters
4.66
/5
rDev
+15.9%
look: 4.5 | smell: 4.75 | taste: 4.75 | feel: 4 | overall: 4.75
Definitely not a meme stout!
Rich and heavy. Tastes of smoky dark chocolate, caramel and with floral tones that remind me of Turkish Delight. Kev would be proud.
★
162 characters
3.87
/5
rDev
-3.7%
look: 4.5 | smell: 3.75 | taste: 4 | feel: 3 | overall: 4
L:
-pours the darkest of brown with no light coming through and a small to medium,foamy,offwhite head
S:
-chocolate,coffee,zesty,coriander,licorice,orange,slight banana
T:
-zesty sourness upfront,coffee,walnuts,licorice,chocolate,yeasty
F:
-medium carbonation
-light body
O:
Very good,unique Stout
★
297 characters

3.5
/5
rDev
-12.9%
look: 3.5 | smell: 3.5 | taste: 3.5 | feel: 3.5 | overall: 3.5
Pours dark brown with a off-white head. Aroma has notes of roasted malt, caramel, chocolate, floral, hint smoke. Taste is medium sweet and light to medium bitter with a long chocolate and caramel finish. Body is medium, texture is thin to oily, carbonation is soft.
★
265 characters

4.3
/5
rDev
+7%
look: 4 | smell: 4.5 | taste: 4.25 | feel: 4.25 | overall: 4.25
Poured in english pint.
Clear deep brown beer with tan head, retention is ok. Cocoa smell, dry & nutty.
Taste is smooth, naturally balanced, honest and true. Chocolate, mild floral, specific to Williams beers. Soft carbonation, high drinkability. Am quite satisfied.
★
266 characters

4.09
/5
rDev
+1.7%
look: 3.5 | smell: 4.5 | taste: 4 | feel: 4 | overall: 4
A 500ml bottle with a BB of Dec 2012. Cool label. It also mentions that this ale includes wheat, coriander and orange zest as well as the usual ingredients.
Poured into a Sam Smith's pint glass. A deep ruby-chestnut hue that appears black unless held to the light. Yields a decent head of frothy light brown foam that lasts for a minute or two before disappearing. Aroma of rich, chocolaty malt with notes of roasted grain, coffee, cocoa, mocha and hints of molasses and dried fruit. Slightly sweet. Fantabulous!
Tastes of rich roasted malt with a chocolaty character and a dry, bitter finish. Notes of roasted grain, cocoa, coffee, dried fruit, faint molasses, stewed hops and hints of spice. Subtle sweetness. Considerable bitterness upon swallowing - both hops and dark malt contribute. Mouthfeel is smooth and creamy, with spritzy carbonation peppering the tongue. Body is a tad thin for the style. Rather astringent - dries the palate. Aftertaste of intense bitter coffee/roasted malt and hints of chocolate.
Excellent - superb flavour and character. An avalanche of roasted malt with significant chocolate and coffee notes. Nice mouthfeel; the only minor let down is the body, which could be fuller. Can't say I really distinguish the coriander or orange under all that malt, but it doesn't detract from the experience. For a stout that is just under 5% ABV, this may well be peerless. A must-try beer if you have the chance.
★
1,434 characters

3.85
/5
rDev
-4.2%
look: 3.5 | smell: 3.5 | taste: 4 | feel: 4 | overall: 4
It pours a dark peat colour with a reasonable offwhite head which dissipated to the rim disappointingly quickly. This has a roasted malt nose with a hint of cream.
It tastes very smoky, in a woody way and manages to be smooth despite decent carbonation. It is definitely a sipper as after the hops ease of I am left with a very sweet and rather acidic taste on the tongue.
Very suitable for hunkering down in the latest Atlantic storm.
★
437 characters
4.5
/5
rDev
+11.9%
look: 4 | smell: 4 | taste: 5 | feel: 4 | overall: 4.5
Poured from a 500mL bottle into a snifter. Bottle is stamped best before April 2013
A: A beautiful, mahogany liquid with a 1 finger head the color of a latte. Head retention is minimal, giving way to a thin coating of large bubbles atop the beer.
S: Smells sweet, like pastries, with a bit of chocolate and citrus/hops in the aroma. There's a note of coffee in the background, but it's negligible.
T: Coffee and a milky sweetness. Almost no bitterness whatsoever, and the bitterness that is there is very complimentary. A wheat beer meets a stout.
M: Well carbonated, nice viscosity.
Overall, this is one of the most delicious beers I've had. It's brewed like a stout, with chocolate malt and roasted barley, but also has wheat, coriander and orange zest. It's an interesting combination between two styles.
★
814 characters
3.97
/5
rDev
-1.2%
look: 3.5 | smell: 4 | taste: 4 | feel: 4 | overall: 4
500ml Bottle, best before Dec 2012, poured into a vase shaped 'Old Speckled Hen' pint glass on 29 Nov 2011.
Deep, dark ruby red body, weak, thin wispy covering on top.
Smell of chocolate, ground coffee beans and baked shortbread biscuits. I might try this beer hot next time!
The taste is very simular to the aromas, with some keen carbonisation to give the sweet malty flavours a spritzy feel in the mouth. Some of the ingrediants listed on the label (Coriander and Orange Zest) I couldn't find, although it was a lovely tasting beer. Without a doubt a Stout, not a Scottish Ale at all.
My enjoyment of this beer was hightened by my football team winning 6-0 as I reviewed it!
★
682 characters

4.47
/5
rDev
+11.2%
look: 4 | smell: 4.5 | taste: 4.5 | feel: 4.5 | overall: 4.5
Who put the category down as Scottish ale instead Stout?
Poured into a dimpled handled pint pot filling my nose with charcoal accents, creamed oats, cocoa powder and freshly ground coffee.
A robust big body of pitch black mass tempering on the edges with a reddish gleam but leaving just a thin off white head.
What a mouth feel, thick with subtle carbonation.
But what a smack round the chops a big brash liquorice taste opener that flows to charcoal mainstay and rounds of with a creamy finish.
Tasty and really easy drinking for a stout and all this from a humble bottle of beer, I would just love to try the cask.
★
622 characters
4.17
/5
rDev
+3.7%
look: 4 | smell: 4.5 | taste: 4 | feel: 4.5 | overall: 4
Shamefully, and like many of us, I have become so consumed by BIGNESS that I rarely look twice at a sub 5% stout. I'm at the stage where drinking RISs seems as normal as chucking back numerous large glasses of port with my steak. But finding this well hidden row of bottles in the local supermarket and seeing that they are Williams Brothers beer, well, I couldn't help but be interested.
Not entirely black but a good stab at it with a good mix of red orange lining the bottom of the glass. Above the liquid line screams out a super big rocky tan head. There is a beautifully balanced taste and a lluxuriously restrained richness which leads at the very very end to a morishly earthy bitterness. With every drink there is left a super thick doily lacing whipped artound the glass edge.
Reminds me yet again (I need to be reold and retold this) that stouts are more than just all consuming booze and weight.
★
909 characters

3.92
/5
rDev
-2.5%
look: 3.5 | smell: 4 | taste: 4 | feel: 3.5 | overall: 4
a: This was so dark it bordered on black. It was served to me with a small, whispy head.
s: A strong, smoky char note dominates the aroma. I also found hints of cherry and nutty coffee.
t: I've never had anything quite like this. Ashy, roasted malts that barely suggest coffee with hints of cherry and earthy, peaty nuttiness. The finish was a slightly sour smokiness with some bitter, leafy hops.
m: Gently carbonated with a fairly thin body.
o: This was a strange one. I've never tried a Scottish ale with such a strong, roasty charcoal presence. I liked though and I'm very glad I got to try sometrhine so unique.
★
620 characters

4.17
/5
rDev
+3.7%
look: 4 | smell: 4.5 | taste: 4 | feel: 4.5 | overall: 4
Served in a pint glass at Aikman's bar in St Andrews. Luckily, I got the last pint before they ran out. Reviewed February 2011. From notes.
A: A good inch of head overflowing the glass. Quite dark...black, even. Some reddish glints in the light.
S: Ghostings of coffee. Nice and creamy. Rich chocolate malts.
T: Very nice. Smooth, sweet chocolate. A bit of a sourish flavour (that could conceivably be hops trying to break on through) can't dissipate the sweet chocolatey deliciousness. The aftertaste is sparse but pleasant. Wet (i.e., the opposite of dry) and drinkable.
M: Substantial, creamy, quenching.
O: Certainly one of the better cask beers I've come across. Wonderfully drinkable; creamy and downable. Definitely recommended.
★
740 characters
March Of The Penguins from Williams Brothers Brewing Company
87
out of
100
based on
13
ratings.