Tripel
| Dry Dock Brewing Co.
BA SCORE
84
good
12
Reviews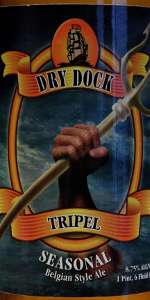 BEER INFO
Brewed by:
Dry Dock Brewing Co.
Colorado
,
United States
|
website
Style:
Tripel
Alcohol by volume (ABV):
8.75%
Availability:
Spring
Notes / Commercial Description:
No notes at this time.
Added by Mebuzzard on 01-31-2012
Reviews: 12 | Ratings: 27

4.13
/5
rDev
+11%
look: 4.25 | smell: 3.75 | taste: 4.25 | feel: 4.25 | overall: 4.25
This was a really good beer, definitely worth buying a bomber. I saw it listed at 9% ABV on the bottle, so I guess this year's batch came out a bit stronger than previous ones. But despite a weaker smell, the flavor was so good, exactly what a tripel should taste like. A little malt, some spice, faint hops, but all tied together well, and apparently better than the version made in prior years given the other, older reviews. Dry Dock must have made some improvements to this one and I'm glad they seem to have kept tweaking it.
★
534 characters

4.02
/5
rDev
+8.1%
look: 4.25 | smell: 4 | taste: 4 | feel: 4 | overall: 4
22 oz. Bomber
ABV: 9%
Poured into a chalice a pretty nice clean/clear dark golden yellow color, very nice carbonation, with a pretty nice creamy small head, which leaves some oil slicks and sticky lacing behind. The nose is malty, yeasty, grassy/wheaty notes, spicey. The taste is pretty nice malty, yeasty, nice touch of spices. Medium body, a little bit hot. Overall, a nice little brew.
★
390 characters

3.39
/5
rDev
-8.9%
look: 3.5 | smell: 3.25 | taste: 3.25 | feel: 4 | overall: 3.5
From a 650 ml bottle into a tulip. Reviewed from notes dated May 30, 2013.
A-The brew is darker than many tripels, with copper coloring. A decent display of carbonation is visible in the clear liquid. The off-white head is initially about one and one-half fingers tall, but it drops leisurely into a thick cap.
S-The smell is quite sweet with overripe apples, pear, candy sugar, and fruity alcoholic notes being dominant. There is only a hint of grassy straw but it does not completely balance the overwhelming sweetness.
T-The taste is also hugely sweet, with overripe apples being the most noticeable flavor. A touch of grassy, hoppy bitterness creeps in towards the middle, but it does little to counteract the sweet, mushy fruit flavors.
M-The feel is decent with a crisp, moderate carbonation.
O-This brew leans too heavily towards the mushed fruit end of things for my taste. It lacks substantial spice or grass notes, and it is missing the complexity that a good tripel displays. I guess they can't all be winners.
★
1,026 characters

3.28
/5
rDev
-11.8%
look: 3 | smell: 2.5 | taste: 4 | feel: 3 | overall: 3
Very odd perfumey flavor hits you right from the first sip. Rather light bodied. A mustache of foam but carbonation is not very high. Some sparkle on the tongue but the head dissipates.
Some of the the Belgian dry finish, but I wouldn't say there is much yeast flavor. Modest hops, per the style, but a little bitterness in the aftertaste. A little fruity tang, something like apricots. That peculiar perfumey nose just doesn't let up. Some interesting flavors but it's hard to call this anything but average in a category full of great brews.
From the 22 oz bottle bought in Denver. This one has been in the basement for at least eight months.
★
646 characters
3.66
/5
rDev
-1.6%
look: 4.5 | smell: 3.5 | taste: 3.5 | feel: 3.5 | overall: 4
22oz into a goblet
A- Pours a light golden color - very clear and brilliant. Not hazy at all from bottle conditioning. Light pearly white head formation.
S - Lightly sweet and spicy nose. A little bit of alcohol tones as well. The coriander is present, but plays behind the fruity esters.
T - Starts off lightly sweet, then gets even more sweet. Mid-stream brings in esters and some white pepper/coriander spice. Finishes with a sticky sweetness and a little alcohol flavor.
M - Full bodied, moderate carboanation. In line for a tripel. Alcohol warmth is present, but not overbearing.
O/D - A solid tripel, lightly filling and managable ABV. A little bit sweet for a tripel, which is somewhat a misnomer.
★
709 characters

4.35
/5
rDev
+16.9%
look: 4 | smell: 4 | taste: 4.5 | feel: 4.5 | overall: 4.5
Bomber served cold into a goblet.
Dry Dock's Tripel is a pale golden yellow color with very good clarity. The head is thick and dense, settling to a skim layer with spoty lacing.
Aroma is mild but has nice floral and spice notes.
Flavor is really well done. Mild at first but then the depth really hits. Sweet pilsner malts up front give way to a fairly big hop profile of spicy European style cones. A little bit of pepper from the yeast but mostly floral and tropical fruit character from the hops.
Mouthfeel is surprisingly smooth and well-balanced given the strength. Deceptively easy to drink.
Overall a real surprise. After having a sample at the brewery a few weeks ago, I wasn't that impressed. When I saw the bombers on the shelf at my local, I figured I would give it another try and I'm sure glad I did.
★
819 characters
4
/5
rDev
+7.5%
look: 4 | smell: 4 | taste: 4 | feel: 4 | overall: 4
Dry Dock Tripel Seasonal, 20 oz. bomber: The Belgian Tripel style is one of my favorites, not for mass consumption, but as a dessert beer for special occasions. The bomber format fits this style perfectly, and there are a great array of Belgian and US offering available at your high end stores. Tripels vary quite a bit, so they are worth exploring. But do you try one brewed in Aurora, Colorado? Pretty far from Belgium, but I was game. A thin head covered the light golden body. This beer was very clear, with big particles of yeast floating about. The aroma conjured up yeast and fresh bread on a bed of flowers. The flavor was very centered, no big flavors of apricot, no sparkle of champagne, just a solid smooth tripel. My thanks to Dry Dock for a job well done in a difficult style filled with a wide variety of competition.
★
832 characters

3.88
/5
rDev
+4.3%
look: 4 | smell: 3.5 | taste: 4 | feel: 4 | overall: 4
Poured in to a Duvel tulip. Clear, golden body. 1.5 finger, frothy, white head. Good lacing as well.
Aroma was mildly sweet. No signs of ABV but there some banana and clove-like sweetness. Estery with some belgian yeasty aroma.
Taste was nice with some banana and clove flavors. Estery, slightly grainy. No real signs of ABV. Somewhat earthy with a very mild bitterness to balance out the sweetness. Yeasty. Pretty malty and sweet with a clean finish.
Mouthfeel was medium body, medium/high carb and a crisp finish.
Overall it was very nice. High ABV tripel that drank easily with some nice flavors.
★
603 characters

3.5
/5
rDev
-5.9%
look: 3.5 | smell: 3.5 | taste: 3.5 | feel: 3.5 | overall: 3.5
A - Pours about a one finger head of white foam. Body is dead clear and straw yellow. I would like to compare it to BMC light and see which is darker because this looks almost white. Some minimal lacing.
S - An interesting one. Some banana and cloves. Very refreshing and bright. Sweet.
T - Again some cloves and banana dominate. Sort of a white sugar sweetness to it. Very sweet.
M - Is a little over carbonated but otherwise not bad. Body is just right.
O - It is about a 3.5 down the line. Better than average but I expect more out of Dry Dock. Not something I could have more than one of.
★
597 characters

3.5
/5
rDev
-5.9%
look: 3.5 | smell: 3.5 | taste: 3.5 | feel: 3.5 | overall: 3.5
Another Dry Dock released? Hell yes!
Poured from undated bomber to tulip. The beer pours a light straw color. Translucent with a half finger white head. Some retention and lacing. The nose is very light. Hints of toasted malt, slight belgian yeast character. A bit of lemony citrus. The taste follows suit and for such a big beer doesn't have a lot of character. Mild earthen hops provide a base from which a spiciness and toast flavors build. Mild belgian flavor. Finishes dry with hints of fruity lemon character with a lingering bitterness and belgian funk. Easy to drink but not my favorite Dry Dock offering, a bit of a let down considering everything else they have released has been a home run.
★
702 characters
3.57
/5
rDev
-4%
look: 3.5 | smell: 4 | taste: 3.5 | feel: 3 | overall: 3.5
pours a flatish light yellow color with a very small white head. smells fruity, sweet, and flowery. flavor has notes of spice, citrus fruit, white grapes, and belgian yeast. i am not too excited by this beer tough because of the mouthfeel. its a complex palate and there is way too little carbonation for this style. it doesnt allow the flavor to develop and be held. kind of nice body on it, but again the lack of bubbles brings it down. dry dock can do better, but this isnt bad. good for spring
★
497 characters

3.83
/5
rDev
+3%
look: 4 | smell: 3.5 | taste: 4 | feel: 3.5 | overall: 4
Dry Dock's new Spring seasonal, a tripel.
Pours a light golden, bright, with bubbles rising from the bottom to form a bit of a soapy head on top.
Aroma is spicy, but light. It comes across as a bit in-yo-face and that's a good thing. Some lemon zest and pommelo. Lightly toasted cracker. Some hints of sweet corn. Uh-oh
Well, the corn isn't all that bad. It's so faint that it could actually be a combination of white pepper and more Earthy hops. Good spice on it, but not as much as the nose would lead you (well, me) to believe. Fruity but dry, and very light on the palate. This could almost be their summertime beer...but their Hefe dominates that spot (although their Apricot is the summer seasonal).
★
715 characters
Tripel from Dry Dock Brewing Co.
84
out of
100
based on
12
ratings.