Ellersick Brewing Company
BEER STATS
Beers:

20

Reviews:

Ratings:
PLACE STATS
Reviews:

9

Ratings:

Avg:

3.8

pDev:

12.37%

Taps:

10

Bottles/Cans:

0

Cask:

N

Beer-to-Go:

Y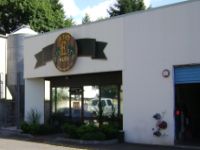 PLACE INFO
Type:
Brewery, Eatery, Store
5030 208th Street SW
Lynnwood
,
Washington
, 98036
United States
(425) 672-7051 |
map
www.ellersickbrewing.com
Notes:
No notes at this time.
Added by BeerAdvocate on 11-02-2005
Reviews: 9 | Ratings: 14

3.58
/5
rDev
-5.8%
vibe: 3.5 | quality: 3.5 | service: 3.5 | selection: 4 | food: 3
I've been to Ellersick many times in the past and made another visit yesterday. It's a small brewery in a small industrial park right in the middle of a suburb, but once you get inside it's got a nice pub vibe going on. When I was in yesterday, the place was full of regulars who seemed to know the staff pretty well.
I sat at the bar, so the service was fine for me. I had a few of their beers and all were pretty good; they have something like a dozen of their brews on tap at any given time. I also had their chicken wrap, which was pretty simple but tasty enough.
I tend to like Ellersick's beers, so I would recommend dropping by here and trying them out. They have a six-glass sampler that they'll sell you for something like 8 or 9 bucks, which is a pretty screamin' deal as far as I'm concerned.
★
805 characters
More User Reviews:
3.41
/5
rDev
-10.3%
vibe: 3.5 | quality: 3.5 | service: 3.5 | selection: 3.25 | food: 3.25

4
/5
rDev
+5.3%
vibe: 4 | quality: 4 | service: 4 | selection: 4 | food: 4

3.88
/5
rDev
+2.1%
vibe: 4.25 | quality: 3.75 | service: 3.5 | selection: 4 | food: 4.5
Big E as it is called by us locals is a nice little spot to have a tasty dinner or lunch with a good beer. Can get rather crowded on weekends and dinner which leads to some slow service as the kitchen just isn't big enough to keep up. Food is always very good and the beers are all solid. Couple beers are really good while a couple are sorta bland. Overall a good place for a growler fill, lunch, or dinner.
★
408 characters
4.95
/5
rDev
+30.3%
vibe: 4.5 | quality: 5 | service: 5 | selection: 5 | food: 5
Amazing beers and food! Feels like a mom and pop establishment with an extensive beer selection.
96 characters
3.88
/5
rDev
+2.1%
vibe: 4 | quality: 4 | service: 4 | selection: 3.5 | food: 4
3.5
/5
rDev
-7.9%
vibe: 4 | quality: 3.5 | service: 3 | selection: 4 | food: 3
A: Pretty cool. Working class vibe, good share of locals. The wife and I were here on a Saturday at Noon. About 6 people there. They seem to have alot of UFC posters everywhere so if you like that crap you may like it here. I can anly imagine this place on a UFC fight night.
Q: Quality at Big E ranges avaerage to good. Beers are consitent.
S: The guy behind the bar was nice enough and chatted with us a bit and provided good service. Big E came out and talked to some locals next to us at the bar but never acknowledged anyone else
S: Pretty good here. Fruit, IPA, Lagers and pretty much anything for anyone
F: Wife had grub which was not to bad
★
652 characters
2.8
/5
rDev
-26.3%
vibe: 3 | quality: 3 | service: 1.5 | selection: 3.5 | food: 3.5
One block off the freeway on a dead end street in the corner of a small industrial park sits Lynnwood's only brewery, known variously as Ellersick Brewing Co. and Big E Ales. Ellersick serves 11 beers at their tasting room. Most are ales; a few lagers appear seasonally. The tasting room is a small, no-frills affair with a simple working class vibe. A commercial FM station plays distractedly while three televisions cover sports. The menu offers a brief selection of fried snacks, sandwiches and BBQ ribs, though most of it reminds me of that old Saturday Night Live sketch with Bill Murray calling out, "Cheeseburger, cheeseburger..."
Beer styles cover most of the basics but also include a spiced lager, a blackberry winter ale, and a double chocolate porter. The spiced beers are perhaps the most interesting though a cynical hunch suggests that may be because they stand out against otherwise routine house standards. Most beers are reasonably enjoyable but don't elicit much excitement.
A wide picture window allows views from the bar to the spacious brewery. Service at the bar can be friendly and responsive. Kitchen service is another story. I waited 45 real-time, on-the-clock, no-exaggeration minutes for a chicken sandwich. Yes, they were busy on a Friday night, but 45 minutes is inexcusable. And though the ciabatta bread enhances their grilled foods, food arrives on paper plates or plastic baskets.
If you're looking for a beer, burger, and ball game, you could do worse than a visit to Ellersick. They make an interesting root beer and even sell cigars from a humidor. But don't go out of your way.
★
1,621 characters

3.28
/5
rDev
-13.7%
vibe: 3 | quality: 3 | service: 3.5 | selection: 3.5
Had the opportunity to visit this location last night with some co-workers. They had about 10 varieties of beer available ranging from a Pilsner to a Double Chocolate Porter brewed with 30lbs if Giardelli chocolate. I tried a sampler then moved on to have a pint of my favorite of the bunch. This was the "Hoppy Red"
Overall the beers were average.
The pilsner was not very good and their IPA lacked any body to stand up vs. the hop tones. The DPA had an interesting almost unfermented flavor of wort. The Hoppy Red and Blackberry were probably the best of the bunch.
The atmosphere was satisfactory, but you could tell you were in an industrial park. They look like they've tried to warm up the room, but not sure they went far enough. The service was fine. When some of my co-workers ordered a second round, they were forgotten... The place really wasn't that crowded when this happened.
Did not have food, but the menu looked pretty basic.
My office is 2 blocks away so I might be back on a future trip if they take me again. I would not make this a destination and their beers are clearly 2nd tier vs. what is available on the Northwest.
★
1,145 characters
4.14
/5
rDev
+8.9%
vibe: 4 | quality: 4 | service: 4.5 | selection: 4
I stopped in around 4 hoping to catch some HH deals, but none were had. Ok, normal prices it will be.
I had to go for a 2 pint Imperial IPA (9.5% ABV) - the name reflects that you can have 2, then you are cut off. It was hoppy, bitter but very drinkable and a decent offering. Damn their responsibility though! just kidding.
A Cream Stout nitro for dessert and I was off, as I was meeting co-workers for dinner or I would have eaten here. All the food I observed coming out of the kitchen looked quite tasty.
The place was full and parking was a bit tricky. There were actually folding chairs 'reserving' a few spaces near other businesses in the park.
Most of the patrons were enjoying the Mariners game. The bar is pretty small (about 6 or 7 places max), but there are many tables and an outdoor area to sit at.
Nice brewpub, good local feel, not at all commercialized, with a friendly staff who make you feel very welcome.
★
931 characters

4.28
/5
rDev
+12.6%
vibe: 4 | quality: 4.5 | service: 4.5 | selection: 4 | food: 4
As a previous reviewer noted Ellersick Brewing AKA "Big E" certainly has a local pub feel to it, even though when I was there most of the customers seemed to not be from the area.
The beers my wife and I tried were all solid, the Blackberry, the Scotch Ale, and the Two Pint IPA. The beers on tap were still pretty much as listed by the previous reviewer. Service was very good.
We also split a rack of ribs, and they were certainly meaty, and not bad at all. A good value at $13.95. They will also fill growlers for $7.50, a real steal these days.
We will without a doubt return to Ellersick next time we are in the area. A worthwhile stop.
★
645 characters
4.95
/5
rDev
+30.3%
vibe: 5 | quality: 5 | service: 5 | selection: 5 | food: 4.5
Just want to send an beer selection update. Great place with a neighborhood pub feel.
The tasting room is complete and food available 1pm-8:30pm. Acquired space next door and plans are in the works to expand cooler storage. An outside patio was finished last summer and this is a nice area when the weather is better. Several options available to rent the place for parties or receptions. Beers on tap:
Lawnmower lager 4.8% abv: Nice light lager, great on warm days
Golden Ale 5.5% abv: Pale Ale/light blonde
Honey Wheat: closest beer they have to a Hef
Blackberry 7.2% abv: a popular one, not too fruity, rich blackberry taste
Copper 6.2% abv: think light amber
Cream stout 6% abv: on nitro, kind of sweet with a thin body (but what does a hophead like me know?).
Porter: Chocolate overtones
Scotch Ale 7.2% abv: probably the most popular, dark and smooth. Those who say they don't like "dark" beers quickly change their mind with this one.
Root Beer 0% abv: Very good, made with 22 herbs & roots and real vanilla. A favorite with the kids. Great with vanilla ice cream or vanilla Vodka.
Hoppy Red Head 6.5% abv: Starts hoppy with a malty finish. Close to an ESB.
Two pint IPA 9.5% abv: The name says it all,
100 IBU. Starts hoppy, finishes smooth.
IPA 6.5% abv: My personal favorite, hoppy throughout. 80 IBU
★
1,311 characters

3.93
/5
rDev
+3.4%
vibe: 4 | quality: 2.5 | service: 4.5 | selection: 5
I almost missed this place when I drove by, it's at the end of a light industrial warehouse style complex. When I saw the sign with the big lit "E", I realized I was at the right place, but then wondered if it was open. I'm glad we stopped in. Ellersick Brewing's tasting room is just that--a tasting room. You enter the tasting room and there is one large booth with about 6 hightop tables behind it and a bar along the side, from the bar there's a nice view of the brewing facility. The place is still under construction and the two guys at the bar were very friendly and helpful. There are about 8 variety taps and one with root beer. We tried the Octoberfest, Winter Spruce, Winter Blackberry, Holiday Spice, and Dunkleweizen. There was also a Pale Ale, a Copper Ale, and a Cream Stout.
The prices are great--we paid $5 for a growler fill of the beer we choose. (Octoberfest, in this case.) No food as of yet besides the peanuts at the bar. Once construction is done, it looks like it'll be a nice place.
The beer was okay, I liked the Winter Blackberry, but couldn't get my husband to go for a growler of it. We asked about future beers and were told that the IPA will be out in about 3 weeks--and we will be going back for that.
**update** Went back for the IPA. Not really a northwest IPA, I liked it, but that means it's really tame for the style.
★
1,361 characters
Ellersick Brewing Company in Lynnwood, WA
-
out of
100
based on
9
ratings.