Irish Setter Red
| Thirsty Dog Brewing Company
BA SCORE
82
good
38
Reviews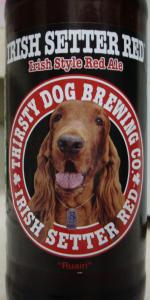 BEER INFO
Brewed by:
Thirsty Dog Brewing Company
Ohio
,
United States
|
website
Style:
Irish Red Ale
Alcohol by volume (ABV):
5.90%
Availability:
Year-round
Notes / Commercial Description:
No notes at this time.
Added by BeerAdvocate on 11-08-2001
Reviews: 38 | Ratings: 106
3.5
/5
rDev
-2%
look: 3.5 | smell: 3.5 | taste: 3.5 | feel: 3.5 | overall: 3.5
hazelnut highlights are riddled throughout with a wonderful mix of colors. A smallish head of light tan then pops up from the bottom of the glass and reaches about a half an inch before settling back down again.
Aroma is of light caramel, roasted nuts, light touches of butterscotch like sugary notes. Warming brings out a very earthy and pronounced flavor to it. Really nice done but a touch light. This is my only complaint as it did not have the pop I was really looking for at the time. Smooth, even flavor really did not deviate much from beginning to end as the overall impact was nicely put together.
★
608 characters
3.11
/5
rDev
-12.9%
look: 4 | smell: 3 | taste: 3 | feel: 3.5 | overall: 3
Poured from the bottle into my Thirsty Dog nonic glass
A- Pours a clear dark red color with high carbonation and a three finger fluffy off-white head. Left no lacing
S- Sweet malts, medicinal aroma, diacetyl, and some caramel. Not really that pleasant, but not as terrible as it sounds
T- Sweet bready malts, caramel, medicinal taste, diacetyl, and an almost cola like taste
M- A little overcarbonated, I like my Irish Red's a little more creamy and smooth.
O- A disappointing Irish Ale. A little bland, not overly medicinal tasting but the taste is definitely there. I had this on tap around St. Patrick's Day and while I was not blown away by it, I seem to remember liking it a little more than I did this time.
★
718 characters

3.53
/5
rDev
-1.1%
look: 4 | smell: 3.5 | taste: 3.5 | feel: 3.5 | overall: 3.5
Had a bottle at Liberty St Tavern with a slice of pizza. Overall, this was a simple and smooth red ale with a velvety caramel bread character and medium body. It wasn't too thick, like some Irish reds, there was just enough balancing bitterness so the hops weren't too sweet. Just a fine pizza beer.
★
299 characters

3.47
/5
rDev
-2.8%
look: 3 | smell: 3.5 | taste: 3.5 | feel: 3.5 | overall: 3.5
12 ounce bottle. Served in a pint glass, the beer pours a clear copper/red color with about a half inch off-white head that went away pretty quickly. There's a decent amount of lacing left on the glass. Aroma is caramel and bready malt. Taste is the same as the aroma, it's all malt. I don't notice any hops in either the aroma or taste. Mouthfeel/body is light/medium with moderate carbonation. It's smooth and easy enough to drink. It's a decent brew, it's not one of the best Irish Red Ales I've had but I still think it's worth a try.
★
538 characters

3.48
/5
rDev
-2.5%
look: 4 | smell: 3.5 | taste: 3.5 | feel: 3 | overall: 3.5
Pours a dark caramel color burgundy amber brown color with a nicely formed off white tan head, fine speckled lacing scattered evenly. Aroma is roasted malt, caramel amber malts, and a touch of nuttiness. Flavor wise it's clean as far as hops go maybe a bit of underlying earthiness from the low hopped East Kent Goldings. Flavor is full of caramel breadiness all malt not filler here, solid drinking Irish Red. Mouthfeel is light to medium bodied with even carbonation light drinking complex Irish Red style ale from Akron. Drinkability overall is solid the type of beer that does well for the micro craft community during drunken holidays like St. Paddy's Day.
★
661 characters

3.41
/5
rDev
-4.5%
look: 4 | smell: 3 | taste: 3.5 | feel: 3.5 | overall: 3.5
Had on tap at the Winking Lizard in Independence, OH, poured into a Thirst Dog pint glass. Pours a jewel-like red, with 1/2" of off-white head.
Smell is close to non-existent, primarily due to WL's overchilling of the beer. There is a faint sweet malt smell.
Taste is smooth, if indistinct. Slightly sweet, faintly malty, and slight grains are present. There is virtually no aftertaste.
Light to medium bodied, this is a very smooth and easy drinking beer.
Pretty to look at, there's not much taste to this beer. That's not bad if you're looking for a forgettable session beer, but not so much if you want a tasty craft-brew.
★
633 characters

3.88
/5
rDev
+8.7%
look: 4 | smell: 3.5 | taste: 4 | feel: 4 | overall: 4
On-tap at Winking Lizard, this was their glass-of-the-month selection. Poured a dark, brick red. A tan ring laced the glass. Smell was rich and malty, with a hint of bitterness. Taste was big and caramely, nicely balanced malty sweetness and a pleasing bitter base. Feel was smooth as a caramel too. Drinks well, a good brew.
★
325 characters

3.8
/5
rDev
+6.4%
look: 4 | smell: 4 | taste: 3.5 | feel: 4 | overall: 4
Poured a nice deep amber with an aroma of roasted malt and subtly floral hops. Flavor is a fairly typical but well-executed red ale, full bodied without being heavy with medium dark caramel overtones and a clean hop finish. The mix of interesting but not heavy-handed flavors makes for a very drinkable beer.
★
308 characters
3.67
/5
rDev
+2.8%
look: 3 | smell: 3.5 | taste: 4 | feel: 3.5 | overall: 3.5
on tap at the boneyard in broadview heights.poured with almost no head,however im guessing this was because the beer was served in a chilled pint glass.decent looking amber color.
nice firm somewhat caramel malt,finished slightly dry and clean.an easy drinking beer,light bodied mouthfeel.not my favorite style,but still worth a try.
★
334 characters
3.15
/5
rDev
-11.8%
look: 3 | smell: 3 | taste: 3 | feel: 3.5 | overall: 3.5
Served as a sample at Thirsty Dog in Akron. The color was amber, with a ring of head. The smell was caramel malt. The taste was somewhat bitter with a slight malt. Mouthfeel was average. As for drinkability, could have a couple.
Well, not a bad beer but lacks compared to some of the bigger, more flavorful beers later on in the tasting rack. Though I'd likely go for a pint of those before this one, it's still not bad as a session beer.
★
441 characters

3.23
/5
rDev
-9.5%
look: 3.5 | smell: 3 | taste: 3.5 | feel: 3 | overall: 3
This is a very nicely crafted beer with just a bit too much caramel malt sense to be considered a top offering. The nose is definitely caramel malt with little else impressing. The look is a reddish amber with an ivory head and decent lacing. There is grain in the finish but little hop sense is noticeable. Creamy with too little carbonation to put crispness in the feel. Good effort and enjoyable, but the style has better representatives - a lot better.
★
456 characters

3.1
/5
rDev
-13.2%
look: 3 | smell: 3 | taste: 3 | feel: 3 | overall: 3.5
Light amber ale with noticeable malt flavor. Very red color and sweet carmel aroma. Light carbonation adds to the sweet flavoring. Somewhat lacking in flavor to be memorable though.
★
181 characters

2.36
/5
rDev
-33.9%
look: 3 | smell: 2 | taste: 2 | feel: 3 | overall: 3
Described as "medium body with a freshly ground caramel malt flavor with no bitterness." That was the problem. No discernable hopping at all, and the malt was too bland to carry the beer.
★
189 characters
Irish Setter Red from Thirsty Dog Brewing Company
82
out of
100
based on
38
ratings.