Little Linda's Liquid
| Captain Lawrence Brewing Co.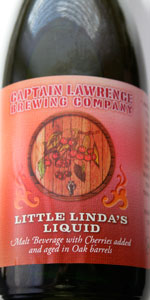 BEER INFO
Brewed by:
Captain Lawrence Brewing Co.
New York
,
United States
|
website
Style:
American Wild Ale
Alcohol by volume (ABV):
not listed
Availability:
Limited (brewed once)
Notes / Commercial Description:
No notes at this time.
Added by gregc on 04-04-2009
This beer is retired; no longer brewed.
Reviews: 35 | Ratings: 55
3.2
/5
rDev
-15.6%
look: 4 | smell: 4 | taste: 2.5 | feel: 4 | overall: 3
Appearance: Hazy/foggy red/orange. Minimal head.
Smell: Big time funk with the cherries, got me very excited. Lots of earth, horse blanket funk, vinegar, brett, wet leather
Taste: The funk and the cherries do not mesh, and it ruins this beer. They are like oil and water. I have had well executed beers with both of them, but this is not one of them. I like funk, I love cherries. Sadly this one fails to combine the two. Also vinegar, granny smith apples, wet leather.
Drinkability: Tiniest little bottle, but with the above-mentioned issues it was enough. Perhaps age will fix this issue.
★
593 characters

4.25
/5
rDev
+12.1%
look: 4.5 | smell: 4.5 | taste: 4 | feel: 4 | overall: 4.5
A: Nice hazy reddish rose color. Minimal white head.
S: Nice sour nose with a touch of cherries. It also has a little bit of a musty basement smell.
T: Very mild. The cherries are kind of subdued. Only a touch of tartness. The golden ale really does shine through. Finished with a nice natural sweetness.
M: Low carbonation. Very light body.
D: Very nice and drinkable. Not as tart as the other Captain Lawrence sours but a nice beer.
★
438 characters
4.47
/5
rDev
+17.9%
look: 4 | smell: 4.5 | taste: 4.5 | feel: 4.5 | overall: 4.5
A - A very nice salmon/pink champagne color. A nice little head that quickly disappeared but a constant carbonation.
S - Fruit and funk. Cherries and wine characters with a little earthiness and lemon. Really complex.
T - Excellent sour. The sourness isn't overwhelming, but very delicate. The carbonation gives it a very refreshing fruit character. The funk is present but adds interesting notes like leather and straw. Has a champagne type of finish
M - Really excellent for a sour. The carbonation makes it refreshing and light while it is smooth and lingers.
D - Truly an excellent sour! I am looking forward to trying this down the road and seeing how it develops. Another hit by Captain Lawrence.
★
706 characters

4
/5
rDev
+5.5%
look: 4.5 | smell: 4.5 | taste: 3.5 | feel: 4.5 | overall: 4
375ml bottle with red wax on the cap. The wax smells disgusting. Poured into my Bruery tulip.
The beer is effervescent and bright golden with a pillowy one inch, angelic pure white head. The retention is very good and there's a nice amount of thick soapy lacing on the glass. This beer looks fantastic.
The aroma is earthy, with some oak and fruitiness. There's a lot of Brett in the nose, imparting musty barnyard, goaty, and horse blanket characteristics. Some vinegar is present. The sour and tart cherries aren't dominant in the nose, but they're noticeable beneath the Brett. The aroma is moderately tart. Smells great.
The initial flavor is tart with a Brett attack. It's slightly musty, and not as...well, Bretty as the nose. The cherries are noticeable shortly after, lending sweetness to this tart beer. Vinegar is present, and the finish is very dry and oaky, with a medium level of tartness. The finish leaves my mouth tasting like cherries and, strangely enough, golden delicious apples. Weird. There's some sugary sweetness in the finish.
Light bodied with a high level of carbonation, and a very dry mouthfeel.
Overall, this is a solid sour from Captain Lawrence. It looks great, has a very nice mouthfeel, and smells fantastic, but the taste wasn't what I was expecting. The flavors don't blend together well. The Brett seems to fight the cherries. The beer at all times seems to be contemplating whether to be sweet or tart.
★
1,445 characters

4.38
/5
rDev
+15.6%
look: 4.5 | smell: 4 | taste: 4.5 | feel: 4.5 | overall: 4.5
Into my Cantillon glass it pours a foggy orange. Minimal creme head. Nose is lactic. There is that funkyness. There is also a soft floral kind of fruit tone as well. At first I thought I was getting a whiff of leather smoky tones. Flavor is smooth. Lactic tones are there. I don't really get an out-right cherry flavor on it, but there is a smooth fruit tone that seems ambiguous. Feel is smooth on liquid. Carbonation is lower. The complexities could stand to be a bit more thorough, but perhaps some aging will bring that out. Either way this is extremely drinkable, unfortunately. And I say unfortunately because there is only 12.7 ounces of this to be had from this bottle. If this were available in 5 liter containers, I would be happy to sit around and sip on it all day. Hopefully there will be a new batch available sometime soon.
★
838 characters
Little Linda's Liquid from Captain Lawrence Brewing Co.
85
out of
100
based on
35
ratings.