Boulder Beer / Wilderness Pub
BEER STATS
Beers:

40

Reviews:

Ratings:
PLACE STATS
Reviews:

40

Ratings:

Avg:

3.85

pDev:

9.09%

Taps:

0

Bottles/Cans:

0

Cask:

Y

Beer-to-Go:

N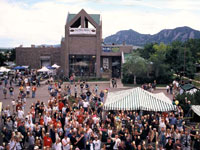 PLACE INFO
Type:
Brewery, Bar, Eatery
2880 Wilderness Pl
Boulder
,
Colorado
, 80301
United States
(303) 444-8448 |
map
www.boulderbeer.com
Notes:
No notes at this time.
Added by BeerAdvocate
Reviews: 40 | Ratings: 92

4.22
/5
rDev
+9.6%
vibe: 4.5 | quality: 4.5 | service: 5 | selection: 3.5 | food: 3
The wife and I visited in August 2007 during our vacation to Colorado. We decided to have lunch there and sat outside on their patio. The atmosphere was great; laid back and relaxing. Our waitress was very attentive and after serving us four different beers (two each) and our lunch she told us that she noticed we took great interest in their beers and would we be interested in a tour starting in 5 minutes? We were hesitant as our food had just been delivered but she checked and said they would delay the start of the tour for 5 additional minutes - just for us. How cool is that??
The tour was great, the most "interactive" we had ever been on. We were given hop pellets (Cascade and Amarillo) to crush in our hands to smell and then were given Crystal and Chocolate malts to taste. The only negative about the tour was the facilities were less clean than we have seen at other establishments. A minor nit.
Post tour was unique - we were all put into a room and then were brought pitchers of each beer to pass around. It was engaging to meet everyone else on the tour and enjoy good beer and interesting conversation.
If you are in the Boulder area I highly recommend stopping by - tours are generally at 2PM.
★
1,224 characters
4.4
/5
rDev
+14.3%
vibe: 4 | quality: 4.5 | service: 4.5 | selection: 4.5 | food: 4
I was abel to fianlly visit on a recent trip and had lunch at the bar. It was clean and well lit with enough of the brewery observable to remind you it is a prewpub.
The bartender Frank was very persoanble and well educated on the beer. He was attentive and enjoyed taling about the brewery.
Buffalo Burger was tasty as good general pub fair.
Most important the beer. Fresh and well maintained product. The cask conditioned MOJO was fantastic and served spot on.
If you are in the Boulder area it is a great place to go and I will definitely make another pilgrimage nest time I am in the area.
★
605 characters
3.58
/5
rDev
-7%
vibe: 3 | quality: 4 | service: 2 | selection: 4.5 | food: 4.5
My wife and I stopped by for lunch and a tour during a recent trip to Denver. We had a couple of excellent burgers. Initial service was fast, but once we got our food, no one ever checked back. We were drinking iced tea but would have liked a refill. The only other people in the inside dining area were folks waiting on the tour. I had some worries about the tour when I overheard a waitress asking a guy if he was doing the tour, and he replied "Yea, unless I can talk <unheard> into doing it." He didn't sound thrilled. There ended up being about 20 people on the tour. Within the first 5 minutes the brewer was correcting what the guide was telling us. The rest of the tour was okay, but the guide had a cold or allergies and obviously wasn't happy to be there.
After the tour, there was something like 13 pitchers with all different beers for us to taste. The Hazed and Infused was in bottles pulled right off the bottling line. This was quite a generous treat. The drawback was the giude simply left us. No guidelines or info about the beer other than the lamenated place matt. Didn't seem like they had any interest in telling folks about their product. We were on our own. When we were done tasting, my wife and I were ready to be 'tourists' and by some 6-packs, t-shirts, glasses. No one was sitting at the bar, but the bartender and our guide walked by us 6-7 times without acknowledging us or even replying to my "excuse me!". We finally got the guide's attention and he got our shirts and glasses off the shelf with a big sigh. Then we had to almost beg to pay for them and the beer.
The food was great, the beers are excellent, but the service here sucks to say the least. The offer daily tours and merchandise for sale, but act like we're being pains in the ass for actually wanting to take advantage of it.
★
1,835 characters

4.28
/5
rDev
+11.2%
vibe: 4 | quality: 4 | service: 5 | selection: 4
Stopped by the brewery while in boulder. Got there just in time to go on the tour which was nice. They showed the brewing process and the tour guide was fairly knowledgeable. There were some finer points that he didn't know but all together a good experience. At the end of the tour they bring you back to the seating area and have placemats with all the descriptions of the beers. That part is typical but it is rare to have them serve you a half a pitcher of all 9 of their beers on tap for 5 people. Turns out that's a lot to drink for that many people. Everyone there was extremely friendly.
★
595 characters

4.25
/5
rDev
+10.4%
vibe: 4 | quality: 4 | service: 5 | selection: 4 | food: 4
Boulder Wilderness Pub has a pretty nice set-up. The brewing hardware is out in plain view and is impressive. I was able to snag a seat at the bar in the corner in front of the taps. Pedro has my vote! He really kept things moving in there. I still can't believe that there were three other people in the pub that were previously from the Broome County, NY area. Migration of high-tech jobs.
Anyway, it has a nice atmosphere, even though it did get a bit crowded for my tastes. I guess because i enjoyed the open conversation at the bar. It made for a nice visit. I had a pint of Never Summer and Hazed & Infused with my sandwich. Enjoyed everything and bought a hazed & infused pint glass for my collection (cool how they put the writing so that you read it through the beer). I recommend stopping in.
★
805 characters

3.88
/5
rDev
+0.8%
vibe: 4 | quality: 4 | service: 4 | selection: 3.5 | food: 4
I stopped here with some friends while in Boulder on business. It was kind of spur-of-the-moment but I think I found one of the better spots in town (lots to choose from though).
Right out of the car the atmosphere was nice due to the strong aroma of wort brewing. I appreciate that aroma from homebrewing and also from some of the cooler brewpubs like Pizza Port.
The beer selection wasn't bad, about 10 beers to choose from (all brewed on site). One of the beers was served from a cask (Hazed and Infused) which I got to compare with the draft version side-by-side (cool). The regular selection covers the usual bases (porter, pale ale, IPA, hefe-weizen) and none were really bad but a few were average. My favorite was the hefeweizen (Sweaty Betty).
Lots of food to order, normal pub stuff like hamburgers, nachos, etc. Prices were moderate too, so I recommend a visit.
★
882 characters

3.8
/5
rDev
-1.3%
vibe: 3.5 | quality: 4 | service: 3.5 | selection: 4
Visited Rockies/Boulder Brewing back in August. Didn't make it for the tour, but hung out in the onsite pub for a while. My only real complaint is that the taster tray was $8...and considering a full pint was only $2.50 during happy hour, this seemed a little pricey. I wanted to try everything, so I was basically stuck. Overall I found most of the beers to be good, but not great. Hazed & Infused, as well as Mojo stood out over all the rest. The service was friendly, though maybe a tad scattered....but when you got their attention they did their best to take care of you.
★
576 characters
4.7
/5
rDev
+22.1%
vibe: 5 | quality: 5 | service: 5 | selection: 4 | food: 4.5
Simply put, touring the brewery on 1/9/06 was one of the best beer experiences I've ever had. In town only for a day, I stopped by with a few Boulder residents who hadn't seen the brewery before. I came in search of one of the cool Hazed & Infused pint glasses.
A phone recording informed me that free tours leave at 2pm M-F, with "free tastings." When 2:05 rolled around there were 6 of us total. Our enthusiastic tour guide asked if we wanted pints for the tour; I figured we'd be paying for them, but she just took orders, returned with pints, and off we went.
The tour was great, we spent an hour and looked at every aspect of the process, from cleaning the tanks to bottling and the warehouse full of cases and kegs. Our guide knew the brewery well and told us many good stories; her only flaw was that she told a few beer myths as if they were true, but she made up for that by getting workers and techs walking by to explain to us what they were doing at that moment. She also gave a lot of insider info, for instance that Boulder Beer kegs Killian's Irish Red as part of a deal with Coors, and that Coors handed BB their old bottling line. Getting to walk between fermentation tanks and walk into the hops cooler while drinking beer was excellent. The tour was especially fascinating for a homebrewer, as the scale of the operation is almost closer to an all-grain homebrew setup than a big macrobrewery.
When we returned to the pub, our guide left us to the bartender, and told her to bring us pitchers. I figured we'd get to taste a little of a few beers -- wrong. In only a few minutes, our table had 8 full pitchers (Pass Time, Single Track, Buff Gold, Mojo, Never Summer, Sundance, Hazed & Infused, and Planet Porter) to split 6 ways. We also each were given small glasses of the Killer Penguin Barleywine. This was for 6 people, including 4 young women and a designated driver, and followed the complimentary pints we started off with. Talk about beer tasting!! The beers were tasty, nothing too interesting sadly but most offerings were quite solid, especialy the bigger beers.
As we attempted to kill the 8 pitchers, we realized some food was in order, and got buffalo wings, potato skins, and nachos. It was all pretty good, and well priced. The atmosphere of the pub itself was nice, there were a few people having lunch and relaxing, and everyone I met was quite friendly.
To try and show my appreciation for what was essentially an all-you-can-drink in-depth beer tour, I picked up 4 pint glasses for $10 (including the Never Summer Ale one, "for the drinking town with a skinig problem").
Needless to say, I used the restrooms a few times over the 3.5 hours (!) that we spent at the brewery/pub, and it was very clean.
I can't recommend the tour enough. I'm not sure if free pints and 8 pitchers for 6 people is the norm; it seems too good to be true. Still, if you're anywhere near Boulder, check out the tours at 2pm.
Thanks to everyone at Boulder Beer for the tour and the beer -- you've won a loyal follower.
★
3,057 characters
3.86
/5
rDev
+0.3%
vibe: 4 | quality: 4 | service: 4 | selection: 3.5
Stopped in last Saturday during this year's Goatshed Festival after wandering/hiking through the local area. Even though we were tired, dirty, and new to the area, we didn't have much trouble finding the place. They are even clearly noted on the free Boulder maps everywhere. We kept mostly to the outside, but the inside was two story, with a rather small looking "bar" area.
Beers were tasty. We stuck with the Mojo and the Hazed/Infused. Had both in bottle form the same week, and seemed a touch better fresh from the source. However, like most of the CO brewpubs were at last week, they don't seem to spread their selection much from the standard British lineup. Selection was kept to six or seven of their own brews.
All the working folks were quick and friendly, and we didn't try the food.
★
802 characters
4.3
/5
rDev
+11.7%
vibe: 4.5 | quality: 4 | service: 4.5 | selection: 4.5 | food: 4
As others have commented, Boulder Beer (yes, this is the official name again) can be a bit hard to find. It is located in an area of industrial and high tech offices. Once you find it, you are greeted by a decent sized dining room, with a 10 or 12 seat bar in the middle area. Also attached is a nice patio. The brewery surrounds the dining area, with big windows on both sides to see the operations. When I visited they had all of Boulder Beer's offerings on tap, as well as a mead from the local Redstone. Food is mostly pub food, but very well done. Service has always been nothing less than fantastic.
★
605 characters
Boulder Beer / Wilderness Pub in Boulder, CO
87
out of
100
based on
40
ratings.