Beadeca's Well
| Thornbridge Brewery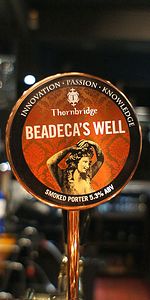 BEER INFO
Brewed by:
Thornbridge Brewery
United Kingdom (England)
|
website
Style:
Smoked Beer
Alcohol by volume (ABV):
5.30%
Availability:
Rotating
Notes / Commercial Description:
No notes at this time.
Added by CwrwAmByth on 12-28-2012
Reviews: 10 | Ratings: 49
4.12
/5
rDev
+5.4%
look: 4 | smell: 4.5 | taste: 4 | feel: 4 | overall: 4
Smell: smoked meat, toffee, semi-sweet chocolate, brown sugar. Taste: coffee, burnt toast, silky smooth mouth feel. Finish: earthy/peaty, caramel, dry finish, with mild hoppy bitterness.
(bottle bb 08/24/16)
★
207 characters
4.05
/5
rDev
+3.6%
look: 4 | smell: 4 | taste: 4.25 | feel: 3.5 | overall: 4
Pours out a midnight brown colour with a good finger of thick, pillowy dark tan head.
Smells of soft smokey leather, an earthy char and a slight sweetness like a southern bbq.
Tastes of charred earthy coals, coffee and again an old leathery hide with a feeling of saltiness. An earthy hop is there too. Smooth but not overly thick with good bubbles present.
Ultimately a very lightly smoked porter that is more dominated by earthy and charred wood flavours with a sort of sweetness on the tongue. Nice beer with very pleasant flavours and depth. Those expecting a heavy smoke presence will not find it here, though still a very good beer. A bit more smokiness would be nice though.
★
684 characters

4.05
/5
rDev
+3.6%
look: 4 | smell: 4 | taste: 4 | feel: 4 | overall: 4.25
500 mL bottle from the LCBO; best before Aug 24 2016 and served at cellar temperature.
Pours an opaque brownish-black colour, initially capped off with nearly two fingers of frothy, creamy light beige-coloured head. It wilts gradually but steadily over the next five minutes, give or take, with the added courtesy of a good swath of sticky lace being deposited on its way downward. A modest collar and bubbly film remain on the surface; looks good to me, and the aroma is similarly inviting. It gives off a good whiff of peated malt and wood smoke, with accompanying notes of molasses, toffee and chocolate integrating nicely. Subtle suggestions of prune and fig, but the smoke and dark malts definitely take centre stage.
Approachable as these sorts of beers go - the porter itself is robust enough to stand up to the smoke, and everything blends together into a nice, balanced equilibrium. Notes of dark, bready malt, toffee and chocolate combine with some faint dark fruit flavours - I'm still leaning towards prune/plum and fig, but no matter. Hints of coffee and molasses on the back end that are overshadowed by burnt wood and smoke. Finishes earthy, woody and slightly leafy, with the aftertaste drying out quickly. Light-medium in body, with light carbonation levels and a soft, smooth mouthfeel that feels just right. This is very well-made and an absolute pleasure to drink.
Final Grade: 4.05, an A-. Beadeca's Well is a superb smoked beer; one of those rare ones where drinking several in a row might not seem like a tiresome endeavour. The peated malt imparts a significant smokiness, but it's still an order of magnitude (or two) less intense than your typical rauchbier, so there's no reason I'd object to another glass of this smoked porter, given its low abv and mostly-balanced flavour profile. Probably not the best Thornbridge product I've tried, but still a solid one that is worth picking up, given the opportunity to do so.
★
1,948 characters
3.5
/5
rDev
-10.5%
look: 4.25 | smell: 3.5 | taste: 3.5 | feel: 3 | overall: 3.5
From bottle into a stout glass. Poured jet black with massive, foaming, three-finger, tan head. Plenty of lacing.
Nose not evident at first. Allowed to warm a little, which permitted cocoa to come through. There is some smokiness there but it's not dominant. Maybe a little too understated.
Dried fruits. Coffee. Understated again. Not quite sure what the point is of this one.
Medium body. Prolonged bitterness at sides of tongue. Quite drying.
Very bitter. Too bitter for the style, in my opinion. Flavour and nose both indistinct. A bit bland.
★
550 characters
3.5
/5
rDev
-10.5%
look: 3.5 | smell: 3.5 | taste: 3.5 | feel: 3.5 | overall: 3.5
One of the weakest (as in alcohol strength, complexity and smokiness) smoked beer that I have tasted.
I feel that in order to achieve greatness or at least come close it, you have to try to emulate those on top of the class. There is no shame in paying homage to the best. Thornbridge decided against it and what you have is a questionable, albeit not an offensive tasting product. You can do much better by looking elsewhere.
★
427 characters
4.18
/5
rDev
+6.9%
look: 4 | smell: 4 | taste: 4.25 | feel: 4.25 | overall: 4.25
Appearance: molasses brown, dark and glossy, pouring a full hazelnut head that's dense and has good retention
Aroma: chocolate and smoke, vanilla
Taste & Mouthfeel: a beautiful blend of chocolate and peat, the latter trailing through the finish, leaving tendrils of smoke right until you go for the next sip - but not over-powering; dark chocolate flavour is rich and slightly bitter, and complimented by a full, satiny mouthfeel it makes for a luxurious feel
Overall: a porter with a wonderful balance of vibrant flavours, a delight for winter, and easy drinking; open up the barbecue and get some nice char on a steak to go with this, maybe with some charred vegetables marinated in citrus
★
694 characters

3.79
/5
rDev
-3.1%
look: 4 | smell: 3.75 | taste: 3.75 | feel: 4 | overall: 3.75
500 ml bottle served at cellar temperature into a pint glass. Purchased from the LCBO for $4.60 CDN.
Appearance - Pours a very dark brown colored beer, with garnet hues when instesely scrutinized in the light. A finger of fluffy tan head is poured and retention is modest leaving behind a thin film on top of the beer and some minor streaks of lacing on the side of the glass.
Smell - Roasty, but subdued. Some earthy elements, with faint hints of smoke and a mention of coffee.
Taste - Starts bitter with a coffee and peat flavor up front before some smoke finally kisses your mouth. A faint fruity flavor kicks in momentarily on the backside adding a little to the complexity. Overall finish is quite smokey and slightly wooden tasting.
Mouthfeel - Smooth and nicely carbonated, body is thinner than you' expect, but about right for a light porter.
Overall - Certainly a very good beer, and for those who love subtlety Beadeca's Well does it better than most. Only problem was that I was looking for just a little more smoke, and I think this could be a great beer. Still nice interplay between the smoke, coffee and wood.
★
1,129 characters

3.79
/5
rDev
-3.1%
look: 3.75 | smell: 4 | taste: 3.75 | feel: 3.5 | overall: 3.75
Bottled
Black bodied with good thick tobacco smoke stain coloured thick head
Smells like good coffee with hints of cigar
flavour is likewise
slightly thin mf but only slightly
enjoyable
subtly smoky
★
199 characters

4.18
/5
rDev
+6.9%
look: 4.25 | smell: 4.25 | taste: 4.25 | feel: 4 | overall: 4
Bottled version.
Poured pitch black, very very faint brown hues in the light, light brown two finger fluffy head. Big retention.
I could smell smoke right after popping the cap, but sniffing the glass i get a bigger smokey-bacon-rauch aroma, sweet and salty, without any porter notes (maybe very faint chocolate, if you really try).
Taste sets things right: first things i get are roasted malts, dark chocolate, espresso, with burnt caramel and low juicy dark fruit (plums, figs, raisin). Juiciness fades away to earthy cocoa powder, ground coffee and faint roasted hazelnuts, with a remaining citrus zestiness (and peel) waaay in the back. Smoke comes in the finish, along with charcoal notes and some faint green hops. It's also predominant in the aftertaste.
Medium body and carbonation, like a common porter. Crisp and dry finish, not considering the smoke.
A very tasty porter, nicely enhanced with smoke. Big difference between smell and taste, but they're both great.
★
974 characters

3.92
/5
rDev
+0.3%
look: 3.5 | smell: 4 | taste: 4 | feel: 3.5 | overall: 4
Served on cask in The Cask, Pimlico.
Pours a murky dark brown colour with an okay head.
Smells nice, with smoked malts dominating.
Again prominent smoked and burnt malts in the taste, thin mouthfeel and a subtle hop bitterness in the background.
Overall a solid stout, interesting use of smoked malts.
★
313 characters
Beadeca's Well from Thornbridge Brewery
86
out of
100
based on
10
ratings.