Cerveza De Fiesta
| Telegraph Brewing Company
BA SCORE
82
good
11
Reviews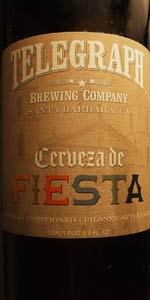 BEER INFO
Brewed by:
Telegraph Brewing Company
California
,
United States
|
website
Style:
German Pilsener
Alcohol by volume (ABV):
5.00%
Availability:
Rotating
Notes / Commercial Description:
Nothing is more local than Santa Barbara's Fiesta. And nothing pairs better with Fiesta than a great local beer! Telegraph is proud to brew our Cerveza de Fiesta right here in downtown Santa Barbara, for locals and visitors alike. This classic Czech Pilsner-style lager is crisp, refreshing, and muy delicioso. It is just the beer to pair with great food, old and new friends, and good times. Viva la Fiesta!
Added by Zorro on 08-08-2010
Reviews: 11 | Ratings: 27

3.54
/5
rDev
+0.6%
look: 3.75 | smell: 3.5 | taste: 3.5 | feel: 3.75 | overall: 3.5
A: The beer is relatively clear light yellow in color and has a light amount of visible carbonation. It poured with a finger high bright white head that died down, leaving a thin layer of bubbles covering the surface and a coating of bubbles down the sides of the glass.
S: Light aromas of bready and grainy malts are present in the nose.
T: Similar to the smell, the taste has flavors of bready and grainy malts along with hints of grassy hops, the latter of which contribute a light amount of bitterness.
M: It feels medium-bodied and clean on the palate with a moderate amount of carbonation.
O: This beer has a solid malt body and as a result also has a rather fulfilling mouthfeel.
Serving type: bottle
★
713 characters

3.5
/5
rDev
-0.6%
On tap at the Playground in Santa Ana, CA.
Kind of like Raul's ex, this one was a "dirty clean." Clean grain taste up front, yet it was met with a bit of a metallic backbone like RoboCop doing a jump and jack. Pretty typical as far as "see-through," light beers goes.
So, yeah. Like Raul's Ex should have been, this one is pretty much a one and done.
★
353 characters
3.98
/5
rDev
+13.1%
look: 4.5 | smell: 4 | taste: 4 | feel: 4 | overall: 3.75
Pours a clear, pale yellow color with a frothy white head that leaves a nice sheet of lacing.
Smells of pale malt and a little grassy hops.
Tastes of the soft malts with some hops to balance everything out. Malts lead off with a bit of bread and grainy sweetness. Hops come in and add a bit of lemon, grass, and floral notes. It is nicely balanced.
Mouth feel is light with a smooth amount of carbonation.
Overall, this is a nice pilsner that gets knocked down a bit because of price, $8.40 for a 750.
★
505 characters
2.56
/5
rDev
-27.3%
look: 3.5 | smell: 3 | taste: 2.25 | feel: 2.25 | overall: 2.5
Batch 104
Appearance: The cork cannot wait to disengage from the bottle and, while it wasn't a gusher, the pour created a huge meringue of a head that sits on top of the clear golden liquid; very stiff and retains well but just doesn't look right
Smell: Slightly grainy and slightly lemony, but really not much to sniff out
Taste: There is a base of surprisingly sweet malt but it quickly gets overshadowed by a grassy, minty but ultimately acetone-fueled off flavor; the sweetness lingers underneath in the finish
Mouthfeel: Light bodied but massively over-carbonated
Overall: Clearly some massive problems with this beer
★
627 characters

4
/5
rDev
+13.6%
look: 4 | smell: 4 | taste: 4 | feel: 4 | overall: 4
A - Hazy golden-yellow with a finger big finger of frothy white head. Fades very slowly.
S - Sweet pilsner and grainy malts, lemon zest, citrus and noble hops, lager yeast.
T - Pilsner and other grainy malts, lightly tart lemon zest, citrus and noble hops, some bitterness, lager yeast.
M - Medium bodied with moderate carbonation. Smooth with a sweet and lightly bitter finish.
D - Nice pilsner. A bit of a gusher.
★
419 characters

3.58
/5
rDev
+1.7%
look: 4 | smell: 3.5 | taste: 3.5 | feel: 4 | overall: 3.5
Pale golden in the tall glass with attractive bright white foam. Seems to be a tasty sort of Pilsener in the lighter style. Herbaceous and resiny flavors with just a hint of malt. A fair amount of bitterness but low for the category. Lemon-lime taste with a hint of wood. Long aftertaste of the floral hops and a tanginess.
Surprisingly good, if not unusual or interesting. Fortunately it doesn't remind me of Mexican beers. 750 ml bottle from Best Damn Beer Shop.
★
465 characters

3.08
/5
rDev
-12.5%
look: 3.5 | smell: 3 | taste: 3 | feel: 3.5 | overall: 3
On-tap at Bruery Provisions
A: The pour is a very pale straw color with just a thin layer of white foam.
S: The aroma on this is very, very heavy on the sweetness, seems like corn. There is some grass and maybe even green chile peppers (or some sort of green vegetable). Light malt and bread with just a hint of yeast.
T: Lightly sweet malts with lots of green, vegetal notes start this one off. There is quite a bit of grass and straw with just a mild yeast note. There is also a hint of banana on the background.
M: The body is light with a medium level of carbonation.
O: I should have known better, but my curiosity got the best of me. Not recommended.
★
661 characters

4.2
/5
rDev
+19.3%
look: 4 | smell: 4 | taste: 4.5 | feel: 4 | overall: 4
Review from BeerAdvocate Magazine Issue #48 (Jan 2011):
Rocky mountain of white head with lots of sticky lacing showing on the glass. Nearly clear, pale-golden color, yeast was left in the bottle. Dried grass, mint and some lemon zest from the hops and faint biscuit from the malt make for a pleasing nose. So damn smooth; bottle conditioning really shines. Clean, grainy maltiness is a perfect starting base as it unfolds with bready and doughy biscuit flavors. Hops are dialed in pretty high but are not too aggressive; light yeast tone melds well with the herbal flavor that the hops leave behind in the dry finish. Lager in the raw, and a fun one at that, with complexities not seen in most polished Pilsners.
★
715 characters
2.93
/5
rDev
-16.8%
look: 3.5 | smell: 3 | taste: 3 | feel: 2 | overall: 3
Batch 55 picked up day before this review at Wades while out at a rare trip to Westlake Village.
Cork popped like a bottle of shaken Champagne. Spewed and gushed a huge plume of white froth that went at least a foot in the air and lost 3/4 of the bottle! Poured what appeared to be liquid and got a giant glass of pure white, thick, pillowy and long lasting eqq white peaked foam. (Once it settled down to a mere inch, or so, it was rather good looking).
Pours a hazy yellow/orange; head is as above.
Nose is full of esters with fruit tones of pear and white peaches that fades as the head fades.
Mouthfeel is thin and, believe it or not, lacking in carbonation! Perhaps it all went in the gusher.
Flavors are simple green herbs, celery, salt, white pepper. Sounds better than it tastes.
Finish is a mildly bitter light pine. Finish may be best part as the bitter is pleasant and long lasting.
I have no reason to try this one again.
★
947 characters

3.53
/5
rDev
+0.3%
look: 4 | smell: 3.5 | taste: 3.5 | feel: 3.5 | overall: 3.5
Pours a very clear pale yellow with a HUGE 3 inch head that breaks down into chunky crags. Sticky lacing on the sides of the glass. Smell is of lemon, faint malt, and herbal notes. Taste is of lemon zest, bready malt, and perhaps a grassy essence. There is a light bitterness that lingers on the tongue after each sip. Carbonation is pretty good. Very light tasting and easy to drink, especially for its ABV. This bottle is somewhat old but it still tastes fresh. Pretty good beer.
★
481 characters

3.53
/5
rDev
+0.3%
look: 3.5 | smell: 3 | taste: 4 | feel: 3 | overall: 3.5
Bottle conditioned Pilsener, Batch #55. Brewed for Santa Barbara's annual Fiesta. The bottle says it is a Pilsener.
A pale golden colored ale with a good white colored head.
Smell is light lemon and biscuit malt. Smells a little grassy with a little herbal scent, something like lemon grass.
Starts out pretty dry and herbal, by taste I would classify this one as a Saison. Distinctly floral flavor with a little hop bite in the aftertaste. I have considered placing this beer in the Saison category but the maker says Pilsener.
Mouthfeel is light.
A nice beer so long as you are not expecting a strong hop bite. Drink this like you would Hennepin and you will be quite happy.
★
691 characters
Cerveza De Fiesta from Telegraph Brewing Company
82
out of
100
based on
11
ratings.