Dismiss Notice
Dismiss Notice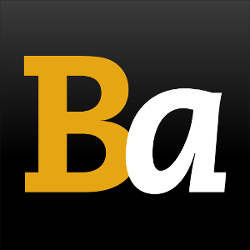 Join Our Email List →
And we'll send you the latest updates and offers from BeerAdvocate, because knowing is half the battle.
Dismiss Notice
Crooked Moon Tattoo
- Mikkeller ApS
| | |
| --- | --- |
| Educational use only; do not reuse. | |
Reviews: 28 | Hads: 144
4.23
/5
rDev
+5.8%
look: 3.5 | smell: 3.5 | taste: 4.5 | feel: 4.75 | overall: 4.5
Did not see the "Tattoo" on the bottle, but I think this is what we are talking about. Bright citrus smell, closest to pineapple I think, and a friend mentioned "pina colada plus lemon" , but it is a complex brew. Definitely qualifies as a DIPA, the alcohol is present as slight sweet sense in the after taste. Don't misunderstand me on the fruit contribution, the hops are strong with this one. Very much a DIPA, this does have a serious "bite" on every sip and gives the nose some feelings from the back of throat.
This beer attacks the nose from the back of your tongue and nasal passages. Sticking the gaillac protuberance into the glass opening only gave me a scent of something like pineapple popsicles, and not a very strong nose really. The next breath after a sip brings a whole lot of more olfactory experience to the nose coming from deep in the back of the mouth at the root of the tongue.
(As a caveat, yesterday I did have several Mikkeller 1000 IBU, comparing it to many other HIGH IBU beers, so my taste buds may have been permanently damaged!) Perhaps I have described this badly, please buy this beer and enlighten us all by your review.
+1 - must try this beer.
★
1,184 characters

3.18
/5
rDev
-20.5%
look: 3.75 | smell: 3.25 | taste: 3 | feel: 3.25 | overall: 3.25
"Mikkeller Crooked Moon dIPA." Not seeing the "Tattoo" anywhere, but the ABV/style match up so I won't worry too much over the name and listing. 9.0% ABV confirmed. 1 pint 9.4 fl oz brown glass bottle with standard unbranded white pressure cap acquired for $15.00 earlier tonight at a local SoCal beer store and served into a clean conical Samuel Smith's pint glass in me gaff in low altitude Los Feliz, Los Angeles, California. Reviewed live. Expectations are high; this is me favourite brewer and I couldn't have this beer more fresh here in the U.S. Identifies itself as an "Imperial India Pale Ale Style Beer" on the label, so that's what I'll review it as. Brewed and bottled by Mikkeller at De Proef. Imported by the Shelton Bastards - blame them, not Mikkeller, for the price tag.
Served cold, straight from the fridge. Side-poured with standard vigor as no carbonation issues are anticipated.
A: Pours a marvelous seven finger biege colour head. It's incredibly frothy; the texture is soft and supple. Fantastic thickness and great (~10+ minute) retention for the high ABV. Lacing is moderate, even, and consistent as the head slowly recedes. No bubble show. That's quite a nice head. Body colour is a lightly hazy translucent semitransparent copper-orange. No yeast particles are visible. Vibrant and appealing. Carbonation bubbles indicate good carbonation; not too much nor too little. I'm excited for this one. Spot-on for the style, though I've seen better coloured imperial IPAs.
Sm: Heavy but not overbearing floral hop character. Some grapefruit zest. Light soapy character - which has me worried; did this spend too long in primary? Some estery hop oils. Very light hop bitterness. Tropical fruits - definitely mango, perhaps passionfruit and pineapple as well. I don't get any pine or nectary character. The hop build isn't ideal for the style based on the aroma, but I'm optimistic anyway. No yeast character or alcohol is detectable. A mild strength aroma. Pale malts. On the slightly bitter end of the sweet/bitter duality.
T: Hm. Floral hop character is definitely there, alongside some strangely selected tropical fruit notes. I get mango, tangerine, passionfruit, and maybe a vague hint of pineapple. really want citrusy fruit, but there's little of that here. I'm not big on tropical fruit in an IPA; few beers really pull that off for me. And this isn't quite one of them. Pale malts comprise the foundation. Not getting piney, oily, or nectary hop character. No yeast character or alcohol comes through. Luckily, bitterness is well hidden - a highlight here. But it does sweeten in the third act, which I'm not a fan of here. A touch of soapy character on the climax leads me to believe this spent just a bit too long in primary - but it's nowhere near as noticeable as it was on the aroma. A decently executed imperial IPA all around, but not an impressive one. Balanced for the most part, but built in an underwhelming fashion. I think it's just my own personal preference.
In terms of hop character and what to expect, think Alchemy Hour not Alpine Keene Idea. Tropical character over citrusy/nectary character. If that lifts your skirt up, this might be for you.
Mf: Soft. Good carbonation. Smooth and wet through out. Even and consistent, with little variation - a plus in this style. Not really that oily. Pretty thick to accomodate its diverse flavour profile. Good presence on the palate. Suits the flavour profile well.
Dr: While this isn't quite my personal preference in terms of hop selection and build, it's a well-executed brew for the style and it's exploring hop territory often ignored even by many top American breweries that work with this style. Drinkable for the high ABV. Pricey thanks to the Shelton Bastards. I wouldn't get it again, except maybe on-draught at the Mikkeller Bar in Copenhagen. A solid beer in the style from Mikkeller, just not suited to my particular tastes.
Low C+
-
06/24/14: I accidentally picked up another bottle in Budapest. Truncated notes follow. BB: 07/01/15.
A: No head. Colour is standard for an Imperial IPA.
Ar: Detergent & unwelcome tropical fruit, including a boozy pineapple note I despise.
T: Pale malts and pleasant tropical fruits - including melon, tangerine, mango, and banana. Clean and balanced, but the booze is noticeable on the fringe. Luckily that pineapple note is buried, if present.
Mf: Smooth, wet, clean, a bit overcarbonated, and almost refreshing. Nice presence on the palate, with the perfect amount of body and thickness. This texture complements the taste well.
O: A drinkable and enjoyable IIPA which offers nothing new to the discerning drinker, pleasant as it is. I enjoyed this batch (with the horror-inspired label) much more than the last batch I reviewed, but it's far from world class, and the subtle booziness restricts drinkability. At 1300 forents in Hungary, I'll be passing on this in future.
High C+
★
4,934 characters
4.32
/5
rDev
+8%
look: 4.75 | smell: 4 | taste: 4.5 | feel: 3.75 | overall: 4.5
330ml Bottle (£4.40, The Good Spirit Co, Glasgow):
Cloudy orange with a one inch tall, bubbly white head that holds a lot better than you would imagine a 9% beer would hold with it halving in size and holding well.
Hops and bitter pine notes straight off the bat and these are closely followed by some grapefruit notes that add to the bitterness. There is a strong tropical fruits aroma that is very nice with mango, citrus, apricot and some pineapple all making an appearance. Spice & a touch of alcohol at the end.
Bitter with a lot of pine and citrus starting things off alongside lots of grapefruit and bitterness. Some alcohol & a nice blend of tropical fruits too with some pineapple and mango feature along with some orange and lemon amongst others making a strong but balanced beer.
Strong carbonation and a huge amount of bitterness in this double IPA along with plenty of hops giving a very dry and bitter mouthfeel. There is a bit of alcohol grain in there but not a lot, particularly considering the strength of the beer, and the beer has a strong, lingering bitter aftertaste.
Very nice double IPA and one that I was pleased to note that whilst being very bitter and loaded with hops didn't seem to over do it thanks to the strong presence of the background flavours and the tropical fruits taste. There is a nice warming alcohol kick towards the end rather than the usual grainy taste that you quite often find.
★
1,439 characters
Crooked Moon Tattoo from Mikkeller ApS
88
out of
100
based on
28
ratings.