Grateful Pale Ale
| Starr Hill Brewery
BA SCORE
82
good
58
Reviews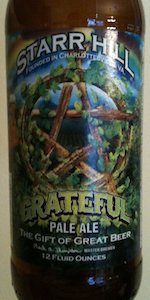 BEER INFO
Brewed by:
Starr Hill Brewery
Virginia
,
United States
|
website
Style:
American Pale Ale (APA)
Alcohol by volume (ABV):
4.70%
Availability:
Spring
Notes / Commercial Description:
No notes at this time.
Added by TheBigBoy on 04-10-2013
Reviews: 58 | Ratings: 404

3.25
/5
rDev
-10.5%
look: 3.75 | smell: 3 | taste: 3.25 | feel: 3.5 | overall: 3.25
Beer pours a deep golden color with a nice small head. The aroma quickly identifies itself as a pale ale. The taste is hops with bitterness. I enjoyed this brew, it has crisp carbonation giving a good mouth feel. Thanks to a buddy who traveled more then 600 miles with gaseous fumes and sludge pouring from his body from food poisoning to bring me a bottle of this stuff. As I drink this I can only picture him roaring into the nearest rest stop to blast out another throne and leave his mark.
Here's to you beer man who sh%! his way up the Eastern seaboard to deliver this badboy!
Cheers!
★
591 characters

3.83
/5
rDev
+5.5%
look: 4 | smell: 4 | taste: 3.75 | feel: 3.75 | overall: 3.75
Poured from a 12 oz brown bottle into a Samuel Adams Perfect Pint glass. Bottled on 04/26/13 emblazoned cleared on neck above label. 6-pack purchased at Market Street WIneshop (Charlottesville, VA).
A: Very light golden, excellent clarity, with 1-finger off-white frothy head with decent retention and a moderate cuff of lace.
S: American hops with a lot of lemon, grapefruit, orange, and melon with some pine resin dominate. THe malt component of the aroma is small with a little graininess but otherwise not a while lot else going on.
T: Very good delivery vehicle for citrus, pine, and honeysuckle hops flavors. They come through with a nice light malt base, just a touch of light caramel and a little more roasted grain, almost like they used pale ale malt rather than 2-row. Moderate bitterness but well-balanced for the light nature of this session beer. No significant yeast esters -- clean and drinkable.
M: The body is appropriately light-medium with a little too much carbonation for my taste but not way off either. Good solid dry finish helps keep this very drinkable.
O: A really nice summer session APA with a manageable ABV and a good splash of fruity American hoppiness. Definitely is one of the more solid beers from Starr Hill -- is a nice cousin to Northern LIghts and I think I enjoy Grateful a little more due to the more subdued caramel malt sweetness.
★
1,380 characters
3.79
/5
rDev
+4.4%
look: 3.75 | smell: 3.5 | taste: 4 | feel: 3.75 | overall: 3.75
From the sampler pack - date 5-9-13
Pours a nice clear yellow with a bit of amber color.
Smells really fresh, citrus, earthy, and just really clean
The taste on this beer matches the smell. Im not sure how else to describe it, it justs tastes very fresh. Nice citrus, piny hops, with a bit of sweet malt to keep it from becoming too bitter. Really smooth drinking beer
Mouthfeel is light to medium and really smooth
Overall this is the best beer I tasted from Starr Hill. Very clean, fresh, and flavorful APA. I could quaff these all day on a nice hot summer day.
★
568 characters

3.4
/5
rDev
-6.3%
look: 4 | smell: 4 | taste: 3 | feel: 3.5 | overall: 3.25
12 oz bottle into tulip. dated 05/09/13.
A: pours pretty blond. great clarity. head is frothy and bright white. good retention and lacing.
S: herbal while still being a little bit floral. this thing even smells bitter. very bitter, but resinous. not getting a lot of grist. manages to be inviting through all of this.
T: similar to the nose, very herbal hop flavor. bitterness is strong. mild bubblegum flavor in the middle. grist is really minimal as this thing is either herbal or bitter. finish continues to be bitter and dries out quickly.
M: average carb on a light body.
D: lacking complexity while taking it down the herbal/bitter road of the hop highway makes me desire a bit more. a good summer thirst quencher, yes, something ill be seeking out on the regular, probably not.
★
794 characters

4
/5
rDev
+10.2%
look: 4 | smell: 4 | taste: 4 | feel: 4 | overall: 4
12 oz bottle was poured into a pint glass.
Appearance: This beer poured a one finger head that reduced to a thin layer. It is a pale yellow color with great clarity and bubbles coming up through the glass.
Smell: Citrus, caramel, floral, earthy, grassy, and pine.
Taste: Same as above. Hops blend well with the light caramel malts. Nice tingly bitterness on the palate too.
Mouthfeel: Light to medium bodied, a little dry, low to medium carbonation, and a smooth drinking beer.
Overall: Pretty solid APA. Happy to have tried this at a beer tasting while attending a wedding in Harrisonburg, VA.
★
599 characters

3.82
/5
rDev
+5.2%
look: 4.25 | smell: 4 | taste: 3.75 | feel: 3.5 | overall: 3.75
Pours a clean golden-amber, with a thick, frothy 2 fingers of head. Beautiful and detailed lace.
Nose is nice herbal and floral hops. Inviting.
Taste is well-hopped, but it's not an overwhelming nor bitter hops character. This one is nicely balanced with plenty of malt presence.
The body is medium to heavy, and this is a solid and enjoyable pale ale. Well-done!
★
366 characters
3.3
/5
rDev
-9.1%
look: 3 | smell: 3 | taste: 3 | feel: 4 | overall: 4
crystal clear golden hue with a bright white head. Light citrus, floral, and grainy notes on the nose.
Very herbal earthy and floral hop presence up front. light biscuity malt presence follows with nice bitternes and clean crisp finish. best starr hill beer i've had yet and definitely would be nice for the summer. nothing crazy but it's decent
★
346 characters
2.73
/5
rDev
-24.8%
look: 2.75 | smell: 2.75 | taste: 2.75 | feel: 2.5 | overall: 2.75
Beer just became avaliable_ still waiting to try - just adding to Beer Advocate database for now. This is not the previous pale ale (english pale ale) that is retired. Most Starr Hills are of decent quality give this new one from Starr Hill Brewery a try.
★
255 characters
Grateful Pale Ale from Starr Hill Brewery
82
out of
100
based on
58
ratings.