Pinnacle Peak Pale Ale
| Harmon Restaurant & Brewery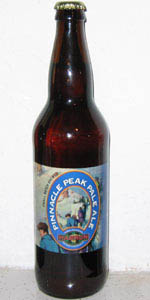 BEER INFO
Brewed by:
Harmon Restaurant & Brewery
Washington
,
United States
|
website
Style:
American Pale Ale (APA)
Alcohol by volume (ABV):
4.20%
Availability:
Year-round
Notes / Commercial Description:
No notes at this time.
Added by BeerAdvocate on 11-06-2003
Reviews: 8 | Ratings: 14
None found.
More User Reviews:
3.46
/5
rDev
+1.8%
look: 3 | smell: 2 | taste: 4 | feel: 3 | overall: 4.5
Sampled at the Harmon Brewery. This one has a hazy orange color with very minimal aroma. It's smooth and malty, with very little hop presence. It comes across very sessionable, although some more hoppiness and/or bitterness would be nice. All in all, a nice, smooth beer.
★
271 characters

3.62
/5
rDev
+6.5%
look: 3.5 | smell: 3.25 | taste: 3.75 | feel: 3.75 | overall: 3.75
On tap at the Harmon Brewing Co.
This beer pairs very well with the basic Kobe burger the HBC serves. I think it's the sweetness of the red onions that contrast well with the slight bitterness of the beer.
★
207 characters


3.41
/5
rDev
+0.3%
look: 3.5 | smell: 2.5 | taste: 4 | feel: 3 | overall: 3.5
pours a pale amber with a medium size white head, and very good lacing.
smell is faint, grain, some citrus, slight hops, and malt in the back.
taste is crisp yet creamy, some grain, nice citrus, and some sweet malt, ends a little bitter and somewhat dry.
★
256 characters

3.33
/5
rDev
-2.1%
look: 3.5 | smell: 3.5 | taste: 3.25 | feel: 3.25 | overall: 3.25

2.55
/5
rDev
-25%
look: 2.5 | smell: 2.5 | taste: 2.5 | feel: 3 | overall: 2.5
This beer pours a cloudy tan color. It is clearly not as filtered as their other beers. It has a sweet pungent smell. There's a sweet malt flavor with a slightly bitter aftertaste. The mouth feel is smooth and creamy. This was a little hard for me to drink with the bitter after taste. I may need to try it again with something sweet to eat.
★
342 characters

3.25
/5
rDev
-4.4%
look: 3.25 | smell: 3.25 | taste: 3.25 | feel: 3.25 | overall: 3.25
4
/5
rDev
+17.6%
look: 4 | smell: 4 | taste: 4 | feel: 4 | overall: 4
A: Poured a honey color with godd carbonationa nd a anice white head
S: Nose is sweet, hoppy, very aromatic, grains and light citrus
T: Sweet, honey, fruits anf floral notes
M: Light on the booze, easy to drink, light body
O: Went down way to easy and it had loads of flavor and hops for such a low ABV beer. Try it.
★
320 characters

3.3
/5
rDev
-2.9%
look: 3 | smell: 3 | taste: 3.5 | feel: 3 | overall: 3.5
Had on draft at The Hub in Tacoma on 1/17/12.
Appearance: Pours a hazy golden color. Very little head to my pour.
Smell: A citrusy, orange sweetness. Couldn't detect much of a hop presence.
Taste: A nice sweetness to it that has lemon and orange flavors to it. There is some hop bitterness on the front end, but it is minimal. Fresh and more flavorful than I expected from a low abv APA.
Mouthfeel: Light carbonation and the minimal hops provide little bitterness. Drinkers that prefer almost no bitterness to their beers would likely enjoy this quality.
Overall: For an APA, I expect more of a hop bite to a beer. That said, a sessionable beer that is redeemed by its delicious citrus flavors.
★
701 characters
4.35
/5
rDev
+27.9%
look: 4 | smell: 4 | taste: 4.5 | feel: 4.5 | overall: 4.5
Unexpectedly flavorful and fresh with a prominent lemony component. This unfiltered ale of burnished lemon-gold is notable for its overall smoothness and pour-me-another drinkability. The bittering is punctual, but it's nice to see a pale ale whose hop character is wisely designed to integrate, not overpower, and Pinnacle shows some restraint on late-boil hop theater. The slightly punky yeasted aroma is reminiscent of an ESB, though the body is built of brighter malts and accented with deft citric hopping. In this sense it differs from many pale ales in the region, but the total design and easy quaffability make this a very smart session ale.
Rolls off the tongue like...aw, nevermind.
★
698 characters

2.73
/5
rDev
-19.7%
look: 4 | smell: 3.5 | taste: 2.5 | feel: 2.5 | overall: 2
22 oz. bomber.
Hazy yellowish hue, bone-white, rocky head.
Aroma: soft hops, lean citrus, lemon and orange, quiet and pleasant.
Taste/mouthfeel: big, bitterness up at the top, pucker and wince, then it winds down. Too, too sour, as well. Not a pleasant experience, actually. Malt is light, body is not firm enough to provide adequate resistence to this intense unrelenting citric bitter bite. Gets mild after that first swallow, but it continues beating the tongue, and it's a bit tough to take.
Halfway in, and it's toned down a touch, but it still makes for a miss off the mark of a pale ale.
"A finely balance session brew. rich golden color, firm body, hopped with Cascade." Well, something went wrong here. Balance isn't fine, can't imagine a session with this sourness, and ...wooo! Just took another sip...still alarmingly sour! Something is amiss, somewhere...sorry, I tried my best to like it!
★
919 characters
Pinnacle Peak Pale Ale from Harmon Restaurant & Brewery
-
out of
100
based on
8
ratings.