Skagit River Brewery
BEER STATS
Beers:

35

Reviews:

Ratings:
PLACE STATS
Reviews:

15

Ratings:

Avg:

3.6

pDev:

12.78%

Taps:

0

Bottles/Cans:

0

Cask:

N

Beer-to-Go:

N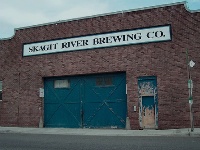 PLACE INFO
Type:
Brewery, Bar, Eatery
404 South Third Street
Mount Vernon
,
Washington
, 98273
United States
(360) 336-2884 |
map
www.skagitbrew.com
Notes:
No notes at this time.
Added by BeerAdvocate
Reviews: 15 | Ratings: 19
3.44
/5
rDev
-4.4%
vibe: 3 | quality: 3.5 | service: 3.75 | selection: 3.25
Visited December 28, 2015 Monday after Christmas
Place is full, parking available at the back
Cozy place
Nice food selection
Bar is full
Pricey beer for the quality
Overall: Good place, but not something to look forward to
★
222 characters

3.05
/5
rDev
-15.3%
vibe: 3.5 | quality: 3.5 | service: 3 | selection: 2.5 | food: 2.75
Tucked away off an I-5 exit in Mount Vernon, this was a destination my company took some management to for a business luncheon. . . Finding parking was somewhat a pain in the ass, but I was immediately hopeful of the place because of the "ol-timey" vintage brewery look I usually appreciate in a brewery. The railway vibe is accentuated being actually FEET away from an active railway that rocks the place when a train blasts by on occasion.
That is about where this place peaked for me. . . Our server struggled with personality and couldn't keep up in a timely fashion with orders or requests. Being that this was mid day on a week day when it wasn't that busy, I wasn't impressed. I will give credit that he did have some passion about the beer and could hold a good conversation in regards to it when pressed.
But speaking of the beer, I was further dismayed when much of their selection was unavailable. Including one of their go-to IPA's and a Stout that many seek out when frequenting the place. I still got a flight of what I could get and only drank one of the samplers fully of an IPA they carried. I did get a glass of the nut brown that was pretty good though.
In regards to food, the selection of "pub grub" seemed legit on paper with a nice variety between apps, flat breads, burgers, and local seafood fare. . . I can only speak of the flatbread I ordered, but it was something I could have defrosted from my freezer. A nice coating of red pepper flakes bettered it. My coworker did rave about the chicken salad and I was wishing I did order some of the burgers I was watching being eaten around me. Live and learn I guess. . .
Overall, this place is too far north and out of the way for me to see much of anyway. But even it was within a reasonable distance, I have too many other places I easily rank above here that I would have rarely visited again anyway. . .
★
1,883 characters

3.53
/5
rDev
-1.9%
vibe: 3.5 | quality: 4 | service: 3 | selection: 3.5
Sampled their Hefe yesterday at the unintentional brewfest up north, and are now doing the drop in on the way back down to Seattle en route to Portland. It's a stand alone right off the highway, stupid easy to find. Parked street side in a sweet slander spot (applicable even if I'm not driving, as long as I'm in the car). Up the porch and pushed in, low maintenance long drive Sunday...
Through and to a small bar to the right; dark wood topped with a light trim, slat wood base, & piping foot rail, and seating for 4 just now on backed chairs. Copper box with 6 etched wood handles taps on the bar, and upright bar towers to each side with 3 handles each; capacity for 12 in all with 1 empty just now. Barback is a pieced wood unit. Shelved mostly ceramic, nicely decorative mug club mugs over glassware over wines to the right, and 22's over logo pints shelved to the left. A house Scullers IPA print on center, with growlers shelved below to both sides, and Weisse & Pils glasses shelved below. Pint glasses & more Pils on the counter center, and coolerings down below.
Horizontal board lined with handball bulbs runs the length over my head barside with some cool chalk drawings, and a flatscreen on the end showing summer basketball, is there such a thing? Front corner kitchenings; I'm looking in on a guy cooking, flippin' something in a pan. What is he making and for whom? Black cold box cooler doors on an olive frame on the other end of the bar, and more mug club mugs on a cross beam behind me.
3 hightops behind me at the bar, and then it opens up into the main room, the walls and double high ceiling done a stucco sort of beige, worn heavy plank floors, and large beam uprights. Through to the far side room, the walls done in brick & something reddish, and an olivey colored ceiling in my failing eyesight, anyway. Upwards of 2 dozen booths & tables out across the floor and into the side room, where you're offered brew room views. It's a whole lot bigger than you'd expect it'd be. I think Mike said they had a 25bbl system, cannot recall; did I mention there was a beer festival yesterday?
And there's something of an upstairs space. I was toying with venturing up there but I'm sampling, but then Phil went up so I have to now, 'cause he's running his Phil mouth. 3 banquet hall tables & a few shortys; a service bar to the rear and a cushy zone up front with a big TV. Also, windows looking in over the brew room from up high. And downstairs, again, displayed 'Scullers IPA' shirts show just the skulls (The heads. You're looking at the heads. I, uh – sometimes he goes too far, you know – he's the first one to admit it!), and a quick jaunt to the front shows an outside deck with a dozen tables.
9 house beers (Jenny's Scottish Ale, a big sweety, okay, not so big at 5.5%, but a malt bomb; Helmut Pale Ale, 5.2%, hoppier than most, meh; 404 IPA, 6%, Zeus, Ahtanum, & Bravo, nice floral hoppiness, pleasant; Scullers IPA, 7.2%, considerably darker, citrus, pine, Northern Brewer & Chinook; Highwater Porter, 7.2%, coffee, bitter chocolate, dry, a nice porter; Hefeweizen, 4.5%, lightly banana clovey, it's a Hefe; Skagit Brown Ale, 4.5%, slight roastiness; Farm to Market Ale (ESB), 3.2%, medium bodied, malty, biscuity, excellent for style; Del Rio Lager, 3.5%), + a house root beer, and cider (Tieton Cider Works cherry cider). I did a sampler (4 shorty glasses served on a small slat paddle), with first both IPA's, the Brown & the Porter, and then another with the Scottish, Pale Ale, Hefe, & ESB. The Del Rio Lager was the odd man out between my 2 samplers, the only one I didn't get to. The 404 IPA, Highwater Porter, & Farm to Market Ale ESB were the best of 'em.
Some nice beers, sorry we missed Mike on the unannounced drop in. I've got to tell you, I'm pretty goddamn fun and just wasn't feeling it. How can you not like the cool guy from out east? Grumbly server behind the bar, boooo. Decent crowd this day. Oh man, there's a train that runs by so close that I felt its breeze as it passed. Okay, not really, but the blowing of the horn as it ripped through town did make me fall over. Worth a drop in off the Interstate.
★
4,219 characters
3
/5
rDev
-16.7%
vibe: 3 | quality: 3 | service: 4 | selection: 2
I stopped here on an afternoon. It appeared to be a nice area to sit outside, but I went inside to try a sampler. The sampler only had 4 beers, maybe it was a bad time of day but I thought that was not very broad, and the choices of beers that day were nothing adventurous and pretty bland, surprising considering I was in Washington. I did not try the food, although it looked good from a distance. The service was good and if you're in the area it might be worth a stop, but I probably would not make an effort to go back as far as beer is concerned.
★
552 characters

3.4
/5
rDev
-5.6%
vibe: 3 | quality: 4 | service: 3 | selection: 3 | food: 4
We stopped here on the way from the Seattle airport to Vancouver.
We ate out on the patio which would have been wonderful (perfect weather, comfortable, nice hanging baskets) but the noise was almost intollerable at times. There is a busy road on one side and train tracks on the other.
The beer list included about 6 or 7 options all brewed on site. I chose the IPA but it was out so I went with the Pale Ale. At first I was disappointed but their APA was actually quite good and very hoppy.
I ordered the BBQ beef sandwich and enjoyed it but not as much as my wife's crabcake sandwich. It was very tasty and she's still talking about it nearly a week later.
Service was average. Our server was not particularly friendly but she got us what we ordered in a timely manner.
Overall the score is not going to look very good but I think it could've been better if we ate inside.
★
880 characters

3.63
/5
rDev
+0.8%
vibe: 4 | quality: 4 | service: 2.5 | selection: 4 | food: 4
An old building in downtown Mount Vernon, Skagit River Brewery has a good atmosphere with it's old wood floors and brick walls. It has almost an old west saloon feel. However, the one inside wall of the dining room is full of windows so you can see right into the brewing operation. Not a whole lot to look at but I'm sure a little more interesting when they're brewing.
They have a good food selection with some pub fare and some good pasta and seafood dishes. The smoked salmon chowder was quite good.
My server was very inattentive and somewhat unfriendly. If it wasn't for a new busser that was more interested in conversation it would have been a total loss. The server didn't perk up until I bought a $20 growler.
They have a good selection of interesting beers that range from some very low alcohol beers to big 9-10% beers. They charge per oz to fill growlers so it ranges from $12 for their year round fare to $20 for their seasonal or big beers.
SRB is a nice family environment (they brew their own root beer for the kids) or a great place to have lunch and a beer.
★
1,080 characters
4.05
/5
rDev
+12.5%
vibe: 4 | quality: 4 | service: 4.5 | selection: 3.5 | food: 4.5
I've been to Skagit River on a couple of occasions, both with kids in tow. The last time I stopped there was on my way home from a backpacking trip around Mount Baker with my then-10-year-old. We got absolutely drenched in a downpour on the last 4 miles down the mountain. The Skagit River Brewery was about and hour and a half drive from the trailhead and a perfect stop on the way home to Seattle. I must say, given our condition, this might have been (relatively speaking) the best BBQ and beer I've ever had. I'm exaggerating but, man, it hit the spot.
While the food is typical pub fare, it's all executed very well. And, their BBQ platter is a must. There is not much selection on tap, at least that I recall. They had their own brews and I had a Sculler's IPA both times and their stout the day we got drenched. The IPA was above average and the stout was OK.
For folks driving to Canada from Seattle and vice versa, Skagit River is a recommended stop given its location and easy on and off access to I-5.
★
1,014 characters
4
/5
rDev
+11.1%
vibe: 4 | quality: 4 | service: 4 | selection: 4 | food: 4
You can easily spot the Skagit River Brewery from the freeway. If you're traveling south, exit at once. If you're northbound, turn around and go back. The pub occupies a former warehouse by the railroad tracks on the outskirts of downtown Mount Vernon. In fact, it would be impossible to site a building any closer to the railroad tracks than this one is. When the freights pass, the whole place rumbles. When Amtrak rolls around, you can make expressive eye contact with the passengers.
As with Boundary Bay or North Fork, Skagit has a comfortable, western feel with worn wooden floors and tasteful antique bric-a-brac. This is a friendly, redbrick locals bar where employees stay for a pint or two after their shift. There's an upstairs dining area with window views into the brewery, and an outdoors patio suited to recreational train spotting.
The bar features eight beers, half of them at 4.5% ABV or less. There is one guest tap (Pike) and a house root beer. Skagit brews a variety of styles from imperial stouts to a 3.5% wheat beer, but they are notable for having several lagers at any time. Quality is generally good and a number of beers are available in 22-oz. bottles throughout the region and at the bar. The Sculler's IPA is an especially popular choice. Food runs the gamut from standard barfare to wood-fired pizzas and full entrees. They also serve a fair array of tempting desserts.
Definitely worth a visit. And afterwards a walk through town and a stroll by the river make for a refreshing post-session leg-stretch.
★
1,542 characters
3.3
/5
rDev
-8.3%
vibe: 4 | quality: 3.5 | service: 2.5 | selection: 3.5 | food: 3.5
Located close to I-5, this brewpub is easy to visit.
The rustic feel of this room is great, with worn wooden floors under your feet welcoming you in.
The service can be spotty at the bar, but every time I've had table service it has been average or better.
The quality of the beers can be hit or miss, their IPA being far and away the best beer brewed here. The stout is also very good, with the rest fluctuating greatly.
They do brew a wide variety of beers during the course of the year so there is generally a seasonal or limited release beer available.
The food is always above average, and sometimes great.
For your money Skagit is fairly priced.
This brewpub is usually overshadowed by better brewpubs in the area (Boundary Bay, Anacortes, Flyers)but is surely worth a vist, even if just a quick pitstop from the interstate.
★
837 characters

3.6
/5
rDev 0%
vibe: 4.5 | quality: 3.5 | service: 3.5 | selection: 3.5 | food: 3.5
Located in an old fruit warehouse, this room is among my favorite brewpub locations. The trains sometimes rumble just a few feet away from the wall and the deck is enjoyable. I find the Trumpeter Stout and Scullers IPA to be Skagit Rivers best beers, with an honorable mention to Skullersplitter Scotch Ale, one of my least favorite styles. The rest of their lineup is average, with occasional surprise treat available at the brewery. The food menu is slightly above pub average, however they do have a smoker and use it regularly, which is a big plus. Both the food and beer menus have a wide selection, you'll find something to fit your mood. Worth stopping in if you're in the area.
★
685 characters
4.22
/5
rDev
+17.2%
vibe: 5 | quality: 4 | service: 4 | selection: 4.5 | food: 4
I stopped by the brewery for a few brews and lunch while attending the 2008 Tulip Festival. The brewery is located in an old building close to the Amtrak railroad station on the eastern edge of the old Mount Vernon downtown. The interior provides a rustic venue with rough wood floors, exposed brick walls, and a long old bar that is worn by years of mugs and abuse. The brewery is visible from the bar and seating area of the restaurant via large glass windows.
I was greeted by friendly and knowledgeable wait staff. I selected a "Trumpeter Stout" to begin with. The RIS was one of two seasonal selections that complemented the eight brewery beers on regular rotation. The other seasonal beer available was the "Single Hop IPA." Beers on the regular rotation included: Sullivan's Stout, Highwater Porter, Scullers IPA, Skagit Brown Ale, Yellowjacket Pale Ale, Washington's Wheat, Dutch Girl Lager, and Del Rio Lager,. Alll of the beers could be purchased in growlers. All of the regular beers except the Del Rio Lager and Sullivan's Stout could be purchased in 22 ounce bottles at the brewery.
For lunch I had the special...a pulled pork sandwich with potato salad. The sandwich came smothered in tangy BBQ sauce and cold slaw. It was tasty, reasonably priced, and it went very well with Scullers IPA. Despite a very busy lunch crowd the wait staff were attentive, the food was delivered hot, and they kept my beer supply flowing.
★
1,434 characters
4.05
/5
rDev
+12.5%
vibe: 4 | quality: 4 | service: 4 | selection: 4 | food: 4.5
Stopped in on a recent visit to WA.
Nice looking deck, family style restaurant. We had a 3 year old, and they accomadated us very well. Good cheap kids menu. She got a baked s'more and some crayons, and we split a lemon cheesecake which was really really good!
We ordered a sampler and got all 10 beer on tap. A few stood out, but all were of good quality. Good selection of light beers, and a few high-gravity kickers. IPA was good, Octoberfest had just come out, and they had a good scotch ale too.
Service was fast and friendly. I recommend it if you're in the area. It's very close to the 5.
★
605 characters
2.23
/5
rDev
-38.1%
vibe: 4 | quality: 1.5 | service: 2 | selection: 2.5
Skagit River looks great from the outside: a warehouse like building with a nice deck. It has a little bit of grit and grime, enough character to seem enticing. The interior too, done in wood and dimly lit, has the feel of a backwoods juke joint or bayou blues club. Unforunately, the appeal of Skagit River stops there.
Plainly put, the beer here is bad. My friend and I sampled all ten brews they had on tap and found them across the board to have a strange, soapy aftertaste. Oftentimes, these brews started off well-enough with a nice malty note, but where they should have been finishing crisply or bitterly toward the back of the tongue, almost all of these brews (their Locos Only Pale Ale was the one exception) got stronger and maltier, leaving malty, soapy, or cloyingly sugary aftertastes.
The sampler couldn't entice us to stay, so my buddy and I headed out. I would hazard a guess and say that I doubt I'll ever be back through the Skagit River doors again.
★
976 characters

4.18
/5
rDev
+16.1%
vibe: 4.5 | quality: 4 | service: 4.5 | selection: 4 | food: 4
Had dinner here with my brother & sister-in-law and several of her relatives after a long day of moving their belongings from Wenatchee and unloading them in Burlington.
The space used to be an old warehouse of some kind in downtown Mount Vernon. I'm a big fan of "adaptive re-use (a little historic preservation lingo)", so I dug it. There was a second floor but I didn't see what it was like. We sat at a big table along the wall. Facing the wall, I could see a couple of trains roar by just over my bro's dad-in-law's shoulder. The trains weren't too loud and added to the place's considerable charm. We were all able to happily chat away in a cozy, not-too-crowded-or-too-loud environment on a Saturday night at a quarter to eight, though we had to make reservations when we called an hour before, so it sounds like it can be busier earlier. The pub sits next to tracks that are in turn next to I-5, so locating the place isn't hard once you get off of the infamous vehicular sprawl between the Seattle area and Vancouver BC, plus the sign on the side of the building is prominent as you race (or crawl, depending on the time of day) past on the freeway.
Since I didn't sit at the bar, I can't comment on it. The service was prompt without it feeling like the waitress was hovering over us – not an easy thing to do while attentively waiting on a semi-large group of people. While no opportunity arose for her to demonstrate the staff's education re: beer, we were well served, and isn't that the most important thing?
I had a pint of the Scullers and a porter, plus a taste of my brother's brown ale (the only SRB I'd had previously – bottled). My schnoz was pretty out-of-commission due to moving allergies (dust and dog hair), but the beer seemed pretty tasty to me, the IPA being pleasingly hoppy without being overbearing about it, and the porter had a "woodsy" quality to it, as my brother put it. The rather low-strength pale ale was popular amongst other diners in my company, and no one was heard to complain about the beer.
The hours on the place are a little silly, as they close rather early, (10PM on a weekend, 9 on a weekday night, IIRC) so this is more of a dinner destination than a late-night source for pints. The food was pretty good, with a little bit of everything – some barbecue, some pizzas, etc. I had the Shepherd's Pie, which was served piping hot and was nicely filling, with a tasty red potato salad served on the side.
This is a nice brewpub & restaurant, worthy of a visit. I plan on coming here again when I visit the bro. Hopefully I'll be able to try the winter seasonal imperial stout on-tap when I do.
★
2,677 characters
3.33
/5
rDev
-7.5%
vibe: 3 | quality: 3.5 | service: 3 | selection: 3.5 | food: 3.5
Skagit is a good stop on the drive from Oregon to Vancouver, B.C. The place was hard to find the first time thru town. But once I found it, no problem.
And then when a train comes by, you wonder if you should hold onto your beer. Outside it can be a little loud and dusty. But this is a nice adaptive reuse of an old feed store type building.
The server was pleasant but did not seem to know the beers. The food was typical pub fare. There were several locals the day we drove through. It was a nice start of the ultimate beer trip. After a nice late lunch we drove on to Vancouver and met our travelling companions at a downtown hotel. The next morning we caught a ship to Juneau. The last Brew Cruise to leave from Vancouver. They now go out of Seattle.
On return we stopped again and I got a case to take home. It was good beer but not great.
★
854 characters
Skagit River Brewery in Mount Vernon, WA
85
out of
100
based on
15
ratings.