Dismiss Notice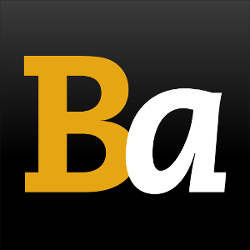 Site Performance Updates: We're aware of the nightly site outage, and working on resolving the issue.
Little Scrapper IPA
| Half Pints Brewing Company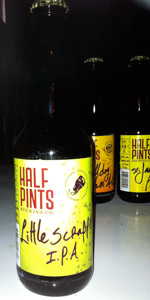 BEER INFO
Brewed by:
Half Pints Brewing Company
Manitoba
,
Canada
|
website
Style:
American IPA
Alcohol by volume (ABV):
6.00%
Availability:
Year-round
Notes / Commercial Description:
To admit that the brewers at Half Pints are hopheads is an understatement. This India Pale Ale is unabashedly hoppy, with a grapefruit-like aroma due to a large addition of hops directly to the final tank (a process called "dry hopping"). A firm, toasted malt presence forms the background for all these hops lending balance so it's not just a one note symphony.
50 IBU
Added by trevorwideman on 08-18-2006
Reviews: 64 | Ratings: 132

3.95
/5
rDev
+0.5%
look: 4 | smell: 4 | taste: 4 | feel: 3.5 | overall: 4
341ml bottle. Going to see my parents for the holidays, trying to get south of Calgary, and I'm stuck in the worst traffic I have ever seen on the Deerfoot. So I peel off, trying to find a route where the cars are actually moving. Lo and behold, I pass right by Willow Park, and I have to stop and have a look inside. So what do I find that doesn't seem available yet in my neck of the woods?
This beer pours a clear, medium copper-amber hue, with three fingers of puffy, bubbly, and weakly foamy off-white head, which dawdles incessantly in its disappearing act, leaving some awkward webbed lace around the glass.
It smells of indeterminate meaty citrus and wet pine hop esters, a lightly toasted bready caramel malt, a hint of herbal, funky yeast, a touch of dried honey, and further floral, earthy hops. The taste kicks off with more mild orange and grapefruit citrus pith, followed lazily by the grainy bready malt backbone, a suggestion of buttered toast, and some equally bitter herbal, grassy, and pine resin hop notes. A bit of alcohol becomes evident as it warms.
The carbonation is quite tingly on the tongue up front, yet settles into a murmouring state soon enough, the body an adequate medium weight, and somewhat tacky in its plebeian smoothness. It finishes on a strong drying trend, the hops holding fast, while the malt seems ready to give up the countervailing reins.
A pretty good example of this polarizing style - quite bitter in its hoppiness, sure, yet weirdly understated in its approach, so, yes, very Canadian, through and through. I could easily see this being a veritably sessionable IPA, were it more available, i.e., in my hometown. I'm sure that's in the cards, things being as they are.
★
1,722 characters
3.98
/5
rDev
+1.3%
look: 4 | smell: 3.5 | taste: 4 | feel: 4 | overall: 4.5
A: pours a clear, orangey-brown with a 1 1/2 finger, off-white, rocky head that has good retention and leaves some nice lacing on my glass
S: good amount of hops and a touch of malty sweetness
T: nice, rounded hop flavour, not overly strong, reduces to a smooth, sugary, honey, bready sweetness that gives way to a bitter and spicy hop flavour on the finish.
M: light and creamy, well carbonated and a spicy-dry finish that tingles the whole way down.
D: This is a good IPA. Perhaps not as hoppy as most western IPAs but, still, it delivers on the flavours demanded by the style and is a pleasure to drink. I will buy this beer again in the future.
★
652 characters
3.8
/5
rDev
-3.3%
look: 4 | smell: 4 | taste: 3.5 | feel: 4 | overall: 4
Good IPA, but I remember this having a bigger hop profile on tap/cask at the GCBF last year than when I had it out of the bottle.
Nice amber-orange with a big fluffy head. Nice spicy hop smell and a good, sweet malt presence. Rich malty taste, with enough hops to keep me interested. Tastes a bit watery, as mentioned before I thought this was hoppier when I last had it.
Nice carbonation, very easy to drink. I'd like to try it on tap again.
★
444 characters

3.97
/5
rDev
+1%
look: 3.5 | smell: 4 | taste: 4 | feel: 4 | overall: 4
A very decent IPA that shows some hoppy muscle but really keeps it together with the balance. Mid gold with a brewery nose ( more apparent on the draft version) this beer almost seems to have some English hops in the finish. I see the balance as its strong point as I wanted another soon after.
★
294 characters
3.63
/5
rDev
-7.6%
look: 4 | smell: 3.5 | taste: 3.5 | feel: 3.5 | overall: 4
Clear light coppery honey color with a starchy topping of off-white foam sitting smallishly with a compact heft. Creeps away to alot of lacing grabbing the glass in branched out strings and globs.
Aroma is fair to light without much gusto. Some pale grassyness and pale malt sits with a bit of a twist of pine resin and smoke. Gets a bit broader as it sits.
Taste is about the same with a fair body and tone of flavors that swim quickly onto the palate leaving impressions of piney, grass ended hoppyness. Starchy pale malt, semi drying and breadish, a bit of wood notes some of the dryness as fades into a simple finish leaving a slight resinous smokey pine.
The body is lightish to medium with a decent carbonation holding it together around its hoppy middle and lightly dry efforts. However, a bit flat overall and more so developing a Pale ale sense of body, tone, and flavor.
The name is suiting, as it is just that, a little scrapper of an IPA. Perhaps a bit plain for me and unimpressionable but drinks down fine enough due to its somewhat lighter approach to the style.
★
1,090 characters

3.88
/5
rDev
-1.3%
look: 4 | smell: 3.5 | taste: 4 | feel: 4 | overall: 4
Amarillo hops, dry-hopped with Cascade.
Cloudy peachy/amber hue, attractive milky white foam above, little lace leaving.
Juicy fruit aroma, nice moderate bitterness...grapefruit and piney-ness, lovely stuff.
Good bracing bitterness up front, a plentitude of hoppiness, fresh Amarillo flavor, nice and juicy. Creamy, citric mouthfeel. Toasty malt backbone. Well-balanced brew, plenty of everything, not too much, not too little.
The label says this little scrapper could take other so-called IPAs to the mat. Well, maybe if you're only talking about Canadian IPAs. American IPAs have got this category covered and then some...I'd double the IBUs at least, ...but then you'd almost have Surly Furious...and now we're talking!
Drinks great, though. A bit too reserved to really be an aggresive IPA. At least 65 IBUs would have been better (it's listed at 50).
I like this. Thanks to David for bringing it to Surly, for them to give to me!
★
954 characters
3.75
/5
rDev
-4.6%
look: 4 | smell: 4 | taste: 3.5 | feel: 3.5 | overall: 4
Bomber, courtesy of Blair-thank you for bringing back. No offence to Boutin who also sent a 330 at the same time. This is to some a very good pale, to others a good but not super hopped up American IPA. What it is, is very drinkable masterful brewing, it would be awesome I think on tap. Orange citrus flavour, grapefruit Cascade in the aroma. Drying but not overly. Oh, nice orangey colour and white head.
★
406 characters
3.52
/5
rDev
-10.4%
look: 3.5 | smell: 4 | taste: 3 | feel: 3.5 | overall: 4
A big off white head sits on a dull orange brew that seems to be just a touch hazy. Head retention is good and there is plenty of lace.
Big citrus hop aroma in the nose. Very grapefruit like. Nice to smell.
Citrus is big in the taste as well. Grapefruit, lime and mandarin orange. Very fruity. A bind of bitter rind in the finish. Decent, but kinda straightforward.
Fairly thin in body with plenty of carbonation, this is a fairly lively beer in mouthfeel. Not oily but not watery.
Goes down very well, but would benefit from a bit more complexity in the flavour.
★
575 characters
3.68
/5
rDev
-6.4%
look: 4 | smell: 3.5 | taste: 3.5 | feel: 4 | overall: 4
Thanks to chonyr and raider for bringing me some back from the Grey Cup.
Appearance
A golden-copper hued ale poured with a nice two finger white head. The ale produced a low level of carbonation with fine bubbles graciously rising to their freedom.
Aroma
White grapefruit peal, hint of pineyness. Bready and biscuity malt aromas with just a hint of caramel.
Taste
Dry biscuity malts form a sturdy malt backbone, with lesser bready flavours and a light touch of caramel sweetness. Nicely hopped, although lightly hopped for an American IPA, with astringent character and flavours of grapefruit peal and pine. My personal preference begs for a larger Cascade hop presence, but this was a tasty brew.
Mouthfeel
A very well balanced IPA with a somewhat light body. Surprisingly full of biscuity malt flavour considering the thin feeling body. Dry and astringent in feel with a decent lingering hop bitterness. Shows off its malt backbone as well as the Cascade and Amarillo hops.
Drinkability
Very drinkable and sessionable due to its light yet full flavoured body. Also a good crossover brew for introducing a hop novice to the possibilities of hoppier beers. Will be drinking this one again, next time I go through the 'peg
★
1,241 characters
3.32
/5
rDev
-15.5%
look: 3 | smell: 3.5 | taste: 3.5 | feel: 3 | overall: 3
Bottle courtesy of Piscator34: Poured a light orangey color ale with a medium foamy head with average retention. Aroma of citrus hops is well balance with some caramel malt. Taste is a mix between some medium citrusy hops with some semi-sweet caramel malt. A bigger hops presence would have been more enjoyable IMHO and body was a bit too watery for my own taste. Still very good effort nonetheless.
★
399 characters
3.23
/5
rDev
-17.8%
look: 4 | smell: 3.5 | taste: 3 | feel: 3.5 | overall: 3
thanks to trevorwideman for this bottle.
Appearance: Pours a reddish amber colour with a nice foamy head which settles to a nice lace. A tad hazy due to it being unfiltered. Not as hazy as the bulldog amber.
Aroma: Big hop heavy nose with citrus notes. Backed by strong bready malts.
Taste: Nice butter flavour. Also detect grassy notes. Quite bitter. Leaves a citrus finish with a slight medicine flavour, not too significant though.
Mouthfeel: Heavy, but not creamy. Carbonation is perfect for this IPA. Not a session brew, but you can easily drink a few pints.
Final Statement: Very nice IPA. I have had better, but this is still very good. The finish isn't quite what I want in an IPA, but it's definately worth a try. It's pretty well balanced, and an enjoyable brew.
★
787 characters
3.7
/5
rDev
-5.9%
look: 3 | smell: 3 | taste: 4 | feel: 4 | overall: 4
Not surprisingly, Rudge's best. Half inch of foam on a dark amber/light copper beer. Subtle but captivating light hop aroma that seems lighter than the lower hopped Amber. Flavour like a double hopped version or the Amber, or triple hopped! Tongue drying finish, but not overpowering. Waves of hop flavour float across the tongue after the finish. The more you drink the more you like! Thanks Piscator34.
★
405 characters
3.95
/5
rDev
+0.5%
look: 4 | smell: 4 | taste: 4 | feel: 3.5 | overall: 4
Orange in colour with medium-low carbonation. Bright orange and grapefruit aromas with some minor notes of lightly toasted bready malts and hint of flowers. The flavor progression seems to work the opposite way that most of the IPAs that I've sampled have: leading with some heavy bready and lightly caramel-sweet malts before the citric hops re-appear. Some black pepper notes show on the back end, as well as some fairly assertive chunky pine bitterness. There is a bit of similarity with Scotch Irish Sgt. Majors IPA, only this beer seems a bit more refined. The body is still feels fairly heavy inspite of the bitterness. Generally speaking, I tend to prefer dryer interpretations of IPA, this one is still very good. I'll be buying it again for sure.
★
757 characters
4
/5
rDev
+1.8%
look: 4 | smell: 4 | taste: 4 | feel: 4 | overall: 4
Batch no.1 from our new local brewer. 660ml bottle bought at the brewery.
Poured into a Pint Glass. Brilliant amber-orange colour with a pillowy 3/4 inch head, well carbonated. Good head retention and nice lacing all the way down the glass. Serious West Coast IPA nose, earthy, with grapefruit and all manner of citrus and a toasted caramel malt backbone.
Taste is well balanced, there's a candy-like toasted sweetness that is offset well by the hops. There's lots of hefty body in this beer, and Grapefruit citrus notes predominate but don't overcome the palate. Full bodied mouthfeel and not overcarbonated, sticks to the throat nicely. A balanced and tasty brew I'm happy to say comes from my hometown.
★
711 characters
Little Scrapper IPA from Half Pints Brewing Company
88
out of
100
based on
64
ratings.