Red Rock Golden Halo
| Red Rock Brewing Company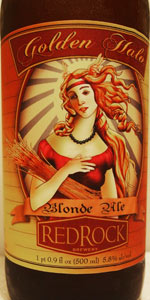 BEER INFO
Brewed by:
Red Rock Brewing Company
Utah
,
United States
|
website
Style:
American Blonde Ale
Alcohol by volume (ABV):
5.80%
Availability:
Year-round
Notes / Commercial Description:
Red Rock's Golden Halo is an all new brew that has a subdued malty character with a bright golden color, and a Nobel hop aroma. Its crisp, clean flavor comes from a balance between German malt and Czech hops.
Added by Wasatch on 03-20-2011
Reviews: 8 | Ratings: 14

3.73
/5
rDev
+0.5%
look: 3.5 | smell: 3 | taste: 4 | feel: 4 | overall: 4
Poured into a pint glass.
3.5 A: Lightly hazed light orange color. One and a half fingers of frothy off-white head. Retention is about average and a moderate amount of leggy lacing is left.
3.0 S: Peachy fruitiness and a mild breadiness from the yeast and doughiness from the malts. Hay and honey. Aroma isn't all that clean as there's a hint of vegetal character. Despite this, it's not bad smelling.
4.0 T: Peach and pear fruits. Honey with floral and herbal notes - flower petals. Lightly bready and very slightly bready. Grassy hops and a pleasant neutral sweetness. Quite complex for the style.
4.0 M: Medium body with some viscosity to it. Good moderate carbonation. Velvety, but not that creamy if that makes sense. Super smooth.
4.0 D: Pretty tasty beer. Aside from a minor hickup in the nose, this is solid all around.
★
832 characters
More User Reviews:

3.85
/5
rDev
+3.8%
look: 3.5 | smell: 3.5 | taste: 4 | feel: 4 | overall: 4
16oz brown bottle with no freshness date.
LOOK: Bright golden color, tight lacing
SMELL: Dried grass, doughy biscuits, yeast, flour, lemon pith, pears
TASTE: Smooth, mildly crisp, fresh crackers, grassy, nutty yeast, lemon hops, herbal, earthy, ample bitterness, clean drying finish
This beer eventually surprised me about half way down the glass I realized how great it is and how drinkable ... session beer for sure. A must if you are into flavorful pale colored ales.
★
474 characters

3.99
/5
rDev
+7.5%
look: 3.75 | smell: 4 | taste: 4 | feel: 4 | overall: 4


4.07
/5
rDev
+9.7%
look: 4 | smell: 4.5 | taste: 4 | feel: 3.5 | overall: 4
500ml bottle received in a recent trade with Wasatch. Thanks John! Poured into a Duvel tulip.
A - Pours a pretty golden color with good clarity...just a bit of suspended yeast from the bottom of the bottle, thick two fingers of fluffy white head, good staying power, nice webs of lacing left on the glass.
S - Soft aroma...clover honey, floral hops - almost like a grassy field on a summer morning. Light malty base that is subtle, but sweet and biscuity. This smells really good right now - making me long for warmer weather.
T - Light balanced flavor. Sweet malt, touch of yeast, mild bread and a soft hop bitterness along with floral hop flavors. Balance is really good between the sweet and the bitter resulting in a very smooth beer.
M - Lighter side of medium body with a light but crisp effervescent carbonation. Balanced, soft and delicate flavors that play well together.
O - Pleasantly impressed with this beer. Not going to challenge the pallete with any extremes in flavors, but this is quite well brewed and excellent for the style. This is one of the better session ales I've had in quite a while. Really like the subtle flavors and the fresh and summery aromas. Pretty tasty.
★
1,195 characters

2.81
/5
rDev
-24.3%
look: 4 | smell: 3 | taste: 2.5 | feel: 3.5 | overall: 2.5
A lovely pour into the New Belgium snifter. Lots of foam and and the golden blonde color. Light body with plenty of sparkle. Pleasant beery aroma. Nice enough on the tongue.
Fairly tart with a yeasty taste. A touch of canned peaches, but mostly the can. Unfortunate plastic taste comes through to spoil whatever delicate flavor this might have had. Some hoppiness to finish.
From the 500 ml bottle from the Utah State Liquor Store in Salt Lake.
★
447 characters

3.56
/5
rDev
-4%
look: 4 | smell: 3 | taste: 3.5 | feel: 4 | overall: 4
500 ml bottle poured into my Perfect pint, from the Utah system. Has no bottled date, come on Red Rock.
Appearance: A nice light golden color, fairly clear. Has a white 1.5 finger head that leaves ring as I sip. Very nice looking.
Smell: Light malts, grass and noble hops. Altogether subdued, but pleasant.
Taste: Starts out with sweetish malts, faintly reminiscent of honey. A slight bitterness with an herbal quality follows. The finish is fairly short. Not an overabundance of flavor, but what is here is good.
Mouthfeel: Fairly slick body with a medium thickness. Carbonation is fine.
Overall: A touch strong (5.8% ABV) for a true session beer, but has all of the right taste characteristics. Nothing wows or sticks out as amazing, but nothing is wrong either. Would be a great spring or summer beer.
★
809 characters

4.17
/5
rDev
+12.4%
look: 3.5 | smell: 4 | taste: 4.5 | feel: 4 | overall: 4
500ml
Poured into a Roosters true pint glass a very nice hazy golden orange/yellow color, nice carbonation, nice little creamy white head, with some sticky lacing left behind. The nose is malty, with a very nice hop note, grapefruit/citrus note. The taste is very nice, malty, nice hop note thrown in, very nice citrus notes, alittle flowery. Medium Body, with a nice little dry/bitter finish. Very Drinkable, this one really surprised me. This is one very tasty Blonde Ale, recommended.
★
490 characters
4
/5
rDev
+7.8%
look: 4 | smell: 4 | taste: 4 | feel: 4 | overall: 4

3.62
/5
rDev
-2.4%
look: 3.5 | smell: 3.25 | taste: 3.75 | feel: 3.75 | overall: 3.75
Poured into a dimpled English beer mug.
A- Nice deep golden color with some blonde highlights. Poured a 1 inch head, retention could have been better. The head dissipated into a thin foamy surface. Trace lacing left on the glass.
S-Straight bready malt and English muffins.
T-Quite bready and malty going in, some trace biscuit or English muffin taste, too. A clean light malt finish, as well as a slight peppery taste from the Czech hops in the aftertaste, but not overpowering. Very clean and drinkable. No sign of alcohol. Could definitely drink a couple of these, no problem.
M-pretty crisp and wet. Thirst quenching. Like I said, very clean taste. There is a balanced freshness to the body of this brew that makes you want more. The body is on the light to moderate side. Moderate carbonation.
Overall-Good, solid brew. It's a perfect spring time treat, light and refreshing. It's even a summer backyard BBQ treat as well. It reminded me of a Czech Pilsner or a Kolsch style ale. Not sure if that is what they were going for, but hey, it worked for this beer style.
★
1,080 characters


3.41
/5
rDev
-8.1%
look: 2.5 | smell: 4 | taste: 3.5 | feel: 3 | overall: 3
Malty aroma has a nice underpinning of fruit, mainly apple, and a hint of yeast. Pours a clear yellow with a fairly thick ivory head. Flavor has a malty core and fruity and grassy hints. Texture is about average, smooth, decent body, decent amount of fizz. Though not a great one, certainly enjoyable - good as an accompaniment to a meal, or at a party.
★
353 characters
Red Rock Golden Halo from Red Rock Brewing Company
-
out of
100
based on
8
ratings.