Dismiss Notice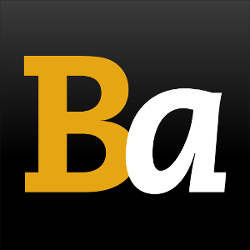 Site Performance Updates: We're aware of the nightly site outage, and working on resolving the issue.
Pacemaker Porter
| Flyers Restaurant And Brewery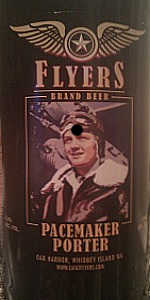 BEER INFO
Brewed by:
Flyers Restaurant And Brewery
Washington
,
United States
|
website
Style:
American Porter
Alcohol by volume (ABV):
5.50%
Availability:
Year-round
Notes / Commercial Description:
No notes at this time.
Added by Derek on 08-11-2007
Reviews: 13 | Ratings: 33

2.97
/5
rDev
-22.5%
look: 4 | smell: 4.5 | taste: 2 | feel: 2.5 | overall: 3
22oz. bottle poured into a snifter.
A: Super dark brown, maybe black but a little light comes through giving dark brown highlights. Half finger mocha colored head with decent retention. Very nice lacing.
S: Big chocolate and roasted coffee/espresso. That's it. Nothing more needed. Awesome aroma.
T: A smooth creamy chocolate to start. Then a roasted espresso bitterness takes over. Goes downhill from there. Don't know how to describe it, maybe a metallic sourness, or maybe what I would expect glass to taste like. Very acidic going down.
M: A little thin for a porter. No creaminess. Very acidic.
O: Wow. Great looking beer. Top notch aroma. And total utter disappointment after that. There is no bottling date, so I don't know if this is out dated or what. I don't think I've ever had a "skunked beer", or whatever you'd call it, so I can't really say. I love Porters, definitely do not love this one.
★
910 characters

3.32
/5
rDev
-13.3%
look: 3.5 | smell: 4 | taste: 3 | feel: 3.5 | overall: 3
Who knew the little south end equivalent of a convenience store would have good prices on some beers that I had never had. Impressive.
Anyway, this one was one of the ones I picked up.
Decent cola body, but no head. The nose is sweet with some malts, with the taste following suit. It's a somewhat thin, but goes down smoothe. There's some plum/fig/dark fruit in there, and a minimal bittering on the end. It's not bad, it's just not outstanding, which relegates it to 'meh' status in the midst of my current splurging for the short time I am somewhere with a little variety, and thus discovering some amazing brews.
★
618 characters

3.55
/5
rDev
-7.3%
look: 3.5 | smell: 3.5 | taste: 3.5 | feel: 4 | overall: 3.5
22 oz bomber courtesy of Libby pours a rich dark brown color without much highlighting. Thin tan head fades to a bubbly collar.
Nose is mocha with a little hint of piney hops. Pretty straightforward, sweet-ish porter aroma.
Taste displays much of the same as the coffee/chocolate interplay is nicely done. Fair amount of hoppy bitterness on the finish and the yeastiness gives of a lightly tart fruity twinge...in a good way. Pretty viscous for not really being all that sweet. Not bad, not bad...above average porter that has a little something that reminds me of black butte.
★
579 characters
3.82
/5
rDev
-0.3%
look: 3.5 | smell: 4 | taste: 4 | feel: 3.5 | overall: 3.5
A robust porter in style...
A: Black with chestnut highlights, light tan head, good retention, light lace.
S: Coffee, molases, dark chocolate.
T: Coffee, black-strap molases, dark chocolate, slight roasted acidity, slight licorous.
M: Moderate body & carbonation, hint of chalky acidity, dry finish.
D: Big, bold flavour is a little much to session.
★
364 characters

3.83
/5
rDev 0%
look: 4 | smell: 4 | taste: 3.75 | feel: 3.75 | overall: 3.75
I bought a bottle of Pacemaker Porter in a bottle shop. Poured in to a pink glass.
Pours a black walnut color, nearly opaque, with a thick frothy tan head.
Smell is a sweet chocolate and coffee aroma.
Taste is a dark roasted brain flavor up front, with chocolate and coffee flavors along side, and dry bitter finish.
Mouthfeel is a creamy texture, slightly cloying, with a dry aftertaste.
Overall a nice porter. Perhaps a little more bitter than I would like, but not bad.
NOTE: The CH-300 Pacemaker was an amphibious aircraft of the 1920's and 30's.
★
558 characters

3.84
/5
rDev
+0.3%
look: 4 | smell: 3.75 | taste: 3.75 | feel: 4 | overall: 4
Quite lovely appearance with a creamy tall head on the black brew in the narrow tulip. Plenty of carbonation on the tongue, and a big mouthful of flavor.
Dark roasted malt with some burnt flavors. Some dark caramel and a long deep dark flavor with just a touch of the malty sweetness. A little of the odd rye sort of flavor-- faintly sourish and grainy. The bitter finish brings a little hop flavor to the scorched bitterness of the grains.
The deep winey sensation with the sudsy mouthfeel makes for a very drinkable and smooth quaff. From the 22 oz bottle bought at the Flyers brewpub in Oak Harbor.
★
604 characters

3.88
/5
rDev
+1.3%
look: 4 | smell: 3.5 | taste: 4 | feel: 4 | overall: 4
Served in an Imperial pint glass. Poured an opaque black, with just a bit of light coming through. Poured with over an inch of full, dark tan head that had good retention and left minimal lacing.
The rich, malty aroma reaches the nose first, and smells like a porter should, just fuller. The flavors are also as expected, with the smooth roasted tastes most prevalent, and a slight smokey taste on the finish.
The body was full, rich and smooth. Drinkability was also smooth and easy, having several wouldn't be an issue. A very well done example of the style, worth seeking out.
★
581 characters
3.92
/5
rDev
+2.3%
look: 3.5 | smell: 4 | taste: 4 | feel: 3.5 | overall: 4
Flyers Brewery--Skagit River Brewery Custom Bottling--Flyers Brand Beer Pacemaker Porter-2010 22 oz. Bottle. 5.50% ABV. 25 IBU's? (3.75 / 5.0) Big creamy lacy espresso head. Opaque deep dark black color. Roasted floral chocolate mild espresso front. Creamy mellow cloying sweet malty roasted dark chocolate pudding mild fruit rich doughy robust Porter body. Sediment hint. Mild hop dry citrus hint end. Sampled 3/4/2011. Purchased fro $4.99 at The Greenwood Market, Seattle on 12/29/2010.
★
488 characters

4.05
/5
rDev
+5.7%
look: 4 | smell: 4 | taste: 4 | feel: 4.5 | overall: 4
Thanks to Dave for the bomber. This porter opens with a big dark chocolate (lighter, like 35% cacao) character with a dry citrus pepper finish. As it warms, the hops build for sort of a chocolate orange rind character. This is an interesting porter, and that's tough to find. Give this a try.
★
292 characters
4.05
/5
rDev
+5.7%
look: 4 | smell: 4 | taste: 4 | feel: 4.5 | overall: 4
On tap at Sharp's Roaster at Sea Tac Intl Airport.
A - Pours dark deep brown with medium brown foam with appearance of being a thick beer.
S - Noticeable coffee, chocalate, and malts really was inviting.
T - Nice full flavor of the coffee, malts and cocoa. A good balance of flavor for this style of porter.
M - Full mouthfeel and nice after taste with no bitterness.
O - Again, A great brew that I will look for in bottles, and a great name "Flyers" for the Naval Aviators at NAS Whidbey Island.
★
501 characters

4.08
/5
rDev
+6.5%
look: 4.5 | smell: 4 | taste: 4 | feel: 4.5 | overall: 4
Ok I will admit before I start I have a love affair with porter recently.
So we stopped by and had the world flight at Pikes brewery in downtown Seattle tonight. this was a great option...
smelled like chockalott and bourbon...
Color is black as night
smooth without a any bite
i didn't notice any head even though i am sure it had one.
Drinkablity is high in my books....
★
377 characters
4.29
/5
rDev
+12%
look: 4.25 | smell: 4 | taste: 4.5 | feel: 4.25 | overall: 4.25
Pretty, inspiring color. Pale brown head with coarse lacing.
Deep coffee, malty flavor. Like Peets espresso. Smells a bit like Ten Fiddy (which is awesome).
Malt, coffee taste. Also cocoa. Damn this is good.
Rich mouthfeel, could almost be a stout. Nice carbonation, not too much.
Finish of licorice, hints of sweet malt.
★
325 characters
4.52
/5
rDev
+18%
look: 4 | smell: 4.5 | taste: 4.5 | feel: 4 | overall: 5
I get sooo tired of hearing about how this or that beer won an award at some big brewing shindig. And then I drink a beer like this and realize that some beers deserve glowing accolades. Pacemaker has variously won gold and silver at NABA, GABF, and the WBC. But the good news is that it's an excellent beer on tap at Flyers brewpub. And that's as it should be.
Pacemaker has bold contours, abundant flavor, and a skillful composition of brown malt sweetness and overt roastiness. It is the customary shade of brown with mild lather and shares a similar fragrance corresponding to its flavor. The beer's capacity to express flavor would seem to know no bounds. Everything is brilliant, bold, and beautiful. It's exactly what a porter should be.
★
746 characters
Pacemaker Porter from Flyers Restaurant And Brewery
85
out of
100
based on
13
ratings.