Dai Viet Dark Ale
| Houng Sen Brewery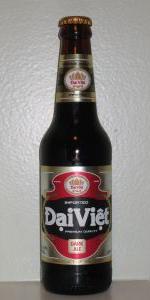 BEER INFO
Brewed by:
Houng Sen Brewery
Viet Nam
|
website
Style:
Altbier
Alcohol by volume (ABV):
5.90%
Availability:
Year-round
Notes / Commercial Description:
No notes at this time.
Added by goschool on 11-25-2006
Reviews: 9 | Ratings: 14
2.38
/5
rDev
-13.1%
look: 3 | smell: 2.5 | taste: 2.5 | feel: 2 | overall: 2
Deep brown-black color with ruby highlights. Rather thick tan head, about a finger or two high, that faded to a thin collar, then disappeared.
Aroma is of chocolate, molasses and malt, with fruitiness reminiscent of raisins and dates, maybe a hint of plum.
Full-bodied on first sip, but wanes a bit after it warms, as does the taste, which is quite malty and sweet at first, and ends up tasting a bit like watery molasses at the finish.
Not entirely bad, but not necessarily one I will have again.
★
507 characters
More User Reviews:

2.43
/5
rDev
-11.3%
look: 3 | smell: 2.5 | taste: 2.5 | feel: 2.5 | overall: 2
Probably just like everyone else that has tried this in the states recently, I found it on the shelf at Trader Joe's. My Trader Joe's has an "orphan" section which is basically just single beers - great for trying new stuff and not having to sacrifice for a 6 pack. I really wish Trader Joe's would have a better selection. They seem to want to showcase as many different countries' beer as possible. Again, the whole quantity versus quality thing.
I figured this was worth a shot. Really not much to say about this other than it really lacks flavor. It's not horrible, but it's not something I'd buy again.
★
611 characters

2.54
/5
rDev
-7.3%
look: 5 | smell: 3.5 | taste: 2 | feel: 2 | overall: 2
Something weird in the Trader Joe's, probably would have left it on the shelf except it is from Vietnam and I haven't reviewed a beer from there before.
In the glass this is a clear coca cola brown colored beer with a decent tan to light brown colored head.
The smell is plenty sweet and malty per the style and with a surprise, the scent of Asian hops. That exact same different grassy and herbal funky hop aroma that you get from a Singha or Tsingtao is in here. A little strange it smell more than a little like San Miguel Dark. Additional aroma of raisin and malt husk and some tannin. It is a fair stab at the style although with a slight Asian curve to it.
The taste begins dry and malty with a slight raisin bran taste to it. It is a shame that the flavor can't match the scent because it does have something going for it but the taste just isn't that much. Take a lager and add a little Pete's Wicked Ale and then bump the bitterness up one notch and then you will know exactly what this tastes like. It doesn't taste bad just lackluster.
The mouthfeel is a bit flat kind of like light beer.
Too bad on the drinkability here, the taste simply isn't there to make this work ordering over the Tsingtao at the local Asian restaurant much less worth seeking out for its own sake. Buy a SINGLE at Trader Joe's to see what is in the bottle and skip the six pack on this one.
★
1,391 characters
3.6
/5
rDev
+31.4%
look: 1 | smell: 3.5 | taste: 4 | feel: 3 | overall: 4
Looks like a flat root beer, no head and dark. Smells pretty strongly of grape and licorice. Tastes like it smells for the most part. Strong malt character. Lightly bubbly on the tongue. Not a particularly potent mouthfeel. Not the best of its style that I've had, but not a bad ale at all really.
★
297 characters
1.89
/5
rDev
-31%
look: 3.5 | smell: 2 | taste: 1.5 | feel: 2 | overall: 2
Poured this into a pils glass it forms a loose tan head that leaves some spotty lace behind. Body is dark brown with amber edges. We are off to a good start.
Slightly metallic in the nose and some sweet malts. The metallic sticks around in the taste and throughout the aftertaste as well. What manages to get through is a rather lackluster slightly toasted malt bill and an astringent bitterness towards the finish. Chocolate creeps into the picture as this warms up a bit.
Notes: Something is just not right with this one. Its ok. Its tolerable. Nothing is noteworthy. Next.
★
582 characters

2.64
/5
rDev
-3.6%
look: 3 | smell: 1.5 | taste: 2.5 | feel: 3 | overall: 4
Dark reddish brown color, thin tan head, some lace.
Rather funky smell, with sweet coffee, caramel, chocolate. Something's definitely off.
Tastes better than it smells, but slightly funky. Smooth, somewhat sweet taste. Roastiness and sweetness pretty well balanced. Coffee, chocolate, hint of star anise.
Mouthfeel starts off creamy, but gets watery. Easy to get down, but not very enjoyable.
Not utterly terrible, but something's off. This might have been a flawed bottle, it seems kind of stale.
★
509 characters

3.25
/5
rDev
+18.6%
look: 3 | smell: 3 | taste: 3 | feel: 3.5 | overall: 4
A pretty decent brew. Pours out dark brown with a small tan head. Has some orange highlights. Nose is malts and sugarcane. Taste is sweet malts, caramel, and hops on the finish (although not much). Mouthfeel is better than expected, and drinkability is actually quite good.
★
273 characters
3.25
/5
rDev
+18.6%
look: 3.25 | smell: 3.25 | taste: 3.25 | feel: 3.25 | overall: 3.25
Saigon (can)
I am neutral on this beer.
40 characters
2.71
/5
rDev
-1.1%
look: 3.5 | smell: 2.5 | taste: 2.5 | feel: 3 | overall: 3
I saw a new beer from Vietnam on the shelves of Trader Joe's this evening. It calls itself a dark ale, but it's certainly as close to a dunkel as anything in the ale category. All the website talks about is its German heritage, German-made brewing equipment, and German yeast, which is certified by the World Health Organization for superior quality (The WHO does that?).
Appearance: The pour is dark ruby-brown with a large, slowly fading, tan head.
Smell: The aroma is quite soft with sweet malts, chocolate, coffee, and bready grains.
Taste: The flavor profile has a bit of everything that's in the nose, but sticky-sweet malts take charge in front of the coffee, leaving the chocolate, bread, and wood flavors behind. It's too cloyingly sweet for my liking.
Mouthfeel: Medium-bodied with a chewy texture.
Drinkability: Another bland, generic "dark" beer from a nation without much of a brewing history. This beer isn't offensive or awful like many of the other ones.
★
989 characters

3.07
/5
rDev
+12%
look: 3.75 | smell: 1 | taste: 3.75 | feel: 3.5 | overall: 3.75
3.18
/5
rDev
+16.1%
look: 3 | smell: 3 | taste: 3.25 | feel: 3.25 | overall: 3.25
For someone living in Vietnam, which I am, this is as good as it gets on the local level. No other locally brewed beer comes close to offering this level of depth. The local market here drinks beer warm and fast, so they need something they can gulp. This beer is too heavy for that purpose, which is one of the reasons I like it.
★
330 characters

Dai Viet Dark Ale from Houng Sen Brewery
-
out of
100
based on
9
ratings.