P'tit Train Du Nord
| Micro-brasserie Saint-Arnould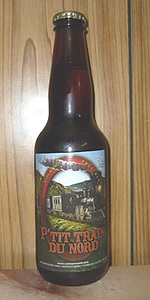 BEER INFO
Brewed by:
Micro-brasserie Saint-Arnould
Quebec
,
Canada
|
website
Style:
American Adjunct Lager
Alcohol by volume (ABV):
5.50%
Availability:
Year-round
Notes / Commercial Description:
No notes at this time.
Added by francisweizen on 09-17-2004
Reviews: 5 | Ratings: 9
More User Reviews:
1.84
/5
rDev
-40.5%
look: 1.5 | smell: 2.5 | taste: 1.5 | feel: 1.5 | overall: 2
Bottle: Poured a golden colored ale with a below standard head with almost no retention. Carbonation is very weak and body is average. Aroma is pleasant with floral hops easily distinguishable. Taste is very deceiving with limited hops, lacking sweetness and almost no aftertaste. Overall, this is very uninspiring stuff and probably brewed to satisfy the macro drinkers.
★
371 characters

3.53
/5
rDev
+14.2%
look: 4 | smell: 3.5 | taste: 3.5 | feel: 3.5 | overall: 3.5
341ml bottle poured into a pint glass
I'm not sure if they have improved this beer.. The bottle I have has a different label then the one on this site. And some people reviewing it called it 'lifeless' - my bottle poured a massive head and had great lacing...
Appearance - pours a slightly cloudy golden yellow colour with a massive foamy/fizzy white head. There appears to be lots of carbonation, and some fantastic amount of lacing. The head sticks around for a while.
Smell - First off is the hops, then a corn syrup like sweetness. There are also notes of breads/grains and barley.
Taste & Mouth - Lots of carbonation here to start, then some hops. I would say it has an above average amount of hop taste, not overpowering at all. The middle of the drink brings a faint sweetness before a dry hop finish and aftertaste.
Drink - I think this is a very well balanced beer that I would gladly drink again. Decent for those who are just starting to experiment with hoppy beers. Give this one a try.
★
1,004 characters

3.73
/5
rDev
+20.7%
look: 2 | smell: 4 | taste: 4 | feel: 2.5 | overall: 4
English pale-ale style brew. Little train of the North? or not, Je suis desolee, Je ne parl pas francais. This beer pours poorly, if you'll pardon the pun and the alliteration. Looks lifeless after the two-second fizzy head goes away. I was worried about an infection, but no other signs were present and it was well within the date code. Not bottle-conditioned. A golden-yellow that is very watery on top and no real bubbles coming up. Aroma is very attractive to me - I always like pale ales where I can still detect malt and esters with the hops. Smells buttery but bright and alive. Fresh and strawberry-like. Like a sweat tea. Very light hopping. Medium-bodied, sort of elixir-like with thoughts of tea again, especially because of the low carbonation. Finishes sweet and watery, but alive, and really not bad - just different. Herbal with just enough bitterness to feel on the teeth but not on the tongue. This strikes me as very cask-like, which is a great thing. Very drinkable. I would probably be less impressed with this if there were more decent examples of the style around me, but I really do like these and cannot find many good ones. This is a good one.
★
1,169 characters

2.98
/5
rDev
-3.6%
look: 3.5 | smell: 3 | taste: 3 | feel: 2.5 | overall: 3
Bottle:
Pours a Glistening light-golden ale in my flute with a rocky 2 finger cap that lasts well and laces the glass. Lively carbonation makes this a bit spritzy in looks and character.
Aroma is pleasant, not unlike a mild pale ale; grains, succulent fruits, a tad musty.
-mildly malted - light-thin bodied - mild soapy mouth feel.
Starts rather thin, then the malts are detected just in time to have them neutralized by a rush of citrus-piney hopping which leaves you with a sharp unsweetened cider decernment. Finishes clean but abruptly with a light growing bittering.
Pleasant enough and not a bad little pale for quaffing on hot days...just a tad thin and under-malted for me.
★
697 characters

3.22
/5
rDev
+4.2%
look: 3 | smell: 3.5 | taste: 3 | feel: 3 | overall: 3.5
341ml bottle poured in a Saint-Arnould glass.
A : Nice golden color with a nice head but unfortulately do not stay long enough. Leaaves a nice ring though.
S : Some grainy smell with some spices around it. I can distinguish some rice smell also...
T : Not too impressed but still good. Some bitterness with hops.
M : Feels good
D : Could drink another one but not too much. Easy-drinking.
★
394 characters
P'tit Train Du Nord from Micro-brasserie Saint-Arnould
-
out of
100
based on
5
ratings.