Stone 14th Anniversary Emperial IPA
| Stone Brewing Co.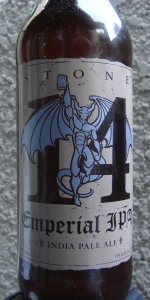 BEER INFO
Brewed by:
Stone Brewing Co.
California
,
United States
|
website
Style:
American Double / Imperial IPA
Alcohol by volume (ABV):
8.90%
Availability:
Limited (brewed once)
Notes / Commercial Description:
No notes at this time.
Added by jeffthecheff on 06-19-2010
This beer is retired; no longer brewed.
Reviews: 573 | Ratings: 754

1.53
/5
rDev
-60.3%
look: 4.5 | smell: 1.5 | taste: 1.5 | feel: 1 | overall: 1
Pours a hazy golden color with a large white head that stuck around for some time and left some good chunky lacing on the glass. Aroma was strangely Belgian-esque upon the first whiff. Earthy, like a damp basement, some lemon and light sweetness, herbal hops. This is an English IPA? I don't know what the hell is going on with this beer. The taste is throwing me for a loop. It's bitter, earthy, dry, and has a strong solvent alcohol flavor coupled with bandaid and powdery yeast. WTF? No sweetness in the taste whatsoever, incredibly dry, almost harsh finish. Ugh... Mouthfeel is drying, bitter, and just not good, needs some body and sweetness to balance out the awfulness of the hop schedule. I like bitter, but I want flavor. This is alcohol, medicine, and bandaid. Fuck me, this is bad.
★
792 characters
1.49
/5
rDev
-61.3%
look: 3 | smell: 1.5 | taste: 1.5 | feel: 1.5 | overall: 1
Another year has gone by and its time for yet another stones anniversary beer. I must admit up front I wasnt stoked for an English Style IPA. However being the Stones fanboy I am I had to have it when it came in. The beer was served chilled and in an Imperial Pint glass. As a wise man once said, "Hey Ho Lets Go!"
Appearance: The body of the beer is peach to honey coloration. The head of the beer is off white and quickly resolves into a thin foam.
Smell: Herbed pine hits my nose. Thin bready maltyness supports the hops.
Taste: I think I just licked a grass filled herb encrusted whicker basket. I swore I had a bit of citrus the other day but none to be found in this bottle.
Mouthfeel / Drinkability: The body of the beer is light. The beer gives me a sense of creamyness to the mouth. Very low carbonation noted. Perhaps this is an attempt to get a cask feel. I was gob smacked with dryness on this particular bottle. This beer is not worthy. I like the idea of experimenting with beer styles and ingredients. This is kind of like an off flavored ESB. Hoping next year that the old arrogant bastard returns to form.
★
1,128 characters
1.28
/5
rDev
-66.8%
look: 1.5 | smell: 1 | taste: 1.5 | feel: 1.5 | overall: 1
Chilled bomber into a glass. Shared by alfrantzell at a weekend tasting. Thanks, Arne.
A: Pours a cloudy apricot body with a finger of short-lived beige head. No lace. The lack of clarity is really unsettling -- it makes the beer look like turbid pond water.
S: Old towels and urinals. There were four of us seated around the table, and I purposely took the last pour and made the last comment so that people wouldn't be influenced by what I had to say. But when I did, that became the consensus of the tasting. There's a peppery, salty, organic note to this that distinctly reminds me of urine and old towels. It's unpleasant.
T: Toasted malt and biscuit, I can pick out. But that weird organic smell I noticed is back, here. It presents the flavors of mildew, decay, and salty pee. I don't think the beer is infected, exactly -- I just have this reaction to certain flavor / aroma combinations (see Nugget Nectar and Tongue Buckler, which smell like urinal cakes to me). This beer goes a step beyond that and carries the unpleasantness into the flavor. And this time, I had 3 witnesses to agree with me.
M: Some alcohol to this, an astringent (tea-like) finish, and a semi-dry body. Nothing about this works at all: it needs more sugar to cover up the booze and bitterness.
D: A complete misfire. Terrible. Between 4 hopheads, we drainpoured half the bottle. And I'm very forgiving toward Stone products, so I'm sad to give this the score I am.
I'm actually half-wondering if they made this to mock Ding. Not cool, Stone.
★
1,535 characters
Stone 14th Anniversary Emperial IPA from Stone Brewing Co.
87
out of
100
based on
573
ratings.