Dismiss Notice
Get 12 monthly issues of BeerAdvocate magazine and save $5 when you select "auto-renew."

Subscribe now →
Dismiss Notice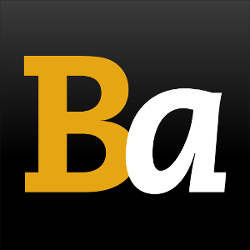 Join our email list →

And we'll send you the latest updates and offers from BeerAdvocate, because knowing is half the battle.
Buckeye Beer
- Maumee Bay Brewing Company
| | |
| --- | --- |
| Educational use only; do not reuse. | |
Reviews: 40 | Hads: 83
3.38
/5
rDev
+7.3%
look: 3.5 | smell: 3 | taste: 3 | feel: 4.5 | overall: 4
Appearance: This brew pours with a frothy white foam. The head dies relatively quickly with spiderweb left on the surface. Color is light golden. Several trails of carbonation observed.
Smell: Sweet light malt is the dominant aroma. Perhaps a little biscuit present.
Taste: The flavor curve if fairly gentle with an interesting "second wind" coming during sustain. The front end is hoppy with average quality hops observed. The label says "dry" and perhaps that is true, because there is a little something there that is hard to describe.
Mouthfeel: I rate the mouthfeel as excellent due to the plentiful carbonation and sustain second flavor kick-in. Very interesting and kind of strange. Maybe this would count as an aftertaste, but I feel it's something beyond that.
Drinkability: This brew is fairly liht, so the drinkability is high. It would be a good summer selection. The interesting "second wind" left me wanting more of this peculiar experience.
★
959 characters

3.6
/5
rDev
+14.3%
look: 3.5 | smell: 3.5 | taste: 3.5 | feel: 3.5 | overall: 4
Thanks to shigadeyo from RB for trading this to me. This one pours a light/medium golden with a faint white head and moderate carbonation. Aroma is sort of like candy corn with a hint of citrus. Flavor is pretty sweet. Fairly big corn with touches of tartness. It is actually quite refreshing and would be a decent summer brew. I wouldn't mind having a few more of these.
★
371 characters

2.21
/5
rDev
-29.8%
look: 3.5 | smell: 2.5 | taste: 2 | feel: 2 | overall: 2
Appearance is pale yellow with fine easy carbonation defnitely not your typical fizzy beer. Although the head doesn't last too long here, leaves behind thin speckled lacing. Aroma has some tart grainy offness to it with a touch of metallic character. Not a typical hop character for a Czech pils, some honey cracker sweetness in there as well. Flavor is pretty pathetic a lot of underwhelming characteristics with faint tart finish mild biscuit sweetness and some watery hop flavor, pretty much generic beer. Mouthfeel is light with ample carbonation not too dry compared to a true Czech pils. Drinkability is average at best, I bet this beer sells in the Buckeye state despite the fact that the beer isn't all that. I'll pass on my next Buckeye beer, it's just not worthy.
★
773 characters

3.13
/5
rDev
-0.6%
look: 3.5 | smell: 3 | taste: 3 | feel: 3 | overall: 3.5
Presentation: Poured from a 12 oz brwon bottle into a standard pint glass. The label is predominantly red and white and depicts a cartoon character waiter carrying a tray with a bottle and a pilsner glass. "When you're dry . . . Drink Buckeye." No visible freshness date.
Appearance: Pours with three fingers of nearly white foam with enough surface tension to rise 1 finger above the rim. This settles slowly to q tick, half finger head. Some lacing. The beer itself is pale yellow and perfectly clear. Lots of activity.
Smell: Slightly spicy and metallic Saaz hops in the nose. Very slight hint of the underlying malt.
Taste: Some hop spice upfront, with very lightly sweet malt. Mild bitterness in the finish with some husky astringency.
Mouthfeel: Average level of carbonation, though the activity continues throughout the beer. Body is average to average plus.
Drinkability: Typically not my style, but this one is refreshing, Just having finished a long run in the August heat, al ight bodied beer with some flavor hits the spot.
★
1,040 characters

2.87
/5
rDev
-8.9%
look: 2.5 | smell: 3 | taste: 3 | feel: 3 | overall: 2.5
Pours a clear yellow with a small head that fell quickly. Lots of carbonation. Little to no head retention or lacing.
Grainy smell with some hop aroma. Maybe the slightest hint of honey.
Crisp grain/light malt flavor. Dry finish that is slightly sweet.
Light and refreshing. Goes down easily like most pils.
I grabbed this beer on a whim and I'm glad I tried it. I don't know that I would have more than one at a time, but it would also be good for a hot day.
★
463 characters

3.04
/5
rDev
-3.5%
look: 2 | smell: 3 | taste: 3 | feel: 3 | overall: 3.5
Thanks to beervirgin72 for the bottle!
Very light yellow pour with a smallish white head. Smell is cor and grainy like maltiness. Kind of reminds me of the honey smacks cereal with the frog mascot. Taste is sweet maltiness, and is very honey like. Somewhat crisp mouthfeel. Very easy drinking, and this could be my guilty pleasure beer if I lived in Ohio.
★
356 characters
3.24
/5
rDev
+2.9%
look: 3 | smell: 4 | taste: 3 | feel: 3 | overall: 3
A - Pours clear, yellow, and gives about an inch of head. Retention and lacing are both average.
S - Spicy on the nose. Biscuit and earthy aromas are first in line, followed by sharp floral hops. Very nice aroma on this one.
T - Taste was a tad bit bland. Earthy flavors are there but seem muted. Bitter hops are there but are average. As it warms the hops tend to become more dominant (which does give it some appeal).
M - Light bodied with good carbonation. Too light bodied for my taste. There is a dry finish.
D - Drinkability is average. The lack of flavor and body make it go down pretty easy but I would look elsewhere if I wanted a pilsener.
★
653 characters
3.4
/5
rDev
+7.9%
look: 3 | smell: 3 | taste: 3.5 | feel: 3 | overall: 4
Poured as a dark gold with a thin head that disappeared almost immediately. I was disappointed with that but the carbonation did keep bubbles moving towards the surface continuously.
Smells like dry hops and some corn/grain blend. It smells like your average beer should smell (which isn't a bad thing).
Oddly enough, as advertised, it's actually a dry taste. That's pretty surprising and hard for me to describe but it has a perfect balance between sweet and bitter. It definitely tastes dry and that's a novelty for me thus far.
Mouthfeel is dry as described above. It does fizz nicely in the mouth with excellent carbonation but the sense of dryness prevails over the otherwise excellent mouthful.
I was able to chain a couple of those together but it does have some kick to it. I certainly wouldn't recommend polishing off an entire 6-pack in one go, but a couple of those make for a solid session beer.
Overall, I'd drink this beer again. Especially if I get a hankering for that odd dry sensation that it provides as you drink it.
★
1,041 characters
3.2
/5
rDev
+1.6%
look: 3 | smell: 3 | taste: 3.5 | feel: 3 | overall: 3
My review for on-tap says this would be a regular drinker for me if I could get it local. Now it's at my favorite beverage store, so gotta try it in the bottle to see if the prediction holds up.
A: Beer head, left quick, really light yellow, clean.
S: Well, it's a beer. a "dry" scent? Oh, that's hops asserting themselves. Like a Pabst. Nothing special.
M: Little hops bitter, mostly sweet corn-pop aftertaste. Watery.
T: Dry. As advertised. The bitter from the hops makes this a little better and it's a bit fresher than others. Step above Pabst but pretty close. Corn pops without the milk is the main note to this.
D: Yeah, I would get this again if I was in the mood for this sort of drink. It's less obtrusive than Pabst so a little more than a lawnmower beer, but I don't like to think about the drink when I want a lawnmower beverage. Eh... Maybe the difference of bottling made this rank lower than when I got it fresh off the tap. So it goes.
★
962 characters
3.38
/5
rDev
+7.3%
look: 3.5 | smell: 3 | taste: 3.5 | feel: 3.5 | overall: 3.5
Medium amber beneath a good-sized crown of ivory colored foam that has a yellowish tint. There's nothing wrong with the lid. It hangs around for a while and deposits a respectable amount of lace in the bargain. The look is unassuming, with no real faults.
My first thought upon popping the cap was 'macro lager'. Now that I'm actually putting my nose over the glass, I feel the same way. Buckeye Beer smells like any of the lagers from BMC, although it has no hint of nastiness. It's just pale grain and a musky German hoppiness. Good thing this stuff doesn't come in clear glass bottles.
Eh, not bad. It's a damn sight better than the more popular lagers noted above, but I won't be counting the days until my next trip to Ohio so I can load up (like I do with Great Lakes, Three Floyds, Founders, etc). To be fair, it does improve a bit as it sits, a concept that BMC lagers are... uh... unfamiliar with.
The malt backbone can't be anything darker than pale malt. It provides flavors of reasonably fresh grain (depending on how fresh the bottle is) and... that's it. The grassy hops (gotta be Saaz) are almost prominent enough for me to agree with the Czech pilsener classification. There's a good sweet-bitter balance, I'll give it that.
The body/mouthfeel doesn't make an impression unless one focuses on it for the purposes of description. It's light-medium in a general sense and doesn't give up the ghost on the back end. Not bad, not bad at all.
I feel like I've already given my conclusion of Buckeye Beer in saying that it isn't something I'm interesting in drinking a second time. The brewery's history is pretty interesting (and the old-time label is great), but the beer is the only thing that really matters in the end. Although I didn't expect excellence, I'm still disappointed that a beer that shares my user name isn't of higher quality.
★
1,860 characters

2.53
/5
rDev
-19.7%
look: 3 | smell: 2.5 | taste: 2.5 | feel: 2.5 | overall: 2.5
Sample at the brewpub: Clear straw color with an endless stream of bubbles and a wispy white head. Very little lacing is apparent. Light malt and grass aroma. Light-bodied and bland but has flashes of hoppiness here and there. The finish is round and lightly hopped with very little aftertaste. Would be an easy transitional beer from a Macro light but it's really more of a lateral move than anything. Could try harder.
★
421 characters

3.48
/5
rDev
+10.5%
look: 3.5 | smell: 3 | taste: 3.5 | feel: 3.5 | overall: 4
After not seeing Buckeye Beer around for a couple years (if not longer), I was happy to see a bunch of cases of it over at Anderson's this morning so I picked one up.
Served in a mug, the beer pours a clear light golden color with about an inch white head which went away pretty quick. It smells mainly like sweet malt, with a small grassy and adjunct taste too. The smell is a bit weak. The taste is malty sweet, not much hops in this beer. Mouthfeel is light but not too watery, and it's pretty smooth. Drinkability is very good, it's easy to drink and it's nice and crisp. I could definitely have this as a session beer.
★
627 characters
3.11
/5
rDev
-1.3%
look: 4 | smell: 3 | taste: 3 | feel: 3.5 | overall: 3
Glowing, crystal clear golden yellow brew with a smallish head. Admittedly, my estimate of the appearance may be a bit off because I tasted this via their sampler; so it's hard to say for sure what the head looks like on this beer.
A bit grassy and plain. Nose is dull and almost non-existant. Similarly, it's got a bland flavor about it. Nonetheless, it's a quality brew as evidenced by its richer, heartier mouthfeel. Certainly not the best pilsner I've ever had, but it gets the job done. And from what I learned today, Buckeye Beer has a remarkable history behind it. Nice little brew.
★
592 characters
3.62
/5
rDev
+14.9%
look: 3 | smell: 3.5 | taste: 3.5 | feel: 4 | overall: 4
This was a pretty good beer. The appearance was that of a nice pilsener. Clear golden with pretty bubbles coming up. There was a nice white head on it.
The smell was that of a budweiser but good. It was very crisp and clean and had a very sweet malty smell.
The taste was sweet and malty. The hops were barely noticable but made a presence.
The mouthfeel was fairly thick. Not was I am used to in a Pilsener.
Drinkablitiy is pretty good. An all around good beer.
★
475 characters

3.2
/5
rDev
+1.6%
look: 3 | smell: 3 | taste: 3.5 | feel: 3 | overall: 3
This is a nice average American-style Pilsener with less Saaz hops dimension than would be present in European brews.
The look is good for the body, being exceptionally clear and bright gold in color. The head was lacking and there was very little lace from the white head.
The nose was light, but did hint of some nice hopping that faded in the flavor. The feel was fairly light, but had a nice crisp finish.
The drinkability of this beer is good; small ABV, light body, and crispness without over carbonation.
★
520 characters
Buckeye Beer from Maumee Bay Brewing Company
75
out of
100
based on
40
ratings.