Dismiss Notice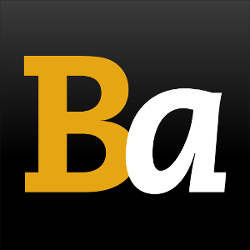 Site Performance Updates: We're aware of the nightly site outage, and working on resolving the issue.
Barley's Pale Ale
| Smokehouse Brewing Co. BEER INFO
Brewed by:
Smokehouse Brewing Co.
Ohio
,
United States
|
website
Style:
American Pale Ale (APA)
Alcohol by volume (ABV):
5.60%
Availability:
Rotating
Notes / Commercial Description:
No notes at this time.
Added by mattcrill on 09-13-2004
Reviews: 12 | Ratings: 16

3.88
/5
rDev
-1.5%
look: 4 | smell: 3.5 | taste: 4 | feel: 4 | overall: 4
On-tap at Barley's Smokehouse and Brewpub, Columbus, OH
A: The beer is crystal clear reddish amber in color. It poured with a thin beige head that left lots of lacing down the sides of the glass and a collar around the edge.
S: There are light aromas of caramel malts and citrusy, earthy and floral hops in the nose.
T: Flavors of caramel malts are very evident in the taste. A very slight amount of bitterness is present.
M: It feels medium-bodied and relatively smooth on the palate with a moderate amount of carbonation.
O: This is a very malty pale ale yet a beer that is rather drinkable.
★
596 characters
4.11
/5
rDev
+4.3%
look: 4.5 | smell: 3.5 | taste: 4 | feel: 5 | overall: 4.5
A- Pulled from the cask and looked like a guiness (lighter) as it settled. wonderful head, great lacing all the way to the bottom, dark copper color.
S- @ the smokehouse it's hard to say what the scent was, let's just say the whole place smelled great, not sure I can give an accurate description of the beer here.
T- Just what one would expect, hops with just the right amount of malt sweetness and balance.
M- The cask made this an AWESOME feature of this brew, so smooth, it just begged to be drank.
D- very nice selection and I'm glad I had it out of the cask as well, paired with the Texas smokedip it's a surefire winner.
★
631 characters

3.91
/5
rDev
-0.8%
look: 4.5 | smell: 3.5 | taste: 4 | feel: 4 | overall: 4
On tap at Barley's Smoke House. Pours a clear deep garnet, with hints of brown around the edges. This is one beautiful beer in the glass. Aroma is of citrusy hops and sweet malts. Flavor is well integrated, but slightly uninspired. MOst of the flavor is toffee and caramel with a slight sweet graininess. This is not a bitter pale ale at all, but some citrusy and spicy hops do make a brief appearance. Drinkaility is good, but this is not a beer that I would seek out again. A good attempt, and slightly similar to my gold-standard pale ale, GL Burning River. Increase the hoppiness and we would have something incredible here.
★
628 characters

3.65
/5
rDev
-7.4%
look: 3.5 | smell: 3.5 | taste: 3.5 | feel: 4 | overall: 4
On tap in a pint glass at the Smokehouse on 8/18/10
Through the deep copper color this is slightly hazy. Subtle amber hues are blended in. The pour offered 1/2 inch head that is reduced to a smooth skim over a few minutes. Very good lace.
Solid malt aroma of caramel & notes of toasted bread.This is accented by steady hop notes; floral & citric with a mild hint of pine. Smells pretty good.
The taste is very much in line with the aroma, though the hops demand a bit more attention. Piney bitterness is around the moderate threshold for the style. Hops offer a brief spiciness, then taper off & allow the malts room to breathe. Toasty caramel notes.
Slightly heavier than medium bodied. Carbonation is pretty much spot on. The finish is sort of gritty, which surprised me. Some bitterness lingers.
Pretty decent overall, though I often overlook it for their Centennial IPA (as well as other). Give it a shot if you're looking for something chill.
★
952 characters
3.7
/5
rDev
-6.1%
look: 3.5 | smell: 3.5 | taste: 4 | feel: 3.5 | overall: 3.5
I drank this from the tap into a pint glass.
The beer pours a surprising dark color, copper with a light tan head, not much retention or lacing.
The aroma is lots of hops, seems like some cascade but that is it, not very balanced.
The taste is light hops throughout with an unwelcome metallic finish.
The feel is ok and drinkability is cut back by the metal aftertaste.
To me its not an pale ale but an IPA and so-so one at that.
★
434 characters
3.53
/5
rDev
-10.4%
look: 4 | smell: 3.5 | taste: 3.5 | feel: 3.5 | overall: 3.5
Poured a nice copper color with good head and lacing. The scent was nice, if not very strong, and had floral and egg/sulfur scents. Nice bit of hoppiness in the taste, much like an English pale ale with some beef jerky/egg flavors. The brew went down fine.
★
256 characters
5
/5
rDev
+26.9%
look: 5 | smell: 5 | taste: 5 | feel: 5 | overall: 5
Pale Ales are my beers of choice & this one is truly the best I have ever had. I've had it at both Barley's & they are for the sake of a better word, always perfect. Some are bitter & some are a little sweet, theirs are always perfect. Their balance of their brew is amazing.
The amber/orange tone has a calming glow with a perfect 1 inch head and the smell is light & refreshing with a slightly dry taste that feels great on the tongue & goes down extremely easy without the bloated feel that some ales have.
★
510 characters

3.55
/5
rDev
-9.9%
look: 4.5 | smell: 4.5 | taste: 3 | feel: 3 | overall: 3.5
I love pale ales with this deep garnet/mahagony color. Clean and exuberant with a whispy yet thick off white head that has great retention.
Nose is very nice and balance as well. Semi sweet toffeed malt, with a large underlying of piney, slightly citrusy hops very floral in nature. Underlyings of caramel and even some milk chocolate, and the lightest bit of brown sugar.
Nicely balanced but lacking complexity. Pretty straightforward compared too the nose. Bland toffee malt, with floral, rustic, piney hops. Very dry and bland.
Mouthfeel is medium and again dry and bland. Worth drinking however for the sake of smelling
★
633 characters

4.32
/5
rDev
+9.6%
look: 4 | smell: 4.5 | taste: 4.5 | feel: 4 | overall: 4
Full gold, and cloudy. Huge two-finger creamy beige head. Citrus with a big hops offering and small hint of all-spice. Yummy malt sweetness, enveloped in a big hoppy overbite.
Solid pale that holds nothing back. Great with food or by itself, I can't wait for another.
★
270 characters
3.8
/5
rDev
-3.6%
look: 3.5 | smell: 3.5 | taste: 4 | feel: 3.5 | overall: 4
Dusky amberish orange with moderately active carbonation. The small ecru cap disappeared within minutes and left scant, soapy foam on the upper reaches of the glass. A pretty standard brewpub pale ale appearance with no real surprises.
The nose was white grapefruity zesty and also contained orange zest and a smidgen of caramel malt. Although it was reasonably aromatic at first, it seemed to lose a little force with time and warming. Good enough to be considered well above average, but not a standout.
Pale Ale's malt backbone was just sturdy enough to hang the hops on; a minimal amount of caramel flavor was its only contribution to the cause. The flavor profile was dominated by grapefruity zesty hops with an assist from orange peel. In comparison to other brewpub APAs that I've had, this one was middle-of-the-road with regards to hoppiness and amount/quality of flavor. The body was light-medium and the carbonation was just a shade too pronounced, but acceptable.
I once heard a food critic say that he always orders the same dish (Orange Beef) when eating at a Chinese restaurant for the first time. That way, he has a sense of the overall quality of the food at each restaurant with just a single order, since he can compare apples and apples, as it were. I tend to do the same with pale ales in brewpubs. Barley's Pale Ale is good, although it didn't strike me as anything special. It went well with my lunch and I'd order it again, with food or without.
★
1,478 characters
4.16
/5
rDev
+5.6%
look: 4.5 | smell: 3.5 | taste: 4 | feel: 4.5 | overall: 5
From the cask comes a orange/golden cloudy liquid. Nice thick white creamy head. The lacing on the glass was pretty good, and the stayed for quite a long time. Smells of hops that are slightly citrusy, and slightly spicy. Good bready malt sewwtness, followed by a good balanced amount of hop bitterness. Again, spicy-like flavors seem to be the focus in these hops. Medium body, and served cask-conditioned, so very little carbonation. This was certainly a very drinkable APA. I liked the cask version.
★
502 characters
4.1
/5
rDev
+4.1%
look: 4 | smell: 4 | taste: 4 | feel: 4 | overall: 4.5
Served on-tap at Smokehouse No. 2
Appearance: A clear golden amber with a crusty white head.
Smell: A light smell of hop bitterness, fresh bread, and malt.
Taste: The hop bitterness dominates but there is malt sweetness in the background. The bitterness slaps you in the face to get your attention at first and the sweetness gives you a little kiss to finish up. Nicely balanced and nicely done.
Mouthfeel: Light and refreshing. A thirst quencher that is quickly consumed.
Drinkability and overall: A good pale ale. Nothing outstanding but a solid offering and a fine example of the style. Another tasty brew by the brewdood at Smokehouse No. 2
★
660 characters
Barley's Pale Ale from Smokehouse Brewing Co.
86
out of
100
based on
12
ratings.