Dismiss Notice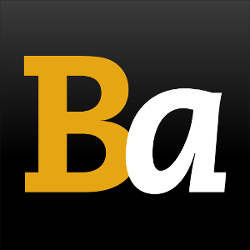 Site Performance Updates: We're aware of the nightly site outage, and working on resolving the issue.
Struise Tsjeeses Reserva (Bourbon Barrel Aged)
| De Struise Brouwers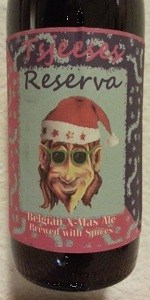 BEER INFO
Brewed by:
De Struise Brouwers
Belgium
|
website
Style:
Belgian Strong Pale Ale
Alcohol by volume (ABV):
10.00%
Availability:
Rotating
Notes / Commercial Description:
2011 Vintage - Pink & Purple label.
Added by MasterSki on 08-27-2012
Reviews: 33 | Ratings: 169

4.58
/5
rDev
+10.6%
look: 4.25 | smell: 4.25 | taste: 4.75 | feel: 4.5 | overall: 4.75
This was the winner at our annual winter beer tasting party! (Four reviewers, 20 beers)
Very complex and yummy. Kudos to the talented brewers at Struise!
Tasty with fruit and spice notes , then dark fruit with caramel and vanilla hints of pepper and earthy woods. the oak is there and bourbon undertones.
We've had the regular Tsjeeses for the past few years and it alwasy scored well but this is a step up and will be on the list every year as long as they are producing it.
★
478 characters
4.34
/5
rDev
+4.8%
look: 3.5 | smell: 4.5 | taste: 4.5 | feel: 3.5 | overall: 4.5
On Tap (2010)
Churchill's Pub & Grille
San Marcos, CA
(Aged for 2 years)
A hazed golden amber with a very small, creamy off-white head. Leaves the glass with large collections of bubbles of stick. Unremarkable, but it definitely makes me want to drink it.
Lots of fruit elements coming through in the aroma (from the hops and yeast) in the way of sun-dried cherries and figs, some pepper, dried grapes that are turning to raisin, and oak. Really, this is quite the complex aroma. There's only a very mellow bourbon character to this, but it's there, and incredibly well integrated. However, the interesting, complex, divine yeast character is what separates this beer. It's quite nice.
The flavor is just as complex as the aroma, and express a lot of similar characteristics. Lots of dark fruits and oak shine through, along with a moderate bitterness, and some integrated, and complementary bourbon. It comes in to lend a spice not found in most barrel-aged offerings. An exceptionally drinkable, complex beer.
Medium bodied with moderate carbonation. I suppose I would like this to have more carbonation, especially for the style, but it's a tough thing to complain about when a. the beer is barrel-aged b. it's over two years old, and c. it's this darn delicious.
This one was not only interesting, but it was marvelously delicious. I would like to have this one again and will if I can ever find it.
★
1,411 characters
4.17
/5
rDev
+0.7%
look: 4 | smell: 4.5 | taste: 4 | feel: 4.5 | overall: 4
A-orange brown color with a smallish off-white head and little lacing
S-malt, dark fruit, brown sugar, cloves, hints of bourbon
T-toasted malt, dark fruit, molasses, cloves, coriander, hint of vanilla, very light bourbon presence
F-medium body with moderate carbonation, smooth and not at all boozy
O-a tasty BSPA for sipping, but did not have as much of a bourbon presence as I had hoped for and I had difficulty distinguishing it from the regular version
★
460 characters

4.82
/5
rDev
+16.4%
look: 4 | smell: 4.5 | taste: 5 | feel: 5 | overall: 5
A-dark amber with a thin almost non existent white head. lots of floaties. motionless body. looks heavy and still, like a swamp.
S-very strong pale belgian malts. very malty, lots of caramel and sugars. some rawness. very big smelling. intimidating almost.
T-holy snikies. this is amazing. this is a perfect BSPA. comes in with toasty pale belgian malts and caramels and spices, quite impressive with the spices. peppercorn mostly. the after-taste though...it comes very late, but with a great hit of bourbon barrel. wow this is complex, and not subtle whatsoever.
M-good medium to heavy carbonation with a fairly dry finish
O-Might be the best BSPA I've ever had. Wow. it might also be the only barrel aged BSPA i've ever had...and it works. Dang, this brewery will not let me down!! please go out and find this, if you can't find it, message me and I will help you out!!
★
876 characters

4.3
/5
rDev
+3.9%
look: 4 | smell: 4 | taste: 4.5 | feel: 4 | overall: 4.5
So, exactly how much complexity can you cram into a Belgian pale ale? The fine brewers at Struise have seemed to find more depths, layers, and varieties of taste with help from used bourbon barrels which were used during six months of wood aging.
The beer pours with a somewhat muddy appearance of burnt orange and goldenrod hues. The haze murks up the snifter but testifies to its full "non-filtered" flavor. A creamy and fluffy off-white head separates from the liquid and caps the beer with long standing foam and intricate patterns of lace left behind.
Fruit and spice fill the nose- first a cidery apple note rises, then grape, pear, under ripened berries just before richer notes of dates and figs rise as the beer warms. Spicy white and black pepper, aniseed, cumin, and coriander also get bolder and spicier when I dive deeper and deeper into the session until the scent of musty and vinous woods, wine-like acidity, and vanilla laden oak accompany those last few drops.
Flavors take quite a journey across the palate, and once again are lead by fruit. A mix of wine-like fruits of pear, apple, and grape create a refreshing taste that are in perfect contrast to the early wine-like acidity, white pepper, and soft celery seed. Morphing into oranges, dried lemons, and raspberry- the the develops darker fruit taste at middle palate. Then the richer taste of figs, cherries, sultans, and dates invite a balance of fresh cracked black peppercorn, vanilla, caramelized oak, and sandalwood to signal the beer's finish. Earthen hops add to the mix and become just one of those spicy wood flavors that weave into the flavor profile seamlessly.
Medium bodied, there are those moments when the wine-ish acidity and thinness signal lighter bodies, but then the caramel, dark fruit, and carbonation makes the beer seem creamier than that. But as the carbonation dispels, the beer's spicy sweetness turns earthly bitter, tannin/powdery-dry, and with bourbon-style warmth to finish.
Tsjeeses Reserve is one of the most complex Belgian strong pale ales on the market. Balanced to near perfection, the beer gives new tastes to be explored with every sip. It's one of those beers that's less about enjoyment and more about exploration!
★
2,234 characters

4.35
/5
rDev
+5.1%
look: 4 | smell: 4 | taste: 4.5 | feel: 4.5 | overall: 4.5
I bought this bottle some weeks ago when i had my Belgium day: picking up Westvleteren and the up to Struise.
Poured this one in the Struise glass as it should be. Nice pour with lots of head and some carbonation. Nice lacing which sticks in the glass. The fluid is a bit cloudy but not much. Nice lightbrown/copper colour. Smell of bourbon but not too overwhealming.
Taste is good with the 10 percent of alchol very well hidden but also giving a good contribution to the beer. Well balanced and tasty.
★
505 characters

3.97
/5
rDev
-4.1%
look: 3.5 | smell: 4 | taste: 4 | feel: 4 | overall: 4
Picked this up at a great little beer store in Arlon, Miorge Mihoublon. Vintage 2011, best before 26-12-2017. Hazy copper-amber pour with two finger off-white head that fades quickly with decent lacing. Fruity, woody, spicy nose with hints of caramel, clove, raisins, and just a touch of banana, vanilla, and booze. The bourbon is conspicuously absent. The wood and fruit carry through nicely to the taste as well. Hints of oak, dates, plum, caramel, vanilla, apricot, grass, and as it warms and opens up, a very subtle bit of bourbon. The mouthfeel is medium bodied and slightly syrupy with a nice woody, subtly bitter finish. Was hoping for a bit more of the bourbon to come through, but as always, another winner from De Struise!
★
732 characters

4.4
/5
rDev
+6.3%
look: 4.5 | smell: 4.5 | taste: 4.5 | feel: 4.5 | overall: 4
330ml bottle served in a Duvel Tulip glass.
Lot C from 8/2010.
A: Pours a deep amber color which is slightly cloudy. Forms a huge yellow creamy head with good retention and many lacings formed and left. A thin layer remains for long time and the lacings are quite molasses
S: Absolutely delicious nose. Sweet, spicy and veeery woody. Strong notes of Bourbon. Fruity with notes of grapes. Very malty too. Some flowery hops and alcohol
T: Perfect. Slightly sweet upfront. Very fruity with strong notes of grapes, oak, caramel malts, whiskey and spices (black pepper and cinammon). Considerable hops bitterness in the end
M: Heavy and molasses body. Medium carbonation. Bittersweet and woody aftertaste
O: Excellent beer. Very whiskey and spicy. A beer to be slowly appreciated
★
782 characters
Struise Tsjeeses Reserva (Bourbon Barrel Aged) from De Struise Brouwers
90
out of
100
based on
33
ratings.