Dismiss Notice
Get FREE shipping on all US orders of $25 or more from the BeerAdvocate Store.
No promo code required. Offer valid through 4/30.
Ready to gear up? Start shopping →
Belle Gueule Hefeweizen
| Brasseurs R.J.
BA SCORE
84
good
11
Reviews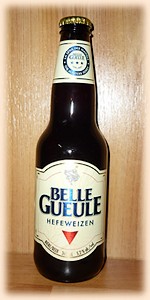 BEER INFO
Brewed by:
Brasseurs R.J.
Quebec
,
Canada
|
website
Style:
Hefeweizen
Alcohol by volume (ABV):
5.00%
Availability:
Year-round
Notes / Commercial Description:
No notes at this time.
Added by Phyl21ca on 07-06-2012
Reviews: 11 | Ratings: 35

4
/5
rDev
+6.7%
Poured into big wheat beer glass, as per suggestion on bottle.
Appearance: Beautiful Orangey Amber color, and gold at narrowest point of wheat glass. Slighlt hazy, but expected it to be hazier. One finger white head which disspipated at moderate speed. Constant bubbles rising.
Nose: skunky yeast, sweetness, banana chips, bubble gum, orange crush, very summery fresh aroma overall.
Taste: Banana bread, cereals, yeast.
Mouth: Light bodied with perfect medium carbonation. Almost like a san pellegrino type soft carbonation.
Overall: I drifted from my usual style in my last beer run. I picked up a couple blondes, whites, wheat beers including this one. I'm really enjoying it on this warm september day!
★
711 characters

3.12
/5
rDev
-16.8%
look: 3 | smell: 3.5 | taste: 3 | feel: 3 | overall: 3
Belle Gueule Hefeweizen, one of the most interesting beer.
The smell is great, strong smell I will say.
The color is a golden color very light in the glasse.
The carbonation is good. Not too high, not too low.
Now for the taste, I was not really impressed about it compare to the Blonde Ale Belle Gueule or the Red Ale Belle Gueule.
I mean its not bad but Belle Gueule have some better one for my taste.
So would I recommend it ? Yes... but, if you have the option of other Belle Gueule take the other option.
★
510 characters

3.74
/5
rDev
-0.3%
look: 3.5 | smell: 3.75 | taste: 3.75 | feel: 3.75 | overall: 3.75
served from a 341ml bottle
A: A deep yellow bordering very slightly on copper. No haziness which was disappointing for a hefe. One and a half finger white head that dissipated with moderate speed.
S: Definitely banana and bread. A bit of bubblegum.
T: Banana, bubblegum, clove, and a bit of breadyness all revealed themselves. All were in a nice balance and none were too strong. The banana is somewhat artificial and candy like but none the less it was thoroughly enjoyable. The clove is subtle yet backs the other flavors nicely.
M: Very smooth and kind to throat. It goes down nicely.
O: Very drinkable and managed to turn me onto hefes again. Rather delectable summer beer and it would be almost too easy to drink a few on the pation.
★
745 characters
3.55
/5
rDev
-5.3%
look: 4 | smell: 4 | taste: 3.5 | feel: 2.5 | overall: 3.5
Chilled 341 ml bottle into a shaker pint. Best-by date May 7, 2013
Look- Pours with two fingers of creamy off-white head, hazy light amber, decent retention, good lacing.
Smell- strong aroma, but not overpowering, standard bready, banana, and clove, but nicer than most Hefeweizens, mild sweetness.
Taste- Spicy, light caramel, fruitier than expected, marshmallow, yeasty finish. Something of a hard water character towards the end, leaves it exceptionally clean.
Mouthfeel- Light to medium body, carbonation is on the prickly side,. Feels juicy, spritzy.
Overall- Pretty good, I like it better than most hefeweizens I've had, although it's certainly not my favorite style. Worth trying, and I'd probably get it again.
★
723 characters

3.71
/5
rDev
-1.1%
look: 4 | smell: 3 | taste: 4 | feel: 3.5 | overall: 4
341ml Bottle from Broue Haha QC for 1.99+tax
Appearance – Hazy copepr colour with an above average size frothy off-white coloured head. There is an average amount of carbonation and there is some decent lacing. The head lasted for around 3-4 minutes before it was gone.
Smell - Grains/wheat, banana, clove/coriander
Taste & Mouth - The beer has an above average amount of carbonation. I can taste grains/bread mixed with lots of banana. There is also a yeasty coriander/clove spiciness. It ends with a grainy banana aftertaste.
Overall – Pretty good stuff.. definitely one of the best beer's I've had from this brewer. There's something a little chalky in the scent, but it doesn't come through in the taste. The banana also doesn't taste too artificial like some other hefe's do. Worth trying.
★
802 characters
3.7
/5
rDev
-1.3%
look: 4 | smell: 4 | taste: 3.5 | feel: 4 | overall: 3.5
Thanks to Papat444 for this one.
Looks like BB Feb 13, 2013
Beer is a cloudy golden/orange. Good-sized white head fades at a moderate pace. A bit of lace.
Smell is intensely of banana and bubblegum. Smells like candy. Some clove there as well but not as much,.
Taste is similar to the nose. Banana city, lots of bubblegum. Clove is more prominent than in the nose. Wheat, of course. The banana is too strong for me, but generally pretty good.Aftertaste is a bit off.
Medium bodied, highly carbonated. Pretty true to style.
Overall, not bad. I find the banana flavour to be too intense, but it is certainly a flavourful beer.
★
632 characters
2.64
/5
rDev
-29.6%
look: 2.5 | smell: 3.5 | taste: 2.5 | feel: 2.5 | overall: 2
341 ml bottle.
A- Pale amber. Effervescent but with big bubbles and the head disappears too quickly like a soft drink. Nice colour but no head.
S- Fruit (citrus and sour berry), wheat, yeast. Much like a white. Touch of alcohol and a faint stewed dried fruit finish.
T- Watery middle. Faint citrus and fruit, but the yeasty smells seem to have turned into a metallic finish. Bitter flash of hops towards the finish. Middle a bit too sweet and sweetness too sugary.
MF- Light bodied. Soft-drink style carbonation. A bit of drying astringency.
O- I was disappointed. Wasn't really expecting something up to German standards, but they dare to call this a Master's series.
★
673 characters

3.97
/5
rDev
+5.9%
look: 3.5 | smell: 4 | taste: 4 | feel: 4 | overall: 4
Single bottle from Broue Ha Ha in Gatineau.
Poured into a stange. Hazy caramel-golden in colour, with a billowing head of foam that quickly recedes into a thin, but sturdy ring. Some lacing icicles.
Nose is banana, mild clove, bread crust, some floral notes.
Surprisingly good hefeweizen, smooth and balanced between fruit, grain and spice, with none of the three dominant flavors gaining the upper hand. Finishes dry with a hint of citrus.
Solid brew, would certainly pick up again. This brew was a nice surprise!
★
522 characters

4.49
/5
rDev
+19.7%
look: 3.5 | smell: 4.5 | taste: 5 | feel: 4 | overall: 4
I'm not expecting a lot from this one...
Beer is copper in color, veiled. Nice foamy head on top of it. Small bubbles. The aroma is intense. Bananas, some cloves. For Belle Gueule, the aroma is intense... Usually it's light... I like this, very nice aroma. On the taste, it's delicious. Bananas, cloves, fruity with a finish that's slightly spicy. Medium body. Refreshing. Very hot beer for hot summer!
I'm quite pleased... A truly good beer.
★
444 characters
4
/5
rDev
+6.7%
look: 4 | smell: 4 | taste: 4 | feel: 4 | overall: 4
An oblique yellow color, with foamy head, good retention and decent lacing.
A perfumy aroma (Bavarian yeast) with wheat malt undernotes.
Quite a strong taste, an impressive mix with some spice notes.
The beer is Full bodied with good carbonation.
From their Master Brewer line. Well recommended.
★
301 characters
4.42
/5
rDev
+17.9%
look: 4 | smell: 4.5 | taste: 4.5 | feel: 4 | overall: 4.5
Bottle: Poured a hazy yellow color weizen with a large foamy head with good retention and some good lacing. Aroma of fresh banana bread ester with solid wheat malt notes is quite enjoyable. Taste is a refreshing mix between some huge notes of banana ester with loads of wheat malt and some light cloves notes. Body is quite full with good carbonation. I'm totally impressed by that one and I had kind of given up on RJ coming –up with something so good.
★
457 characters
Belle Gueule Hefeweizen from Brasseurs R.J.
84
out of
100
based on
11
ratings.