Dismiss Notice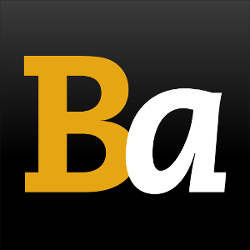 Site Performance Updates: We're aware of the nightly site outage, and working on resolving the issue.
Legend 2014 20th Anniversary
| Tommyknocker Brewery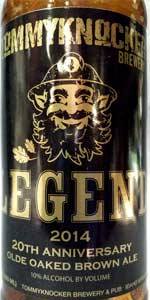 BEER INFO
Brewed by:
Tommyknocker Brewery
Colorado
,
United States
|
website
Style:
American Brown Ale
Alcohol by volume (ABV):
10.00%
Availability:
Limited (brewed once)
Notes / Commercial Description:
No notes at this time.
Added by Liveupthere on 01-23-2014
This beer is retired; no longer brewed.
Reviews: 8 | Ratings: 49

3.46
/5
rDev
-3.1%
look: 3.25 | smell: 3.5 | taste: 3.5 | feel: 3.25 | overall: 3.5
This brew was served on tap at Ale Mary's Beer Hall in Royal Oak, Michigan. It arrived in a 12oz. house snifter, showcasing a dark molasses colored beverage with no real head to be seen. Caved lacing was left around the glass despite this. No sediment or haze was noted, and carbonation appeared to be nearly absent. The aroma gave notes of burnt brown, black, and caramel malts, brandy soaked raisins, phenolic plastics, dried but perfumed floral hops, breakfast tea tannins, cracked wheat graininess, white vinegar acidity, cheap pancake syrup, biting lemon cleaner, fusel vodka booziness, and soured mossy oakiness. The flavor followed with the heaviest brown malt syrup and sweet malty extract cloy, residual caramel and white sugars, chlorine, smoldering grapefruit oils, dank basement must, light milk chocolate lactics, harsh boozy wash, adjuncty white flour and corn, wax paper, aluminum, chalk, twinges of vinous oakiness, and boysenberry fruitiness. The body was full and chewy, and carbonation was as light as suspected. Slurp and smack were okay, while any creaminess and frothiness was almost entirely lost. The mouth was thickly coated, being rounded out by light puckering dryness of faint tannins. The abv was appropriate, and the beer drank only decently.
Overall, this was the first beer we've rated from this new local beer bar. We've been there a bunch of times already, but this was the first official rating, so we looked for something a bit exotic and landed on this. Stylistically speaking this was quite dark for a brown ale, or for an "American Strong", as was advertised at the establishment. The flavoring was probably the biggest offender, and assisted in quickly abating an attractiveness and excitement to that point. The nose tended to the mild side, so the subsequent blend of odd, bittered chemical bite and dark malty, sugary cloy kind of catches you off guard. The beer would have been better suited if it were more balanced between these two extremes, with a lighter substance to present to you with. For a big anniversary beer we found this to be disappointingly average.
★
2,135 characters

3.69
/5
rDev
+3.4%
look: 3.5 | smell: 3.75 | taste: 3.75 | feel: 3.25 | overall: 3.75
Dark brown color. The head didn't amass much. I had it at a finger, but it fell to a ring.
Dark sugars, meaty Scotch ale malts, faint oxi, rum raisin, faint smoke, molasses, and English malt. No booze yet, which is a plus.
Caramelized sugars, black strap, oak barrel, meaty malts, bruleed vanilla creme, raisin, spiced rum, date sugars, light smoke, and a thinner barley malt finish. I wish this had more substinence. The alcohol is leaking out now. Aforementioned flavors are on the weak side, but duly noted.
A late, prickly effervescence that doesn't actually carry much magnitude. It just kind of comes and tickles. The body is cumbersome. Maybe it's the booze that's making things difficult. Nothing is trying to hide. Upfront 10%. Upfront impy brown slathering maltfest.
I wasn't really impressed with this reissue. I never had the original, so I don't know what magnificence this desecrated... if it's even that bad. I didn't think so. Just a slightly above-average strong ale with it's own brand of confusion, like a mega-beer going through puberty.
★
1,061 characters

2.56
/5
rDev
-28.3%
look: 2.75 | smell: 3.5 | taste: 2.25 | feel: 2.5 | overall: 2
Maple Nut Brown was pleasing. Oaked Aged Butt Head was even better. Fuse the two concepts together and you get a double brown ale aged with oak. I imagine the malt mouths are all over this. From a 12 ounce bottle, on to the beer:
Not much head forms on the pour, and even so it shrinks to a mere lace. As for the beer, it looks like the color brown was given a crisp via hot lava. Looks muddy even. Moving on. Now it has my interest. I smell smoke, vague spice (what is up with that Hungarian oak?), a little toffee and alcohol too. Well, it smells unique.
I expected big and malty, big and malty. I got big and malty, big and malty. Toasty. A squeeze of alcohol. Augh, that's much too toasty. Too sweet. The flavors aren't very interesting. This is so toasty, I could pour this on bread and toast it. It's very slick on the palate as well, so the flavor is not going to be going away soon. Ok, enough!
No sir, I don't like it.
★
930 characters
3.75
/5
rDev
+5%
look: 3.75 | smell: 3.75 | taste: 3.75 | feel: 3.75 | overall: 3.75
A - 3.75 - Murky dark brown color with a nice tan head that sticks around.
S - 3.75 - Caramel, toffee, bready, smoke, butterscotch, roasted malt.
T - 3.75 - Definitely getting the oak barrels, smoke, caramel, toffee, roasted malt, toast.
M - 3.75 - Medium mouthfeel. Alc covered. Aftertaste is caramel and toffee.
O - 3.75 - It's not as complex as I'd expect something oak barrel aged to be. I've tasted much more complexity out of browns that aren't barrel aged, so I'm not sure if they just didn't let this sit long enough or what. That said. It's a good beer.
★
566 characters

3.84
/5
rDev
+7.6%
look: 3.75 | smell: 4 | taste: 3.75 | feel: 4 | overall: 3.75
Pours a chocolate brown color with copper edges. There was only about a half finger of beige head and it dissipated very quickly. The nose is both bready and woody. The body is substantial but the malt flavor lacks the depth and maturity I'd expect in a beer aged in oak. The finish is dry, but also has a slight alcohol bite that gets in the way.
This offering is quite a mixed bag - I like it, but not enough to consider it excellent.
★
438 characters

3.6
/5
rDev
+0.8%
look: 3.5 | smell: 3.5 | taste: 3.75 | feel: 3.5 | overall: 3.5
A - Pours a dark burgundy, copper brown color with little to no head retention and incredibly viscous as it sticks to the sides of the glass - nice legs on this beer.
S - Oak, nutty, smoke, medium toffee roast, light alcohol, chocolate.
T - Follows the nose quite closely with smoke and oak, biscuity, some medium roasted caramel/toffee malt, some light chocolate, and a mild to moderate blend of dark chocolate bitterness on the back end to keep the sweetness from overpowering the experience.
M - Medium body, light/gentle carbonation, slightly sticky, a little bit thin on the finishing end but slightly chewy up front.
O - No one flavor dominates and everything blends well across the board. The 10% ABV is pretty well hidden because it is not overpowering or obtrusive in any way. I'm the worst critic for Brown Ales because I can't stand them but this one works nicely.
★
880 characters
3.8
/5
rDev
+6.4%
look: 3.5 | smell: 4 | taste: 3.75 | feel: 3.75 | overall: 3.75
the best thing to come out of tommyknocker in some time. fashioned as an oak aged old ale/brown ale hybrid, i thought this was excellent. I've always liked their bigger stuff like butt head bock, and this continues where that leaves off. its got a lot of cloudiness on the pour, which is dark copper, caramel colored, dense as they get, with a splashy off white head. not much light coming in, and a nose of sweet malt. that old ale grain overdose character is there, and the alcohol is a reminder of its strength without being intrusive. some sweeter toffee and candy sugar notes, as well as all kinds of oak on this, good char, rich and tasty, wintery. the flavor agrees with the smell, lots of grain, id be curious to see the malt bill on this monster, it drinks a little syrupy as a result, but its nowhere near as sweet or as boozy as it smells, its really well crafted. i don't get all the haze though, maybe is from extended barrel time, but there is no reason for this to be yeasty, and it doesn't taste like it is. lots of oak flavor, vanilla and honey, as well as some milky element that kind of oddly works. booze stays in the background, and i genuinely enjoyed this one. full bodied, pleasantly warming, and just a total rejuvenation of my enthusiasm for this brewery.
★
1,281 characters
3.75
/5
rDev
+5%
look: 4.5 | smell: 3.75 | taste: 3.5 | feel: 4.25 | overall: 3.75
Good offering from Tommyknocker. The booze hits you more as it warms up. Great mouthful indicative of a brown ale. Would like a little more wood taste and less smoke. Also, the head was a little weak, but it could be my poor pouring skills. Still a good beer from an underrated brewery. Happy 20th Tommyknocker!
★
311 characters
Legend 2014 20th Anniversary from Tommyknocker Brewery
-
out of
100
based on
8
ratings.