Dismiss Notice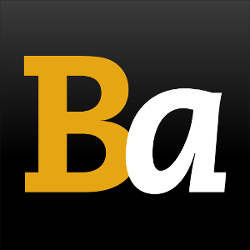 Site Performance Updates: We're aware of the nightly site outage, and working on resolving the issue.
Verdi Imperial Stout Black Jack
| Birrificio Del Ducato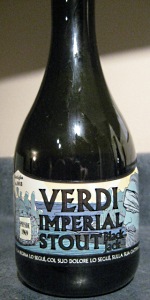 BEER INFO
Brewed by:
Birrificio Del Ducato
Italy
|
website
Style:
American Double / Imperial Stout
Alcohol by volume (ABV):
10.00%
Availability:
Limited (brewed once)
Notes / Commercial Description:
No notes at this time.
Added by biboergosum on 11-27-2011
This beer is retired; no longer brewed.
Reviews: 7 | Ratings: 14
3.53
/5
rDev
-6.4%
look: 4.5 | smell: 4 | taste: 3.5 | feel: 3 | overall: 3
From a 330 ml brown tear shaped bottle. Pours out a dense oily opaque black, no permeable light passing through, capped with a thin creamy mocha-hued head that steadfastly retains.
Intense aromas of black raisins and dates, molasses and earthy licorice. There are some woody notes, and a sweet boozy brandy character.
Crazy intense funk on the outset of the flavour, not sure if it's from the barrel aging or the use of some wild yeast. Sharp sourness up front that is immediately joined/balanced by sweet raisin notes. As the sourness subsides flavours of sweet powdered cocoa, cafe au lait, dark preserved fruits, and moist black licorice dominate the back end of the palate. The whiskey lends more of a brandy-like flavour with the combination of the dark malt (and potential wild yeast). A very curious experience--it jives rather well, but is also a bit off-putting in its unique delivery.
Mouthfeel is light-bodied, thin and slick texture that attains a more fuller creamy texture at times. Carbonation has only a slight presence.
Interesting and challenging, I enjoyed it for what it was, yet don't feel compelled to go back at any point soon to explore it again. Very interesting flavour experiment though, it was a path worth getting lost on for a while.
★
1,268 characters
More User Reviews:

3.7
/5
rDev
-1.9%
look: 3.5 | smell: 3.5 | taste: 4 | feel: 3.5 | overall: 3.5
330ml short flared signature bottle (no. 1018). This appears to be their Verdi stout aged for six months in an unspecified 1969 Speyside whisky barrel, and good 'til 2020. Who's got that kind of time, amici miei?
This beer pours a solid black, with slight cola highlights, and one finger of tight foamy chocolate milk head, which settles quickly, leaving little in the way of lace. It smells of roasted caramel malt, earthy licorice, woody vanilla, a bit of meatiness, and mild leafy hops. The taste is lightly toasted, but still big, caramel malt, bittersweet chocolate, black licorice, some astringent woodiness, thin vanilla, dark fruit flesh, and mild alcohol. The carbonation is mild, but frothy, the body medium weight, a tad cloying in its fruity pith nature, and unsteadily smooth. It finishes fairly off-dry, the chocolate malt holding on against some latent herbal character, and persistent wood essences.
A nice try, and none too hard to drink, especially given the ABV. However, things just don't mesh all that well, and I'm distracted but the subtle tart/sour/funky tinge that slowly pervades the flavour.
★
1,124 characters


3.31
/5
rDev
-12.2%
look: 4.25 | smell: 3.75 | taste: 3 | feel: 3 | overall: 3.25
Beer is pitch black in the glass no light is coming through. Nice brownish two finger head, which disappers quickly. Wonderful lacing on the glass.
Smell is quite unusual for an imperial stout. Lots of smokiness which reminds of the smokiness in a barbecue sauce. A little bit of sweetness and a huge alcohol presence.
Maybe a touch of liquorice, no coffee, no chocolate or roasted malts
Taste is smokey and very dry, alcohol is not well hidden. There is some sweetness but it is overpowerd by the smoke. A hint of coffee in the aftertaste along with the smoke that lingers on you palate. Mouthfeel is medium
I have to admit it is somehow unique but I won`t buy it again. I like my stouts creamy and this one is very dry, alcohol not well hidden. The smokiness was quite nice because I like smokey beers. Price was 8 Euro for a 33cl bottle, way too expensive.
★
862 characters

4.41
/5
rDev
+17%
look: 3.75 | smell: 4.5 | taste: 4.5 | feel: 4 | overall: 4.5
For a "barreled" stout, this one may be the best I've ever had, because the oaky character tends to be very low for most samples I've tried.
Given it was Islay barreled, the smell and taste are both slightly peaty/smoky as expected. Other common stout characters still presented IMO.
Overall this is a very distinct and nice beer. The only thing I would complain on it is the price.
★
384 characters
4.12
/5
rDev
+9.3%
look: 4.75 | smell: 4.5 | taste: 4 | feel: 4 | overall: 3.75

4.25
/5
rDev
+12.7%
look: 4.25 | smell: 4.25 | taste: 4.25 | feel: 4.25 | overall: 4.25
3.89
/5
rDev
+3.2%
look: 3 | smell: 4 | taste: 4 | feel: 3.5 | overall: 4
330ml little long neck stubby #751 poured into tulip 28/11/11
A black with slight cola at the edges when held to the light, a finger of mocha foam falls fast and leaves zero lace
S smokey licorice with some vanilla and a little booze, there's a little wet wood and peat
T tastes is pretty good too with a little char and burnt wood I didn't smell, some dark fruits and the booze is there but well concealed
M rather thin considering how dark it is, but the carbonation gives it some life and there's no booze burn for 10%
O its a good beer but not quite great, it could use some body and a little more intensity in terms of smell and taste
pretty mellow stuff and its easy enough too drink for 10%, I've yet too decide if its worth aging one, I'll see if anything exciting comes my way in the next few weeks better deserving of my cash
★
842 characters
4.88
/5
rDev
+29.4%
look: 4.25 | smell: 5 | taste: 5 | feel: 4.75 | overall: 4.75

3.24
/5
rDev
-14.1%
look: 5 | smell: 3.5 | taste: 2.5 | feel: 4 | overall: 3.5
231st Review
33cl bottle poured into Westy 12 (small) chalice
Didn't catch the BB date on this one, but I think it was several years out.
A: Deep, deep brown. Half (mocha) fingernail head on gentle pour. Perfect score relates mainly to the bottle shape/size - very cool!
S: Holy peat! Very smoky, charred, and robust. Hint of chocolate here with dark roasted malt. Touch of coffee as well. Load of scotch peat and alcohol coming off the nose though.
T: Follows smell almost exactly. Scotch peatiness is very distinct and bold. Other muted characters include chocolate, vanilla, oak, coffee, and fig. A bit too over-the-top with the peat character though and I think this could stand to mellow for a while.
M: Full bodied with soft carbonation. Robust!
O: At the moment, this is too peaty for my liking, but maybe this will balance out a bit with age. Very robust and smooth, but I think the other characters of the beer need to come through more to make this enjoyable.
★
974 characters

3.15
/5
rDev
-16.4%
look: 3.75 | smell: 3 | taste: 2.75 | feel: 3.5 | overall: 3.75

3.82
/5
rDev
+1.3%
look: 3.5 | smell: 4 | taste: 4 | feel: 3.5 | overall: 3.5
330ml bottle poured into a 13.5oz tulip.
A - Pours a viscous black with a creamy tan head. Head retention isn't great at all, and the lacing is minimal. Slightly below average for the style for sure.
S - Smells of anise, charred malt, molasses, brown sugar, dates, dried plums, and a touch of booze. I'm assuming this is a BA stout, and the barrel does come through a bit, with some oak and subdued peaty scotch notes. A bit of cocoa comes through after a while.
T - Dark fruit upfront, dates, figs, dried plums, with brown sugar sweetness, caramel malt, and molasses. Finishes roasty with some charred malt, mild coffee roast, bittersweet dark chocolate, and a subtle boozy character. Lingering aftertaste of smokey wood, anise, earthy peat, and roast.
M - Thick, imperial stout body, but not quite as creamy as some. Carbonation is hardly there, but what is there is sharp and prickly, giving the mouth an odd feel. Fairly dry, but also quite sticky. Alcohol is disguised well, but I can definitely feel it in my stomach with this one.
D - Drinkable for a 10.00% ABV brew, but a step below most other imperial stouts. For an Italian brewery, Birrificio Del Ducato have been really impressive overall so far. Hopefully more new stuff from them keeps popping up on shelves around here.
★
1,291 characters
Verdi Imperial Stout Black Jack from Birrificio Del Ducato
-
out of
100
based on
7
ratings.