Amager / Port Brewing Wookiee IPA
| Amager Bryghus
BA SCORE
83
good
15
Reviews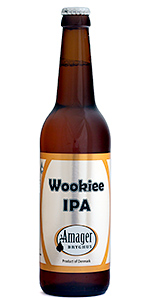 BEER INFO
Brewed by:
Amager Bryghus
Denmark
|
website
Style:
American IPA
Alcohol by volume (ABV):
7.20%
Availability:
Rotating
Notes / Commercial Description:
Brewed in collaboration with Mike Rodriguez and Tomme Arthur of Port Brewing.
Added by bark on 02-10-2012
Reviews: 15 | Ratings: 37
4.5
/5
rDev
+23%
look: 4.5 | smell: 4.5 | taste: 4.5 | feel: 4.5 | overall: 4.5
I don't understand why this beer is marked "retired"; I bought it recently, and it's not marked as being retired on the brewery's home page. Anyways: It's a great, strong+dry IPA, with a discreet fruity touch.
★
209 characters

4.04
/5
rDev
+10.4%
look: 4 | smell: 4.25 | taste: 4 | feel: 3.75 | overall: 4
22oz bomber picked up at the brewery on a trip to Denmark. Poured into an Amager snifter...
A: Drink by date 11-14 (Batch #532); pours a hazy tangerine with a creamy white, one-finger head; retention dies down to a thin haze that leaves a few specks of lace.
S: Piney hop resin; sweet; quite a big aroma.
T: Piney, pineapple, grapefruit rind hop bitterness followed by a short flash of malt sweetness; and, a bit of grainy / wheaty character in the finish... Very nice, with the exception of the additional wheat flavor on the end.
M: Medium-light feel and moderate to high carbonation... makes for easy drinking.
O: A nice west coast IPA from DK! Great aroma, nice taste and refreshing mouthfeel at 7.2%.
★
710 characters

4
/5
rDev
+9.3%
look: 4 | smell: 4 | taste: 4 | feel: 4 | overall: 4
Hazy orange color with white head. Aroma is slightly dank, grassy with some overripe stonefruits. Taste starts sweet and fruity but gets quickly bitter and dank with some chives, lovage and dill. Body is medium with a good amount of carbonation. Aftertaste is quite bitter. Quite nice, dank IPA overall.
★
303 characters
4
/5
rDev
+9.3%
look: 4 | smell: 4 | taste: 4 | feel: 4 | overall: 4
Bottle: Poured a deep beige color ale with a large white foamy head with good retention and some good lacing. Aroma of citrus and grapefruit hops with nice fruity notes and limited bitterness is very enjoyable. Taste is also a mix between some dry pale malt notes with some citrusy and grapefruit forward hops with some limited bitterness. Body is quite full with good carbonation. Very enjoyable beer with nice hops presence and limited bitterness.
★
449 characters
3.95
/5
rDev
+7.9%
look: 3.75 | smell: 3.75 | taste: 4.25 | feel: 3.75 | overall: 3.75
400ml on-tap at Ørsted Ølbar, Copenhagen (60 Danish Krone):
Very enjoyable but also very bitter, this was strongly hopped & intense with plenty variety from the tropical fruits coming through. There was some nice sweetness too thanks to the vanilla, caramel malts & even some butterscotch showing. I got a nice kick from the alcohol & there was a good citrus tang as well. Very complex & interesting, I really liked this one & definitely wouldn't mind having it again. The bitterness could have been toned down slightly though but overall it was a good one & well worth trying.
★
579 characters
3.93
/5
rDev
+7.4%
look: 4 | smell: 3.5 | taste: 4 | feel: 3.5 | overall: 4.5
A clear golden brew, a high off-white head leaving good lacing, medium curtains.
Smelling fresh of grass and citric fruits. Grape-fruit and lime.
Starting with some sweet nuances, white bread and toffee, then lemon marmalade, grape-fruit peel and seed. Very bitter.
Medium carbonation, smooth and soft, a medium body and dry finish.
A very hoppy and bitter APA, but not too ...
★
381 characters

3.81
/5
rDev
+4.1%
look: 4 | smell: 3.5 | taste: 4 | feel: 3.75 | overall: 3.75
Orange pour, just a bit misty. Small sticky white froth.
Smell of stale citrus, biscuit, touch of sulphur, grain, faint tropical notes. Not too fresh.
Taste sets things right. Rich grapefruit and pineapple (syrup and seed) up front, with a slice of mango and peach. Lime, spicy leafiness too, pretty early. Malts are sweet with caramel, but retain a dry grainy note that doesn't quite fit in. Finishes with rough hop oils, a bit dank, some dried spruce, really really bitter.
Aftertaste has strong hop, pine, tons of grapefruit peel and perfumey floral notes. Medium body, prickly carbonation.
A really really bitter IPA that has that nice Port Brewing profile, but also some weird bad notes. In the end, still good.
★
716 characters

3.8
/5
rDev
+3.8%
look: 4 | smell: 4 | taste: 3.5 | feel: 4 | overall: 4
Pale golden colour, a little more than one finger of white head, good lace. Smell is full of juicy, fruity hops, tons of citrus fruit in here, orange and tangerine can be picked out from across the room, grapefruit a bit of earthiness and some fairly restrained malt. Taste is dry and hoppy, citrus with more of the orange/tangerine from the nose, grapefruit and pineapple, light astringency, light sweetness mid palate, quite bitter throughout with a dry orangey aftertaste. Drying light carbonation, oily and medium bodied. Really solid stuff, not sold on this being an IPA though as it is more in line with being a beefier APA but nice and citrusy and hard to find fault with.
★
679 characters

3.74
/5
rDev
+2.2%
look: 4 | smell: 3.75 | taste: 3.5 | feel: 4 | overall: 4
A little hazy, orange colored beer with a three finger high head. A lot of lacing on the glass!
Nose: Citrus, orange marmelade, biscuit, tropical fruit, pineapple, butter, whipped cream, grass and resin.
Taste: Grapefruit, orange cest, resin, pine, marmelade, and sweet malt.
Body: Medium body, great bitterness!
★
314 characters

3.71
/5
rDev
+1.4%
look: 3.5 | smell: 3.75 | taste: 3.75 | feel: 3.5 | overall: 3.75
This one pours a crystal clear, pure orange-golden color with a medium white head, which leaves a thin lacing.
Aromas are rich roasted malt, caramel and toffee, followed by piney and fruity notes and a good hop profile with a tropical influence of mango and papaya.
The taste reveals a good balance between sweeter bready malts with toffee and very fruity hops with added complexity, due to sharper notes of grapefruit, blood-orange and lemon peel. The medium carbonation works fine with the smooth mouthfeel of this beer, while a touch of wild grass comes up, leading to a slightly dry finish. Balance is very well set, the summerlike, tropcial, smooth impression lasts till the very end. The bitterness of the aftertaste is noteable for quite some time, a short, sharp sting from the carbonation down the throat is the final stroke of this enjoyable IPA.
★
858 characters

3.55
/5
rDev
-3%
look: 3.5 | smell: 3.5 | taste: 3.5 | feel: 4 | overall: 3.5
The colour is yellow (6 EBC), the liquid is clear. The finger thick white head sinks very slowly, it leaves thick lacing on the glass.
The smell is hoppy with an aggressive bitterness. Green berries, flowers, lemons, grapefruits and grains. It is dry with some bread and hints of alcohol.
The taste is dry and bitter. It is completely hop-centric. Grapefruits, orange peels, green bananas, unripe berries and a touch of beef-stock. The body is quite light. The aftertaste is dry and bitter, too. Green flavours, balancing clean sweetness. A touch of cream in the finish.
The carbonation is medium strong, lits of small fresh short lived bubbles.
A surprisingly dry and pale AIPA. Fresh and clean, but not the most complex one I have had.
★
743 characters
3.54
/5
rDev
-3.3%
look: 3 | smell: 4 | taste: 3.5 | feel: 3 | overall: 3.5
Pours pale amber with a small head.
Nose shows pine, lemon custard and caramel. Pretty potent.
Very similar flavours. Very aggressive with a sharp, biting bitterness. More pine and soft sorachi ace notes. Some very faint clean malt but the bitterness rules this one.
Very oily mouthfeel. Too oily.
★
297 characters

3.53
/5
rDev
-3.6%
look: 4 | smell: 3.5 | taste: 3.5 | feel: 3.5 | overall: 3.5
Pours a hazy golden yellow hue which leaves a creamy bubbly two finger head and heaps of nice lacing,the smell is boiled candy,grapefruits,paw paw,kiwi fruit,mangoes and pineapple,the mouthfeel is medium bodied and nicely carbonated with tastes of pineapple,mangoes,boiled candy,toffee,candy apples,lychee and finished with a smooth creamy paw paw bitterness and overall a very nice AIPA which reminds me of Port's Mongo would drink again cheers.
★
446 characters

3.08
/5
rDev
-15.8%
look: 3.5 | smell: 3 | taste: 3 | feel: 3.5 | overall: 3
Cloudy, cloudy golden color with a creamy, off white head. Decent head retention and Very nice lacing.
Really interesting sweet malt aroma. Lots of melanoidin and caramel and very similar to Rogue beers. Some grapefruit notes.
Sharp bitterness and lots of grapefruit here. Disappointingly malty with the same sweet, stickiness from the aroma. Bitterness is very high but the actual hop flavor could be stronger.
Medium body with moderately high carbonation. Decent.
An interesting beer. Too malty for my tastes and the hop flavor is muted but it is certainly still drinkable.
★
583 characters
2.11
/5
rDev
-42.3%
look: 2.5 | smell: 1.5 | taste: 2.5 | feel: 2 | overall: 2
Golden honey, opaque and quite light for an IPA. Sudsy white head falls relatively fast with minimal lacing and a half-centimetre raised ring. Looks more like a sour than an IPA.
Very sweaty, oniony, vinegary hops initially. Odd chalky, lemon rindy and doughy yeast characteristics with some booze behind it. Hardly appetising.
More bizarre minty, chalky, lemon sherbet action joined by a strong and clean leafy, eucalyptus bitterness. The lack of fruit or pine character is very unorthodox to this palate at least, but it all starts to grow on me.
Medium bodied, with a dry, metallic, bitter finish
This one is out of the box. Intrigues with its eccentricities for a moment, but overall it's perilously close to a train wreck.
★
731 characters
Amager / Port Brewing Wookiee IPA from Amager Bryghus
83
out of
100
based on
15
ratings.