The Sinner Series-Pride
| Amager Bryghus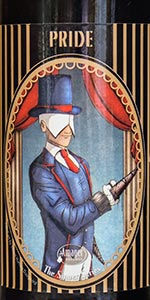 BEER INFO
Brewed by:
Amager Bryghus
Denmark
|
website
Style:
American Double / Imperial Stout
Alcohol by volume (ABV):
10.00%
Availability:
Limited (brewed once)
Notes / Commercial Description:
No notes at this time.
Added by ADZA on 06-18-2013
This beer is retired; no longer brewed.
Reviews: 14 | Ratings: 49

3.72
/5
rDev
-8.4%
look: 3.25 | smell: 3.75 | taste: 3.75 | feel: 3.75 | overall: 3.75
Thanks to GRG1313 for sharing this one at mrbubbler's tasting.
Pours an opaque black with a foamy dark khaki head that settles to wisps of film on top of the beer. Tiny dots of lace form around the glass on the drink down. Smell is of dark roasted malt, cocoa powder, and caramel aromas. Taste is much the same with cocoa powder, char, and caramel flavors on the finish. There is a mild amount of roast bitterness on the palate with each sip. This beer has a lower level of carbonation with a slightly crisp mouthfeel. Overall, this is a pretty good beer with a nice mix of chocolate and caramel characteristics.
Serving type: bottle.
★
636 characters

4
/5
rDev
-1.5%
look: 4 | smell: 4 | taste: 4 | feel: 4 | overall: 4
With a sinful flavor like this, who wants to be good? Amager's Pride is a hearty Imperial Stout with all the roasty, malty and sweet boozy flavors in tact. Its those basic attributes that keeps the beer growing, sip after sip.
Its dark appearance is nothing short of espresso- black with little to suggest anything but, even its creamy lather that amounts on top reinforce a coffee-type of pour. Its light lace is of broken rings as the gravity of the beer seems to impede better froth and cling.
Its sweet espresso scent is quite unique- toffee, caramel, roast and toast all align on the nose to give a biscotti, vanilla wafer, and chocolate scent. As the undertow of dark-roast coffee plays out underneath, it nutty weave offers an earthy counterpart to its hearty sweet scent.
Rich to taste, the milky and velvety sweetness greets the mouth with extended-cooked toffee, molasses, burnt caramel in all their decadent sweetenss. But above that are the roasted malt, bittersweet chocolate, and grilled nuts to give the beer's taste a complex sweetness that props up the beer's roast and fruit. A forward vinous twang of plumb and grape lurks in the background as the ale finishes warm, rummy and smooth.
"Pride" is a boastful Stout that showcases as much sweetness as it does of roast. If this is the brewer intent, then that goal was reached with uttermost pride, but without becoming prideful.
★
1,399 characters
3.75
/5
rDev
-7.6%
look: 3.75 | smell: 3.75 | taste: 3.75 | feel: 3.75 | overall: 3.75
Bottle: Poured a pitch-black carol stout with a nice large foamy brown color head with good retention and some good lacing. Aroma of roasted malt with some black chocolates notes and light dry notes are quite enticing. Taste is also a very solid mxi between some dry roasted malt with light smooth black chocolates with alight dry hoppy finish. Body is full with somewhat of a creamy texture with no apparent alcohol. Solid interpretation of the style but I still prefer some of the other imperial stout brewed by the same brewer.
★
530 characters

4
/5
rDev
-1.5%
look: 4 | smell: 4 | taste: 4 | feel: 4 | overall: 4
A: Motor-oil-black color under a brown, thick, compact and rather tall head. Rich lacings occour after a long time of dissipation.
S: Full rich heavy smell. Hard roasted sweet malts and lots of dark dired fruits, as well as strong black coffee and mild dark chocolate.
T: Hard roasted malts, sweet. Oaky notes brings a healthy dose of vanilla. Dark dried fruits, but rather held back compared to the smell. Lots of strong black coffee and some dark chocolate.
M: Very smooth feel. Full body and low carbonation. Aftertaste isn't that long, but holds a nice sweetness. The high ABV is almost not noticable.
O: A well crafted Stout, nothing edgy but that is, when it comes to this beer a very good thing.
★
708 characters

4.22
/5
rDev
+3.9%
look: 4.25 | smell: 4 | taste: 4.25 | feel: 4.5 | overall: 4.25
500 ml bottle. Served in a Great Lakes Brewing chalice, the beer pours dark brown/black with an inch tan head. The head retention is pretty good, and there's also a lot of lacing. The brew smells like roasted malt, bittersweet and milk chocolate, dark fruit, and some coffee. Taste is similar to the aroma, but there's the addition of some molasses, vanilla, and a bit of licorice flavors. Mouthfeel/body is medium/full, it's smooth, creamy and coating with moderate carbonation. I think this is a pretty good imperial stout. Definitely worth picking up if you come across some. $9.99 a bottle.
★
594 characters

4.7
/5
rDev
+15.8%
look: 4.5 | smell: 4.5 | taste: 4.75 | feel: 5 | overall: 4.75
Oh this stuff is so freakin good. Appropriate to Imperial Stout, Royally Tasty. Appearance has a thick long lasting light brown head. Aroma is black malt, black olives, licorice, leather. Flavor's like nose, plus some sweet and bitter, those in perfectly balanced amounts. Body is so amazingly smooth. Only slight veiled hints of power. Wahoo!
★
343 characters

4.13
/5
rDev
+1.7%
look: 4 | smell: 4 | taste: 4.25 | feel: 3.75 | overall: 4.25
I'm definitely in the mood for this its cold as could be tonight and thought I crack this by the fire and it pours a dark black as night hue with a one finger khaki head that disappears as soon as u blink and leaves a nice rim of lacing too,the smell is dark fruits,roasted malts,booze,charcoal and dark chocolate,the mouthfeel is full bodied with above moderate carbonation and the taste is something else just what I was looking for tonight it's dark chocolate,roasted malts,dark fruits,a touch of milky coffee and finished with a solid herbal bitterness that puts everything into order and overall I love it and I know they boiled it for six hours but man for a beer of high ABV it's nowhere to be found and this is such a easy drinker border lining on greatness with a few adjustments just what I was up for cheers.
★
819 characters

3.23
/5
rDev
-20.4%
look: 4.5 | smell: 2.75 | taste: 3.25 | feel: 3.5 | overall: 3.25
Served on draft at Redlight Redlight in Orlando Florida.
Arrives to the bar opaque black with a rather dark, mocha colored head. Nice density and lacing, especially considering the abv on this one.
Aroma was severely lacking any substance. If held in front of my nose with a blindfold, I may choose shrimp as the aroma, just because I would be picking at straws.
Flavor was okay. A little boozy and sweet. No real depth of flavor. Dark fruits, raisins, alcohol.
Not a fan of this one. Too one dimensional, or no dimensional, for my tastes. Sweet and slightly boozy.
★
573 characters

4.63
/5
rDev
+14%
look: 4.5 | smell: 4.5 | taste: 4.75 | feel: 4.75 | overall: 4.5
500ml bottle. Snifter glass. Intense chocolate & underneath alcohol aromas as cap is removed. Pure black color. Brownish tan is creamy, slowly dissipated & leaves some lacing. Fresh aroma shows dark bitter cocoa & milk chocolate, rounded by herbal notes & ripe citric on the back. Slight dark fruits are also displayed to the nose. Creamy upfront with roasted & caramel notes as well as toffee & gentle alcohol. Full body. Soft carbonation. Viscous & creamy mouthfeel. Subtle notes of licorice & herbal bitterness with a point of cumin in the middle are joined by dark cocoa flavor linger into a sweet/bitter finish where resinous hop arises & leaves a dried sensation. Heat through the throat, some fruity & caramel hues on the aftertaste. Flavorful & gentle drinkability. Amazing balance at this masterpiece !! A great all-terrain beer that could be perfectly paired with Mexican fajitas – chili, chicken, onion & beans- or Panetone cake as well. Or simply alone for a long & paused drink, naturally. (Batch 512. BF10/2017).
★
1,028 characters
4.16
/5
rDev
+2.5%
look: 3.75 | smell: 4 | taste: 4.25 | feel: 4.25 | overall: 4.25
A-almost black with a tan head that quickly leaves to form a small ring around the top
S-rich roasted malt, dark chocolate, roasted coffee,
T-taste is very good, large roasted malt backbone with coffee, chocolate, bit of molasses, caramel, and maybe some dark fruits mixed in there.
M-very nice full body, light carbonation, dry roasted finish
Overall I really like this beer, great tasting and a nice full body makes it an above average IS
★
446 characters

3.85
/5
rDev
-5.2%
look: 3.75 | smell: 3.75 | taste: 4 | feel: 3.75 | overall: 3.75
Poured form a bottle into a modified tulip glass.
A - Deep darkness, beautiful dance of carbonation is present but not overactive.
Crowned with a light cocoa creamy head. Lacing trail shows no sign of quitting.
S - Dark fruits, fig, medium chocolate not to dark, a slight hint of toffee. Malt bill
is not weighted to any one area. The nose opens up with time, leading to hints of
alcohol and mint.
T - Danish stout for sure. As big as it is still a tight flavor, chocolate malt, lingers only slightly,
the hop bite has a touch of pine, maybe juniper.
F - The initial pass is rich bodied, the middle has a quickness and feels like it wants to run away,
Finally the end has an intriguing desire to stay, the linger is quite delightful. Not to sharp on the tongue.
Definitely that Danish approach, slightly whimsical and refined.
O - A fine example, not to far a field from Stanby of the Dr. each a fine example.
A nice treat on this cool autumn morning
Cheers
★
961 characters

4.21
/5
rDev
+3.7%
look: 5 | smell: 4 | taste: 4.25 | feel: 4 | overall: 4.25
Bottle: a tall 500mL dark brown bottle with a fantastically artistic label.
Appearance: pours dark in the glass - absolute black. Not a hint of highlights even around the edges. An incredibly solid tan head settles to a one-finger with excellent retention and lacing. About as good as it gets.
Aroma: roasted malts dominate with coffee and chocolate, some heavy yeasts and a touch of anise. A bit subdued however.
Taste: unlike a lot of Imperial Stouts, this one has no heavy fruit or spices - it is mainly based on roast malts. Coffee, cocoa and grain with anise, and some of that 10% ABV shines through.
Aftertaste: the flavours carry through nicely - there is some oily smoothness to the aftertaste.
Mouth feel: wonderfully thick and full thanks to an intense fine sediment that lingers throughout the profile.
Overall: one of the best (albeit the most expensive) beers I have had to date. The lack of fruit and spice has not denied it complexity, but rather the intensity and focus on roast malts, molasses, anise and chocolate has produced a mouth-wateringly amazing stout.
★
1,085 characters

4.56
/5
rDev
+12.3%
look: 4.5 | smell: 4 | taste: 4.75 | feel: 4.75 | overall: 4.75
Appearance: Opaque, chocolately, very dark brown color, with a fine, creamy, dark tan head and heavy lacing.
Aroma: Meaty smoke mixed with dark roasted coffee, milk chocolate, and bitter cocoa.
Taste & Mouthfeel: The full body and creamy texture carry sweeter-than-expected flavors of vanilla, maple syrup, and steamed milk. The earthy, intense, bitterness in the finish counters the sweet flavors on the tongue, and tastes like coffee grounds. That meaty, smoky aroma comes through in the flavor profile as well, adding a savory character to the entire drink that helps to mesh the sweet and bitter.
Final Word: Highly recommended! This was a very complex and interesting brew, with an entertaining variety of flavors that, when taken together, feel distinctly like a breakfast meal (a carnivorous one) wrapped up in a beer. The meaty smoke, sweet, steamed milk and maple syrup, earthy, bitter coffee grounds, and cocoa all seem to have places on your breakfast table, right down to the vanilla flavored coffee creamer! The only reason anyone should approach this beer with caution is if you don't have much of a tolerance for the bitterness in the finish. It is a particularly intense bitterness, as it feels like raw coffee grounds, so it has the potential of turning some drinkers away, or confusing them as the beer flip-flops between pancakes with syrup, and slugs of espresso. Anyone and everyone else, however, should jump at the chance to try this one!
★
1,466 characters
4.2
/5
rDev
+3.4%
look: 4.5 | smell: 5 | taste: 3.75 | feel: 3.75 | overall: 4.25
Appearance: Motor oil with a reddish-brown fringe in the right light.
Aroma: Coffee, dark chocolate, milk chocolate, earth, bread,
Taste: Sweet, dark malt, sweet-ripened dates
Mouthfeel: midway between effervescent and foamy.
Overall: Great. Maybe a bit too sweet for what I want in my Imperials, but I really do like it a lot.
Acids and tannins are both mid-level. I feel both dryer out on my taste buds, and wet in the rest of my mouth as I salivate. Pretty sure the west coast IPA I had before this did some damage to tonights palate, so I'm getting more bitterness than is probably here.
★
598 characters
The Sinner Series-Pride from Amager Bryghus
88
out of
100
based on
14
ratings.