Devil's Triangle
| Florida Beer Company
BA SCORE
82
good
14
Reviews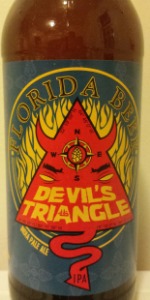 BEER INFO
Brewed by:
Florida Beer Company
Florida
,
United States
|
website
Style:
American IPA
Alcohol by volume (ABV):
6.60%
Availability:
Rotating
Notes / Commercial Description:
No notes at this time.
Added by kylehay2004 on 04-07-2013
Reviews: 14 | Ratings: 111

3.52
/5
rDev
-0.3%
look: 4 | smell: 3.25 | taste: 3.5 | feel: 4 | overall: 3.5
FLORIDA DEVIL'S TRIANGLE IPA 5/9/16
The last of the quartet of new ones from the latest beer club shipment.
Poured from the 12 oz. bottle into a Lawson's stemmed tulip.
a: Clear amber with an inch thick white head which receded to even surface foam and dense spotty lacing.
s; Hardly any, maybe a slight light fruit note.
t: Medium biscuit malt accompanied by a moderate hop bite. Bitterness lingers slightly on the tongue along with a dry finish.
m: Medium, good body and a lot of carbonation tingle.
o: An average craft IPA, due to lacking any significant citrus, floral or pine accents. Nonetheless refreshing as such with a substantial feel.
★
656 characters

3.51
/5
rDev
-0.6%
look: 4.25 | smell: 3.25 | taste: 3.5 | feel: 3.75 | overall: 3.5
12oz. bottle poured into a snifter.
Look: Amber, perfectly clear, bubble actively rising into thick, large bubbled foamy head. The head stays frothy, and the bubble slowly pop and dissipate.
Smell: The most noticeable aroma is sweet malts, caramel, seems like a big crystal malt addition. Bit of herbal hops pushes its way through.
Taste: Malt forward, caramel, toasted grains, herbal hops with suitable bitterness, a bit of pine.
Feel: Moderate level of carbonation, fairly full bodied, coats the tongue a bit.
Overall: A suitable malt forward IPA, nice balance of bitterness and residual malt sweetness.
★
612 characters

3.78
/5
rDev
+7.1%
look: 4.5 | smell: 4 | taste: 3.5 | feel: 4 | overall: 3.75
On tap at the brewery taproom.
Medium amber and clear body with good clarity and an excellent and durable off-white head.
Aroma. nice malty aroma with plenty of sweet caramel ... but from an "IPA"? Some hop presence, but dominated by the malts.
Flavor: High malt load and balance as expected from the aroma, but there's a clear hop presence worthy of an APA (but not an IPA). Mild-medium bitterness.
Mouthfeel: smooth and somewhat creamy with fairly soft carbonation.
★
475 characters

3.42
/5
rDev
-3.1%
look: 3.75 | smell: 3 | taste: 3.5 | feel: 3.75 | overall: 3.5
12-oz bottle into Belgian ale glass
A - murky golden/orange body under 3 finger cream-colored head, lots of suspended sediment
S - grapefruit with a hint of pine; weak
T - grapefruit, pine, toasted biscuit malt backbone, dry grapefruity finish
M - slick and chewy full body, highly carbonated
O - a reasonably good IPA
★
323 characters

3.59
/5
rDev
+1.7%
look: 3.75 | smell: 3.5 | taste: 3.5 | feel: 3.75 | overall: 3.75
On tap at Shark Pit bar in Cocoa Beach FL.
Slightly cloudy yellowish amber, head disappears buy with good lacing
Citrus aroma, taste is mainly bitter with some pine and citrus
Good overall
★
190 characters
2.9
/5
rDev
-17.8%
look: 3.5 | smell: 2.75 | taste: 2.75 | feel: 3.75 | overall: 2.75
12oz undated bottle from a mix and match sixer at a Rally in St Petersburg.
Pours hazy gold with a short-lived head.
Wet cardboard and mild citrus in the nose.
Medium bodied and a bit slick.
Wet paper and bitterness up front on the palate. Light malt and some stale grapefruit follow through.
Finishes with plenty of oxidation and much regret of purchasing this extremely old bottle.
★
389 characters

3.54
/5
rDev
+0.3%
look: 3.75 | smell: 4 | taste: 3.25 | feel: 3.5 | overall: 3.5
I am strictly an IPA drinker lately. I found this to be on the less complex side of the typical east coast style IPAs.Its bitterness is not quite that of the typical West Coast on initial taste, but does tend to linger much longer than it should. Very attractive amber color with a wonderful, fruity aroma, but again, the bitter flavor outweighs the sweet scent by a huge margin. So if you are not a regular IPA drinker, this is probably not the ideal entry beer. I did find that drinking from the bottle did somehow mask the bitterness quite a bit, so for me, this is better as a bottle beer on a hot, sunny Fl day... It doesn't quite hit a 4.0 on my scale, and even at 3.5, that may be generous. Good, but not great.
★
718 characters

3.4
/5
rDev
-3.7%
look: 3.75 | smell: 3.75 | taste: 3.25 | feel: 3.25 | overall: 3.25
Wreckers Orlando 5/20/15
Pours orange with light head and ok retention. The smell might be the best part. Hopping with slight piny aroma. The taste is extremely bitter. From the first sip to the last it just is a bitter bomb. Burns out the taste buds. Not a that good.
★
269 characters

3.94
/5
rDev
+11.6%
look: 4 | smell: 3.75 | taste: 4 | feel: 4 | overall: 4
Florida Brewing Company Devil's Triangle IPA
12 oz. brown glass bottle, coded "14274"
$1.50 @ Trader Joe's #766, Tampa FL
Devil's Triangle, despite the ominous name, is a basic and straightforward American IPA. It's clear, golden in color, and displays a frothy white head that holds well and leaves some decent lacing behind. The aroma delivers a waft of bright citrus over a sweet note of malt; and the flavor adds a bit of yeasty fruitiness (apple, soft sweet red berries), some pleasantly smooth pine, and a solid, anchoring bitterness. The pine and bitterness do build a little bit on the palate as you progress through the glass, but it's never 'too bitter' or 'too hoppy' to remain accessible, and highly drinkable.
★
723 characters

3.68
/5
rDev
+4.2%
look: 3.5 | smell: 3.5 | taste: 3.75 | feel: 3.75 | overall: 3.75
A: The beer is slightly hazy amber yellow in color and has a light amount of visible carbonation. It poured with a half finger high frothy beige colored head that died down, leaving a large patch of bubbles in the center, a collar around the edge, and some lacing down the sides of the glass.
S: Moderate aromas of grapefruit hops are present in the nose along with notes of pine resin hops.
T: The taste mostly follows the smell, except that the pine resin hops are stronger and stand out the most and linger through the finish. A light to moderate amount of bitterness is present.
M: It feels medium-bodied and a little crisp on the palate with a moderate amount of carbonation.
O: I felt that the taste had a very good balance between the grapefruit and pine resin flavors.
★
776 characters

3.26
/5
rDev
-7.6%
look: 4 | smell: 3 | taste: 3.25 | feel: 3 | overall: 3.5
P- Thanks to my buddy Matt for this brew!
A- Goldenrod type of color with chunks of yeast suspended in the beer. The head is nice with about 3 fingers and foamy mountainous. Lacing is gorgeous as well. reverse bottle cap type lacing.
S- faint citrus hops and that's pretty much it.
F- The citrus/grapefruit hops come out more pronounced in the flavor. a bitter backend to the drink.
M- dry and hoppy like and IPA but the grapefruit hops come off as underipened almost. The dry flavor continues down the throat which is not good for me.
O- not a bad brew but the citrus hops, there is just something off about it. It tastes more spoiled or not as sharp as it could be.
★
672 characters

4
/5
rDev
+13.3%
look: 4 | smell: 4 | taste: 4 | feel: 4 | overall: 4
Light amber in color with a puffy white head. There are also lots and lots of clumps of yeast, which would probably turn off a lot of folks who don't like seeing chunks in their beer. Not a problem for me.
Big citrus hop aroma.
Big vegetal hop flavors and big, big bitterness. Soapy, which is a good thing.
Big body.
I know that this and Swamp Ape are different beers, and that this is probably close to half the strength, but this is the better one.
★
455 characters

4
/5
rDev
+13.3%
look: 4 | smell: 4 | taste: 4 | feel: 4 | overall: 4
Devil's Triangle pours a golden yellow color with a white head from a brown 32 ounce flip top growler. The aroma is very hoppy. The flavor is very nice also, quite hoppy, citrus and pine notes dominate. There really isn't much malt flavor that is noticeable. Quite drinkable and enjoyable.
★
289 characters

3.54
/5
rDev
+0.3%
look: 3.25 | smell: 3.5 | taste: 3.5 | feel: 4 | overall: 3.5
Single finger head with some lace on a cloudy golden with brown hues body. Grapefruit and orange sweetness aroma, little in the way of malts. Flavors are a little disjointed with pine resin and generic pine citrus. Malts are understated and mostly seem to be pale and toasted. Medium body and moderate carbonation. This one isn't very memorable and may be too tart and bitter. May try something else before this one.
★
416 characters
Devil's Triangle from Florida Beer Company
82
out of
100
based on
14
ratings.