Dismiss Notice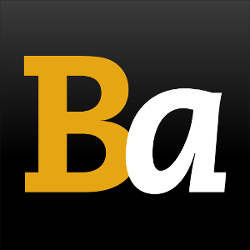 Site Performance Updates: We're aware of the nightly site outage, and working on resolving the issue.
Mayflower Spring Hop
| Mayflower Brewing Company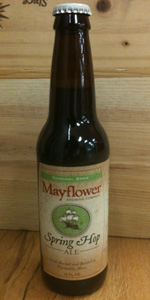 BEER INFO
Brewed by:
Mayflower Brewing Company
Massachusetts
,
United States
|
website
Style:
American Amber / Red Ale
Alcohol by volume (ABV):
5.30%
Availability:
Spring
Notes / Commercial Description:
No notes at this time.
Added by Reagan1984 on 03-12-2011
Reviews: 87 | Ratings: 276
4.23
/5
rDev
+3.9%
look: 4.5 | smell: 4 | taste: 4.5 | feel: 4 | overall: 4
12 oz bottle into a pint glass.
A - reddish brown beer thats pretty easy to see through. nice creamy head is keeps well do to a lot of carbonation.
S - hops, citrus, grass pine all float around in there in an alluring swirl.
T - pine grassy notes and malt hit first and last throughout and the hops hit in the end with a nice wallop thats not overwhelming and gives it a cleaner finish then i expected.
M - lots of carbonation which i think works well for this beer. it definitely feels light and given its a spring beer is something i'm not at all opposed to.
O - a very solid beer and i can see why a lot of people were talking about this one. glad i have five more of these in the fridge and will definitely be getting a couple more sixers for the warmer weather.
★
771 characters

4.25
/5
rDev
+4.4%
look: 4.5 | smell: 4.5 | taste: 4 | feel: 4 | overall: 4.5
12oz bottle poured into a Dogfish Head signature glass.
A - Pours an unexpectedly dark magohony and amber mix with a strong two fingers of khacki dense foam with excellent staying power. As the head dies slowly it leaves behind an even coating of fine bubbled lace all over the glass.
S - Very fresh hop aromas up front here. Nice combination of citrus, pine, grass and spicy hops. Citrus takes the lead, but the variety of hop character is all allowed to shine thru nicely. Only a trace of breadlike malt sneaks past the hops into the aroma.
T - Hops and malt work together in the flavor with a bit more balance than the aroma. Firm hop bitterness with the sweetish caramel driven malt rides underneath it slightly. Layers of resiny hops thru the middle - I get more pine than anything else in here, but there is definitely citrus and grassy contributions too. Very good, but a bit less impressive than the aroma - which is always a bit of a disappointment for me.
M - Medium bodied with equivalent carbonation level. Feels very bright and fresh. Resiny but not quite sticky in feel. Very fresh tasting - coincidentally? makes me think of stepping outside on the first warm spring day aqnd breathing in the smells of spring.
O - This is an excellent American pale ale. This has such a great fresh character to it. Not sure how well this will hold up over time, but it certainly is very nice with only a couple weeks or less on it. This could very easily become my go to spring seasonal.
★
1,492 characters

3.62
/5
rDev
-11.1%
look: 3.5 | smell: 4 | taste: 3.5 | feel: 3.5 | overall: 3.5
Mayflower Spring Hop has a translucent, brown body and a creamy tan head. Pretty good retention and some decent lacing.
The aroma is pretty good, with loads of orange, lemon, and a little bit of floral scents. Very hoppy, with just a bit of sweet, biscuit-like malt in the background.
The flavor isn't nearly as hop-centric as the aroma suggests. Up front comes a blast of orange, some grapefruit and just a hint of lemon. A little bit of grass. The malt comes in and takes the beer over, with biscuits and a little bit of molasses.
Medium bodied and well-carbonated.
I liked the aroma of this one more than I liked the flavor. Not bad at all though.
★
654 characters

4.1
/5
rDev
+0.7%
look: 4 | smell: 4 | taste: 4 | feel: 4 | overall: 4.5
This one poured a deep amber colour with a coppery hue when held up to the light. Mostly clear with a lasting beige cap, some clumpy lacing. As the name suggests, hops are prominent in the aroma and flavour. It smells of freshly crushed hop pellets, grassy, grapefruit pith, floral, kind of minty. The taste is hoppy, with bitterness sturdy yet refined, balanced against mild sweetness and biscuity, bready malts. Grassy and a little herbal, citrus was less prominent. Lingering hops and bitterness, some hop spice towards the finish. Lowish carbonation, medium bodied, texture was a bit creamy and it was on the dry side. Overall, it was pretty tasty. It really captured a fresh, in-your-face-without-being-harsh hop character.
★
728 characters

4.42
/5
rDev
+8.6%
look: 4 | smell: 4.5 | taste: 4.5 | feel: 4 | overall: 4.5
A- a dark red aurburn with a big fluffy head and good retention, lots of lacing. A bit darker than I was expecting for a red, but the color is fantastic.
S- lots of navel orange with big citrus notes; lemony being a big player. The malts are present with a nice graham cracker, or a molases biscuit.
T- Awesome beer. The navel orange flavor is huge and dominates the complex array of citrus in the beginning. Very floral upfront before the malt sweetness begins to balance out the beer before the bitter pine finish.
M- good carbonation level, nice pine resin but not over the top
D- This is fantastic, I think the abv is close to 5-5.5 abv. I could drink this all night and never get bored. Love the use of citra and sorchi ace and I love how you werent afraid to add a nice bitterness on the finish. Great job to Ryan over at Mayflower for creating an awesome beer, can't wait to see what you do next.
★
909 characters

4.13
/5
rDev
+1.5%
look: 4 | smell: 3.5 | taste: 4.5 | feel: 3.5 | overall: 4.5
Another throw in from the beer bandit. Bottled on 2/23/11.
Unexpected, clear dark orange/amber brew into my Ommegang Anniversary glass. A mountain of lumpy cream-colored head. Blotchy lace.
Smell is very green, like alfalfa pellets. Twiggy & just barely scented with sweet florals & graham crackers.
Gentle pine resin, florals & earth all playing around in the taste. Dark bread crust, salt, & just a twinge of actual bitterness that lingers just a moment. A little juicy. Faint citrus. Some dank. Quite gentle.
Body is a tad chalky. Carbonation is just okay. Alcohol is fine by me. Not at all thick.
A dry-hopping clinic going on here. This stuff is tasty. :D
★
666 characters

4.47
/5
rDev
+9.8%
look: 4 | smell: 4.5 | taste: 4.5 | feel: 4.5 | overall: 4.5
Pours a huge fluffy 2+ finger head that fades semi slowly with a bunch of sticky lacing, the beer is a darker rosy auburn mahogany brown color, darker than I expected, some slight yeast suspended in the middle.
Nose is wafting out before I even get to it, some nice fresh hops, a slight bit of fresh hop musty resin, some light citrus, a bit of pine, some nice grassy and floral mild hop mixed in, not too bitter, but lots of fresh hops. Under that is a touch of a toasty crystal malt, but very light.
Taste starts with a nice munich and tasty malty base, toasty reddish malts, juicy, some crystal malts, a really nice malty base, then some fresh hops, floral, grassy, very nice noble hop flavor, light fresh hop resins and spicy hops but very light, touch of citrus, such a light fluffy hop flavor with some good bitterness, but adds a touch of a spicy and heavier hop profile. The hops are added very well, and the malty base balances it very well. The noble hops really shine, and it's delicious. THe bitterness ramps as it goes, but hits a peak and doesn't get out of hand, it just gets to the border of astringent way on the finish, but never crosses the border. A nice dry finish too, clean and tasty.
Mouth is medium bodied, with good carbonation.
Overall, wow, I was surprised with this beer. I heard a bit of hype before hand, but I figured it was just a surprise wit low expectations, but I had high expectations and it really blew me away. THis beer is just about the perfect spring beer, a nice toasty malt base, some reddish but darker crystal and Munich malts, with a nice noble hop flavor, and just a bit more of a heavier hop kick.
★
1,651 characters
4.5
/5
rDev
+10.6%
look: 4.5 | smell: 4.5 | taste: 4.5 | feel: 4.5 | overall: 4.5
Packaged on 2/23/2011. 12oz bottle poured into a pint glass.
Pours a dark copper, almost amber color with a 1 finger off white head with great retention. The head is made up of fluffy foam that sticks to the glass with each sip.
Outstanding nose. Very well balanced. Great citrus and floral hops aromas are matched with a great malt sweetness. The hop aromas smell amazingly fresh and the sweetness is an excellent complement to them.
The taste follows along with the nose. There is an extremely "fresh" taste to the beer. The citrus and floral hops blend together along with a nice caramel malt background to give it a nice balanced taste through the front and middle. A nice fruity taste takes over towards the back end, light fruit, an almost melon like taste that is extremely enjoyable. There is a bit of a bite at the very end, maybe some bitterness but it may just be the carbonation.
Medium bodied with a medium carbonation. The beer feels very smooth and yet at times the carbonation feels quite lively, mostly at the finish.
This beer has excellent drinkability. No ABV is listed (as of yet) on the label, brewer's website, or this site but it feels like it's in the range where you drink a few pints of this and really enjoy them over the course of a night.
★
1,274 characters
4.35
/5
rDev
+6.9%
look: 4 | smell: 4 | taste: 4.5 | feel: 4.5 | overall: 4.5
Appearance is dark amber; darker than I was expecting for a spring hop beer, but nice color and decent lacing.
Smell is almost more like light orange or tangerine to me, with a hint of the typical grapefruit.
Taste is grassy with a hint of caramel on the side and the malt comes in as well. Not too flowery but that's OK for this one.
Mouthfeel is great and the taste stays with you.
Very drinkable and I think the ABV is manageable for being a session beer. Overall, a great beer from Mayflower; up there with their IPA, which I think is one of the best IPA's in the Boston area.
★
586 characters
4.33
/5
rDev
+6.4%
look: 4.5 | smell: 4 | taste: 4.5 | feel: 4 | overall: 4.5
Poured in to a pint glass
A: This beer pours a clear, deep copper/amber color with a one finger of foamy, rocky off white. Head retains nicely and leave sticky sheets of lacing on the glass.
S: Nose is a nice big caramel malt profile with piney and citrus hop presence.
T: Taste is a very well balanced brew here! Taste starts with piney hop notes before the malt profile takes over. Nice biscuity notes and a touch of caramel come through. Mild pine and a nice grapefruit zest give a nice bite. The bite is calmed by a hint of grassy earthy notes and a touch of sweetness finish this one out.
M: Lighter side of medium body, medium carbonation, nice crisp body, dry in the middle with a bit sticky finish.
D: Goes down very easily, tasty, not too filling, mild kick, nice representation of style. This is definitely a beer that I will be revisiting numerous times this spring!
★
884 characters

4.32
/5
rDev
+6.1%
look: 4 | smell: 4.5 | taste: 4.5 | feel: 4 | overall: 4
had on tap at the pour farm tavern in downtown new bedford. served in a standard pint glass.
a: pours a darker than expected copper color with a fairly thick off white head. nothing crazy but i think the darker color is pretty cool. i was expecting a pilsner like appearance.
s: nice hop aromas. notes of pine, citrus and malty grains. the hops take up most of the nose but it's malt backbone is noticeable. very nice.
t: bright, crisp hop character. nice notes of piney citrus. hops dominate the palate but finishes clean and isn't too bitter at all thanks to a nice proportion of malt. one of the best spring beers i've had all year. i love nugget nectar, but this being so fresh and so local i'm definitely going to have more.
m&d: smooth mouthfeel; good drinkability.
an excellent hoppy beer that should have all BAs excited to try.
★
842 characters

4.15
/5
rDev
+2%
look: 4 | smell: 4 | taste: 4 | feel: 4.5 | overall: 4.5
Found this at the store today and was surprised to find that this would be it's first review. I looked it up on the Mayflower site and it's not even listed yet. Bottle is date stamped and I believe it says this was bottled on 3/4/11 (the month is a little smeared)
First note is that it's darker in color than I would have guessed. Totally clear and straight amber in color with no visible carbonation. Two fingers of fluffy head form and show great structure. It's collapses fairly quickly but leave clumps behind. Nice lacing.
Aroma is grassy, fresh and of grapefruit peel. Very floral and almost perfume like. Green and fresh in nature.
Nicely done. Pretty wonderful balance here. Hop focused but with a perfect malt backbone. Bitter, citrus hops front and back with a perfect bready malt flavor in the middle. Like crusty bread. Some light fruit as well. Finishes smooth with just a tingle of bitterness.
Very smooth mouth feel and subtle carbonation.
Very easy drinking and a great brew to greet spring.
Well done Mayflower.
★
1,047 characters
Mayflower Spring Hop from Mayflower Brewing Company
90
out of
100
based on
87
ratings.