Printer's Row Wine Shop
PLACE STATS
Reviews:

11

Ratings:

Avg:

3.75

pDev:

8.53%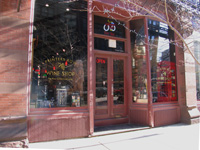 PLACE INFO
Type:
Store
719 S Dearborn Ave
Chicago
,
Illinois
, 60605-1837
United States
(312) 663-9314 |
map
www.printersrowwine.com
Notes:
No notes at this time.
Added by tapman on 08-04-2007
Reviews: 11 | Ratings: 14

3.86
/5
rDev
+2.9%
vibe: 4 | quality: 4 | service: 3.5 | selection: 4
Nice long thin store front with a wall of wine on one side and spirits and checkout on the other. In the back is a 12' long double sided shelf with beer and a cooler with 4 or 6 doors beside it. There is a good selection of some old or aged beers depending on your perspective?
They had a good selection of local bombers, 6 packs and cans. If you buy 4 or more bottles you get a free tote bag that holds 4 large bottles and 10% each time you use the bag. I though that was pretty cool.
They also had some nice cheeses in the beer cooler and a little bar space for wine tastings possibly?
★
590 characters
More User Reviews:
4.25
/5
rDev
+13.3%
vibe: 4.25 | quality: 4.25 | service: 4.25 | selection: 4.25

3.86
/5
rDev
+2.9%
vibe: 4 | quality: 4 | service: 3.75 | selection: 3.75


4.46
/5
rDev
+18.9%
vibe: 4.5 | quality: 5 | service: 3.75 | selection: 4.5
Like others have said, this place has a good beer selection despite about a 1/4 of the real estate is dedicated to beers and the rest to wine. Speaking of, they have wine tastings every Friday (or at least, the last I heard they did). Now if only they did beer tastings... Anyway, you're going to pay a little more than you would at Binny's, but the premium is worth it to me living just a few blocks away.
If you're looking for local and national craft beers, this is the place to go. They've carried Pipeworks, Metropolitan, Finch's, and Half Acre in the past, along with bigger names like Bell's, Founders, New Belgium, Dogfish Head (I've gotten a few bottles of 120 Minute here), and Stone. While you're in the neighborhood, stop at Hackney's for some delicious beers on tap.
Edit: Went in the other day. They actually *do* have beer tastings on Thursday from 6 - 8.
★
873 characters

3.83
/5
rDev
+2.1%
vibe: 3.75 | quality: 4 | service: 3.5 | selection: 4
Hit this place while visiting my brother-in-law here recent... and hit it about 3 times while in the area.
Atmosphere: Located in sort of an Al Capone-like area... bleached out red brick and all, and in a cozy neighborhood... at least, to my knowledge.
Quality, Service, and Selection: Sure, this place was small, but not tiny. I bought lots of cool stuff from here, including stuff from: Half Acre, FFF (minus "Gumballhead"), Pipeworks, and Revolution. Lots of other stuff was here too.
Value: I saw the Eclipse bombers on sale for $30. I thought that was expensive, but I learned later that that was the norm. Overall, I was fine with their price structure.
★
662 characters
3.44
/5
rDev
-8.3%
vibe: 3 | quality: 3.5 | service: 3 | selection: 4
Appearance wise, this place is very appealing. You can tell they mostly focus on wines, but they do have a nice selection of craft beer tucked away nicely in the back.
I received a slight head nod when I walked in the door, and that was the only communication I had until I checked out. I don't mind that at all, I know what I'm looking for, no need to ask if I'm looking for anything, because they answer will be "Yes, Pappy 15 year, George T. Stagg, Utopias, KH, BCBCS, and Rare", and I know you don't have those.
I stumbled upon some nice bottles there, so I get the feeling that this might not get picked over as much as some other stores...cool, I hope it stays that way. I will be sure to check in again the next time I am in the city, as it's right in between Warehouse Liquors and Binny's South Loop.
★
812 characters

3.73
/5
rDev
-0.5%
vibe: 4 | quality: 4 | service: 3 | selection: 4
Unsurprisingly, located on Printer's Row in the South Loop, PR Wine Shop is a quaint, cozy store offering up a nice selection of beers, wine and fine spirits.
Beer selection is not huge and can't compete with a place like Binny's, but the selection is respectable with a mix of standard offerings (Allagash, FFF, 2Bros) and specials releases. On my visit I noted several Half Acre beers, including their latest release, Captain Fantasy, and a release from some time ago, Thunder and Son. Was also a bit impressed to see they had the full line up of Mikeller single hop series.
Can't comment on the service. No one attempted to help me and I didn't ask. The person who wrote me up was cordial enough.
Prices are a bit on the high side, though not unreasonably so. And considering this place is practically in the Loop itself, its to be expected.
★
846 characters
2.99
/5
rDev
-20.3%
vibe: 4 | quality: 3 | service: 2 | selection: 3.5
The guys a bit pretentious. Half the time they hardly lift their head to say hello, but it's a very nice store aesthetically. Well decorated and lit, for being as tiny as they are they manage to keep a pretty good selection. I've heard rumors that they sell New Glarus there from time to time...again that's just hearsay but it would piss me off if that were true.
They are pricey...Bell's Java Stout at 18.99 a six pack pricey (and let's not forget about those lovely Chicago taxes).
My problem is that whenever I've gone in there wanting to "talk shop" as it were, they're just dismissive as hell. I mean...why do you work in retail if you don't like customers? Maybe I've just caught people on the wrong days (repeatedly), I can't imagine that someone would sink that much money into a piece of property in the South Loop and not have a genuine affinity for beer/wine/spirits. But I could be wrong...
I'm not saying you'll have a bad experience going there, and you probably will find something you like, perhaps this store was designed with the introvert in mind.
★
1,072 characters

3.85
/5
rDev
+2.7%
A good shop for being close by, a decent selection and friendly people working. Some of them know their beer, some of them are probably more focused on the wine and spirits. The beer selection seems to be growing pretty quickly in the last year. Some aged stuff, lots of midwest locals. My only gripe is the price - they are consistently $1-2 more then anywhere else around for 6 packs and bombers. Charging $48 dollars for a 6 pack of Bells Batch 10,000 is insane when the place down the street has it for $17. I prefer some other places in the area, but I will go here if I am in a pinch or feeling too lazy to walk the extra couple blocks.
★
642 characters
3.55
/5
rDev
-5.3%
Stopped in here today for the first time. The service was alright--someone hollered hello from the back when we walked in, and the cashier was friendly, but that's all we saw of anyone. The selection is small but pretty decent, and not at all bad considering this is mainly a wine store. There was a good selection of local stuff, including Metropolitan and Half Acre, and they had a few things I have been looking for but that weren't available at Binnys. They also had a sign advertising some aged GI BCS (back to 2005, I think), which was interesting but expensive. The prices seemed a bit high (single bottles of Batch 9000 for $8 each), but not totally out of line with other places downtown. Worth a stop in if you are in the area, but I wouldn't travel too far out of my way to shop here.
★
795 characters

3.95
/5
rDev
+5.3%
One of 5 places I visit on a regular basis and the best, and only place that I can think of, within an easy walk of Grant park for bottles of Halfacre and Metropolitan. I typically swing in once every other week to see what's available. Side note, if you are visiting the area, stop in at Kasey's just 4 storefronts north.
The place is always expanding and getting new selections, and consistently offers some unique items for the area (nemesis, why winter, big hugs, Juliet, etc.) Typical culprits of chicago (FFF, Goose, Two Brothers, Halfacre, Bells, Greatlakes, Lost Abbey, Metropolitan) can be found as well as some aged BCS and Anchor Our Christmas. Do check the dates on some of the items since this is first and foremost a wine shop so turnover isnt great on some of the out of state items. Talk to the guys at the counter though if there is something you are looking for, as they are always willing to help.
Overall I enjoy living close to here and anyone looking for brews downtown should swing by here (for, at the very least, the Halfacre and Metropolitan selections) and Warehouse just around the block.
Side note: waiting in line to get my nemesis today the guy in front of me bought a $75+ case of hopslam... freaking awesome... chicago, got to love it! Makes back home in NC look silly
★
1,304 characters

4
/5
rDev
+6.7%
I've been here a few times in the past, and realized that this block is a pretty good stop for your beer needs, with Kaseys and Hackneys a few doors down, and Warehouse Liquors and Villains a couple blocks away.
Selection is good here, new and notable are the vintage racks of Anchor OSA and Bourbon County going back a few years (at premium prices of course). Good bomber selection from FFF and 2 Brothers. There used to be old FFF bombers around, but they seem to be keeping them current now. They had the latest 2 Bros. bottle release, Moaten for $7. Majority of the beer here is in the coolers, minus a GI rack of bombers and the vintage rack. They had a paper wrapped Maredsous 750 I hadn't seen elsewhere. Good representation of Founders, including occasional limited stuff. Prices are high, but it is downtown.
The guy at the counter was friendly and knowledgeable when approached at the register. All in all a good beer shop.
★
936 characters

4
/5
rDev
+6.7%
This place has a pretty good selection of beers. They are usually some of the first stores that get new releases. Like when goose Island was doing the Sofie and Juilet I recall them getting it in before Binnys or Sams. Also when FFF gumball head was nowhere to be found they had a few 6ers. All in all not bed. They carry the usual Languitas, Ska Brewing, FFF, some beligans like Blanche de Bruxells, DFH, and Victory. Since this is a small store there is a slight mark up in price tho. But all in all solid place in the south loop.
★
532 characters
Printer's Row Wine Shop in Chicago, IL
87
out of
100
based on
11
ratings.