Rockfish Wheat
| Blue Mountain Brewery
BA SCORE
84
good
31
Reviews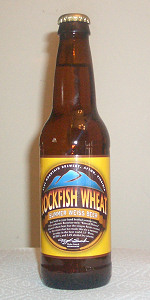 BEER INFO
Brewed by:
Blue Mountain Brewery
Virginia
,
United States
|
website
Style:
Hefeweizen
Alcohol by volume (ABV):
5.40%
Availability:
Year-round
Notes / Commercial Description:
No notes at this time.
Added by Todd on 11-02-2007
Reviews: 31 | Ratings: 101
3.37
/5
rDev
-8.9%
look: 3 | smell: 3.5 | taste: 3.5 | feel: 3.5 | overall: 3
Served as part of a sampler at the brewery in Afton, VA along w/ five other beers (four others brewed there, and one guest beer).
Appearance was very nice, crisp, clear, golden, slightly bubbly, and almost no head, quickly disappearing lacing.
Smell was sweet and fruity, light citrus notes, esters very prevalent - banana, I believe, as well as cloves.
Taste was initially very nice, sweet and crisp, with a refreshing, clean aftertaste - just as in the nose, notes of banana and cloves were prominent.
Mouthfeel was decent, minimal carbonation, crisp, and very light.
Drinkability is not terribly great, however - after finishing with the sampler, I ordered this beer, and found the taste to diminish rather quickly with time, to where I wasn't really enjoying the beer by the time I was halfway through it. Never a good sign. However, it remains an interesting - if typical - attempt at the style.
★
908 characters
3.33
/5
rDev
-10%
look: 3.5 | smell: 3 | taste: 3.5 | feel: 3 | overall: 3.5
A: Poured from draft into pint glass. A single
finger head with active carbonation. A light
maize color. Not a cloud in the sky for this
transparent brew.
S: Virtually odorless save for a the slightest
hints of alcohol/malt.
T: Not as candy and bananas as I had expected
from reading other reviews and basic
expectations of the style. There is a herbal
taste on the back of the tongue and the
requisite bananas and sweetness are present
but not overly so.
M/D: This is a thin beer with little body and
comes in a little short on overall
character. I will be much more prone to
choose a good hefe or wit over this version
of the krystal.
★
658 characters
3.33
/5
rDev
-10%
look: 3.5 | smell: 4.25 | taste: 3 | feel: 3 | overall: 3
Poured from the bottle into a wheat ale glass.
Classic large soapy and very big white rocking Hefe making head out of the bottle. Huge soapy retention that just doesn't go anywhere. A bit of a dark amber orange and slightly dull yellow body, considerably darker than most but not very clear, but with matching rising plentiful carbonation. Pretty solid.
Nose is real nice to match. Some mild clove spice, chewy wheat malt, and there's an interesting estery note to this that is more like cherry or red fruit, than the classic bubblegum and banana. Really nice I dig this not sure where this is going.
Palate seems to match the cherry fruit quality from the nose. Malt density is lacking with a bit of a watery finish, but some of the cherry fruit manages to perkelate in the mid palate. Finish is also a bit metallic and has a bit of a tin aftertaste. Warmth gives a bit more clove and classic hefe character, with some subdued bitterness.
It's not bad, but the metallic and tin notes on it are a bit too noticeable and particularly take away my enjoyment of what starts out to be a pretty decent brew.
★
1,106 characters

3.2
/5
rDev
-13.5%
look: 3 | smell: 3 | taste: 3 | feel: 3 | overall: 4
A - Pours a slighly hazy (almost clear), translucent yellowish color. White head has minimal rentntion.
S - Smells of yeast, clean scent, and fresh bread dough.
T - Faint hints of banna, clove, phenols... lots of yeast.
M - Smooth, moderate mouthfeel. Typlcal for the style.
D - Overall this beer lack complexity and depth. It doesn't really do anything for more. It's a decent session beer, but even falls chort of my standard for that purpose.
★
449 characters

3.14
/5
rDev
-15.1%
look: 4 | smell: 2.5 | taste: 3.25 | feel: 3.5 | overall: 3.25
Poured from a brown 12 oz. bottle. Has a rich golden color with a 1/2 inch head. Smell is very faint, almost odorless. A very light aroma of banana, Taste is mild, wheat, banana, refreshing but subdued. Feels medium bodied in the mouth and overall not a bad beer, but seems to be lacking in character.
★
301 characters

3.02
/5
rDev
-18.4%
look: 3.25 | smell: 3 | taste: 3 | feel: 3 | overall: 3
First had: on tap at Blue Mountain, Afton, VA
Straw-yellow pour, kristal clear, lively carbonation, topped with a fizzy white head. In the nose, toasted wheat, light banana esters, light spice, herbal hops. Mild taste, pale malts, toasted grains, light banana/clove, herbal hop notes. Pretty standard for the style. Light body, simple and drinkable, just not something I'd get a full pour of.
★
393 characters
Rockfish Wheat from Blue Mountain Brewery
84
out of
100
based on
31
ratings.