Scarlet Letter
| O'so Brewing Company & Tap House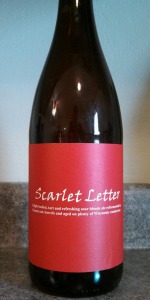 BEER INFO
Brewed by:
O'so Brewing Company & Tap House
Wisconsin
,
United States
|
website
Style:
American Wild Ale
Alcohol by volume (ABV):
5.50%
Availability:
Winter
Notes / Commercial Description:
A light bodied, tart and refreshing sour blonde ale refermented in French oak barrels and aged on plenty of Wisconsin cranberries. Central Wisconsin is cranberry country, so it was easy to fall in love with the idea of aging our insanely tart sour ale on this beloved super fruit. We used two pounds of cranberries per gallon for maximum pucker factor. This is what taking chances is all about.... Going all out and ending up with something this wonderful.
Added by thebigredone on 01-26-2014
Reviews: 13 | Ratings: 75
4.46
/5
rDev
+5.7%
look: 4.75 | smell: 4.25 | taste: 4.5 | feel: 4.5 | overall: 4.5
Poured from the bomber into a Central Waters snifter. Beautiful deep crimson color with white lacing, minimal head. Aroma is all sour cranberry and oak. Taste is almost all sour cranberry. Jammy. A little oaky. Tart, without being puckering. It's not crazy complex, but it's executed really well and shows off the central Wisconsin cranberry. Nice light feel with some effervescence. O'so gets the sour game right again.
★
428 characters

4.09
/5
rDev
-3.1%
look: 3.75 | smell: 4 | taste: 4.25 | feel: 4 | overall: 4
Bottle shared by Curran, thanks dude.
This one pours a nice dark reddish color, with a small head and a bit of lacing.
Smells like very sour cranberry, with some nice acidity on the nose.
This is fairly simple in taste and execution, but it's still a very delicious expression of sour cranberry. There's a tiny bit of funk, but I certainly wish there a bit more here.
This is lighter bodied, with a very juicy mouthfeel, and a good level of carbonation.
A pretty nice but simple sour here.
★
494 characters

4.25
/5
rDev
+0.7%
look: 4 | smell: 4 | taste: 4.5 | feel: 4 | overall: 4.25
750 mL bottle. Bright red body. Smells of oak, acidity, and cranberry. Tastes of strong cranberry also. Other sweet berries. Kinda jammy. Lots of oak in the back end with a bit of mustiness. Medium body. This is really delicious.
★
237 characters

4.18
/5
rDev
-0.9%
look: 4.25 | smell: 4.25 | taste: 4.25 | feel: 4 | overall: 4
Poured from 750 ml bottle into snifter.
A: Ruby red with 1-2 finger light pink head. Lasting retention but leaving little lacing.
S: Tart cranberry and lemon zest.
T: Nice punch of tart fruit with cranberry leading the way.
M: Medium to light body with average carbonation.
O: Outstanding sour. Very nicely executed.
★
328 characters

4.57
/5
rDev
+8.3%
look: 5 | smell: 4.25 | taste: 4.75 | feel: 4.5 | overall: 4.5
Poured from a 750 no into my Carton Teku glass
A: Beautiful thick rich magenta body with fliuffy pink head that fades to a ring around the top
S: sour fruit, some oak
T: The taste far exceeds the aroma. Sour fruits cranberry cherry lemon and a slight sugary hot. Feel the oak more than taste it. Finishes much more sour than it starts.
MF: light and crisp. Great carbonation. Puckering sour. The sour lingers.
O: Terrific sour. This beer screams for a summer day so it can be sipped overlooking the water.
★
518 characters

3.87
/5
rDev
-8.3%
look: 4.25 | smell: 4 | taste: 3.75 | feel: 4 | overall: 3.75
750ml bottle. Served in an O'so snifter 3/14/2015. As usual, the cork is a PITA to get off.
A- Hazy pink-reddish body, one finger pink head, not much retention, plenty of lacing. At the end of the bottle there is some floating sediment as well, presumably from the fruited additions.
S- Tart cranberry, lactic acid, oak, vinegar, funk. It smells particularly oaky but light and evanescent.
F- A bit thin, unfortunately- seems like the cranberries have aged out of this a bit. Plenty of lactic acid, funk, vinegar, even a little bit of lemon. It's quite tart especially on the backend, but not overpoweringly sour.
M- Medium-thin bodied, a bit lower in carbonation. Nice tartness dances on the palate, leaves a lingering vinegar finish.
O- A solid AWA, but likely this isn't drinking as well as it was when fresh.
Re-reviewed with batch 2. Served in an O'so snifter glass 2/13/2016. Pours a dark ruby red body, two finger white head, good carbonation, thick frothy collar, a bit of lacing. Smells of the base blonde, cranberry skins, mild Twizzler-like aroma, a bit of buttery funk, mild acetic presence. Oak. Slightly sweet. Flavour is mostly cranberry skin, a bit of cherry Twizzler, slightly plasticky, cranberry juice. Mouthfeel is medium-lighter bodied, a bit buttery, nice acetic bite that lingers on the backend. Not a ton of cranberry lingers around. Overall, solid, nothing too special but not that far off from batch 1.
★
1,434 characters

4.44
/5
rDev
+5.2%
look: 4.75 | smell: 4.5 | taste: 4.5 | feel: 4.25 | overall: 4.25
poured 750ml bottle into teku glass
A - Deep hazy pink/red with a 1 finger light pink head. Could really hear the carbonation like a soda after it was poured. Head fades to a collar with fat diagonal lines of lacing.
S - Big tart fruit, cranberry, lemon, and some oak barrel scent. Slight amounts of funk, but not dominating by any means. A very light sweetness to it, but not much.
T - Nice punch of sour cranberry and lemon to start. Minimal vinegar and sour cranberry with hints of other sour fruit. Borders on sour, but there is some light sweetness, like a bit of sugar in there. Finish has some of the oak barrel notes and is puckering.
M - Nice carbonation and the fizzing bubbles that sound like a fresh poured soda. Nice light to medium mouthfeel with lingering sourness on the tongue.
O - I like this more than New Glarus Cran-bic only because it does not have the sweetness, but packs a big sour punch. This really turned out well and I look forward to more beer from Funk Factory Geuzeria.
★
1,010 characters

4
/5
rDev
-5.2%
look: 3 | smell: 4.25 | taste: 4 | feel: 4 | overall: 4
Bottle pour at the pre-FWIBF bottle share held at the Adelaide Inn in Paso Robles, CA.
Pours a murky red with no head. No lacing on the drink down. Smell is sour with malt, grain, cranberry, and acidic aromas. Taste is much the same with sour grain, cranberry, and acidic flavors on the finish. There is a medium amount of acidity on the palate with each sip. This beer has a good level of carbonation with a crisp mouthfeel. Overall, this is a good beer that is tasty but quite sour.
★
485 characters

4.69
/5
rDev
+11.1%
look: 5 | smell: 4.75 | taste: 4.75 | feel: 4.5 | overall: 4.5
The beer comes in an absolutely sexy bright red color.
The beer has a perfect balance of tartness in the front. It is assertive, but then cuts off right at the point of being puckering. There's a nice rush of cranberry flavor and sweetness in the middle.
What a well made wild ale.
★
283 characters

4.04
/5
rDev
-4.3%
look: 4.25 | smell: 4 | taste: 4 | feel: 3.75 | overall: 4.25
Thanks to Nick for providing this one :thumbup:
Quick review from written notes.
Really nice color, bright red with pink foam, spotty foam and irregular arcs of lace in the glass. Clarity is sharp and the color is very saturated.
Cranberries are noticeable in the nose, slightly farmy with a Brett note of sterile gauze that I'm not fond of, but it wasn't distracting.
Bright and tart cranberries in the taste, moderate lactic sourness. Pretty simple and straightforward, maybe to a fault somewhat. Seems very dry and attenuated already. Crisp feel with an almost nonexistent finish. Overall it was very drinkable with plenty of cranberry sourness as advertised. Hopefully more depth with the next batch.
★
709 characters

3.52
/5
rDev
-16.6%
look: 3 | smell: 3.5 | taste: 3.5 | feel: 3.5 | overall: 3.75
750ml brown glass bottle with appealing understated label art and unbranded silver hood-and-wire cap over a cork acquired in a trade with the always-generous Duff27 and served into an Avery stem-tulip in me gaff in low altitude Austin, Texas. Reviewed live. Expectations are high; I'm really in the mood for a sour.
Served cold - at fridge temp - and allowed to warm over the course of consumption.
A: No bubble show forms as it's poured.
Pours nary but a quarter finger head which fizzles away inside 10 seconds, leaving no lacing.
Body colour is a nontransparent translucent red-pink with amber hues. No floating yeast particles are visible. Appears undercarbonated.
Overall, it's looking above average for an American wild ale. I'm looking forward to trying it.
Sm: Cranberries, other berries (raspberries, maybe?), subtle oak, Belgian blonde malts, and a tart subtle sourness. I think this is all lactobacillus; it's too clean and clinical to have been truly spontaneously fermented. Clean barley. Not as sour or tart as I'd like, but it's certainly appealing.
No hop character or alcohol is detectable.
T: Belgian blonde malts, tart cranberry, faint oak (especially on the finish), light acetic character, some acidity, and still more tart cranberry. The cranberry works well here, and isn't as sour as you might anticipate. It's a refreshing enjoyable beer with a pleasant taste. I could go for more sourness and tartness, but it's nevertheless a tasty brew.
Above average depth and duration of flavour. Average intensity of flavour.
It's well balanced and built. Very cohesive and focused. Has plenty of complexity. It's not the most subtle sour I've tried, but for a cranberry sour I think they did a nice job.
I think they delivered on the premise of a cranberry sour quite nicely.
Mf: Smooth and wet. Crisp. Refreshing. Clean. Acidic. Juicy. Medium-bodied. Light on the palate. Has a nice presence on the palate and never quite puckers.
Not gushed, hot, oily, boozy, astringent, or harsh.
Dr: A very enjoyable cranberry sour from O'so. I quite like it and while it's not the best American brewed sour out there, it's got a nice flavour. It's not often you see cranberries used in beer, but they've executed it well. I'd certainly have this again and would recommend it to friends. I'll finish this bottle with ease.
Low B
★
2,348 characters

4.52
/5
rDev
+7.1%
look: 4.75 | smell: 4.5 | taste: 4.25 | feel: 5 | overall: 4.75
750 ml cork and caged bottle poured into an O'so tulip.
5.5% ABV
A - Scarlet Letter pours a shocking vibrant crimson red color with a short-lived pink head that leaves wisps of delicate lace on the tulip before disappearing to a small halo of tight foam.
S - Big bold funk is all over this beer like the crimson brand on the chest, thrusting classic wild lambic characteristics into the olfactory with fresh cranberry skin in tow. Aromatically orgasmic!
T - While the nose is funky, ripe with acidic bacteria and tart cranberry skin tannins, the flavor is mild at best, focusing almost exclusively on fresh, crushed cranberry pulp. With that said, my presumption that the beer's taste is mild is not to be misconstrued with it's mouthfeel - see below.
M - Scarlet Letter is an ale rooted in sourness but this crisp, light-bodied beer isn't really sour, it's insanely tart. It's by far one of the most tart things ever to hit my tongue, and I love it!
O - Hats off to O'so and Funk Factory on a phenomenal Wisconsin beer. Forgetting for the moment the overall scope of the work these two are doing together, Scarlet Letter in and of itself is straight magic. The two pounds of cranberries per gallon Scarlet Letter contains doesn't completely overshadow the otherwise wonderful wild funk beneath but it's cranberry flavor and over-the-top tartness make it a rare beer to behold!
★
1,382 characters

4.09
/5
rDev
-3.1%
look: 4.5 | smell: 4.25 | taste: 4 | feel: 4 | overall: 4
Thanks to Jeff for popping a bottle of this.
Pours a vibrant pinkish red color, this beer is beautiful.
Smell is tart and oaky, not picking up any real cranberry scent.
Taste is very similar to the nose. This beer has a decent tartness, not nearly as sour as the warning O'so posted to potential buyers would lead you to believe. Some light oaky qualities, and a very minimal background flavor of cranberries.
Moutheel is nice, decently carbed and light feeling.
Overall, this wasn't exactly the home run I was hoping it would be. I like a straight punch of sour to the mouth, and this was certainly tart, but not as sour as I prefer. The lack of strong cranberry flavor also was a disappointment. With all that said, I believe this beer is good, it only suffers in my review because of my high expectations.
★
813 characters
Scarlet Letter from O'so Brewing Company & Tap House
90
out of
100
based on
13
ratings.