Hop Whoopin
| O'so Brewing Company & Tap House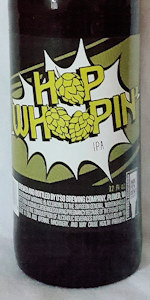 BEER INFO
Brewed by:
O'so Brewing Company & Tap House
Wisconsin
,
United States
|
website
Style:
American IPA
Alcohol by volume (ABV):
7.00%
Availability:
Rotating
Notes / Commercial Description:
No notes at this time.
Added by BeerAdvocate on 08-19-2010
Reviews: 57 | Ratings: 269

4.38
/5
rDev
+12.9%
look: 4.5 | smell: 4 | taste: 4.5 | feel: 4.5 | overall: 4.5
On tap at captain mikes on my first adventure to wisconsin
A-hazy yellow with a nice white frothy head that sticks around for awhile
S-great citrus smell. Leaves my mouth watering
T-follows the nose with the citrus. Very sticky as well.
m- medium body and smooth with a nice lingering hop bitterness
o-nice little find. Very solid ipa I would go back for seconds
★
368 characters

4.42
/5
rDev
+13.9%
look: 2.5 | smell: 4.25 | taste: 4.75 | feel: 4 | overall: 4.75
Cloudy pale yellow color, with white head that dissipates rapidly. When you put your nose down in the glass it literally slaps your face with its big citrus flavor. Lemon, lime, and grapefruit combined with a thick piney aroma. Taste is phenomenal. Absolutely one of the best IPAs I have ever had! Taste resembles the smell of balsam fir trees, and reminds me of... no,... not Christmas,... but shearing Christmas trees as a teenager. Mouthfeel is a lot like the nose over the top, slap you up, I AM an IPA. You will pucker up on this beer.
Overall, I would absolutely seek this beer out, because until you find something else like it, you won't find anything else like it.
★
675 characters

4.44
/5
rDev
+14.4%
look: 4.5 | smell: 4.25 | taste: 4.5 | feel: 4.5 | overall: 4.5
Kind of a West Coast IPA - huge hop bitterness with resin flavor, not a lot in the malt department. Good fine carbonation. Nice hop aroma. Thick, tight off-white head, that slowly settles. Good drinking beer.
★
208 characters

4.45
/5
rDev
+14.7%
look: 4.5 | smell: 4.5 | taste: 4.5 | feel: 4 | overall: 4.5
Three drafts at Bomb Shelter in Milwaukee... wow, this is great stuff. Now if only O'So would bottle it. Hop Whoopin' comes across like the IPA version of Lupulin Maximus DIPA, coming out next week for it's annual release.
Hazy saturated orange pour, very creamy texture to the foam. It fluffed up in a convex dome above the surface of the glass. As it was sipped, concentric rings of lace formed. The head never faded, very impressive.
Intense tropical and citrus aroma, mango, melon, orange, resiny and catty. Very dank and resinous, a true hop bomb. I found myself just sitting there inhaling it, even when not taking a sip.
A rush of bitter hop oil, raw orange peel, pure lupulin essence. Dry in the finish, but almost sweet in the middle from the concentrated citrus, and to a lesser extent the malt in the background. Light bodied, low to medium carbonation. Pure hop juice delivery vehicle. Amazing stuff that hopefully gets bottled one day.
★
953 characters

4.52
/5
rDev
+16.5%
look: 5 | smell: 4.25 | taste: 4.5 | feel: 5 | overall: 4.5
Appearance: Can't ask for a better looking IPA. Bright amber with a little haze from yeast sediment. Medium white head that lingers.
Smell: Lots of citrus aromas, most notably grapefruit. Also some sweetness from the malt. Really clean. The aromas meld really well. Almost verging on fruity.
Taste: Tastes much like it smells. Up front citrus with tangerine and grapefruit. Bitterness coats the mouth throughout with a little bitterness toward the back of the mouth. A little different than other IPAs in that respect. A little piney and resiny as well.
Mouthfeel: Smooth and without any noticeable abrasive or astringent notes. Surprisingly easy to drink for a malty IPA.
Overall: Very tasty in my opinion. As a single malt and single hop beer (S.M.A.S.H.), I'm impressed by the balance they were able to attain. But it works really well with the hops they used (Summit apparently) as it's not overwhelmed by citrus. I'd say it rivals some of the West Coast IPAs that everyone loves (I'd say it could easily go toe to toe with anything Lagunitas does). Highly recommended!
★
1,078 characters
4.54
/5
rDev
+17%
look: 4 | smell: 5 | taste: 4.5 | feel: 4 | overall: 4.5
I am dismayed I am worried about the hopheads at the advocate: brothers, I drunk Pliny and I indulged in the Slam and the Trouble and the Mama and Furious and every thing and every drink that the Floyds have to offer and then more and so on and so on.
I should, in fact, join the AH, for it is not the "A," but the "H" that I can't shake.
There is NOTHING like the fresh Whoopin, nothing.
I felt offended when I opened my very first 1st bottle,indeed; to be precise my unbearably sensitive olfaction seemed assaulted for no reason. I put the bottle aside, I can tell you when and where exactly I did so.
Then, 3 days later I returned to another one, I did. I tasted her on a sandy beach and tasted heaven, I tasted again the 1st time I put my tongue you know where. I don't mean to be be flippant or stupid or provocative - no, it was a Proust moment, I tasted my first fair and ever so loving beaver again; so happy to just know that I can remember.
It ain't onion idiots, it is youth and beauty and hymen and dreams of what was and could be...
Taste it again, smell it again.
★
1,084 characters
4.76
/5
rDev
+22.7%
look: 3.5 | smell: 5 | taste: 5 | feel: 4.5 | overall: 4.5
Awesome IPA - the label is a warning though.
Look: Cloudy straw yellow.
Smell: Huge mango, papaya, and melon aromas. Hints of pine tar and lemon round it out
Taste: The tropical fruits rush in and fill the palate. A nice, innocent, malt backbone comes into play but the real treat to this beer is the monstrous dank hop flavor that comes in underneath it all. This is a real showcase of a single hop varietal. I love it; its definitely one of the finer IPAs I've had out of Wisconsin. Depending on perception and one's palate, the dank flavor of this beer - something that i find intriguing - can be thought of as a mix of grilled onion, a hint of roasted garlic with a bit of caraway. The tropical fruits are dominant enough to usher this flavor through and compliment it perfectly. I wouldn't let this one sit around though. Once those tropical aroma and flavor additions fade, this beer could get ugly in a hurry.
★
919 characters
Hop Whoopin from O'so Brewing Company & Tap House
87
out of
100
based on
57
ratings.