Dismiss Notice
Dismiss Notice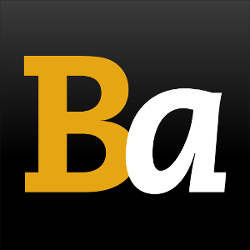 Join Our Email List →
And we'll send you the latest updates and offers from BeerAdvocate, because knowing is half the battle.
Dismiss Notice
Brasserie V
Reviews: 28 | Visits: 62
4.63
/5
rDev
+3.8%
vibe: 4.5 | quality: 4.5 | service: 5 | selection: 4.5 | food: 4.5
Drove up from Chicago this weekend. Great selection, correct glassware, friendly and knowledgeable staff. Server repeatedly asked if he could provide samples of tap beers - fantastic!
Only had lunch sandwiches, pulled pork and reuben, but both very, very good as was the carrot soup. Serving portions a bit on the small side, but only when compared to the buckets of food you get elsewhere. I'd rather have the quality over quantity anyday.
Nice decor and woodwork. It's a simple downtown storefront, but made very cozy and inviting. Not too dark like the Palm in Milwaukee.
Not sure about smoking. Didn't see anyone while we were there.
We'll definitely be going back!
★
673 characters
4.6
/5
rDev
+3.1%
vibe: 4 | quality: 5 | service: 4 | selection: 5 | food: 4.5
If Belgians are your thing and you are near this place you need to visit. There are typically >10 Belgians on tap, as well as some other quality brews. Ask for a few tasters, when I have been there the staff has been very willing to hand out 5-6 small tasters before I decided on a beer, a nice way to sort out their outstanding Belgian selection before deciding on something.
Their bottled beer selection is also really good. A fine selection of imports (both Belgians and non-Belgians) in addition to a number of good US beers.
Still haven't gotten the chance to sample the Jolly Pumpkin they have in bottle since I have been far too distracted by their Belgians on tap.
★
678 characters

4.28
/5
rDev
-4%
vibe: 4 | quality: 4.5 | service: 4 | selection: 4.5 | food: 4
2011: GTMW '11 pre-party.
Arrived at peak time during the event, and were seated within 15 minutes for dinner. Service was a bit better than last time, though the crowd slowed things down a little. The main draw was draft Fou'Foune, then we learned it was an 8 oz. pour for $12. Oh well, splurge once in awhile... most other drafts were in the $6-8 range. Dinner service was good, the food was pretty tasty. Highlights were the steak sandwich and smoked salmon appetizer, lowlight was the bacon avocado BLT, which was mostly bread. The beer list was well organized by style, with price, abv, and tasting notes. Three Cantillon selections and a handful of traditional Lambics, along with a host of obscure imports and US micros. Definitely a popular beer destination in Madison.
05-05-2008 B+ / 3.98
vibe: 4 | quality: 4.5 | service: 3.5 | selection: 4 | food: 3.5 | $$$
Stopped here after securing a ticket for the Great Taste, on a Sunday afternoon.
Cozy and intimate interior, soft colors, some art on the walls. Nice wooden bar with a rail below. Sizable glassware shelf and bottle display above the bar. Boards listed some seasonal bottles and cheese plate offerings.
They were serving brunch, and there was a good crowd around 1pm. On the menu were several varieties of eggs benedict, the crab and salmon ones were especially good although the side of potatoes were chewy to the point of being inedible.
Service was fairly quick, but the young bartender seemed a little aloof with requests for the usual things. Others in my group (seated at the other end of the bar) had better service, and offered samples even.
Focus on Belgian beer, 12 or so taps of quality imports. Bottle selection had a few gems, such as Mikkeller and Nøgne Ø. Recommended if Belgian beer is your thing... but Maduro and Malt House smoke them in terms of overall selection.
★
1,865 characters
4.95
/5
rDev
+11%
vibe: 5 | quality: 5 | service: 5 | selection: 5 | food: 4.5
This is my new favorite place to go in Madison. They have 15 taps, the majority being Belgian imports with the rest split between one or two German, English, or American micro-brews. Always a great selection, they know their beer. I've had everything from standards like St. Bernardas 12, Chimay white and Delerium Tremens to Val Dieu Gran Crew, La Trappe Quadrupel, and Lindeman's Framboise. And they have a ton of bottles available as well.
The food is really good, a little on the pricey side but a good value for the quality.
If you're in Madison and you like good beer (and if you're reading this I hope you do) this is a place you must check out.
★
654 characters

4.2
/5
rDev
-5.8%
vibe: 4 | quality: 4.5 | service: 3.5 | selection: 4.5 | food: 4.5
i have apparently overlooked commenting on the brasserie, which is certainly a major addition to the beer-map in madison
the most recent time i visited was this past sunday for brunch and an enormous portion of st bernardus 12 (easily 12-16oz, a huge chalice filled to the brim)
this joint is pretty anonymous from the exterior and you likely would not notice it unless you were specifically seeking it out or were familiar with the monroe street hood. its narrow with bright modern wood and artsy european photography on the walls. the bar is moderate size with room for about 10 and the kitchen is open, in the back.
service has always been spotty, but i can overlook this if served overflowing massive chalices
if you dont like the selection, you dont like belgian beer. st bernardus 12, Abbaye Des Rocs , chimay, allagash, delirium, piraat, duchesse and a number of others all on tap. there are typically a few american stragglers from anchor, bells, etc. the bottle list is long and contains all the nogne beers you can desire in this market and tons of other belgians. 2nd best beer selection to maduro, if not the best
the food is good - i can vouch for solid lunch and brunch options but have never come in for dinner. i have enjoyed the belgian waffles and biscuits/gravy and the lady seemed to like the crab cake benedict.
prices are somewhat steep but its all relative. st bernardus 12 ran me $7 but it was a massive portion and seemed like a steal...most taps run 6-7$ and are all served in proper glassware
★
1,527 characters

4.05
/5
rDev
-9.2%
vibe: 4 | quality: 4 | service: 4 | selection: 4 | food: 4.5
Visited on a Tuesday night while in town. I loved this place. It is so rare to find really nice food along with good beer. Brasserie V has that. It is a small, comfortable place - more a restaurant than a bar. The beer selection is excellent. They focus on Belgians and have several on tap. I had a Rochfort 8 (bottle, served in a Rochfor glass), a Three Philosophers (on tap, don't see that often), and a Bell's Kalamazoo Stout (bottle). The food is what makes this place. I had fresh pea soup followed by tagliatelle bolognese. Both were great. My colleague had the cheese board and the mussels. Nice too. For the quality of the food, I think the prices are great.
★
666 characters
3.98
/5
rDev
-10.8%
vibe: 3.5 | quality: 4.5 | service: 3 | selection: 4.5 | food: 4
Occupying the space formerly known as the Relish Deli, Brasserie V manages to maintain a comfortable level of casualness and price while offering some pretty ostentatious brews and entrées. Since it opened late last August, I have visited around twenty times, mostly around happy hour for drinks, a few times for dinner, and several times for lunch. I've been largely pleased with the establishment though I consistently find one major flaw stands out...but we'll get to that later.
First, let's talk about the beer. Brasserie V boasts fourteen taps of frequently rotating high end and often obscures brews. Generally one will find 8-10 Belgian offerings, one Brit, one Deutsch, and a handful of well selected regional crafts. Plan on seeing brews from St. Bernie, Des Rocs, Unibroue, Liefmans, Fullers, etc... when you go. Tap prices hover in the $5-$7 range. Expect an overly generous pour.
In addition to its tap lines Brasserie V offers an ever expanding list of bottles. The bottle list is well selected and features rare treats such as Cantillon St. Lamvinus ($42) and Saison d'Epeautre ($18) as well as local favorites like Tyranena Bitter Woman ($4).
Food is another selling point for Brasserie V. Lunch consists of exquisite soups and small but delicious sandwiches, my favorite being the BLT. My only criticism of their lunch menu is that sandwiches are served with chips or pasta salad. I would like to see fries added as an option, even for an up charge.
The rotating dinner menu is more up scale featuring a number of seasonal and local products. I've seen and tasted items such as a seasonal vegetable risotto, duck breast with Door County cherry sauce, Cornish game hen or chicken breast with a wonderful herb rub, and pork tenderloin. Steak Frites and Moules Frites are always an option as well and personally I can't get enough of Brasserie V's frites served in a cone with ample sides of varying aioli. They are wonderful.
Also, for your money you can't beat the cheese plate. $12 dollars buys two a selection of three world renowned cheeses, often locally produced along with Potter's crackers, fresh breads, candied nuts, and herbed olives. Some might argue that chocolate is the ultimate companion to a fine Belgian brew but in my opinion nothing pares better with a funky lambic than a funky slice of Wisconsin goodness.
Now for the part of the review I have been dreading...service. If Brasserie V is trying to mimic the French style of service they are doing a fine job. Particularly a problem at lunch I find that I am often not greeted when I enter, not presented with silverware or water, and not offered a drink for a solid 10-15 minutes time after time after time at Brasserie V. The place can be empty with staff chatting amongst each other and I still can't seem to ever get their attention.
Yes I have had good service, particularly at dinner and when the owner is present, often behind the bar himself. I've also had great service on Sundays; however, more often than not Brasserie V's staff are aloof to the point of rudeness. Their knowledge of beer could use improvement as well, although this has been getting better with time.
That was tough but I had to say it. I'd like to give this place straight 5s across the board but it's just not there yet. Hopefully with time it will be and as long as high quality brews keep flowing, I'll keep going.
Update: 4-4-08 - I'm bumping service from 2 to 3. The staff seems more professional these days and I have received top notch service on my last two visits.
★
3,552 characters
4.47
/5
rDev
+0.2%
vibe: 3.5 | quality: 4.5 | service: 4.5 | selection: 5 | food: 4
Stopped in for the first time today - a lazy Sunday afternoon lunch with my ma'.
There were a dozen or so other people distributed among the half dozen or so tables opposite the long bar. The kitchen can be seen in the back of the room with a counter for the waiter/bartender to pick up and deliver orders to the tables. Behind the bar, shelves are lined with glassware, unique to each beer on tap. The overall atmosphere was clean - about what you'd expect from a slightly upscale, contemporary bistro/beer cafe.
On-tap were 12 or so beers, mostly Belgian/Belgian-style, all high-quality but few that can't be found elsewhere in town (especially Maduro, V's only real competition on the Belgian beer front in town). In bottle, an impressive spread of some 50-60 beers - local, American, European with a focus again on Belgian. Selection ranges from Cantilllon St. Lamvinus ($42) and Panil Barrique ($28) to Spotted Cow ($4) and Anchor Steam ($4). Prices are reasonable to slightly pricey, especially compared to the downright steals at Maduro (on-tap).
The food was great - their lunch menu consists of several warm and cold sandwhiches, salads, and a couple soups du jour. I had a fresh and very generously portioned Muffaleta ($8.50) and a delicious cup of Sweet Pea and Terragon soup ($?). Ma' had a half-reuben and the soup ($8). We both were happy with our choices.
Service was what stuck out the most for me in my first visit to V. After sitting down, perusing the menu and patiently waiting for 10 minutes without any apparent acknowledement from the single bartender/waiter, he finally approached, apologizing for not getting to us sooner (which was puzzling given the rather small afternoon crowd) and offering our first beers on the house. WOW! I chose the Goliath Tripel ($7 - a tasty all malt tripel - apparently the only such tripel made in Belgium) while Ma' boldly went with the Bernie's Abt 12 ($7). While Ma' nursed her 10% abv ale throughout the lunch and had at least half her chalice when I finished my tripel, the waiter must have noticed me helping her finish the Bernie's and promptly brought a 2/3 or so pour of the Goliath tripel gratis so I wasn't sitting there watching the paint dry while Ma' nursed her beer. After the auspicious start, the waiter more than made up for it with upwards of $18 in free beer. This is precisely why I love neighborhood spots like Wonder's, Maduro and now V - they take care of their customers and generally give you the impression that they are trying to become a part of the local community.
Overall, I was very pleased with my experience at Brasserie V and I'm just thrilled to have another great local haunt serving great beer and tasty food with gracious service and a stake in the neighborhood.
★
2,764 characters
Brasserie V in Madison, WI
97
out of
100
based on
28
ratings.