Fathead Barleywine - Reserve Series Aged In Whiskey Barrels
| Nebraska Brewing Company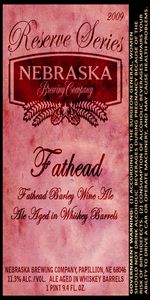 BEER INFO
Brewed by:
Nebraska Brewing Company
Nebraska
,
United States
|
website
Style:
American Barleywine
Alcohol by volume (ABV):
12.10%
Availability:
Rotating
Notes / Commercial Description:
A rich, full bodied Barley Wine with a wonderfully warming character from the malts & dark brown sugars. Held to the light, its burgundy color is fitting for a bigger beer that has aromatics that hint of the oak, the whiskey, the somewhat sweet nature, and molasses that makes this beer truly unique. The non-barrel-aged version of this beer took Silver in the 2009 US Open Beer Championships. Using Stranahan's Whiskey barrels, we aged this beer for 6 months to impart a small amount of oak tannins and the whiskey character that combine to elevate this beer beyond its original entry into this world. Excellent to enjoy now and cellerable for years.
34 IBU
Added by mikedashg on 12-06-2009
Reviews: 38 | Ratings: 116
3.92
/5
rDev
-0.8%
look: 3.5 | smell: 4 | taste: 4 | feel: 3.5 | overall: 4
2010 Vintage, Black Label
A: Poured a very dark brown with a decent one finger head. Retention was minimal, reducing to some bubbles on top. Not much lacing.
S: The whiskey definitely shines through on the aroma, hard to say if it had died down after a few months in the the bottle. There was also some oak and vanilla as well as a little bit of molasses and brown sugar.
T: The whiskey was not as heavy in the flavor profile, but certainly present. There is some fig and raison and the malts yield molasses and caramelized sugar. The booze is there, but is not overpowering.
M: Medium bodied, but slightly lighter than I would have expected. Low carbonation with a creamy feel. The whiskey/booze comes through a little bit as well.
O: Quite impressed. For a style that I typically don't love, this beer was very enjoyable. The barrels added some nice flavors and while the alcohol shows up, it adds more than it takes away.
★
934 characters
3.83
/5
rDev
-3%
look: 4 | smell: 3.5 | taste: 4 | feel: 3.5 | overall: 4
452nd review on BA
bottle to snifter
750 ML
2011 Bottle- Bought at NS in Lincoln, NE
App- A huge pillowy two finger head. A dark dark orange with only dots of cling.
Smell- A lot of citrus dominates this one. Leaning towards orange but could be mistaken for some tangerine. A bit of oaky vanilla as well.
Taste- A good barleywine with nice soft flavors. A lot softer than a lot of the bigger BW's I have lately and leaves itself in the middle. Not a huge booze fest or a DIPA but nice middle of the road.
Mouth- Medium bodied and medium carbonation. Leaves a smooth mamoasa(spelling?) feel. A little orange and booze.
Drink- It's quite different than what I expected. Not a booze fest not a DIPA but right in the middle. I could drink a couple bottles of this one. It's fairly balanced and at the end a little spicy.
★
821 characters
4
/5
rDev
+1.3%
look: 4 | smell: 4 | taste: 4 | feel: 4 | overall: 4
Reviewed from notes:
appearance: dark brown with a orange hue 1 finger off white head
smell: vanilla, whiskey, sweet, caramel sugar
taste: sweet, caramel, malts, alcohol
mouthfeel: mild carbonation, medium body
overall: I'm usually not a fan of american barleywine's but this was tasty and I think it's do to the whiskey barrel aging.
Cheers,
The CPJ
★
357 characters

4.1
/5
rDev
+3.8%
look: 4 | smell: 4 | taste: 4.5 | feel: 4 | overall: 3.5
Good lookin out drew for sharing this brew.
A: poured brown in color with yellow highlights on the edges and had a thin bubbly head leaving a little lacing sticking to the glass.
S: lots of whiskey character upfront on the nose with caramel, toffee, booze, brown sugar popping out and hints of molasses as well.
T: the caramel and toffee flavors were more apparent on the taste with whiskey barrel, booze, molasses, dark fruit accents and a touch of cherries.
M: the brew was medium in body with a low amount of carbonation which had a sweet, whiskey boozy, mild fruity, and creamy finish.
D: a sipper for sure but was tasty and glad to see that the state of nebraska has some decent BA aged brews.
★
703 characters

3
/5
rDev
-24.1%
look: 3 | smell: 3 | taste: 3 | feel: 3 | overall: 3
Thanks to Eric for sending me this bottle awhile back.
A: The pour is almost flat and pours a murky orange-amber color. I don't see any foam/head at all.
S: This is a damn boozy beer. The nose is almost completely dominated by the whiskey aroma. In fact, that, coupled with the intense oakiness, brings out an almost sour aroma. Strangely, I get a bit of pineapple and maybe some green apple.
T: There is a bit of bread, toffee, and caramel here. It's decently sweet, but the whiskey aroma once again absolutely overwhelms this beer. Tons of oak and maybe a hint of vanilla.
M: The body is medium with a very, very low level of carbonation.
D: Kind of disappointing and difficult to drink with all the booze going on.
★
722 characters

4.12
/5
rDev
+4.3%
look: 3.5 | smell: 4 | taste: 4 | feel: 4.5 | overall: 4.5
A-Amber mixed with iced tea brown, a small creamy off white head leaves nice sticky lacing.
S-Dried fruit, caramel, brown sugar.
T-Figgy, with the expected cornucopia of dried fruits. Plums, raisins, some brown sugar and some very light boozy warmth.
M-Very smooth, creamy and almost light, which I would have thought inconceivable in a beer this size.
D-Slides right down. Remarkably dangerous drinkability for the style.
Probably the least good beer I have had from Nebraska, but still pretty good.
HV
★
511 characters

4.05
/5
rDev
+2.5%
look: 3.5 | smell: 3.5 | taste: 4 | feel: 5 | overall: 4.5
Looks rather thin coming out of the bottle. Pours with about 2F worth of egg-nog-colored head over a deep amber body, with no apparent carbonation flowing up. Head fades to creamy film, with decent lacing.
Aromas are fairly light. Barley, whiskey, and white wine-like aromas. The alcohol comes thru much stronger as it warmed.
Creamy on the palate. Flavors have a nice, thick citrusy quality at first, coupled with cherry, chardonnay, and floral hops. Mouthfeel is spectacularly smooth for a barleywine at this strength.
Drinkability is way above average for the style - no real alchoholic heat, pleasant flavors, and great creaminess. This pup is overpriced, but I'll actually be getting a couple more to cellar for the next few years.
p.s. This would be amazing with some peppermint ice cream. Now I just need to find peppermint ice cream.
★
848 characters

3.97
/5
rDev
+0.5%
look: 3.5 | smell: 4 | taste: 4 | feel: 4 | overall: 4
A - Poured out a hazy, dirty burgundy color with a one-finger, off-white head of thick foam. Pretty good head retention and some soapy trails of foam were left behind.
S - It smelled of oak, vanilla and some whiskey. Some boozy heat in the nose.
T - Some dried dark fruit flavors - plum, maybe. Vanilla, caramel some oak. Whiskey flavor is muted but present.
M - It was crisp, sharp and smooth. A medium to full bodied ale with a very dry finish.
D - This is a very good barrel aged barleywine. I enjoyed it.
★
512 characters

4
/5
rDev
+1.3%
look: 4 | smell: 4 | taste: 4 | feel: 4 | overall: 4
Review from BeerAdvocate Magazine Issue #37 (Feb 2010):
Dull copper color; suds reach two fingers in height. Massive aromatic waft of whiskey, lots of wood with char and vanilla, brown sugar and ripe fruit. Somewhat smooth and extra creamy. Big boozy flavor slams the palate and then lifts it up for a shock of sweet- ness before the warmth sets in. Nutty maltiness tangles with some brown sugar notes; figgy fruitiness in the middle gets a little juicy. Mild barrel char. Whiskey, whiskey, whiskey ... taste like a first use on the barrel, wakes up the palate for sure. Semisweet finish with some faint ester and solvent alcohol residuals.
The beer got a full dose of flavor from the barrel yet does not put it in a stranglehold. A big, beautiful sipper.
★
757 characters

3.45
/5
rDev
-12.7%
look: 3.5 | smell: 3.5 | taste: 3.5 | feel: 3 | overall: 3.5
Thanks to RandomBattle & iasanlee who both answered my call for Nebraska brews. Had a few tasters at the Great Taste of the Midwest in Madison & crowned it the best new discovery of the 'fest. Needed some of their beers. And here one is now. Split this solid bomber with my wife. Vintage 2009.
Pours a slurry brown that looks like something that should be held in great toxic ponds. Smell is knockout whiskey with litters of mild oxidation & apple?
Fathead clearly left a significant amount of whiskey in the barrels it was aged in, hiza. Whiskey oozes out of its pores & leaves a cheery stain on the flesh. There's a bit of char, maybe caramel, malts, but really, nothing of any depth here. Straight-up whiskey, & dry as Trigger Gulch at high noon. Not that that's bad, I just wanted more.
Pretty good beer, but after the beers I've had from Nebraska I was hoping for more. But if all mild disappointments tasted this good, the world would be a much sunnier place.
★
969 characters

3.78
/5
rDev
-4.3%
look: 4 | smell: 3.5 | taste: 4 | feel: 3 | overall: 4
750ml bottle poured into an acbf glass.
Pours a hazy light brown with a very small light brown head. Nose is very light and malty with sweetness.
Tate is slightly hoppy, but the booze dominates along with the malt. It's quite tasty and drinkable for what it is. Super drinkable given the style.
★
296 characters

4.3
/5
rDev
+8.9%
look: 4 | smell: 4 | taste: 4.5 | feel: 4 | overall: 4.5
Thanks goes out to RedHaze for this brew.
750ml Bottle
Capped
Poured into a chalice a nice cloudy brownish color, nice carbonation, nice little fizzy off-white head, with some big oil slicks and sticky lacing left behind. The nose is malty, big whiskey note, slight dark fruits. The taste is slightly sweet, malty, very nice whiskey note up front, some figs, raisins, plums. Medium body, the ABV is hidden pretty well, a nice sipper. Drinkable, WOW! this one surprised me, glad to have a chance trying it out. Thanks Chris.
★
525 characters
4.03
/5
rDev
+2%
look: 4 | smell: 3.5 | taste: 4.5 | feel: 3.5 | overall: 4
Much thanks to @ArtofBeer for opening this at our little going away party at Stone for @MartinEmde and @TheKewe
A - golden orange amber with a fairy small head
S - Whiskey, light pear, nothing too overpowering
T - Whiskey forward, slight bitter hops and a great malt caramel backbone. Whiskey after taste as well. Pretty smooth.
M - low to moderate carb full body but a little thin
D - ABV is pretty hidden, even though there is a good amount of whiskey barrel flavor boozyness going on. Not too complex because of it I think.
★
533 characters
Fathead Barleywine - Reserve Series Aged In Whiskey Barrels from Nebraska Brewing Company
88
out of
100
based on
38
ratings.