Dismiss Notice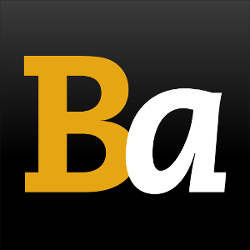 Site Performance Updates: We're aware of the nightly site outage, and working on resolving the issue.
BA SCORE
82
good
13
Reviews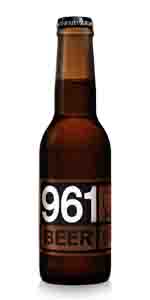 BEER INFO
Brewed by:
961 Beer
Lebanon
|
website
Style:
English Porter
Alcohol by volume (ABV):
5.60%
Availability:
Year-round
Notes / Commercial Description:
No notes at this time.
Added by FrankieW on 02-14-2012
Reviews: 13 | Ratings: 48

3.71
/5
rDev
+5.1%
look: 3.75 | smell: 4.5 | taste: 3.5 | feel: 3 | overall: 3.5
Poured from bottle into a pint glass
Appearance – The beer pours a deep brown color with a billowy head of a cream colored foam. The head has a good level of retention, slowly fading to leave a ton of foamy lace on the sides of the glass.
Smell – The aroma is big a roasted malt with lots of sweeter smells of chocolate, molasses and caramel. Along with these aromas comes some lighter notes of a bit of vanilla and a hint of a bready smell which overall create a very brownie like aroma to the brew. Quite delicious.
Taste – The taste is a bit differentiated from what one may expect from the nose. It does start out with a decent showing of a roasted malt taste, but unlike the nose would suggest, the taste is much drier then would be expected. There is a little bit of a caramel and molasses flavor upfront, which fade a bit as the taste advances, but which are replaced by some chocolate flavors. A little bit of a vanilla and some light grain and hay come at the very end, leaving one with a somewhat drier, but not too dry, dark cake-like flavor to linger on the tongue.
Mouthfeel – The body of the beer is on the thinner side for a porter with a carbonation level that is rather average to slightly higher. A thicker body and slightly lower carbonation would have likely been better as they would have accentuated the dark and roasted flavors much nicer.
Overall – A decent, not overly sweet porter. Not a bad one to try, but nothing too outstanding either.
★
1,488 characters

3.42
/5
rDev
-3.1%
look: 3.25 | smell: 3.75 | taste: 3.25 | feel: 3.25 | overall: 3.5
Dark brown color with a thin beige head.
Nice unexpected aroma of condensed milk and homemade coffee.
Predominant flavor of coffee, some chocolate and cola.
Dry aftertaste with a mild bitterness from its roasted grains.
Light body with mild carbonation.
Light porter, but pretty decent, highly drinkable but still not boring.
★
325 characters

2.49
/5
rDev
-29.5%
look: 3 | smell: 3.25 | taste: 2 | feel: 3.25 | overall: 2
12oz bottle poured into a pint glass.
A: Pours the color of black coffee. Cascading bubbles leave a large beige head that settles after a short time. Little in the way of lacing. Particles in suspension .
S: Medium roast coffee beans, smoke, char, carob. Faint fruitiness of figs and dates. Cardboard. Mild acidity.
T: Cocoa nibs and unsweetened chocolate, carob. Char. Citrusy hops. Slightly soured. Faint berry fruits. Mildly acidic. Metallic. Cardboard
M: medium body. Full, fluffy,creamy. Mildly astringent. Low carbonation.
O: This is either very old or it really didn't travel well. It's a shame too, because it seems as though this would be a very good beer otherwise. I
★
683 characters

3.3
/5
rDev
-6.5%
look: 3.5 | smell: 3.5 | taste: 3.25 | feel: 3 | overall: 3.25
Bottle received in trade from RobertDale, thanks for the opportunity!
Pours a solid black with a decent sized creamy tan head that dissipates fairly quickly. Wow that is a bit of smoke and burnt sugar in the nose. Chocolate and caramel provide support in the aroma with hints of earth as well. The flavor is a bit less remarkable than the aroma. Mild caramel and chocolate notes with hints of smoke and earth. Medium to light body with a moderate level of carbonation and a watery somewhat oily mouthfeel. Not a bad porter if not a bit on the smoky burnt end of the style. I would have loved a bit more body, and some creaminess in the mouthfeel.
★
646 characters

3.66
/5
rDev
+3.7%
look: 3.5 | smell: 3.75 | taste: 3.75 | feel: 3.5 | overall: 3.5
A: The beer is near black when viewed from afar but the edges are very dark brownish red upon closer inspection when held up to the light. It poured with a short tan head that quickly died down, leaving only delicate lacing covering the surface and a thin collar around the edge of the glass.
S: Light aromas of dark and smoked malts are present in the nose.
T: The overall taste is dominated by flavors of smoke and iodine, but these aren't that strong or overpowering. No bitterness is perceptible.
M: It feels light- to medium-bodied on the palate and has a low to moderate amount of carbonation.
O: I found this beer to be quite interesting as it's like a lighter version of a German Rauchbier and is still easy to drink like an English Porter.
★
752 characters
3.43
/5
rDev
-2.8%
look: 4 | smell: 3.5 | taste: 3.5 | feel: 3 | overall: 3.25
Pours black with a large lasting tan head.
Nose shows roasted malt, oatmeal, lightly burnt bread. Quite moreish.
More light roast as a flavour but with little to support it. Some toasty malt again.
Carbonation could be a little higher.
Quite mild.
★
251 characters

3.03
/5
rDev
-14.2%
look: 3.25 | smell: 3.25 | taste: 3 | feel: 2.5 | overall: 3
11.2 oz bottle into a pint glass.
A: Pours a dark cola color. A one-finger head of light mocha shading is formed, fading to a thin film rapidly. Not much lacing is left on the glass.
S: There's a bit of dry chocolate on the nose, backed by very mild hopping, some fruity esters (even a hint of tartness), and some toffee. The aroma is a bit plain, but far from bad.
T: The start is quite fruity, before developing a chocolaty middle and vaguely mineral-esque finish. It's easy drinking nature offsets its simplicity somewhat.
M: It's a bit thin, and perhaps even watery. The empty finish is very disappointing, though it has a positive effect of creating fantastic drinkability.
O: Not a bad attempt at a porter - however, it still needs some work. Making it a bit more flavorful would be a great start, but I at least enjoy how drinkable it is.
★
850 characters
3.6
/5
rDev
+2%
look: 3.5 | smell: 3.5 | taste: 3.75 | feel: 3.5 | overall: 3.5
Picked up this beer at Top Hops a few weeks back, having never heard of 961 before or even having any beers from the Middle East. While this wasn't anything impressive, it was a good take on the style that was easy to enjoy and true to form. It could have been more full and complex but at the same time, I could tell this was a Porter without having to look at the bottle and there was enough to like in the midst of the thin mouthfeel.
The pour was relatively typical for a Porter - it looked like flat soda with just a bit more head than a cola would have. There wasn't any lacing to be seen either and the carbonation was light, but present from start to finish. This was roasted in the nose but that was more present in the taste, along with a Scotch Ale-like feel of peat with a hint of caramel stickiness underneath that. No oat, chocolate, or vanilla to be found here and this resembled a weak espresso more than anything else, even down to the alcoholic content.
Yes, I could feel the booze in this but only after I finished everything off. Some more body and bubbles would have been welcome here but by itself, this was fine as is. Had this been a bit more sticky, it would have been a strong Brown Ale but the hint of smoke in the aftertaste reminded me what this was, even though this could have been so much more.
★
1,329 characters

3.85
/5
rDev
+9.1%
look: 3.25 | smell: 3.75 | taste: 4 | feel: 4 | overall: 3.75
11.2 oz bottle was poured into a pint glass.
Appearance: This beer poured a one finger mocha head that reduced quickly to nothing. It is a pitch black color with no clarity or bubbles coming up through the glass.
Smell: roasted coffee, chocolate, molasses, and smoke.
Taste: roastiness and smoke up front. Chocolate and bitterness in there too. Sweetness in the end.
Mouthfeel: Light bodied, low to medium carbonation, smooth
Overall: Pretty nice porter from the middle east. They need to send more across the Atlantic to Boston again. I would pick up another six pack.
★
574 characters

3.33
/5
rDev
-5.7%
look: 3 | smell: 3 | taste: 3.25 | feel: 3.25 | overall: 4
12 oz. bottle poured into a Sam Adams Perfect Pint Glass. Cola brown to dark brown in color, red highlights when held up to the light. Light tan colored head that goes away really quickly. Pretty much no lacing.
Smell is ok, pretty good. Aromas of coffee left in the pot, raisons and some belgian yeast, nothing very strong though.
Taste is pretty good, sort of like a dehydrated fruit covered in chocolate as well as a slight coffee flavor, raisons, belgian yeast and a slight tartness I can't quite put my finger on. Not bad, not great, but ok overall.
Mouthfeel is really thin, almost watery. Ok start has some sweetness with a somewhat earthy feel and a charred finish. Tartness that I can't put my finger on here again. With all that's going on it sounds like I'm bashing this beer, but all in all it's ok. Super Drinkable, I might try it again at some time given the chance.
★
885 characters

3.22
/5
rDev
-8.8%
look: 4 | smell: 2.5 | taste: 3.25 | feel: 4.25 | overall: 3.25
Undated 330ml bottle poured into a snifter.
Dark brown color has a nice reddish tone and is topped by a moderate tan head. The head quickly to reduces to a lasting ring. Surprisingly clear hop note in the nose, along with the expected dark roasted malts. Suggestions of old coffee, toasted bread, booze and nuts in the aroma. Both the nose and the initial taste suggest a significant sourness that never materializes. Good sweet/bitter balance. Hints of caramel, raisins, dark toasted bread and coffee, with a clearer coffee note in the mildly bitter aftertaste.
The body is a medium-full with a light-moderate carbonation and a smooth, nearly creamy feel.
Overall, a decent porter but the particular combination of English hops and malts was not great.
★
758 characters

3.91
/5
rDev
+10.8%
look: 4 | smell: 3.5 | taste: 4 | feel: 4.25 | overall: 4
Served in a Lagunitas mason jar.
Workin' my way through this new-to-my-area Lebanese brewery, makin' a stop at the porter. It pours a deep black-brown topped by a finger of light tan foam. The nose comprises cocoa powder, mild roasted malts, and a hint of light cola in the background. The taste really embraces the cocoa element and adds that roasty, mineral-y quality you find in Baltic porters (I blame the lager yeast). Nice. The body is a light medium, with a very light moderate carbonation and a smooth, nearly creamy feel. Overall, a pretty tasty and enjoyable porter, one that I find to be dangerously drinkable.
★
622 characters
4.75
/5
rDev
+34.6%
look: 5 | smell: 5 | taste: 4.5 | feel: 4.5 | overall: 5
Great dark chocolate colour when poured into a glass from a 330ml bottle. Hints of roasted malts, coffee, chocolate and nuts in the aroma. Is filled with flavours, such as caramel and coffee. Is a full-bodied brew, with medium carbonation. Is great to drink up on the slopes in Faraya, Lebanon, or on any other ski slopes for that matter!
★
338 characters
961 Porter from 961 Beer
82
out of
100
based on
13
ratings.