Dismiss Notice
Dismiss Notice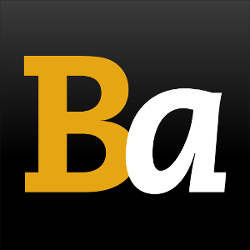 Join Our Email List →
And we'll send you the latest updates and offers from BeerAdvocate, because knowing is half the battle.
Dismiss Notice
La Choulette Ambrée
- Brasserie La Choulette
Reviews: 68 | Hads: 90
3.89
/5
rDev
-2.3%
look: 3 | smell: 4 | taste: 4 | feel: 3.5 | overall: 4
Sampled in Paris, bottle was all in French, not sure of dating.
Only downside was the weak head and lacing. Brown, slightly clear.
Bready, clove nose
Full of bready flavors, mingled with clove and brown sugar. Peppery finish with hidden ETOH. Smooth and drinkable.
★
269 characters
4.72
/5
rDev
+18.6%
look: 4 | smell: 4.5 | taste: 5 | feel: 5 | overall: 4.5
Pours from a corked 750mL green bottle opened with a satisfying "pop"
This smell hits me before my nose gets near the glass- nice. It's a true amber color with sticky off- white foam that I swear is climbing up the glass. A more intense whiff gives me a biscuity bread smell with some nice sharp undertones. A little ester under there; slight spice as well. First taste is dramatically full of bread and fresh grain- and then in a sip or two something wonderful happens and the solvent- esque fruit esters kick in. A hint of toated malt, but no acridity here. This feels wonderful in the mouth, with a smooth slickness that gives way to a tingling sensation followed by the perfect amount of warmth. The rough edges on this bad boy have been really nicely smoothed out. I'll have no problems finishing this one off by myself.
This is more sophisticated than I would have expected. Really a subtle, beautiful, well- balanced beer. Just tops.
★
944 characters

3.7
/5
rDev
-7%
look: 4 | smell: 4 | taste: 3.5 | feel: 4 | overall: 3.5
750 bottle.
Poured a nice amber color- good head.
Smells of caramel, sweet, floral. Tastes slightly sweet, mild hop or floral characteritics. Good body, an easy drinker.
This was one of the sweeter Biere de Garde's I've had. Not much in the way of earthy flavors, unfortunately, it seems less of a 'rustic' beer than other BdG's (i.e Jenlain.) A good beer overall.
★
374 characters
4.27
/5
rDev
+7.3%
look: 1.5 | smell: 4.5 | taste: 4.5 | feel: 4 | overall: 4.5
A: Corked and caged. The beer peers out from the bottle slightly reddish in color, which is somewhat surprising. After popping the cork, the beer overflowed and foamed (with no end in sight!) until I was able to get some of it into a glass.*
I'm not all that familiar with French culture - maybe this is the Brasserie La Choulette's idea of a gift.
This bière de garde is a brownish amber, contrary to how it looked in the bottle. Low clarity, and a huge, three-finger, rocky, sandstone head. After the head finally subsides, a thick layer of cream persists atop the beer.
S: Spicy and estery notes dominate, especially at warmer temperatures. The nose has a faint sweetness, that, when combined with the spiciness, give a distinct wildflower honey impression. There is also a funkiness emanating from the beer, a slight barnyard character. The esters are reminiscent of peaches and grapes.
T: La Choulette made a very well-balanced beer here. It's much lighter and fruitier than the nose suggested, but slightly tart. It is just bitter enough to have an astringent "dryness," but that counters the strong, sweet, caramel flavors from the crystal malts. There is also a saltiness and distinct earthiness/spiciness from the wild yeast. There is also a metallic, coppery taste like that found in Chimay Grand Reserve. Acetaldehyde also lingers, giving the apple-like tartness, and a character that resembles wine. High carbonation helps to offset some of the stronger and provides balance. I can't praise the effervescence too much, however, since the overcarbonation punished me upon uncorking.
The flavor and degree of sourness remind me a bit of the Duchesse, although I doubt they would be very similar if compared side-by-side, as the Duchesse is a Flanders Red.
M: Creamy upfront, then slightly astringent, and a bit sticky like apple juice.
D: High.
If you're in the mood for a slightly sour beer, this one is great. It's extremely complex, and although it may be a bit heavy on the sweet malts, it delivers surprises with every sip. This farmhouse amber would be a low-mid A were it not for it's rendition of Mt. Vesuvius on my countertop. However, because of a rough start, I docked the appearance to give this it's B+ rating.
* I should point out that I opened this one around 55° F, and that further chilling would have reduced, and possible prevented, the foaming.
★
2,386 characters
4.42
/5
rDev
+11.1%
look: 4 | smell: 4.5 | taste: 4.5 | feel: 4 | overall: 4.5
Pours a great coppery-amber with an off-white head that appears more fluffy than creamy.
A nutty aroma dominates the nose, with caramel, bready maltiness playing back-up.
The sweet caramel and hazelnut aromas follow through on the palate, slowly giving way to a mild caramelized malt and hop bitterness. Wisps of apple brandy and walnuts also appear, conjuring up pairings with camembert or delice de bourgogne.
A great artisanal French biere de garde.
★
456 characters
3.93
/5
rDev
-1.3%
look: 4 | smell: 3.5 | taste: 4 | feel: 4.5 | overall: 4
Tasted at La Capsule in Lille.
Very sweet amber, with an almost metallic taste. Also quite sweet, and not very hoppy.
Almost cider-like by some respects.
Good as a dessert beer, don't drink with anything too strong though.
★
225 characters
3.82
/5
rDev
-4%
look: 4 | smell: 4.5 | taste: 3.5 | feel: 4 | overall: 3.5
Light orangish amber color, nice thick head, lots of lace.
Very floral aroma with slight strawberry and pear complexity Very woody/musky. A lot going on in the aroma for this style. Good caramel malt aroma
Flavor has nice malt at start, very sweet, but finishes very dry with a like acidicness that keeps it from being cloying. More body then other bier de gardes samples, also more alcohol in the finish. A nice spicy hop finish. Malt is still very simple, but great complexity with nice muskyness working well with floral and estery character. Well balanced. This was the best of 5 bier de gardes sampled in one night. Still though, I dont really care for the style.
★
683 characters

3.82
/5
rDev
-4%
look: 3.5 | smell: 4 | taste: 4 | feel: 3.5 | overall: 3.5
750 ML Bottle. Has some age, I'll guess a year in my cellar.
appearance: eay pour w/a one finger head that left me quickly. Some lacing with bubbles in suspension. Orange/yellow.
smell: Fruity esters and malt tones.
taste: Surprising rich and malty. Figs and honey.
mouthfeel: I'd say thick for the style, hope that it had more carbonation when younger.
drinkability: Goes down smooth but no cravings for another sip.
★
432 characters
La Choulette Ambrée from Brasserie La Choulette
88
out of
100
based on
68
ratings.