Sangre De Frambuesa
| Santa Fe Brewing Company
BA SCORE
81
good
11
Reviews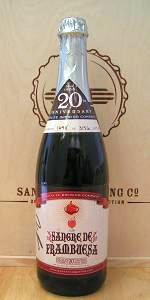 BEER INFO
Brewed by:
Santa Fe Brewing Company
New Mexico
,
United States
|
website
Style:
Fruit / Vegetable Beer
Alcohol by volume (ABV):
12.00%
Availability:
Limited (brewed once)
Notes / Commercial Description:
This hand-numbered bottle of Sangre de Frambuesa is a tribute to the Santa Fe Brewing Company's 20 year legacy of brewing traditional yet unique beers, which are as enchanting as the southwestern state in which they are brewed. By uniting the highest quality ingredients from Canada, Oregon, Germany, Belgium, and New Mexico, this unique beer marries world-class complexity with playful levity. Enjoy this beer much as you would a bottle of good champagne: in the company of friends and in the spirit of joy. Chill it well, as its exuberant effervescence may surprise you when it is opened. As this beer dances across your tongue, you will enjoy an interplay of bright tart, sweet, spicy, and fruity flavors that bubble out of a crisp, dry body, linger for a moment, and eventually fade into a warm afterglow. The Sangre de Frambuesa is as close as anyone in the world has ever come to bottling a Santa Fe sunset.
Added by bditty187 on 06-24-2008
This beer is retired; no longer brewed.
Reviews: 11 | Ratings: 14
None found.
More User Reviews:

3.58
/5
rDev
+4.7%
look: 4 | smell: 3.5 | taste: 3.5 | feel: 4 | overall: 3.5
Thanks to zdk9 for sharing this bottle. Bottle number 2542 of 3156.
The beer pours a orange-red color with a white head. The aroma is a mix of fruit with some cherry, strawberry and raspberries. The flavor is a lot of cherries, both sweet and a little bit of tart mixed in. Medium mouthfeel and medium carbonation. An interesting fruit beer.
★
342 characters

3.9
/5
rDev
+14%
look: 4 | smell: 4 | taste: 4 | feel: 4 | overall: 3.5
(Served in a flute)
Bottle 1817 of 3156
A- This beer pours a clean ruby red body with a snow white head that last for a good bit and a good carbonation of tiny bubbles.
S- The fresh tart raspberry comes through as soon it is opened. There is an earthy fruit punch aroma to follow that turns into a note of Windex when the beer is pretty warm.
T- The earthy red raspberry sweetness has a note of soft sweet tea and a red tomato acidity, without the rest of the tomato flavor. There is a soft herbal hop finish with a soft fusel alcohol note and over ripe fruit that increases in strength as the beer warms.
M- This beer as a light mouthfeel with a tight little fizz in the finish. I was surpised to read that this beer is 12%ABV because it had no alcohol heat only a tart little pucker from the raspberry.
D- This beer was huge raspberry flavor but not much else. The bottle says to serve it chilled and I agree that it is much better cold and falls apart a bit when warm. I didn't detect any malt flavor, but the hops did contrast the sweet berry very nicely. This beer was nice fresh and I don't think any age is needed.
★
1,128 characters

3.87
/5
rDev
+13.2%
look: 3.5 | smell: 4 | taste: 4 | feel: 4 | overall: 3.5
750 ml bottle. Standard cap. 20th Anniversary label around the neck. Nice label with a raspberry crowned with thorns dripping blood into a chalice glass.
It pours a slightly hazy pinkish red body beneath a short head of creaamy off-white.
The aroma is distinctly raspberryish over a mild malt base.
The flavor follows suit, but there's a distinct "beer" characteristic to it as well, mainly underlying hop flavor and bitterness. It's tartness and juicy fruitiness seems to ride atop the beer at first, only softening and widening as it warms. At first sip it seemed like beer with raspberries added to it, but by the end it seems like raspberry with beer added. Some minor grassy hops appear along the way, but it's mainly about grainy malt and fruit.
Overall, it's a pretty decent beer in that it's very authentic and not covered over in sweetness or tartness. It's clear as to what it is. And it's fairly well balanced.
★
925 characters

3.53
/5
rDev
+3.2%
look: 4 | smell: 3.5 | taste: 3.5 | feel: 3.5 | overall: 3.5
Slightly hazy, tawny-ruby in hue; off-white head, there is a tinge of pink like a white shirt would look if it was washed with a red sock. At the apex the head was two fingers tall, the foam quickly fell to a half finger cap. This smaller cap had good head retention, a thin collar lasted the entire consumption. Not much subsequent lacing, however. Still, overall, this is a good looking beer and quite fitting for the "style."
Sadly the nose isn't overly talkative; sure I get a suggestion of raspberry. Real raspberry... not artificial, not overly sweet; the raspberry smells like, well, the fruit. I notice some vague maltiness, light mustiness, oranges, and cherries with a soft Belgian-like funkiness. There are some characteristics of the nose that are so familiar to me, they remind of a Belgian ale I have had in the past (I'll be damned if I can remember the name). I like the nose but I wish it was chattier... I wish there was more bold aromas. Subtle can be good though. I can't smell the 12% ABV. So, overall, bouquet is nice but it lacks pizzazz.
It took a few sips before the flavors really resonated on my tongue. While the alcohol was hidden, aroma-wise, I can't say the same for the palate. This beer is hot. Musty raspberries, lightly woodiness, oranges, cherries, bread dough, vague spiciness... the finish is curt; it is interrupted by the arrival of the alcohol heat. My tongue feels slightly scorched. The finish is, frankly, disappointing. The first half of the beer is really well done, good flavor but it could use more maltiness and even more raspberry (dare I say!). Granted, I don't know what the intention of the brewer was and it is not like there are many beers of this ilk to compare it to. De Ranke Kriek and La Choulette Framboise are two similar beers which I'd prefer over this.
Light in body (surprisingly so), lively carbonation (which is nice), effervescent mouthfeel... pleasant if not a bit thin but the lack of body is not a deal breaker.
This isn't really my kind of beer. I am not opposed to fruit beers; I've had some very good ones. If I age this beer will it get better? It should mellow if nothing else but will it improve? Maybe a tamer version would be an improvement. With all of this said, I am surprised (and pleased) this beer is available in Nebraska. Thank you Santa Fe for letting some Cornhusker beer lovers share in your 20th Anniversary and thank you Brian for the bottle.
★
2,449 characters

3.18
/5
rDev
-7%
look: 3 | smell: 5 | taste: 2.5 | feel: 3 | overall: 2.5
Picked this up in Albuquerque last time I was there. 2008 vintage brewed for the 20th anniversary. 750 mL pours a hazed, reddish-copper color. Light pink foam is fluffy and thick, but fades at a very rapid pace to near nothingness.
Nose is raspberry jam, heavy and straight up. Sweet and sugary, but delicious and unique.
Alcohol is absolutely brutal on this bitch as the heat slaps you in the face with the force of 10,000 fighting Japanese midget minnow farmers. WOW, raspberry tartness is large in the margins. Not nearly sweet enough to offset the supreme tartness and heavy load of alcohol. I can tell the beer had good intentions upon brewing, but it seems like something got out of control somewhere along the line...I am sharing this with someone and can already feel the alcohol a-flowin. Put some lacto in here and lower the ABV and we might be talkin, its hard to drink now and it is already 2 years old, too much alcohol!
★
935 characters

3.9
/5
rDev
+14%
look: 4 | smell: 4 | taste: 4 | feel: 4 | overall: 3.5
Champagne bottle, "Batch 2798 of 3156 bottles.
Chill hazed reddish brown colored beer, when held up to the light it is basically scarlet. Tall very pale pink colored head, almost could call it whit with pink impurities.
Smell is strongly of the fruit raspberries, intense perfume of the berry with that sour yet spicy scent that only comes from raspberry. And that is it, this is all raspberry.
Taste starts out sweet tart with an emphasis on the tart raspberry with a sour finish on the tongue. Can't taste the alcohol but you can sense it in your chest and throat. Few extra flavors come out after a while, mostly apples and roses. Really does taste like the real fruit, often more tart than sweet. Tastes a lot like DFH Fort.
The mouthfeel is good.
Not a bad beer, New Mexico's answer to DFH Fort, except for the lower alcohol level this is pretty much the same beer.
★
875 characters
2.18
/5
rDev
-36.3%
look: 3 | smell: 2.5 | taste: 1.75 | feel: 3 | overall: 2
terrible beer. the taste is purely medicinally, artificially sweet/raspberry. awful.
84 characters

3.18
/5
rDev
-7%
look: 3.5 | smell: 3 | taste: 3 | feel: 3.5 | overall: 3.5
GabrielM sent me this beer in Secret Santa 10. Thanks Gabe.
Sangre de Frambuesa has a pinkish red body and a head that is a different shade of the same color. The head rises and falls quickly, leaving nothing behind.
The aroma has raspberry, spent grain and a slight mustiness.
Sangre de Frambuesa begins with a light raspberry flavor that has hints of both tartness and sweetness, but manages to have an almost medicinal flavor, like there was a hint of aspiring added. A grainy malt flavor mixes with the musty flavor of dead hops. The finish still has some alcohol in it, but nothing that is too powerful when I consider the high ABV of this beer.
The carbonation is surprisingly high considering the two years of age and the high ABV, and the body is big and full.
After writing this review I perused the other reviews of this beer, and I have to say that this has probably gotten better with time; the alcohol isn't harsh and doesn't ruin the beer. With that said, I'm happy I had a few friends to help with this bottle, because I don't know if I could have tackled it myself.
★
1,086 characters
2.55
/5
rDev
-25.4%
look: 3.5 | smell: 3.5 | taste: 2 | feel: 2 | overall: 2.5
From a bottle - Pours a rather cloudy reddish yellow color with small quickly dissipating head. Average carbonation. Smells super sweet with cherries and raspberry notes. First sip is just awful - like fermented smuckers. Avoid this one. Just not worth your time.
★
263 characters

2.88
/5
rDev
-15.8%
look: 4 | smell: 3.5 | taste: 2.5 | feel: 3 | overall: 2.5
Bottle 243 of 3156; Sampled July 2009
Well, I always seem to have one or two of this in the back of the beer fridge. I beer I am absolutely dreading opening. The last one was Dogfish Head's Fort, similarly again is another, likely too sweet, raspberry beer. A solid pour nets me a frothy, three-finger thick, pink tinged, dirty off-white colored head. The beer is a deep, dark plum red color that shows a clear, bright red color when held up to the light. Sweet, candied raspberry notes are the first thing I notice about the aroma. No matter how hard I try though, I can't really notice anything else about the nose; there is perhaps a touch of alcohol warming here, but this is actually fairly tame considering the strength of this beer.
The beer is not quite as sweet as I had feared; in fact it is quite dry for a beer of this strength. Up front there is a light raspberry note, but unfortunately this just takes a wrong turn somewhere. The finish is actually foul tasting; it tastes of rotting raspberries and chemically harsh raspberry extract. A bit of hot alcohol in the finish even adds a touch of tartness (though this light tartness is also likely added by the raspberries). The base beer isn't overly noticeable here (this tastes mostly of rancid raspberries and vodka), but there is a touch of toasty malt character that comes through from time to time. This beer is actually pretty light bodied (especially given its strength) and this couples pretty well with the effervescent carbonation, but somehow it still leaves me wanting a bit more (this is likely the fault of the flavor more than anything, but I can't stop it from influencing the texture as well).
The aroma of this beer is not bad if you really like raspberries, the flavor however just isn't something that I want to be drinking, though I might of used a bit of hyperbole is stating how bad it is. How this ever won an award at GABF is beyond me. This beer is not the worst thing ever, but I was certainly rightly afraid to open it up. Santa Fe is brewing some really interesting and tasty beers, unfortunately this is not one of them (though it is interesting I suppose).
★
2,152 characters
4.74
/5
rDev
+38.6%
look: 3.5 | smell: 4.5 | taste: 5 | feel: 4.5 | overall: 5
Poured into an oversized wine glass.
A - reddish golden color with minimal amount of head, the bit of which dissipated pretty quickly.
S - raspberries dominate with some strawberry notes, citrus, wheat grass. This smells like a picnic on a fresh Spring day.
T - awesome! A blast of refreshing raspberry up front, more light fruit notes in the back. Sweet, but not too much so, and surprisingly smooth without a hint of alcohol.
M - great carbonation, extremely flavorful, light and creamy on the palate.
D - I honestly can't believe that this brew is 12% ABV. Based on the taste and smoothness I would've guessed it to be around 5 or 6%. This baby goes down like sparkling raspberry cider and I could drink it all night (until I pass out).
★
749 characters
2.34
/5
rDev
-31.6%
look: 4 | smell: 2.5 | taste: 2 | feel: 3 | overall: 2
Appearance: Pours a clear, reddish-purple body with a wispy, whitish head.
Smell: Wait, what, now? Raspberry puree and Golden Grain.
Taste: The raspberry flavor comes across as suspiciously medicinal, thanks in past to the all-too apparent alcohol presence that burns the tongue and throat like a shot of bottom shelf liquor. There's a sweetness present, but it does little to mask the problems here. A few ground up aspirin. Hot finish.
Mouthfeel: Medium-plus body. Medium carbonation.
Drinkability: Whew! A raw, hot, awful mess. It's no Blushing Monk, that's for damn sure.
★
579 characters
Sangre De Frambuesa from Santa Fe Brewing Company
81
out of
100
based on
11
ratings.