Dismiss Notice
Get 12 monthly issues of BeerAdvocate magazine and save $5 when you select "auto-renew."

Subscribe now →
Dismiss Notice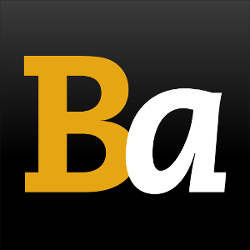 Join our email list →

And we'll send you the latest updates and offers from BeerAdvocate, because knowing is half the battle.
Barrel Roll No. 5 Chandelle
- Hangar 24 Brewery

No picture.
Have one? Upload it now.

Brewed by:
Hangar 24 Brewery
California, United States | website

Style | ABV
American Wild Ale | 6.50% ABV

Availability: Rotating

Notes & Commercial Description:
Beer added by: Sarlacc83 on 11-07-2012

CHANDELLE represents a perfect balance of fruit and funk, marrying the bright flavors of Golden Sweet apricots with the oak-aged complexity of sour beer. It begins as a blonde ale brewed with both malted and unmalted wheat, a blank canvas which is laid down in freshly emptied white wine barrels and topped off with our house souring culture. Over the course of a year these yeast and bacteria transform the liquid, bringing forth a beer that is both deeply funky and refreshingly sour. The barrels are then blended back together just before the final addition- a generous helping of fresh apricots plucked from Blossom Bluff Orchards in Central California. The tart flavors and aromas of the fresh fruit perfectly balance the acidic, bracingly sour base developed in the barrel.
Reviews: 15 | Hads: 125

3.54
/5
rDev
-9.9%
look: 3.5 | smell: 3.75 | taste: 3.5 | feel: 3.25 | overall: 3.5
This was from a two year old bottle. The presence of apricot in the aroma and taste is still pretty solid and pleasant. This is a pretty acidic beer but not overly so. Not a fruit bomb but there enough and I'd say the fruit present-ness is on par with Map of the Sun from Rare Barrel. That is the fruit part only, the rest of the beer is different. A decent sour beer - but don't expect fireworks.
★
402 characters

3.4
/5
rDev
-13.5%
look: 3.5 | smell: 4 | taste: 3 | feel: 3.25 | overall: 3.5
I badly wanted to love this beer but for the 2016 release; this thing just isn't very enjoyable. If you're looking for a tart/acidic bomb, you'll probably love this. Just no balance of fruit and sweetness but did get a little better towards the end as it warmed up. Not sure how previous years have been but at the very least, a great bottle to "prank" family and friends who have never tried sour beers before, or, just for those who are big sour lovers and want to punish your senses.
★
486 characters

3.24
/5
rDev
-17.6%
look: 4.25 | smell: 4 | taste: 2.5 | feel: 3.25 | overall: 3.5
Tooth-numbingly harsh and acidic. Fruit is there on the nose, but with an almost white vinegar warning sign. Taste is overpoweringly sour - destroying the fruit underneath and making this very one dimensional.
If you are into warheads and those sort of 'sour for the sake of it' then go for it, but the balance just isn't there on this one.
★
345 characters

3.93
/5
rDev 0%
look: 4 | smell: 4 | taste: 4 | feel: 3.25 | overall: 4
The balance of apricot and funk is great unfortunately that balance just wasn't there for the sourness which rivals Upland. Nice and gentle cloudy appearance and carbonation that stuck through the whole glass. The apricot was on full display.
If it wasn't so enamel wearing sour I would have loved this beer.
★
311 characters

4.5
/5
rDev
+14.5%
look: 4.5 | smell: 4.5 | taste: 4.5 | feel: 4.5 | overall: 4.5
Had this beer at the end of decent share and it stole the show. The apricots were front and center. The wine barrel imparted great flavors as well.
★
150 characters
4.14
/5
rDev
+5.3%
look: 4 | smell: 3.75 | taste: 4.5 | feel: 4 | overall: 4
Poured from bottle into snifter
A: Very light yellow with a white head
S: a little funky
T: Starts extremely sour, then come the apricots with almost a GOSE (salty) taste. The end is very interesting as the wheat after-taste kicks in.
Mouthfeel: very acidic, not in a lactic way. pucker up!
Overall: This is a super complex sour as opposed to the other heavy hitter type sours that are a little one dimensional. Very complex but not my favorite tastes.
★
458 characters

3.7
/5
rDev
-5.9%
look: 4 | smell: 4 | taste: 3.5 | feel: 4 | overall: 3.5
750 mL bottle poured into a snifter. Bottle #105/1174. Reviewed from notes.
Appearance - Hazy yellow. Gushed like hell.
Smell - Fruity. Very acidic. A touch of acetic acid. Distinct apricot. Slight chemical aroma.
Taste - Much cleaner sour. Fruity apricot. Grainy malts. Acetic acid is more pronounced and gets stronger in the finish.
Mouthfeel - Well carbonated. Very sour, but easy to drink.
Overall - A little too vinegary. Covers up some of the fruit flavor that was otherwise the highlight.
★
500 characters

3.96
/5
rDev
+0.8%
look: 3.75 | smell: 4 | taste: 4 | feel: 3.75 | overall: 4
Poured from 750 ml cork n cage bottle into tulip.
Almost busted my ear drum when I popped the cork and a gusher. Pours hazy orange with effervescent white head dissipates instantly.
Vinegar. Some apricot and citrus
Light malts, slightly spoiled tart apricots, vinegar
8/10 sourness. Good sour but flavor is slightly off.
★
324 characters

4.05
/5
rDev
+3.1%
look: 3.5 | smell: 4 | taste: 4.25 | feel: 3.75 | overall: 4
Big thanks to Ron for the crack, bottle #97 of 1174. Ironically enough, it pours the color of ripe apricots; golden yellow-orange and perplexingly opaque, despite the relatively light hue of the beer. The stark white head is loud and fizzy - it disappears almost instantly and leaves the beer completely untouched. No head, no skin, no ring, no lace.
A single whiff of Chandelle reveals a great bit of milky, lactic funk; tart and sour, although perhaps not incredibly so. It smells like apricot juice poured over a heap of oak. Is apricot juice even a real thing? If so, it probably smells like this. Earthy by nature, fruity, wet, and simultaneously sweet and tart. The oak and funk play nice balancing roles, secondary to the center-stage fruit.
The taste follows suit, coming off like a glass of over-ripened apricot juice, as if such a thing even exists. Just imaging taking bruised apricots and blending them for about an hour. It's tart up front, but I was right in thinking that it wasn't going to reach puckering levels. Grassy and a bit earthy with subtle reminders of rotten fruit skins, mashed and compiled into a liquid.
Though it's not crazy-sour, the tartness is still present and still plenty good. It fades into a milder, finishing sweetness. Slightly lemony and acidic with heavier notes of wet oak and fruit-juice soaked wood. The oak isn't as much of a counterpoint as it is a finishing note, as it is primarily noticeable only after the apricots have calmed down a bit. The carbonation is sharp and zesty, and the body is a bit thicker than you'd expect from this style.
Tasty beer with a nice "juice" vibe going on throughout. Tart, but not exceedingly sour, though it's still fairly acidic. Drinkable as hell; I wish the oak flavors were a little more substantial throughout the course of the sip, rather than buried until the finish and aftertaste. Delicious beer, but I've had some better apricot sours.
★
1,932 characters

4
/5
rDev
+1.8%
look: 4 | smell: 4 | taste: 4 | feel: 4 | overall: 4
Big thanks to Jedwards for the final pre-move blowout cellar crash. Pours a hazy, tangerine hue with no head. Nose expresses tart apricot, a slight medicinal character and a faint, candied quality. Taste is pretty much on par with the nose. Mouthfeel is medium-light (but closer to the light) with a lively carbonation and a pleasant acidity. Overall, a solid apricot sour, but it's no Fou' Foune.
★
397 characters

4.09
/5
rDev
+4.1%
look: 3.75 | smell: 4 | taste: 4.25 | feel: 4 | overall: 4
750ml, 125/1174
Grand Cru tulip
A: Hazy yellow orange. Initially about a half finger of bright white. Turns into a collar. Lots of carbonation bubbles streaming up, but not a lot of head.
S: Smells of dripping apricot. Really sweet fruit still. Tart sour fruit. Barnyard.
T: Lots of sour on the tip of the tongue. Still good amount of apricot fruit. Really sweet flesh fruit character. Finish is dry but not bone dry. Still has some sweetness left.
M: Lighter side of medium.
★
479 characters

3.89
/5
rDev
-1%
look: 3.5 | smell: 3.75 | taste: 4 | feel: 4.25 | overall: 3.75
Bottle opened on 2.20.13
2012 July
944/1174
Thanks Jordan.
A - Pours a very light, clear orange with a fizzy white head that is gone instantly.
S - Sweet, wild flowers, and some honey.
T - Sweet honey and very floral.
D - Light body with low carbonation.
O - LIght, crisp and floral. A touch sweet, but still nice.
★
319 characters
4.27
/5
rDev
+8.7%
look: 4 | smell: 4.5 | taste: 4 | feel: 4.5 | overall: 4.5
Bottle (2012)
Churchill's Pub & Grille
San Marcos, CA
Clouded dark orange in color with a moderately-sized near white head. Leaves the glass messy with irregular lines of foamy stick.
Very fruit forward aroma: huge amounts of sun-dried apricots leading the charge, with only a minimal presence of acid and funk. Wonderful aroma for an apricot lover.
The flavor follows the aroma, but with a bit more complexity. Incredibly expressive flavor of rich, juicy, sun-dried apricots, a whisper of an earthy funk character, and some mild acidic sour character. While simple and straightforward, this remains a very delicious beer.
Medium bodied with moderate-high carbonation.
Another Barrel Roll series hit!
★
706 characters

3.64
/5
rDev
-7.4%
look: 3 | smell: 4 | taste: 3.5 | feel: 4 | overall: 3.5
Thanks to Tieman for sharing this one at his tasting.
Bottle # 273/1174.
Pours a murky light orange with a foamy bone colored head that settles to wisps of film on top of the beer. Small dots of lace slowly drip into the remaining beer on the drink down. There are some small chunks of sediment seen floating in the beer after the pour. Smell is of honey, apricots, and peaches. Taste is much the same with a mildly acidic finish. This beer has a good level of carbonation with a crisp mouthfeel. Overall, this is a pretty good beer but I think it smells better than it tastes.
★
580 characters

3.5
/5
rDev
-10.9%
look: 3 | smell: 3 | taste: 3.5 | feel: 4 | overall: 4
OK, first, it's amusing that I'm the one adding this to the BA system.
750ml bottle courtesy of Hophead84. Thanks!
A: Copper-orange with a head that fades out very quickly, leaving a bald beer.
N: Apricot, lemon, and some green apple. Very heavy vinegar and acetone. Lactic acid. Not great, but it's passable as the beer warms.
T: Apricot and vinegar are the dominate sensations. Acetone. Simple lactic sourness. Sweet-tart split. Some raspberry from the vinegar, perhaps. Not too complex, but enjoyable enough.
M: Fairly light, so in a good range for a sour. Alcohol isn't noticeable.
O: A decent overall attempt and better than say, the new Cascade Apricot batches. Look forward to more from Barrel Roll.
★
724 characters
Barrel Roll No. 5 Chandelle from Hangar 24 Brewery
86
out of
100
based on
15
ratings.